We don't lack history in York, it's what our thriving tourism industry is based around and what makes the city so attractive to so many people. Yes it makes the city busy as people inevitably want to experience it for themselves, but if you'd rather avoid those tourist crowds, there're plenty of other places to move to that are infinitely uglier and less attractive – speaking as someone who grew up in Milton Keynes. Now we've a new attraction in the city though that's absolutely bang up to date and whose only relevance to history is in making huge improvements to a previously dour office building. Sora Sky Bar is perched on top of the new Malmaison Hotel.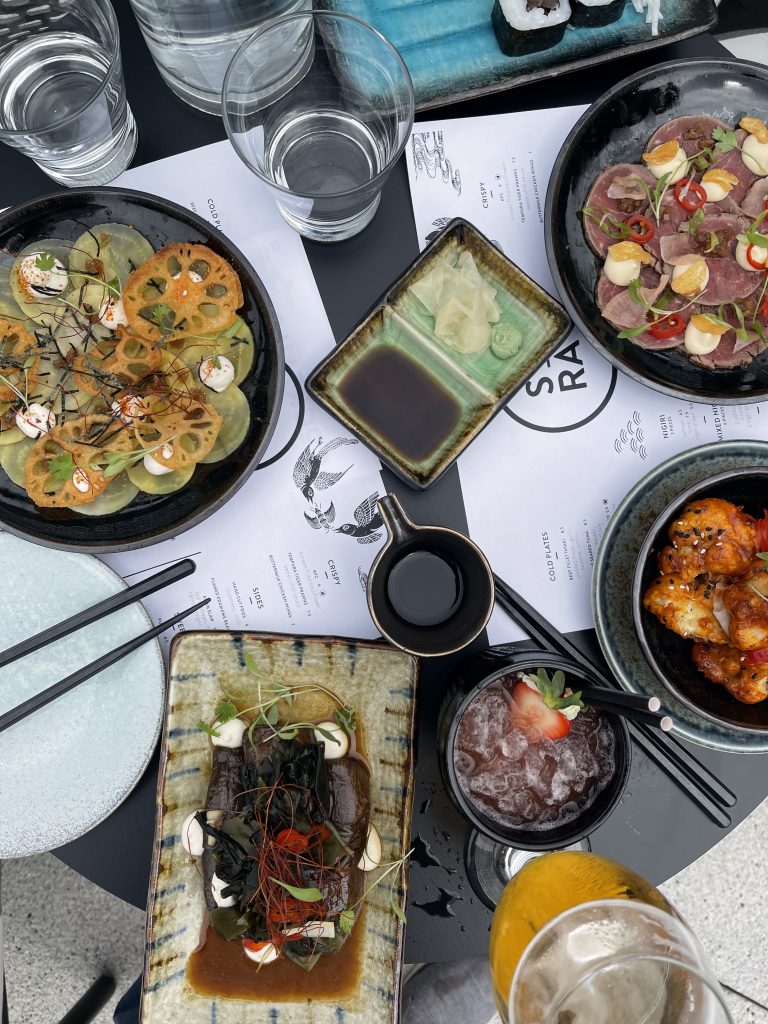 The new Malmaison Hotel has repurposed the former Aviva Yorkshire House building with great impact, packing in a brace of restaurants and a hotel bar as well as the Sora sky bar which has sprouted from the roof. In a previous life, I was subjected to the interior of this building through attendance at various meetings and training sessions, and while the focus here is firmly on Sora, I can confirm that the remainder of the interior is unrecognisable from its drab insurance days.
Sora Sky Bar is accessed via elevator, thankfully given its altitude, and makes a strong first impression when you've made your way past the track & trace admin. The views were always going to be a defining feature here but the first time you make your way out onto the terrace really is a notable moment in your experience of hospitality in York. The Minster will quite rightly find itself as the backdrop to countless selfies but Holgate Windmill, The Railway Museum, The City Walls and Rowntree's all draw the eye. Notably the White Horse at Kilburn is visible, though I'm sure many who've worked in the offices on Holgate Park will recall it being visible from there too, albeit in rather less pleasant surroundings. It goes without saying that there're solid safety barriers around the perimeter, but these also provided more protection from the wind than I expected and the environment was pleasantly peaceful and detached from street level. I'd not forget the sun screen though on a hot day!
The food menu consists of sushi and small plates with a pan-Asian theme, of which we were directed to order two or three each as a guide, as well as a upmarket range of cocktails and spirits. With the full range of sushi unavailable on our visit we ended up grabbing a few bites of sushi and leaning more heavily into the hot dishes than I had anticipated, which turned out very well! A couple of bites of Salmon Sashimi went down well along with a plate of Tuna Maki but the other plates shone brightly enough to make up for the the cloudy day we'd chosen in the midst of a heatwave. Beetroot carpaccio with lotus root crisps was a fresh and colourful plate with well judged pickling and a scattering of saffron which contrasted nicely with slices of tender beef tataki brought to life by finely sliced crisps of garlic and pickled mooli. Aubergine with miso caramel and whipped tofu was deceptively light with a delightfully well judged sweetness and our final dish of Korean Fried Cauliflower was another hit. There was a good undercurrent of heat through these and more good judgement in the cooking, leaving them firm enough to easily navigate but soft enough to enjoy easily.
Sora is an unqualified success. Its striking interior is finished to an extremely high standard and the food was excellent as well as representing good value in this elevated (figuratively and literally) surroundings. The views from here were always going to sell it and make it news worthy and give the opportunity for shortcuts elsewhere but the scale of ambition in this development is impressive enough to draw the eye away from the unrivalled views of the York, though they obviously win out every time! Every time I arrange to meet a visitor from outside the city on arrival, this will be the default destination to impress them from now on.
Disclaimer – PR visit, no charge made.