Fried chicken can be tarred with a bit of a bad reputation, with its presence most ubiquitous at what could most generously be termed the more widely accessible end of the food market. That's not to say that there isn't a place for more refined versions of this dish, with Skosh memorably accompanying it with a brown butter Hollandaise in particular. In York, we're lucky to have Clucking Oinks knocking out some superb fried chicken dishes from their home in Spark York but my eye has recently been caught by The Lazy Bird Wetherby who look to be putting their own twist on some intriguing (and intriguingly titled) chicken dishes. It didn't take long to hit the road and investigate.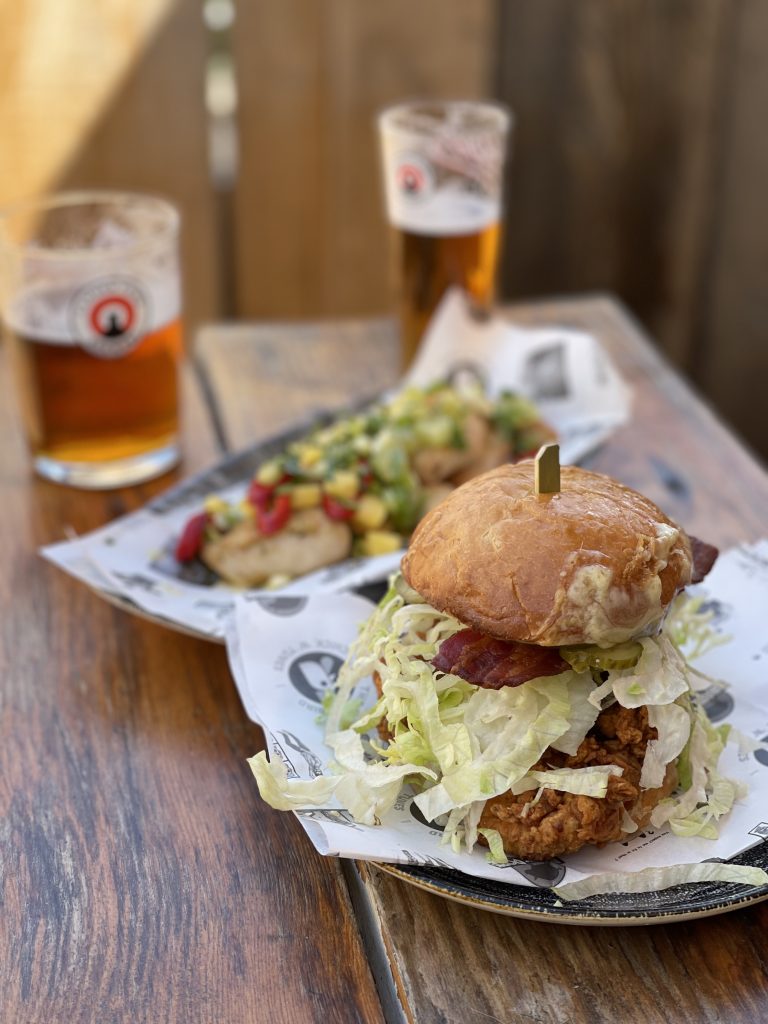 I'm absolutely guilty of failing to look beyond York's outer ring road on occasion, so haven't spent as much time in Wetherby as I should, the discovery of free parking by the river means that I'll be back before too long though. I've heard of a couple of coffee spots in Wetherby worth investigating that can provide an excuse for that trip. This one was all about the chicken with The Lazy Bird Wetherby though, which I found my way to easily enough with its small frontage somewhat underpromising the amount of space indoors. While the indoors was perfectly nice and featured plenty of space for the consumption of chicken and booze, we were very happy to make our way upstairs to a newly created rooftop space to enjoy the weather. Driven by the recent need to create more outdoor space, this is a really neatly realised area that packs in plenty of seating without being cramped. It maybe wouldn't stand up to hurricane conditions, but there's a decent amount of cover as well as heaters at the tables, which only a fool would turn on in a heatwave… oops.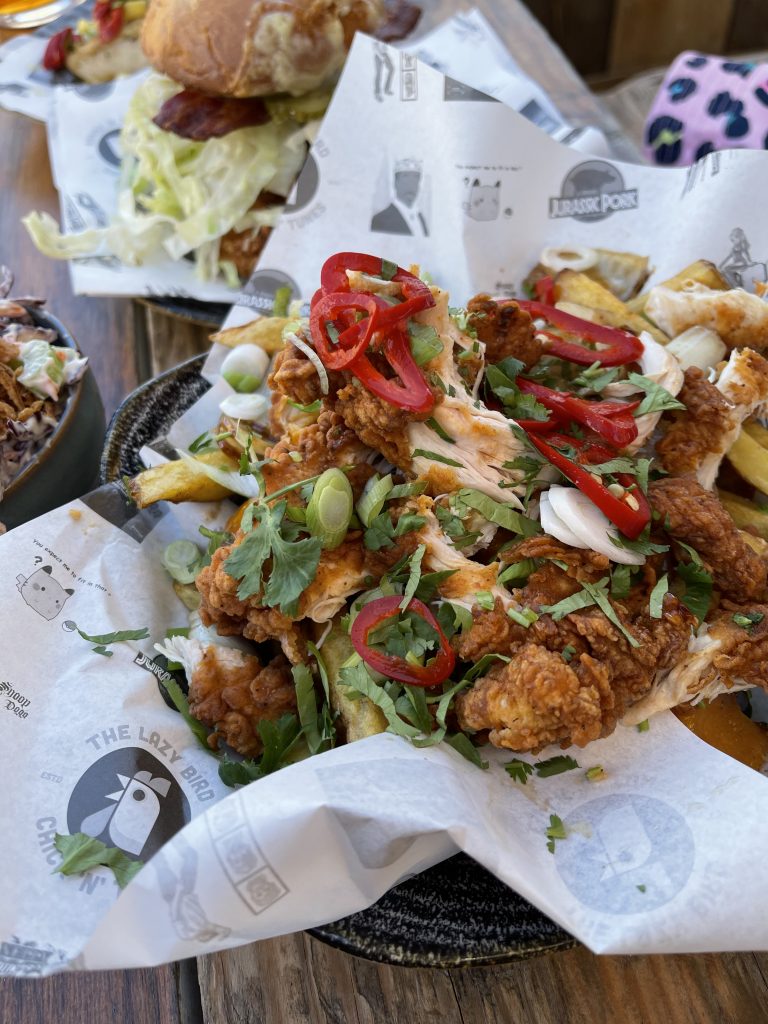 The menu has had a good amount of punnery chucked into it which might annoy the more po-faced, but I thought it suited well the playful nature of the establishment. We picked out a Jurassic Pork Burger, Cop Porn Chicken Fries, Resting Beach Face, blue cheese and celery slaw and a "Little Bird's" Poultry in motion that we feared might stretch our appetite but gave a good sense of what was on offer, as well as the strong likelihood of needing to skip dinner. While there's app ordering available as one would expect now, the staff were also on hand and friendly to help us work through the menu.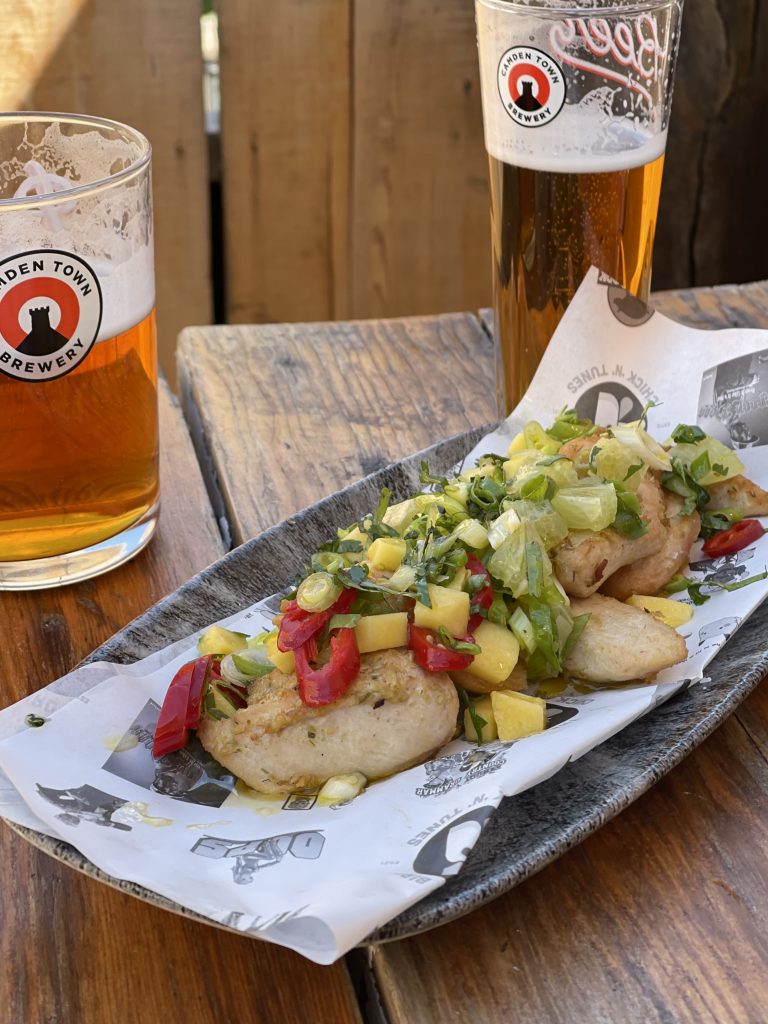 It didn't take long for a pretty serious amount of food to arrive on the table and only a short time more to establish that it was really very good indeed. The burger immediately made its point with a faintly improbable amount of fried chicken crammed into it along with bacon, cheese, bbq sauce and a healthy dollop of bacon jam that all sang together in a flavour-packed chorus. The "Cop Porn Chicken" loaded fries carried the weight of an equally significant amount of fried chicken and were mixed through with chilli, onions and peppers that made it feel like a well optimised version of the kind of salt and pepper fries that are a staple of late night Chinese takeaway orders. Resting beach face was straightforward pieces of chicken breast that had been baptised with a mango salsa that was rammed with coriander along with plenty of lime, making for a strong smack of refreshment perfectly matched to the day's intense sun.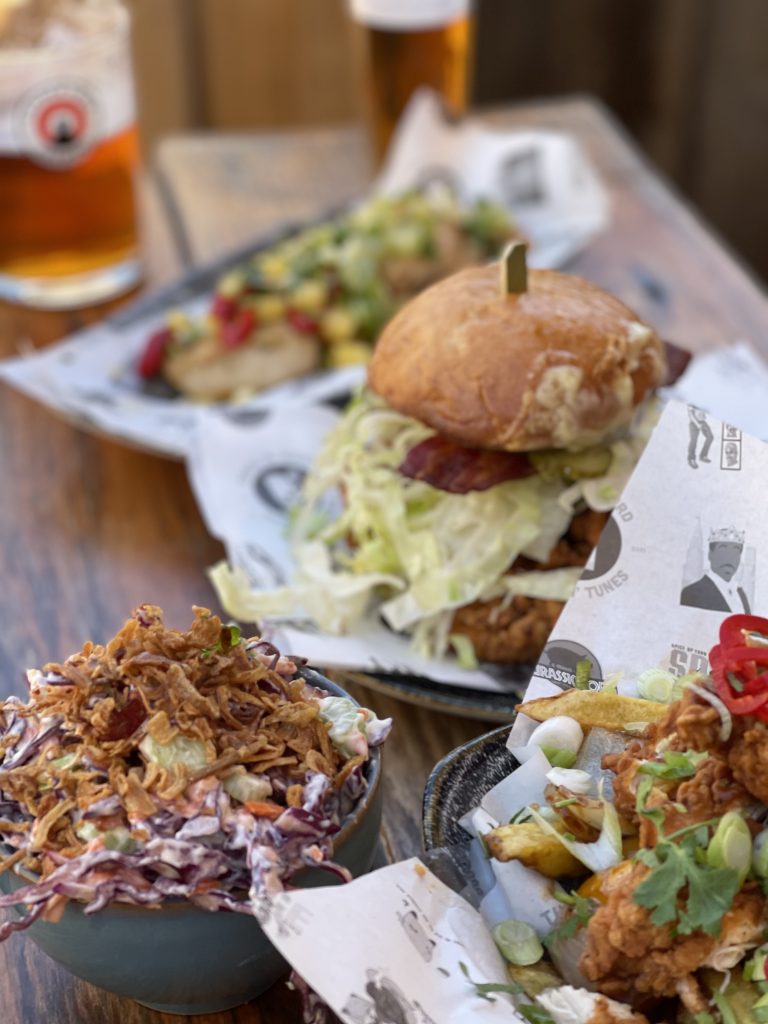 All of that might be very compelling but would be rather pointless if the cooking of the chicken wasn't up to scratch. Thankfully that fundamental building block of this experience was absolutely on the money, prompting all the superlatives you could hope for and balancing tender middle and crunchy outer perfectly. I was expecting to enjoy the food here, but the originality and wit in these dishes combined with the execution of the chicken really makes for a unique and memorable meal. With the bill for all that hardly breaching £40, there's nothing to fault on value either. The Lazy Bird Wetherby has hit a really neat compromise between having food good enough to make it a destination worthy of travelling to eat while also being fun enough to make it a night out destination in its own right too.
(Disclaimer – PR visit, no charge)