I knew that becoming a parent would bring untold change to my life and impact every single area of it, including our diets. What I didn't anticipate though was that this would lead to an increasing consumption of fish and chips, previously one of my less preferred take outs, if I'm totally honest. The whims of Child Fork dominate though, and as she can generally be relied upon to work on fish and chips without too much in the way of dissent, it's become a bigger part of our lives, with King's Fish & Chips being a local favourite. In the city centre, Drake's Fisheries York have been busy working through a refurbishment recently that has opened up its frontage and made it more appealing, so I accepted an invite to check it out and see if it met the approval of our three year old critic.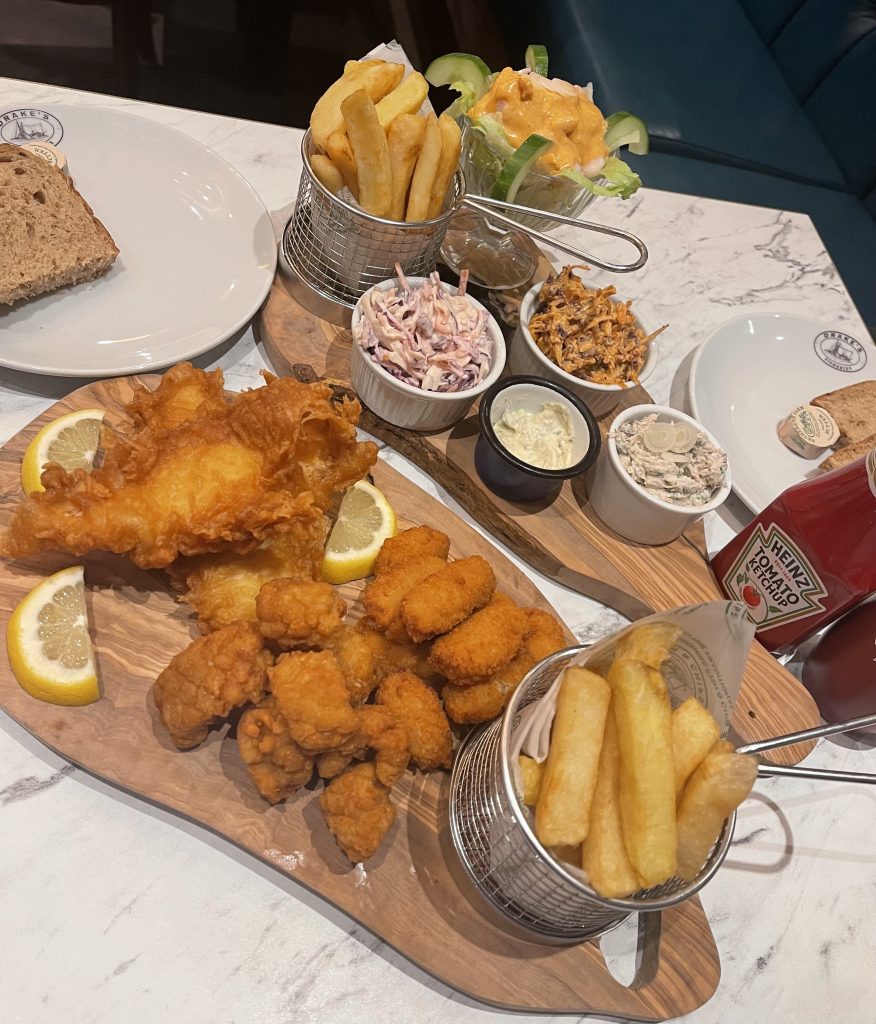 Drake's Fisheries York has been resident in the centre of the city for more than a decade and is part of a family owned business that goes back more than 30 years. I've walked past many times over the years without ever making the detour inside but the recent refurbishment has certainly upped the kerb appeal and made it more attractive to passers by. Inside also feels modern and welcome, with the layout lending itself to privacy in which to enjoy your meal. The menu hits all the traditional beats you'd expect and makes sure to emphasise the use of quality local supplier Cross of York while branching out far enough to intrigue those of us with more adventurous tastes. To make sure we sampled as many of the dishes on offer as reasonably possible, we chose a sharing platter from the specials board which promised good variety, augmenting it with a child's portion of fish and chips that added a fruit shoot & an ice lolly for only £6. A couple of glasses of Brew York beer completed the order nicely.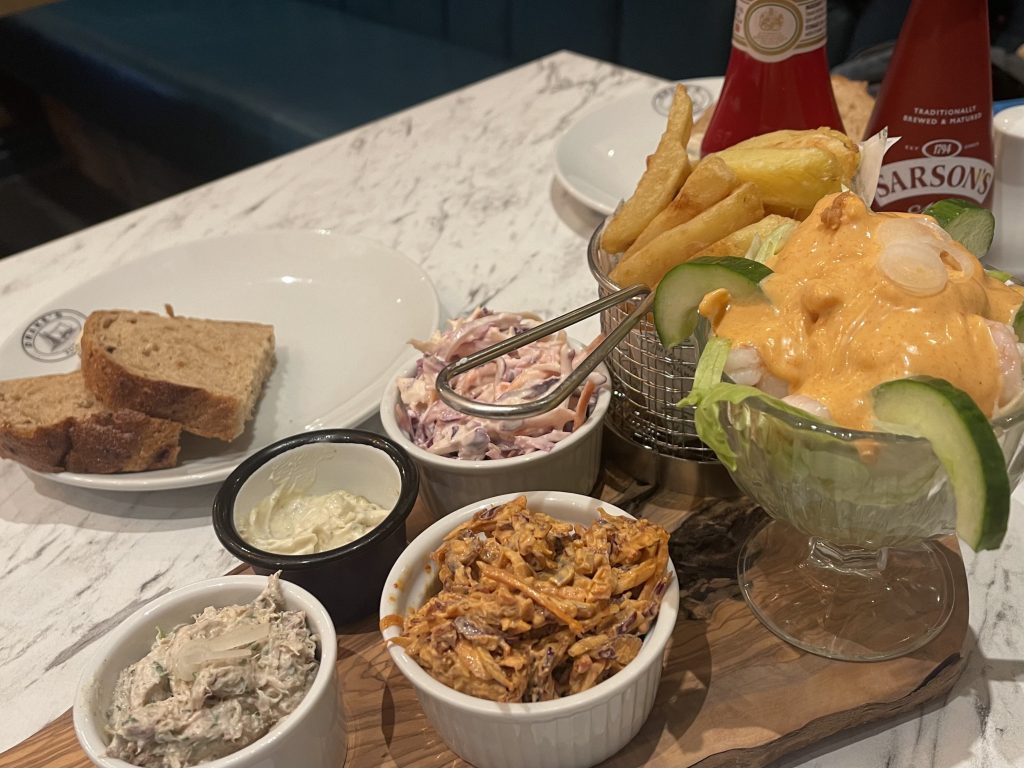 The sharing platter we ordered turned out to be a pretty significant challenge, with large portions of the menu represented across it. Truth be told, we could have coped just fine without the extra child portion with the amount of food. When our food arrived, we found beef dripping cooked chips, portions of different coleslaws and a few different sauces to be excellent scene-setters for some superbly executed fish dishes. Battered fish was an obvious starting point with crisp batter and flaking fish both present and correct while scampi were obviously whole bits of meat rather than the sadly reformed efforts often occupying freezer aisles. Calamari is another potential stumbling block, deftly handled here and left as soft as one would hope. Mackerel pâté and prawn cocktail finished off the selection with a flourish, the prawn cocktail enjoying retro presentation and the pâté with brown bread making the most of the strong fish.
It might have taken fatherhood to push me into more regular visits to the chip shop, but it's a habit I've been starting to enjoy, more so thanks to Drake's Fisheries York. There's an impressive energy and confidence about this restaurant post-refurbishment that reflects ambition to be more than a simple chippy, which is also present in the menu. The platter that we enjoyed represented great value at just £30 and will certainly tempt me back regularly to sample more dishes, the addition of which I'll be watching closely.
(Disclaimer – PR visit)