Pies can be a bit of a minefield and inspire strong emotions. Many is the time at a function where a pie is promised and what is delivered is a stew with a cursory sheet of puff pastry plonked on top; generally satisfying enough, but certainly not a pie. Taking things rather more seriously are Yorkshire Handmade Pies who have an impressive reputation and an equally impressive number of stars awarded from the Great Taste Awards and are now dipping their toe into selling hot food with a pop-up at Spark which runs until the end of March.
Founded by James Sturdy, who draws inspiration from his family's pie making history which started with his grandfather, Yorkshire Handmade pies describe themselves as making "pies for those who love pies made properly, paying respect to the traditions and history that make the pie such a unique British dish". Obviously I had to go along and check those credentials out at Spark where they can be found in the first unit to the right as you enter.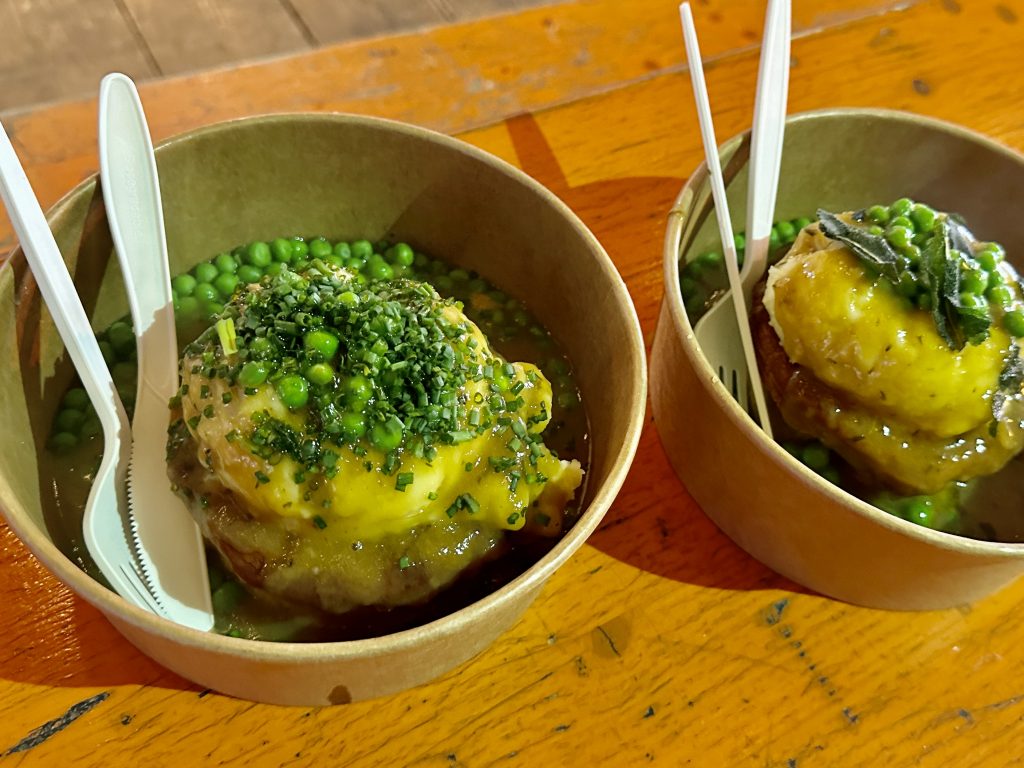 Clearly I expected the standard of the core ingredient to be high but it remained to be seen how this would translate into street food where they were to be served with smoked garlic mash, peas and gravy. For the sake of maximum coverage, I made sure to try the Steak & Ale, Cheddar, Smoked Applewood & White Onion and the vegan friendly Portobello Mushroom & Porter all of which promised much based on the smells coming from the unit. All three delivered on their promise with expertly balanced fillings packing in all the flavour you'd hope for based on the advertised ingredients. The Mushroom & Porter didn't feel in any way compromised to make it vegan friendly, with the filling matching up to the vegetarian and meat based pies comfortably with both depth and nuance to it. Steak and ale showed off plenty of tender meat and a rich gravy while the tang of onion offset the rich cheese in the cheddar and onion pie perfectly. Note as well that the pies utilised a shortcrust pastry base as well as a puff pastry top, the correct construction. The accompanying smoked garlic mash had plenty of garlic punch through it and the gravy topped things off nicely.
This is only going to be available at Spark for the next couple of weeks so be quick if you want to get stuck into some pie action though they're also available to order for delivery. I'll be making another visit to Spark shortly and lining up a delivery for later in the year from https://www.yorkshirehandmadepies.co.uk
(Disclaimer – PR visit)