York does rather well for wine these days. Since Pairings started blazing a trail for quality wine in relaxed surroundings, there have been a few others recently enter the fray with places such as Howl, 2ManyWines, The Wright Place and Jorvine all throwing their corks into the ring. The latest to join this group is 22 Yards York, which has opened in the former Cafe Concerto premises on High Petergate, giving it spectacular views of York Minster.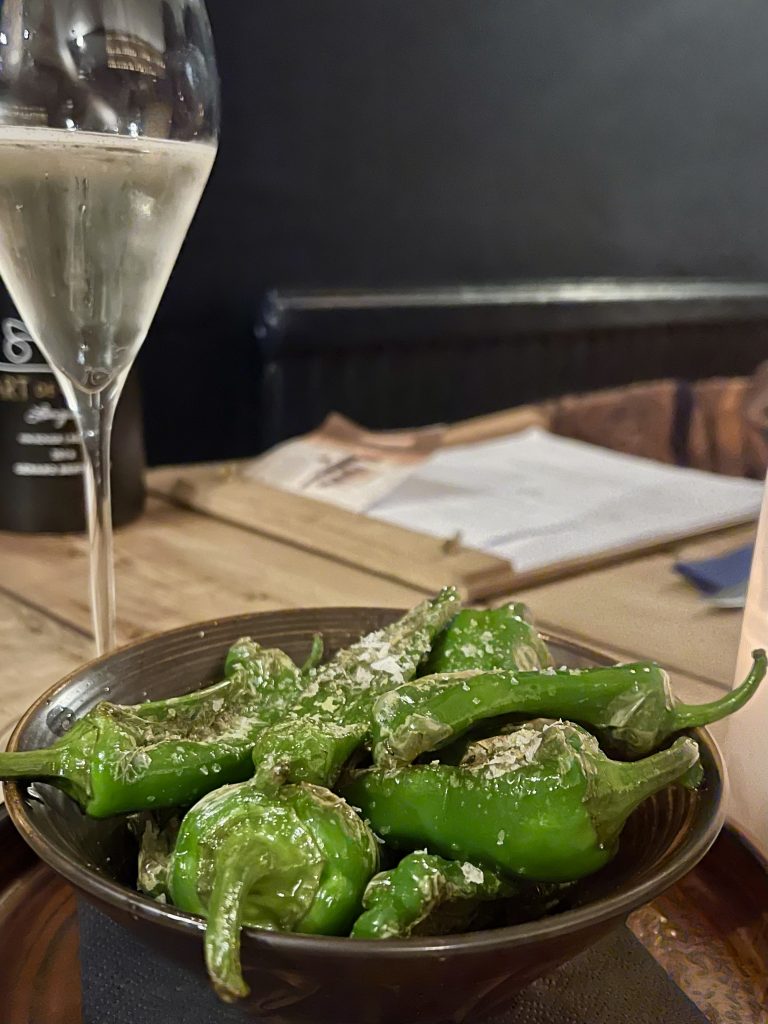 After checking out their opening party a little while ago and admiring the classily presented interior, I've been looking forward to a more in depth visit for a little while, which was reflected in my excitement as I arrived, and we were directed to take up our seats. The best hospitality somehow imbues you with a sense of escape from whatever pressures the day has put you under and this was evident in abundance at 22 Yards York as we arrived to just the right ambience and quickly received glasses of fizz. On opening, I'd rather assumed that the food offering here would be limited to platters of charcuterie and cheese but the menu quickly disavowed us of that notion with a tempting range of smaller and sharing plates, though cheese and charcuterie were present and correct also if that's your preference.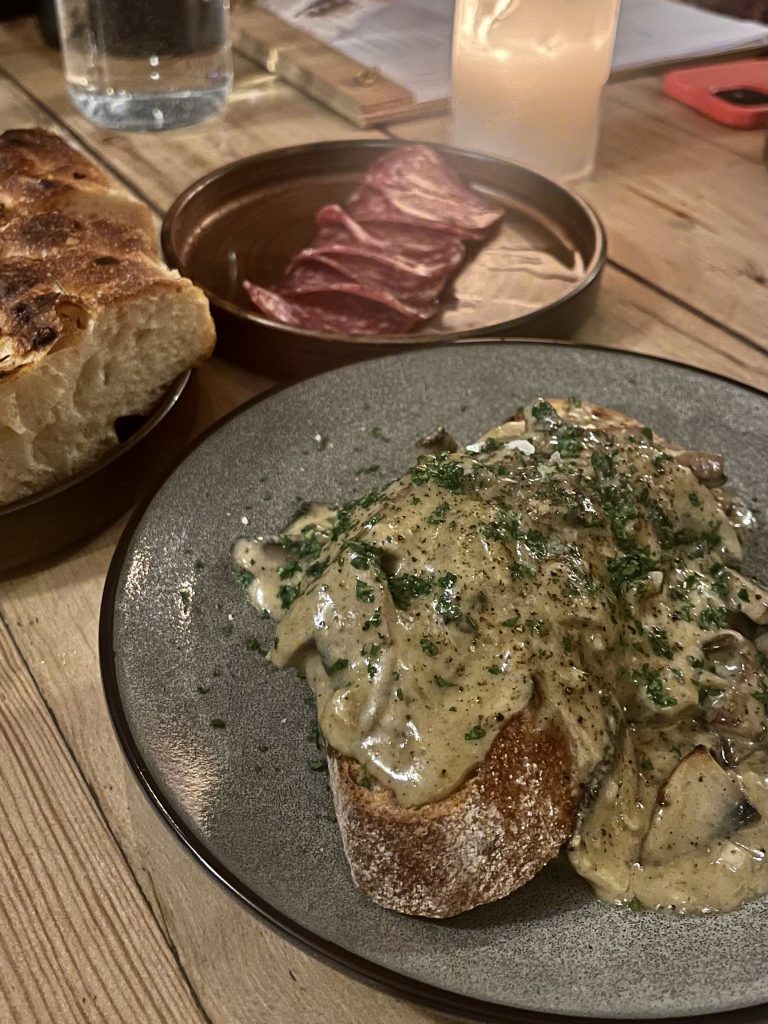 We started with a bowl of charred padron peppers whose punch of bitterness was cut through nicely by the sparkling wine while we mulled over the rest of the menu, from which it quickly became apparent that food is certainly not the afterthought here. We went for a selection to share including Haxby sourdough, herby mushrooms on toast, Toulouse sausage with pommes puree, a cheese toastie to share and a bit of Cobble Lane cured meat for good measure. First up, the creamy and herby mushrooms on sourdough were rich and indulgent with the well-seasoned sauce soaking into the bread for us to punctuate with slices of salami. It goes without saying that Haxby sourdough was perfect as always and bridged the gap to the Toulouse sausage which was served with plenty of beef gravy. The sausage was bold with garlic and red wine that were put into perfect relief by the pommes puree which, while totally smooth, held itself with just the right consistency to collect the gravy. Looking back, I'm slightly surprised by my decision to order a toastie in preference to the rather more delicate dressed crab or cured salmon dishes but that's not to say it was a disappointment as much as a diversion from my normal preferences. Served with chutney and cornichons on a platter this would make for a great treat of a light lunch for two.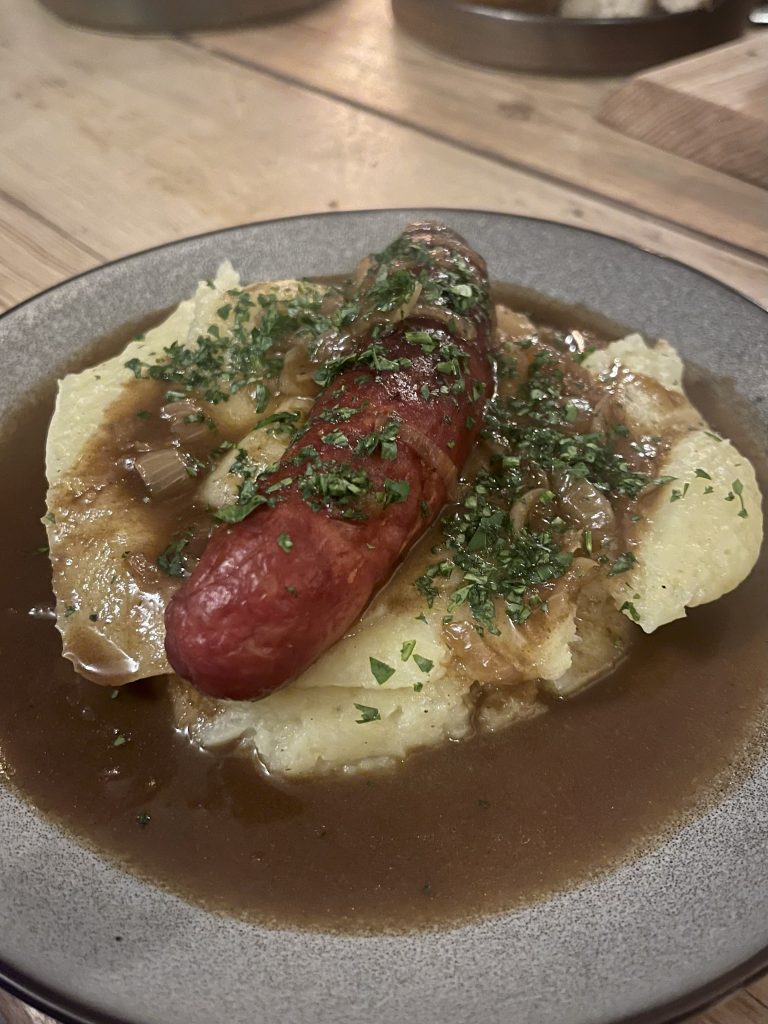 While the food is plenty of reason to visit 22 Yards York in its own right, the wine list holds plenty of temptations too with a huge selection of whites, reds and oranges available by the glass as well as more financially adventurous options that range into three-figure price tags if you're so inclined. All that makes this a compelling place to make a habit of visiting, picking from the frequently updated menu and pairing wines to sample in the shadow of York Minster makes 22 Yards York a distinctive and valuable addition to the York hospitality scene.
Disclaimer: PR visit at no cost