(Ad – PR visit) Whether or not a Sunday roast needs elevating can be a contentious point. The view that, if eating out, a roast is best enjoyed in a pub by a roaring fire with a couple of pints of good Yorkshire beer is broadly held and with good reason. If you want to make more of an experience of it though there're plenty of places around York at which to do so with establishments such as The Chopping Block and The Whippet offering fantastic opportunities. Also amongst this number is Hotel du Vin York which can be found on The Mount just a short walk from Micklegate Bar toward The Knavesmire and offers both dining and accommodation.
My visits here have been limited in the past to one afternoon tea and occasionally nipping into the bar when living in Holgate for a brief period that meant it appeared on my commute. Hotel du Vin York is a smart conversion of what was once an orphanage into an airy, multi room space that houses a bar and restaurant as well as meeting spaces and a rather impressive purpose built wine tasting room. For this visit we were seated in the restaurant which isn't over crowded by too many tables and is tended to by plentiful and calm servers who were quick to provide us with glasses of wine and menus as well as juice for the four year old. From the Sunday Lunch menu we picked out a smoked salmon starter along with a French onion soup to reflect the venue before settling on sirloin of beef and chicken as the centrepieces of our roast dinners. From the "Enfants" menu, melon and berries were chosen to start before steak and chips to challenge my daughter's constantly unpredictable fussiness.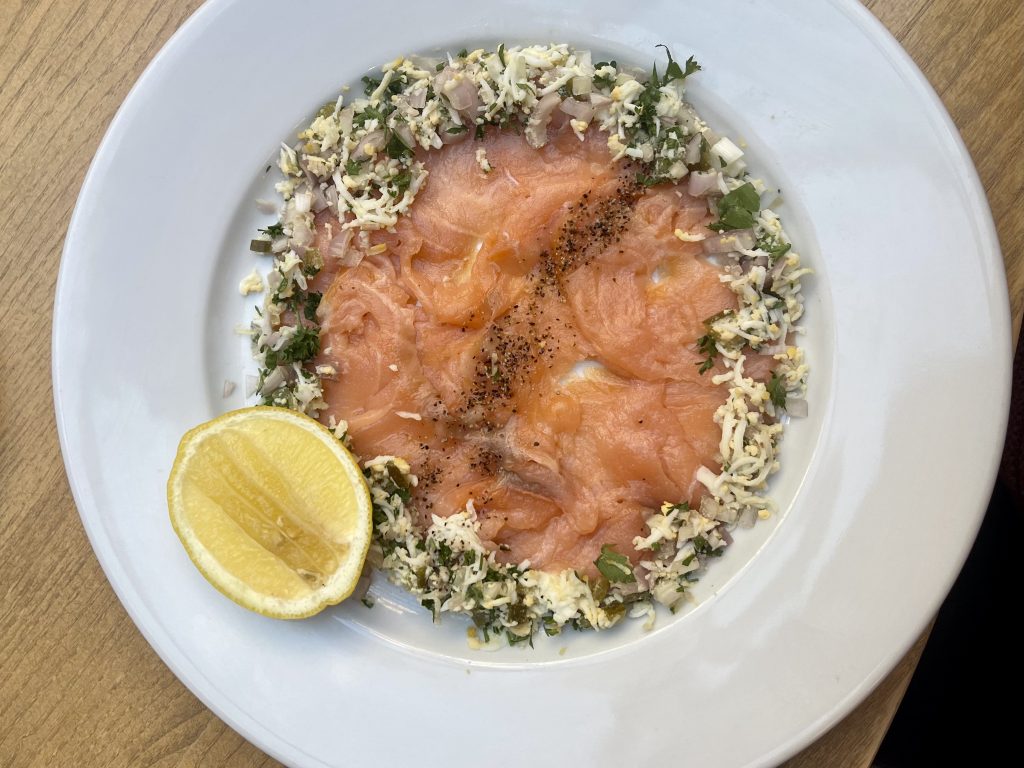 A plate of smoked salmon encircled by grated boiled egg, and parsley with sharp capers and cornichon for a punch of flavour started things on a delicate note but the onion soup was truly memorable. Overflowing with melted cheese under which there were indulgent croutons soaking up the tangy soup this was a really great execution of a classic, and all too rarely seen, dish. The melon and berries from the kids menu was appropriately unfussy and kept her busy while we set about the more adult dishes.
Roast carrots and parsnips, green beans, Yorkshire puddings and pea shoots accompanied the meat along with plenty of roast potatoes and a stuffing ball to go with the chicken. The beef sirloin was perfectly rare as I'd requested and chicken not overcooked while the stuffing had a good bit of texture externally which wasn't at the expense of tenderness. A decent whack of horseradish for the beef and generous amounts of gravy completed the picture for the adults while the child's steak was, in all honesty, of a higher standard than the recipient would have demanded and all the more gratefully received for that. After thoroughly enjoying that lot, there wasn't a great deal of appetite left around the table but we managed to share a chocolate pot with cream to end the experience before a potter around the lovely gardens.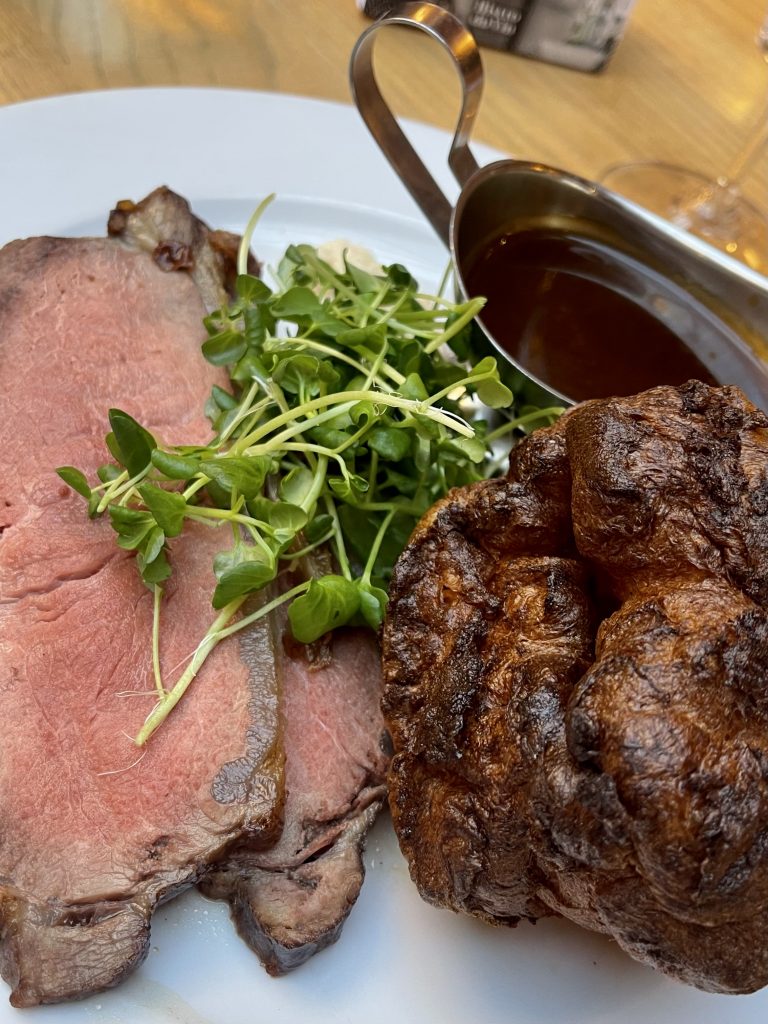 Hotel du Vin York have succeeded in turning Sunday roast into an occasion without losing the feeling of homely indulgence that should characterise the event. Each element was well executed, generous in quantity and combined into a really satisfying experience. The addition of starters that tilt toward the venue's French leanings only served to heighten our enjoyment, that French onion soup in particular being top notch. Thanks for having us!