Third party booking apps or websites are not something I'm in the habit of using. I'll lean into the easy utility of Just Eat or Deliveroo when I'm feeling lazy and can't be bothered to breach my own threshold for food but generally if I want a table at a place in York a few messages is enough to get something secured. The offer then from OpenTable to try out dining in York as booked through their portal was an intriguing one and, frankly, with the meal taken care of was a difficult one to turn down. With a history that can be traced back to 1998, albeit under a different name, OpenTable obviously has a bit of experience in this industry and is (somewhat predictably) headquartered in San Francisco. None of that has much bearing on the end user though if it doesn't work, so I quickly settled in to have a look at which York based restaurants were signed up.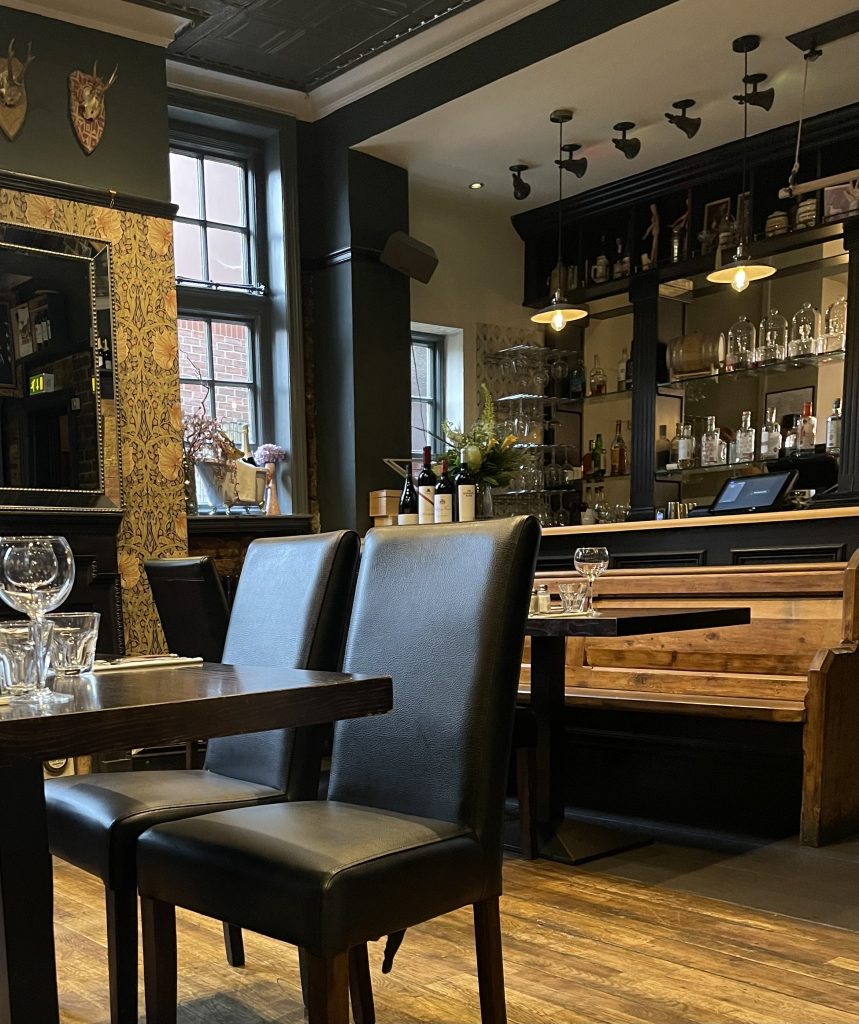 I found a decent selection including a few I've been meaning to try and some old favourites worthy of revisiting and the process was painless. In a previous life, I designed IT system processes for a living so any websites with particularly glaring howlers really raise my hackles but everything was seamless here. The list of local restaurants was presented logically and clearly along with availability and any other pertinent information while there was no fumbling over unnecessary mandatory fields or endlessly scrolling through lists of values defaulted many entries from their most common selections. After a happy few Sunday evening minutes spent going through menus, I had a table booked for the following day at The Whippet Inn on North Street, subject of a recent minor refurbishment I've been meaning to check out.
Service is always a strong point at The Whippet and, with the booking having apparently been transmitted seamlessly by OpenTable, we were quickly seated in the main dining room with drinks in hand to toast the anniversary of someone precious's passing. Whatever recent work has taken place hasn't been terribly invasive, the most notable side-effect being the repurposing of the bar to more tables for restaurant service. An entirely understandable move but I will miss the opportunity to slope by for a quiet pint in what was an under appreciated spot to skulk with a newspaper. Rather than opt for starters we decided to go all-in with Chatueabriand and limit initial consumption to a few of their deep fried cornichons to keep our hands busy while we waited for our main platter. Served with sweet chilli, they paired nicely with the local blonde beer I was enjoying.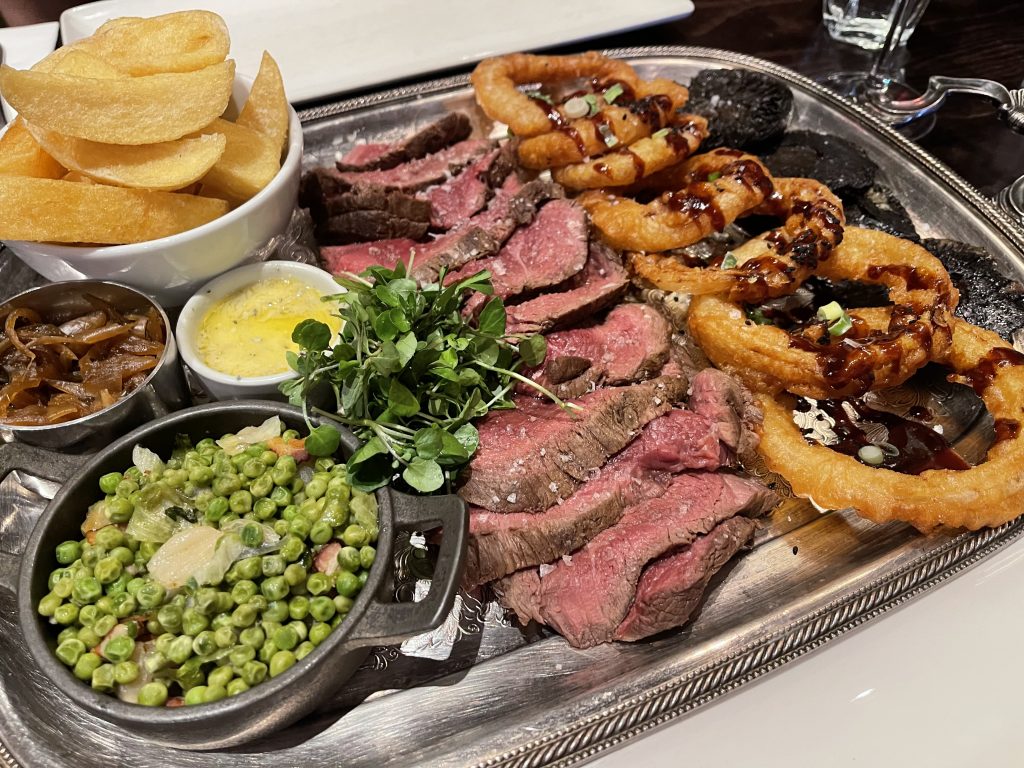 We'd been warned that Chateaubriand would take half an hour to prepare so happily had settled into the wait but it didn't feel like an imposition to wait for once it arrived. The generous number of beef slices were flanked by a selection of sides including a pea salad, garlic roasted mushrooms, onion rings and triple cooked chips as well as our choice of butters or sauces, burnt onion & yeast compote and blue cheese in this instance. The presentation on a large vintage tray really gave the evening a sense of occasion and we did our best to do the feast justice, making sure to tackle all the meat and prioritising the most indulgent bits of the selection with crispy, beer battered onion rings proving hard to resist and mushrooms being completely finished off. The burnt onion and yeast threw a savoury life ring around everything it was paired with and the blue cheese sauce gave just the right piquant hit to enhance rather than overwhelm the meat. The meat was obviously the star here and was well seasoned, cooked to just the right pinkness and obviously well rested before slicing. Our plan had been to divert our appetite from starters and instead enjoy a dessert but the sheer quantity here defeated us, leaving us to enjoy a slow repose along the river home instead. Eighty five pounds is enough money to register as an indulgence for most of us, but it certainly was an indulgent evening at The Whippet when we threw in a couple of glasses of wine from their uniformly reliable list too. The Whippet has been a reliable place to get a top notch steak in York since it opened and that shows no sign of changing.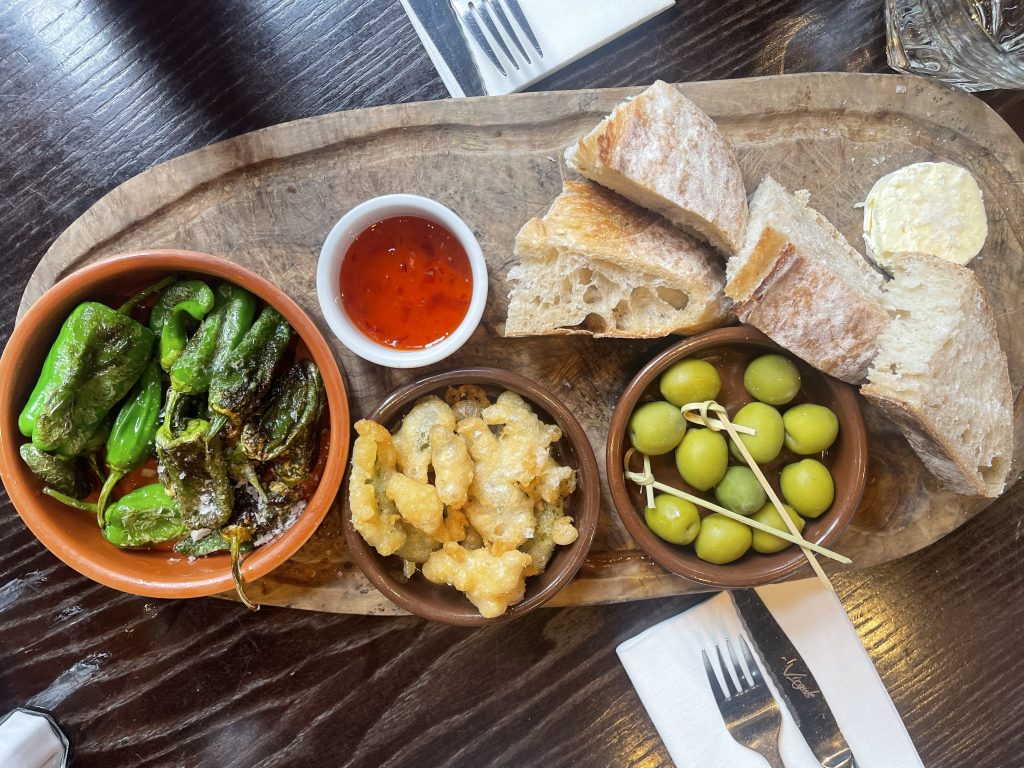 As regards using OpenTable to book the evening, I had largely forgotten that I had done so by the time we started eating which rather illustrates how few barriers it places between consumer and restaurant. In all honesty it'll remain easier for me to ping a message to a friend to check table availability at a lot of places but when I'm on less familiar terrain in future I'll certainly keep it in mind as a painless way to grab a table somewhere at short notice.
(Ad – PR meal supplied by OpenTable)