It's not a great time to be managing one's finances is it? Everything is getting more expensive for all manner of reasons, which is putting a shock through the supply chains on which hospitality relies and shrinking margins to the point at which businesses will have to shut or pass on costs to the customer. Make no mistake, this winter is going to be a hard time for hospitality and we're going to have to accept that going out will simply be more expensive. Right now though there're still bargains out there to be sought out and enjoyed with places in York such as The Blue Barbakan and Enoteca offering great value early evening/set menus. Also amongst this number is Cafe 21 York at Fenwick on Coppergate with a fixed price menu offering 3 courses for £25 or 2 for £22.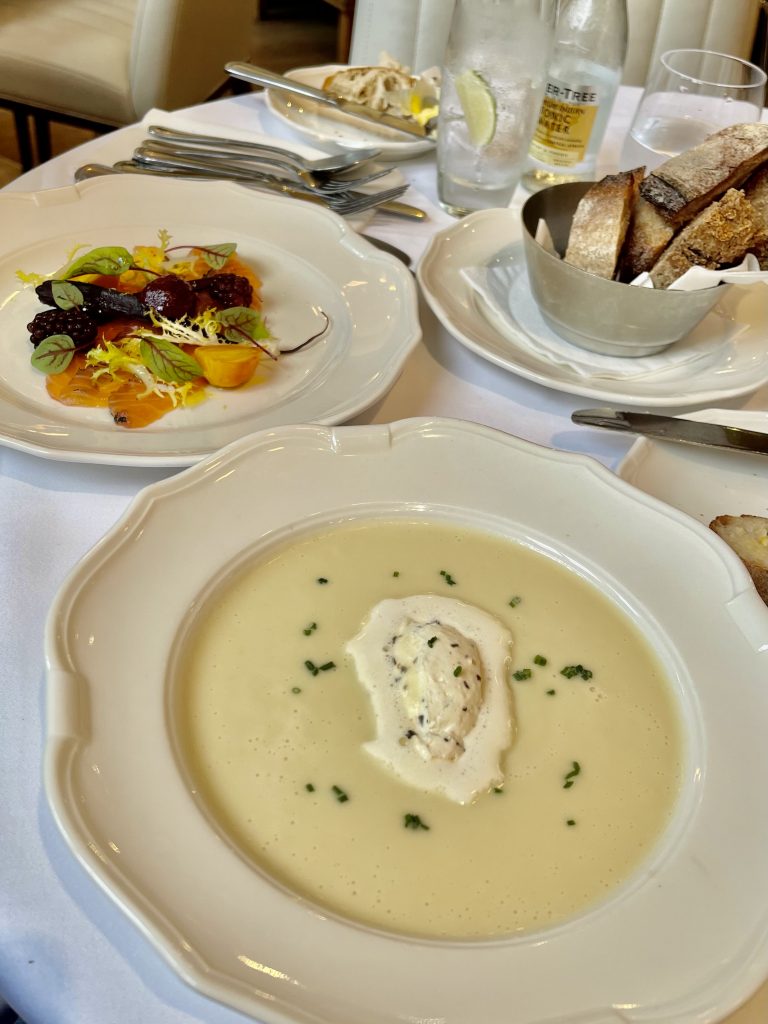 I've dined at Cafe 21 a few times and always found it to be fair value, excellent quality and a lovely environment in which to dine that brings strong bistro vibes into the department store setting. As an aside any fears that this is "just" a shop cafe that can't stand on its own strengths should be cast aside; Cafe 21 York would be just as at home situated entirely separately to Fenwick, and is part of the well regarded 21 Hospitality group. After navigating through Fenwick to the first floor it's easy to quickly become comfortable in the restaurant space which feels well segregated from the eager shoppers who would be wise to call in to sustain themselves for further adventures in consumerism.
We were seated in a booth near the open kitchen that allowed us to keep a watching brief on the chefs at work – always satisfying – while we extracted some decisions from the menu. One doesn't expect masses in the way of choice from a fixed price menu and each course here is represented by a triplet of options that provides enough in the way of choice while remaining a known quality for the kitchen's costings. We plumped for soup and cured salmon to start followed by cod fillet and pork chop. Service on each visit I've made to Cafe 21 York has always been the right balance of conviviality and formality that the average Fenwick customer might expect, something repeated here as our order was taken and we were quickly into our lunch.
Soup is a mainstay of specials and fixed price menus for good reason thanks to its handy ability to use up leftover produce in a satisfying manner. The celeriac version on this menu was lifted by a dollop of truffle cream for a satisfyingly luxurious finish and the whole dish was well seasoned and with a well judged texture, and enough body to feel filling without moving a spoon through it becoming a chore. A few slices of blackberry cured salmon paired with pickled beetroot and a sharp citrus dressing made another satisfying starter and was a surprisingly generous portion, all the more so when the side plates of bread were considered.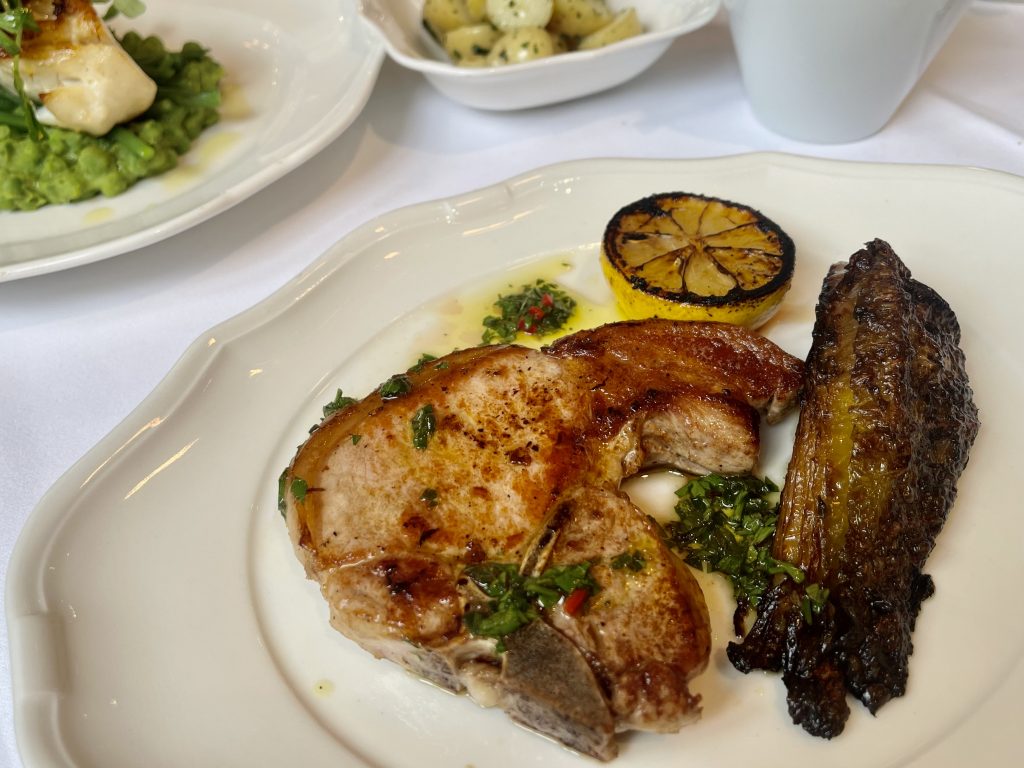 With starters away, we were soon admiring our main courses with the cod fillet arriving atop a bed of crushed peas interspersed with green beans then crowned with a few pea shoots. Pork was more simply presented with a fresh salsa drizzled across it and braised cabbage on the side. Buttered new potatoes accompanied the fish to flesh it out into a substantial dish while the pork came with a portion of fries. Regardless of the value, there's no fear of going hungry here! Both of these dishes were well rounded and didn't have the sense of being cooked to a budget, the cooking of the pork in particular was very satisfying with plenty of caramelisation which didn't come at the expense of tenderness.
Twenty five quid for three courses might have been tempting but it couldn't overcome the practicalities of my mid-week lunch time appetite so dessert was off the cards. That doesn't mean I won't be back for another stab at it though. Being honest, this winter is going to be (yet) another tough period for hospitality so the businesses that are able to find ways to offer great value while still retaining a margin will be best placed. Offers like this may well be key to continuing to enjoy dining out over this period for many and Cafe21 prove here that they need not feel miserly.
Disclaimer – PR meal.