There's a lot to be said for slightly unambitious but tasty pub grub that can be knocked out relatively easily for sensible amounts of money. Sometimes the opportunity to fill up on ham egg & chips or scampi & chips with a pint on the way home from work is just the right level of privilege, but that doesn't mean though there's no headroom for quality local pubs to stretch their offering upmarket. The Winning Post has been a fixture on Bishopthorpe Road for the 20+ years I've lived in York and in that time has steadily improved its offering toward its present well resolved form. The food in recent years has featured plenty of those accessible pub classics but also strays into a restaurant style a la carte offering. I popped along for dinner to see how it was going.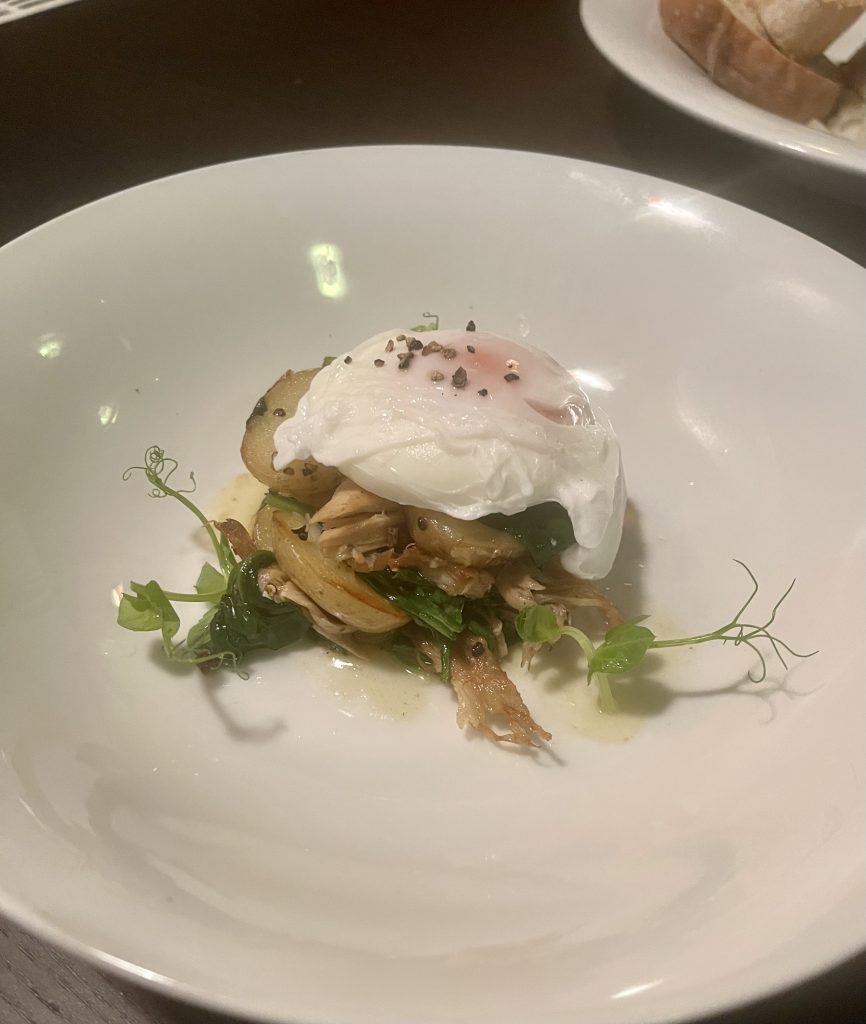 Being near the Millennium Bridge, The Winning Post is easily accessible for large parts of York, further afield than its native South Bank and Bishopthorpe Road areas. Its imposing presence indicates the plentiful space inside which easily accommodates drinkers in the bar along with those wanting a more formal meal. The menu has a, perhaps unintentional, beat of numeric progression with 3 nibbles, 4 pub classics, 5 starters and 6 mains counting upwards alongside sections for burgers and children's meals. Those starters and mains betray greater ambition and feature some unusual ingredients such as rabbit. With our visit taking place on a quiet day early in the week, there was plenty of seating to choose from and finding ourselves comfortable with pints and menus in hand was a quick business.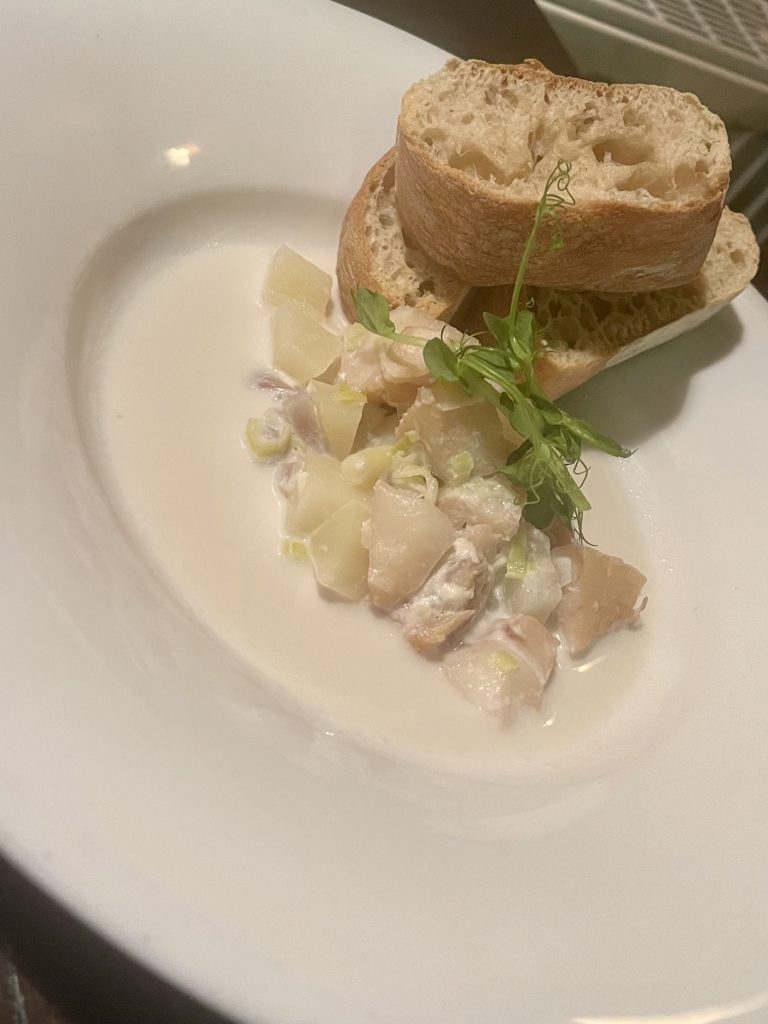 The presence of rabbit on a pub menu was not an opportunity I was going to pass up so warm rabbit and smoked haddock chowder took on starter duties to be enjoyed before mains of pork belly and seabass. Service was prompt, friendly and happy to impersonate a restaurant so as to not necessitate any return visit to the bar. The rabbit was presented with potatoes and spinach along with strident garlic and lemon butter with a perfectly poached egg to top things off and let the produce realise its potential. Rabbit can be an easy thing to trip over the cooking of but it suited being served warm and the poached egg did its thing admirably while the smoked haddock chowder on the other side of the table was very pleasant and well judged with a generous whack of garlic through the sauce that did well to whet our appetites for main courses.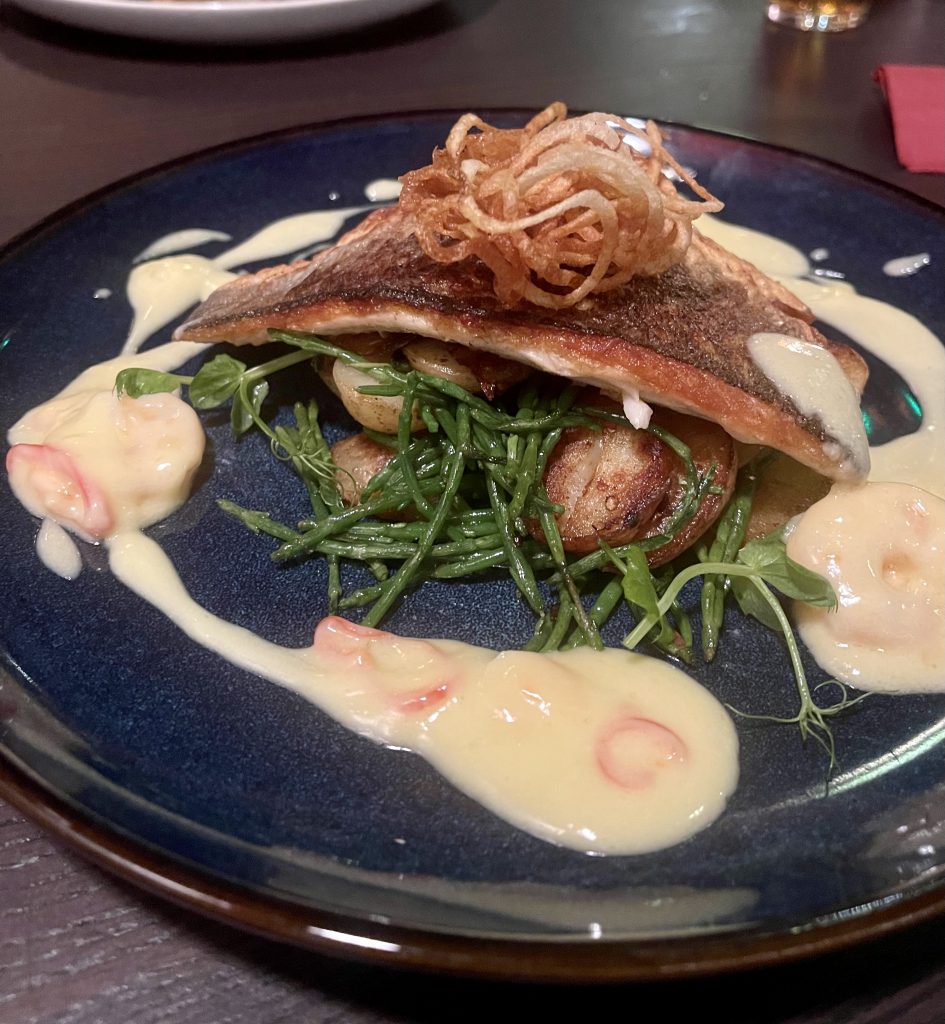 For the main event we opted for pork belly and sea bass that both looked to be a good compromise between hearty pub grub and more elevated restaurant style plates. Both arrived quickly and made good on that promise being well presented without too many unnecessary embellishments, letting the produce speak for itself in the main. The sea bass wore a crown of crisped potato string for a texture while served over potatoes and samphire with a prawn and chilli sauce that served to accent rather than dominate, making a well rounded dish that I'd happily order again. The pork belly had rather a lot thrown at it, coping well enough with the barrage that included carrot, parsnip, broccoli, Dauphinoise and a sauce using pear to make it a dish with a broad approach. Not that its enjoyment was really diminished by that, everything on the plate was well executed and very enjoyable, but I must say I've never seen so much pork belly intended for consumption by a single person! While enjoyable I can't imagine The Winning Post see many dessert sales after this one!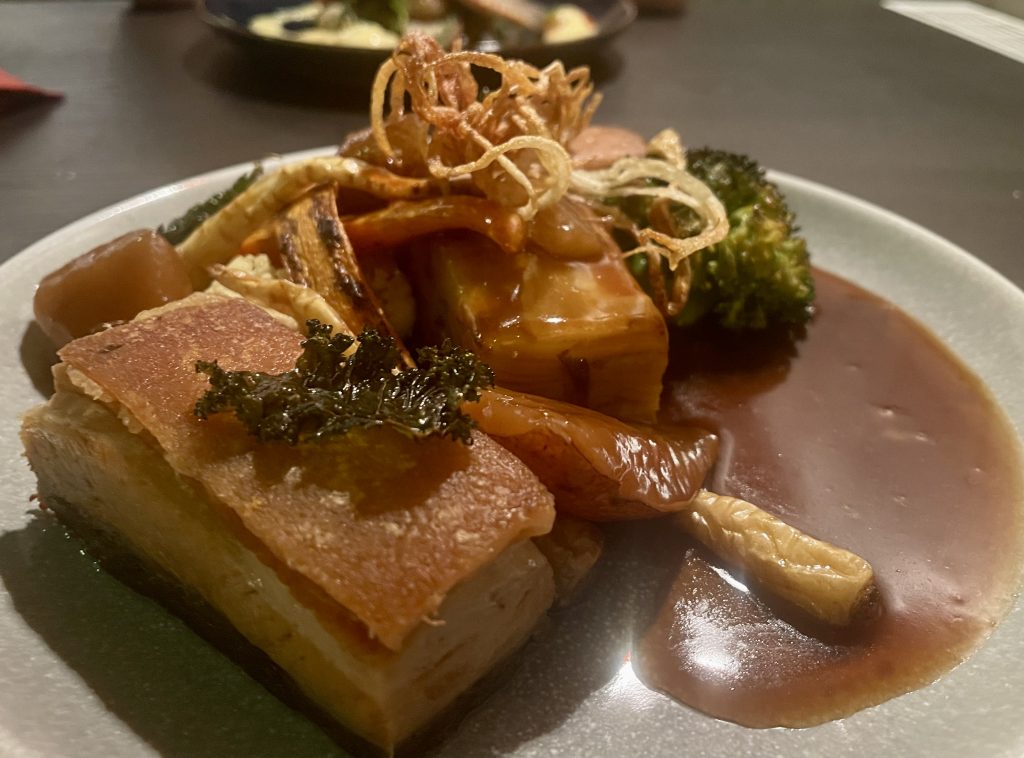 The Winning Post has been on a steady course of improvement throughout my 20 or so years in York that has culminated in its present role as a much valued neighbourhood pub that serves drinkers along with both casual and more involved diners without detriment to any of those parties' enjoyment. The dishes we enjoyed represented the more ambitious dishes available and largely hit the mark, complaining about a surfeit of pork belly being a touch churlish perhaps, and represented decent value. The dining experience was also well judged to feel just formal enough to match the style of food while not over reaching itself toward unnecessary contrivance. From this compelling evidence it's easy to see that The Winning Post is balancing all those roles that it's set out to fulfil, making itself a real asset to both the neighbourhood and wider York communities.