The way that the last two years have compressed into themselves gives us a slightly odd sensation when returning to once familiar places. Strolling round Leeds at a more leisurely pace than I've done in a couple of years leaves a vague sense of unfamiliarity as I try to recall which of the establishments I pass existed in the same form last time I had the opportunity to mooch around the city. As I added to the daily step count, I noticed a good few new and refreshed places to eat that I'll keep on my mental list but the destination for the day was to be a perfect representation of this sensation as I arrived to enjoy Fint Leeds Brunch.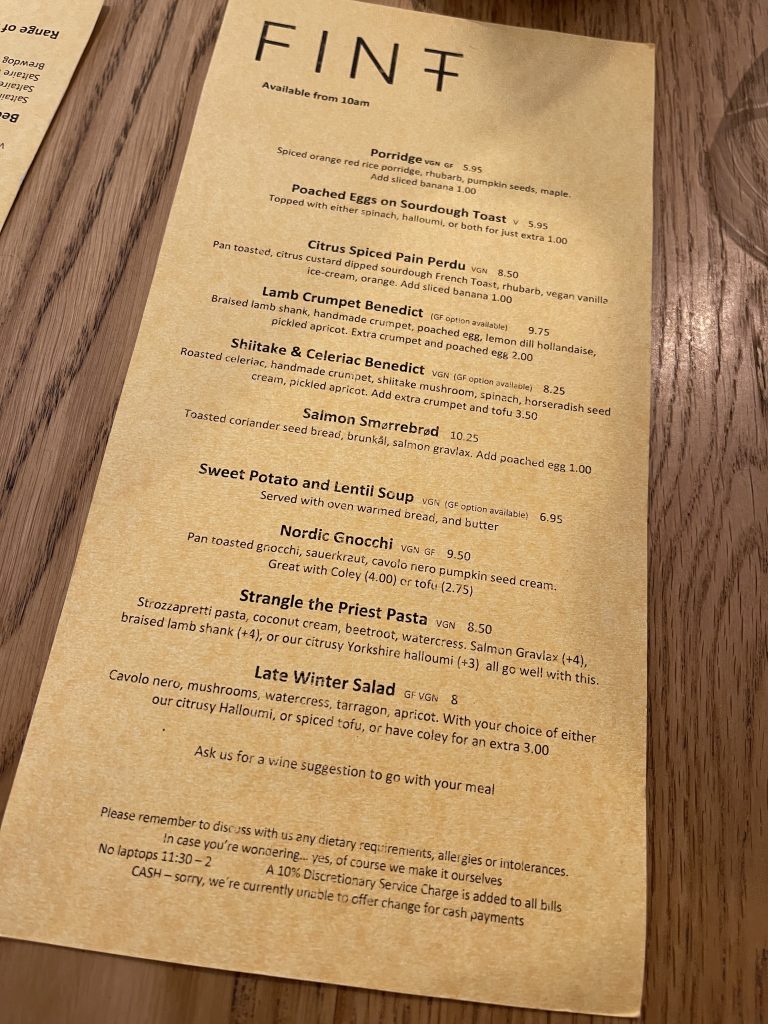 Fint is the new incarnation of Fettle which, prior to the rupture of 2020, was making its name as a relaxed venue to enjoy Scandi-influenced dishes and all set for a refresh to take it to the next level. Skipping forward over the aforementioned interruption to our lives and Fint is absolutely buzzing when I arrive around midday on a Sunday to get stuck into their brunch dishes. The small dining space is beautifully appointed with wood from a local craftsperson and squeezes in enough of a crowd for an atmosphere without getting greedy enough to impair your passage through it. The Fint Leeds brunch menu handles the transition between brunch and lunch neatly with a reasonably equitably division between more traditional brunch dishes and more typical lunch dishes.
One of the more intriguing dishes on the menu was a Lamb Crumpet Benedict that was never likely to escape my curiosity and the other side of the table went for the equally intriguing "Strangle the Priest Pasta" while a nice Albarino lubricated proceedings admirably. At the risk of common sense overtaking my appetite, I added a second crumpet and poached egg to the lamb dish that made it a formidable sight when it arrived, with lemon and dill Hollandaise crowning the braised lamb shank and poached eggs. I'd wondered if all this would result in an over-caloried start to the day that left one weighed down and lethargic but thankfully everything was neatly balanced with just the right sense of indulgence that didn't tip into excess.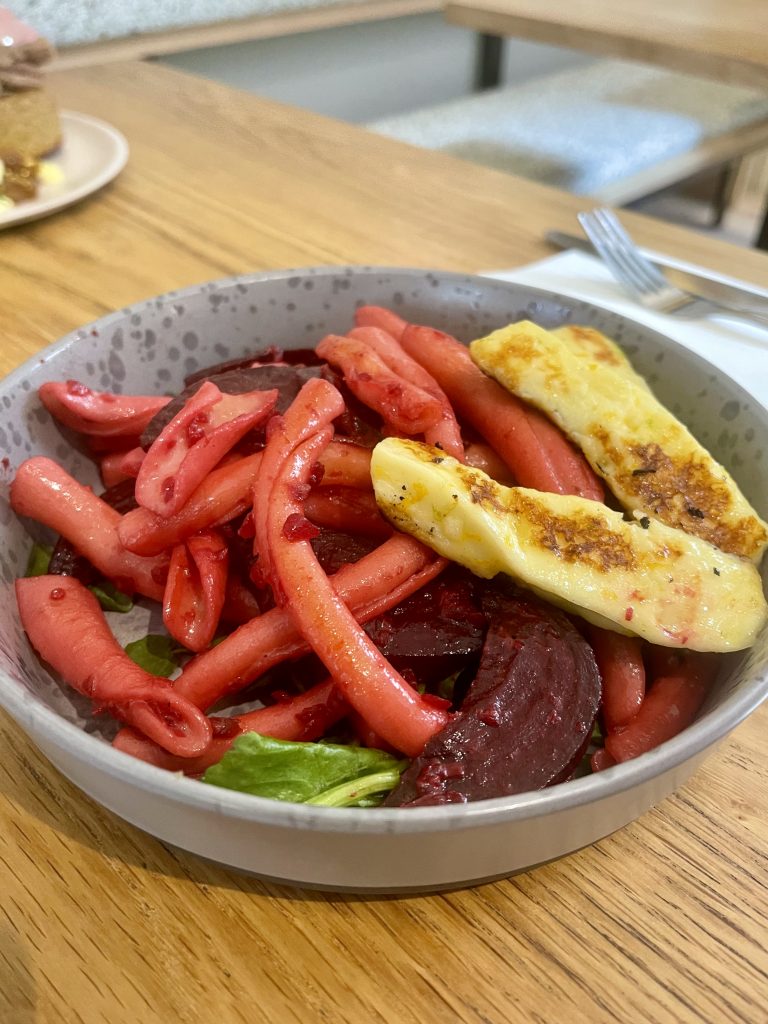 Strangle the Priest (Strozzapreti) pasta can trace its name back to various, presumably apocryphal to varying degrees, stories that all seem to have roots in the resentment of the clergy many years ago in various regions of Italy. Regardless of etymology though these are elongate, twisted ribbons of pasta that hold a sauce well and were a vivid shade of pink in that dish that served them with beetroot, watercress and coconut cream with options to augment including salmon, lamb or halloumi. I took up the latter option after asking my server which they would opt for and was more than happy with the resulting vibrant and satisfying dish including a generous amount of the headlining halloumi and beetroot.
In Swedish fint translates to "fine" which is rather understating what's been achieved here. With a beautifully detailed and relaxing dining space in which to enjoy original dishes that justify their individuality fully, this is a delightful spot to dine in throughout the day. My only regret is the realisation that there's an evening menu available now that will really let Fint stretch its legs and broaden its appeal even further. In some regions 'fint' can also mean "a find"; Fint is certainly that.
(Disclaimer – PR meal at no cost)