I seldom seem to end up dining in restaurants just outside of York. I've done plenty in nearby cities but oddly few just a couple of miles from the centre of our wonderful city. That's not to say though that there's nothing on offer. So, when I was invited along to the opening of Bosun's restaurant in Bishopthorpe, I was happy to take the first step in filling in that geographic hole. The building in which Bosun's is housed goes back many years in hospitality, though has been shut for a good while getting ready for its re-emergence just in time for Christmas 2021. One of the key selling points here is the riverside location, not too far from the Bishop's Palace and a short walk from the centre of Bishopthorpe, which at this time of year features some quite alarmingly complex displays of Christmas lights to enjoy as you meander from the pub to the restaurant, as we did.
Bosun's restaurant is easy enough to find down a country track that's well signposted from the main road and a comfortable stroll from the centre of the village. The building certainly makes an impression as you approach, its elevated position marked out by plenty of cheerful illuminations and smart signage and ramps for easy accessibility. Once inside, the care and attention that has been lavished is evident everywhere, with decor flamboyant enough to mark this out as a special destination but not so embellished as to become the focus in itself.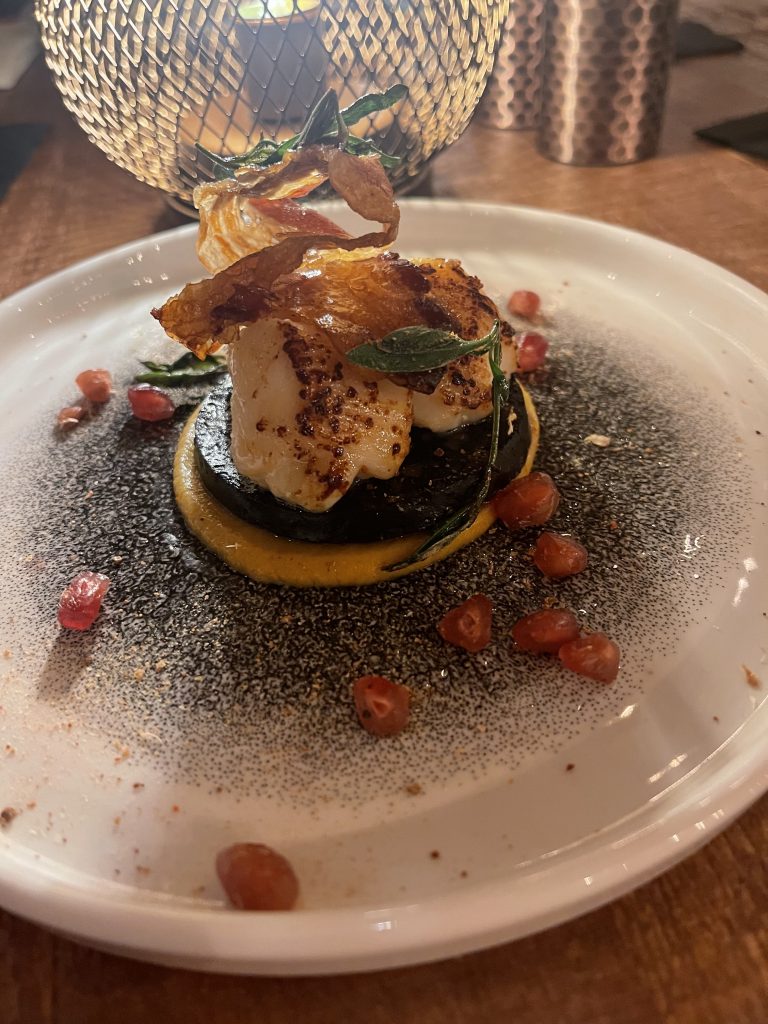 We were quickly settled at our table and beginning the menu forensics with drinks in hand, grabbing some "Gunpowder potato puffs" to take the edge off while we took stock of our options. These mouthful sized samosas that were packed with spiced potato did their job of piquing our interest without denting our appetites and it didn't take long to settle on a quartet of starters and mains. The successful candidates in this case were scallop and black pudding and cheddar and leek tart starters followed by mains featuring lamb and chicken.
Scallops were first to interrupt our conversation by dint of a presentation perching them on top of a thin disc of black pudding, itself embedded in a circle of mildly curried parsnip with pomegranate and sea herbs for embellishment. Scallops are an easy thing with which to impress which can be tricky to augment without overwhelming, but the hint of curry along with the rich black pudding pulled things into a very pleasing dish served on striking tableware. The cheddar and leek tart used artichoke both whole and as a puree to further itself as well as a scattering of wild mushrooms, which would be nothing without the tart filling being up to scratch. Thankfully the leek and cheese filling hit its mark as accurately as the accoutrements and the pastry was as delicate as one would hope to complete an accomplished couple of starters from Bosun's restaurant Head Chef Craig Hillery.
Lamb rump rewards careful cooking and the execution on this one certainly made it feel like a prize, being uniformly pink and tender with the fat rendered nicely to make a suitable centrepiece for the plate. Fondant potato is another easy thing to trip over – I've had a few crunchy ones over the years – but this one yielded happily all the way through to offer a further sense of luxury. Fresh peas and a scattering of pomegranate finished the plate nicely, tempering the richness of the lamb and buttery potato well. Chicken breast is another minefield through which I seldom wander in restaurants but the accompanying truffle Pommes Anna and onion puree persuaded me toward it, along with a potentially fantastic chicken leg bonbon. With a rich jus to tie things together this was another plate of complementing textures and flavours that demanded one's full attention. Pommes Anna is as prone to overcooking as chicken breast but both sidestepped any issues, with a good shot of truffle livening up the potato which had a nice bite at its extremities and was soft in the centre. Onion puree is a much underused thing that more than earned its place on the plate too and the bon-bon added a welcome further dimension.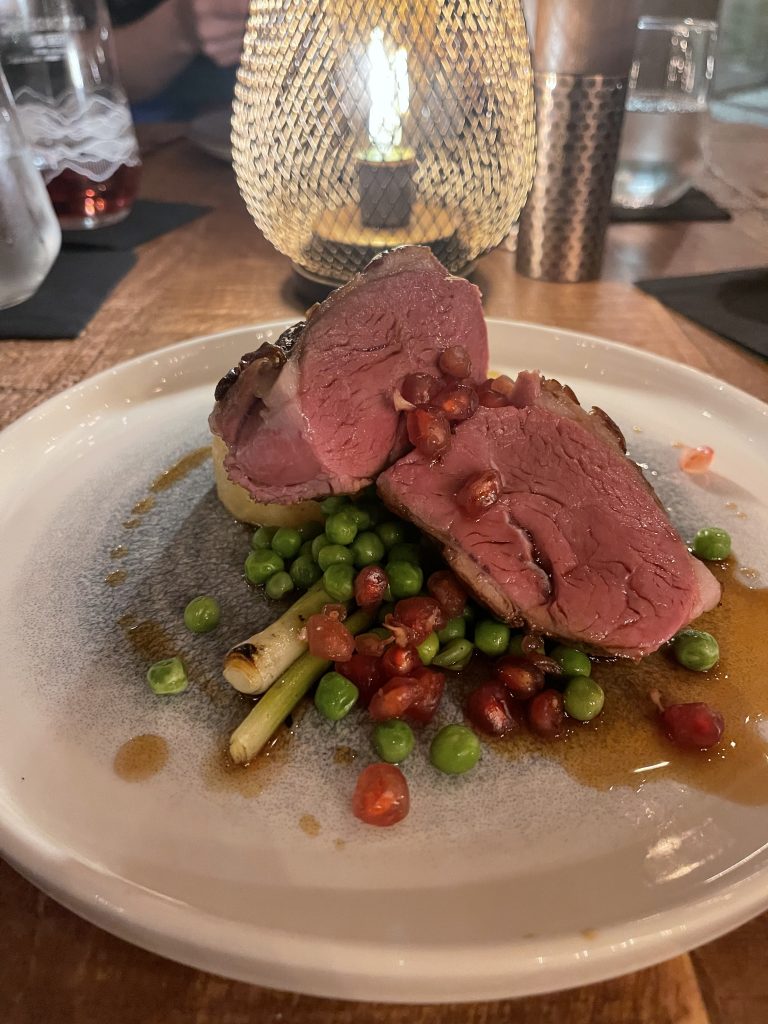 At this point, desserts were all that stood between us and the taxi back to York, cheesecake and creme brulee getting the nod to fill that interval and see us off. I've never developed a taste for elaborate desserts so creme brulee generally represents a happy punctuation on which to end a meal, as well as a deceptively easy thing to mess up. This example was infused with tonka bean to make it particularly memorable, an underused ingredient this delivers a hit of slightly almondy, marzipan sweetness with a subtle savoury note. White chocolate cheese cake was similarly well executed and prompted a string of superlatives from its recipient, who I suspect is still raving about it.
The only disappointment of the evening was that it took place in the evening and so I couldn't really get to grips with the views on offer from this remarkable new place to eat. The food was of a consistently high standard with plenty of details as memorable as the building, which was a perfect location. There's little to argue with in terms of value too with starters not broaching the ten pound barrier and mains largely under £18. It should be noted that this isn't an exclusive evenings only venue too, also of particular interest is a brunch menu that looks great value and will be the perfect excuse to return to Bosun's restaurant in daylight.
(Disclaimer – PR meal)