The back end of 2021 seems to have featured a disproportionate number of trips to Harrogate for me, with Hospitality Action, Golden Fork Awards and the Deliciously Yorkshire Judging and subsequent ceremony all pulling me in that direction. Another reason to make that recently familiar trip dropped into my lap recently with an invitation to The General Tarleton, which has a new tasting menu to enjoy in its fine dining restaurant that's neatly integrated into this charming village pub. I'm as much a sucker for a tasting menu as pretty much any other form of dining out so I gathered up a good friend to take on driving duties and was humming along the A59 before I knew it.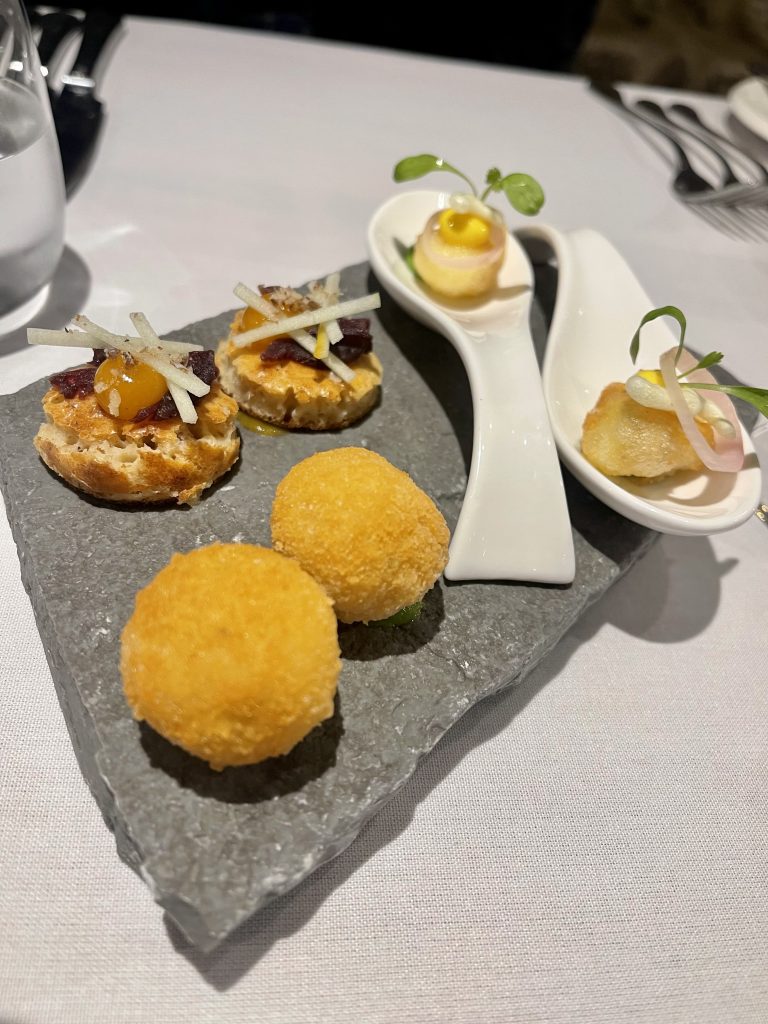 The General Tarleton was built in the 18th Century as a coaching inn in Ferrenby, just a bit North of Knaresborough, and is just the type of establishment that one wants to see as the heart of village life. Ferrenby is a small village so it's easy to overshoot your destination, but equally easy to execute a swift u-turn thankfully and rectify the error, as we may or may not have had to do. The bar into which one arrives is a welcoming space that would be very easy to slip into on an almost daily basis as a village resident, so we paused there briefly to kill the few minutes that had been unexpectedly liberated by light traffic. We then moved through to the separate fine dining restaurant in which to enjoy the tasting menu that's available in the evenings from Wednesday to Saturday.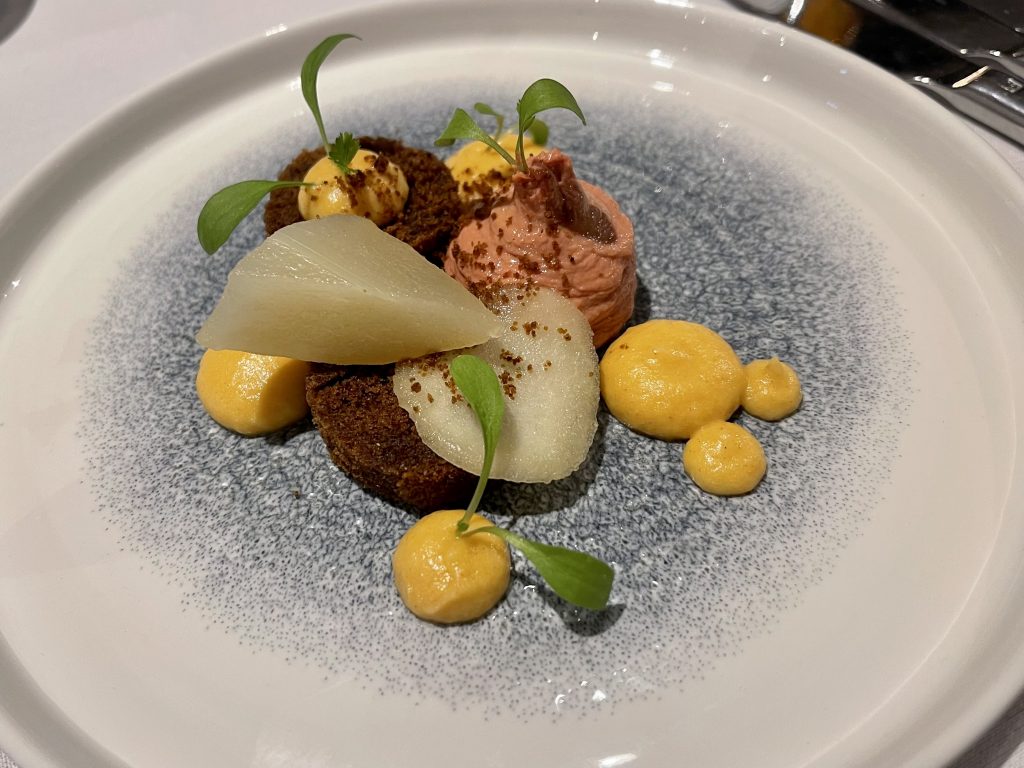 This fine dining restaurant is in a bare stone walled room with low ceilings in a secluded part of the building, with a wooden floor and a wood burner to keep us nice and snug. Smartly laid tables accented the higher end nature of this dining experience which looked to be great value at £55 for 7 courses with a generous wine flight doubling that to a still perfectly fair £110. First up was, predictably, that staple of a tasting menu, canapés! This time in the form of arancini, fish and chip bites and cured mallard blini amongst which the cauliflower arancini really stood out with a solid whack from the headline ingredient relieved by a parsley aioli. With a glass of Champagne to go alongside, I was well and truly ready to settle in for as much as could be thrown at me after a long day listening to builders working on our house.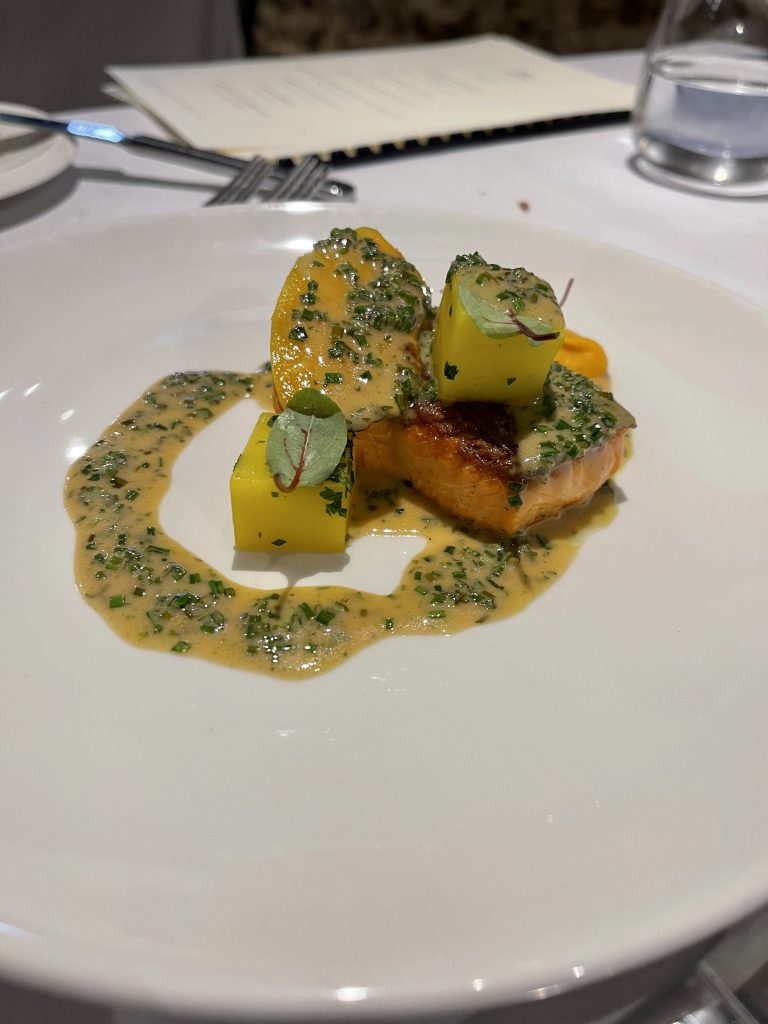 The first more substantial course crowned a disc of gingerbread topped with pear to balance a lustrous chicken liver parfait which was paired with Sauternes, rather unusually featuring early on in a meal and bringing impact to the early stages of the meal before the fish course of seared sea trout. This neatly presented dish used pumpkin a couple of ways for a seasonal accent of sweetness along with some fondant potato and an appealingly glossy herb oil. The mouthful that really elevated this one though was a single tempura mussel that vanished with a deeply satisfying crunch, and a tinge of sadness that it wasn't one of many.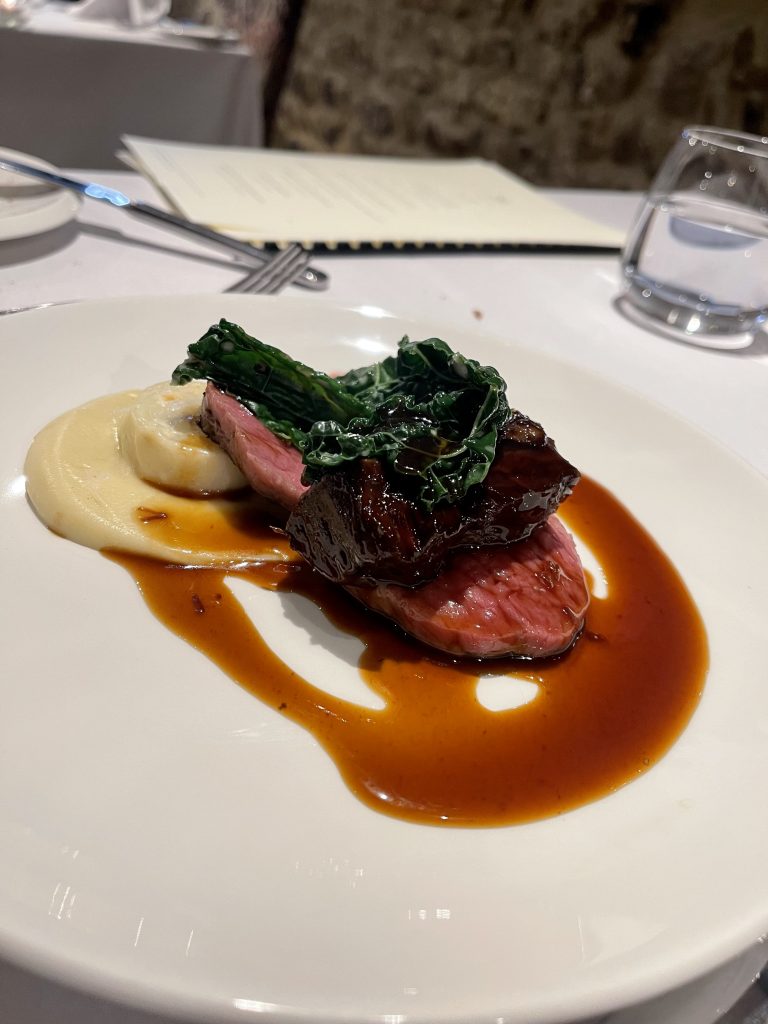 Beef is a classic choice for a meat course on this style of tasting menu which was executed here with flair as sirloin and cheek were presented with celeriac fondant and puree. With a bold Rioja, they came together as a real crowd pleaser, a bit of cavalo nero taking on the jus nicely too. Next up came "Chefs Cheese on Toast" composing strata of fig, Tunworth cheese and brioche that was as indulgent as the port with which it was paired. All that remained were a brace of sweet courses that started with a lemon syllabub with champagne jelly and finished with a bitter chocolate mousse with brambles and a pistachio cake, both of which were beautifully presented and continued the themes of indulgent ingredients presented delicately.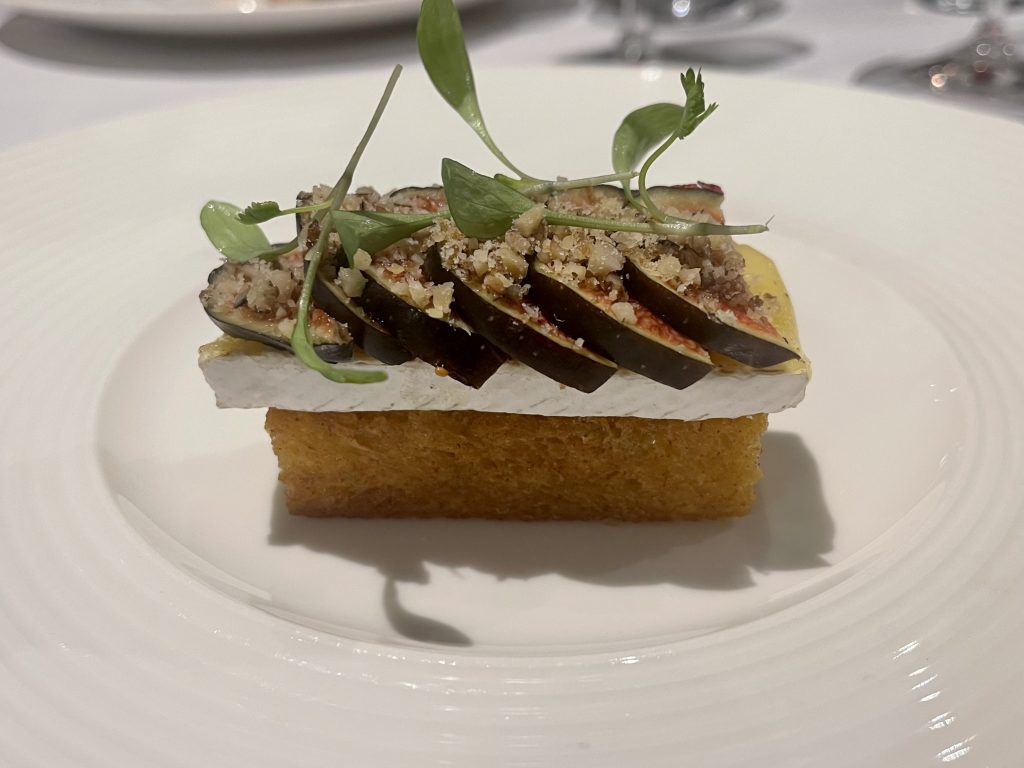 The popularity of tasting menus has ebbed and flowed in recent years, taking a bit of a dip as a few high profile chefs moved back to a la carte only, but these days they seem as widespread in fine dining as they've ever been. In all honesty, my enthusiasm has always remained as strong as any other style of menu, the opportunity to let a chef run riot contrary my perceived preferences remains a unique way for a kitchen to express itself. Ralph's Tasting Menu at The General Tarleton is a great value introduction to this kind of experience, sacrificing none of the details of the fine dining experience despite hitting that £55 price tag. The standard was high, featuring a few real stand out courses that stood comparison with the best, and the wine pairing was engaging and good value. It's particularly pleasing that this style of experience could be found in the same building that also offered what looked to be solid casual dining as well as a comfy village pub.
(Disclaimer – PR invite)