We Brits aren't in the habit of getting excited about tinned fish. The only time I've seen any overt display is in the kind of Lisbon gift shop that has the walls lined with them, each with a vibrantly illustrated tin. In fact I'm proof of this myself, as illustrated by the fact I still have some at the back of a cupboard from our last trip! Our national appreciation for canning as a preserving method is somewhat implicit in our supermarket shelves being stocked with sardines and anchovies, but its utility as a method for preserving higher end foods is something I've not seen taken advantage of on this island yet. First to this party is a new range of canned fish that's aiming to replicate the sense of wonder one feels in those charming Lisbon gift shops with their colourful displays, Rockfish Canned Fish.
Mitch Tonks is well known throughout the UK as a seafood-focussed restaurateur with a good number of successful openings behind him. He's also been seen fulfilling a healthy number of media appearances in his role as a Seafood Ambassador for the Marine Stewardship Council, whose commitment to sustainable sourcing policies in fishing is a great reassurance to those of us who want to enjoy seafood without causing irreparable damage to the oceans' ecosystems. This sense of sustainability is key to Mitch's new offering, a range of tinned seafood under the Rockfish brand that represents a sustainable way to smooth out seasonal variations in supply. To make good on those claims of sustainability, the fish is frozen immediately after making land, just 17 metres from Brixham quayside. From there, it makes the journey to Spain for preserving and canning before winging its way back to the UK for our enjoyment.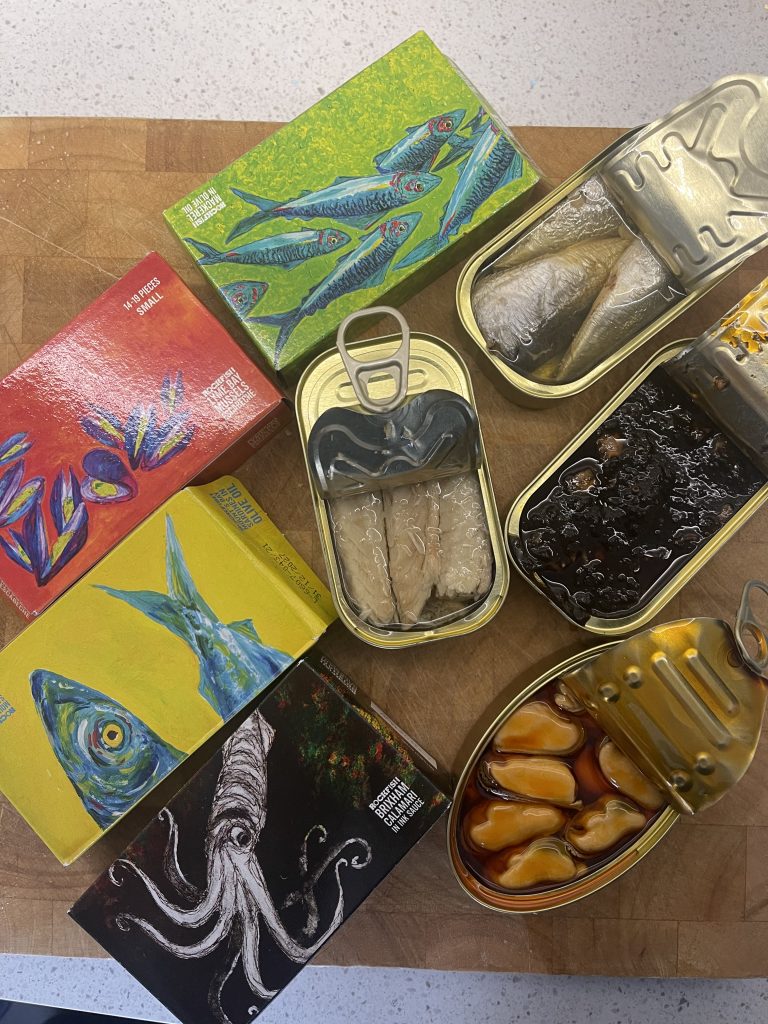 Predictably, the Rockfish Canned Fish range consists of more than just sardines in a few different sauces that crowd our supermarket shelves, taking in cuttlefish, mackerel, tuna and sardines as well as a tinned debut for me – mussels. The tins range in cost between five and seven pounds and are also available as a gift pack for £24 that puts together a selection of four tins, not taking the opportunity to bump the price up despite the extra packaging, which is striking in itself. The tins have been designed by Mitch's wife Penny, who has brought the contents of each product to life with the cardboard boxes featuring vivid representations of the tin's occupants.
All this is very nice, but rather beside the point if the final product falls short of all that effort and promise. Thankfully everything stacks up nicely to make these rather unique in the UK market in my experience and well positioned to end up as stocking fillers this Christmas for lucky food fans across the country. Sardines and mackerel are left to speak for themselves, the quality of the fish not needing to be distracted from, but the real stars of the gift box that I sampled were the cuttlefish and mussels. Opening the cuttlefish revealed a deep black pool of squid in ink sauce from which to extricate the fish which was pleasingly meaty without becoming too dense, and as a bonus, I managed not to dye myself and the kitchen surfaces black. I've never seen mussels in a tin before so approached these with a modicum of scepticism, which was immediately softened when I opened them. The intensely glossy finish gave the impression of the mussels being sunk in lacquer or varnished and the eating more than lived up to the presentation, with the meat being wonderfully soft and dense to the point of feeling like they must have been individually stuffed. I'd also wondered if cold Mussel would be unpleasant but these little mollusc nuggets were uniformly delightful and surprisingly filling.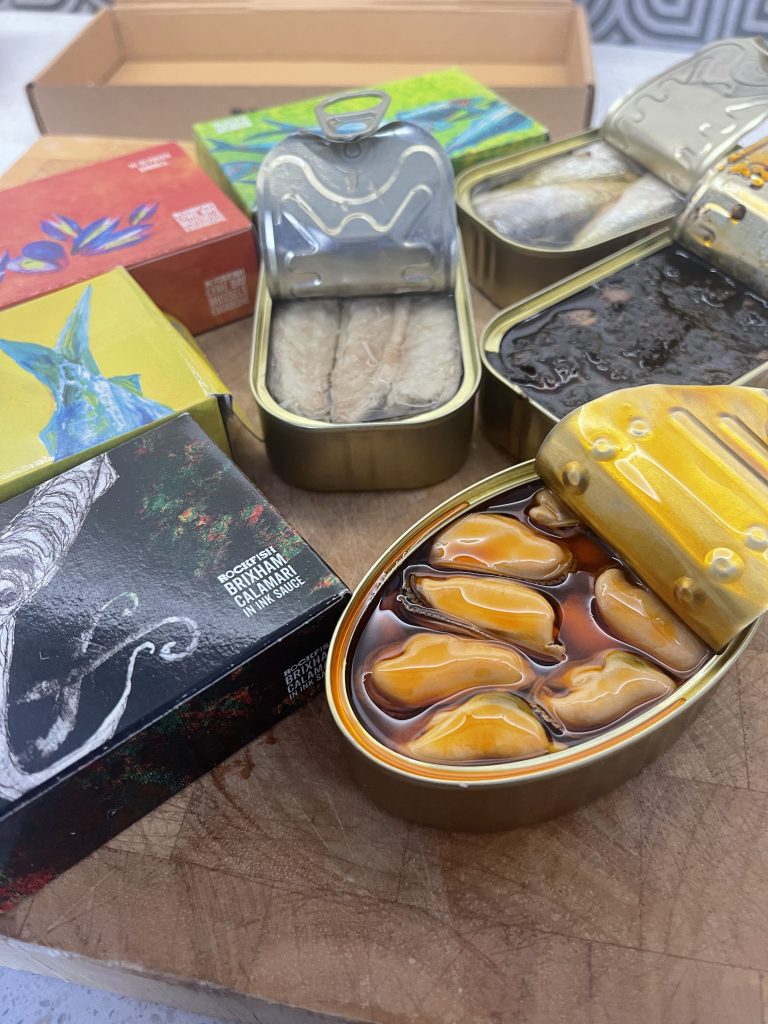 All of these Rockfish Canned Fish products were strikingly presented and very luxurious, with the cuttlefish and the mussels being the ones I would be most compelled to reorder, or pick up as a gift, thanks to their combination of being relatively unusual and absolutely delicious. Everything in the range was well presented and this is without doubt the perfect time of year to be launching a relatively premium food product at an affordable price. I'm sure that these will be seen in stockings across the country in a few weeks time, but that's surely only the first step for this product range which will find deserved appreciation across the country.
(Disclaimer – PR product)