After a bit of a pandemicy pause, I've finally got round to visiting London again. Most York residents are keenly aware that the capital city is just a couple of short hours down the East Coast Main Line, making it an easy regular day trip where cost allows. As life inches back toward a greater spectrum of options, I've been keen to take advantage of that amenity and spread my wings again. So when I happened upon train tickets that would get me there and back for an evening at under fifty quid, I snapped them up. I then quickly realised I'd presented myself with the opportunity to tick off a long standing entry on my dining to do list, Sticky Mango London.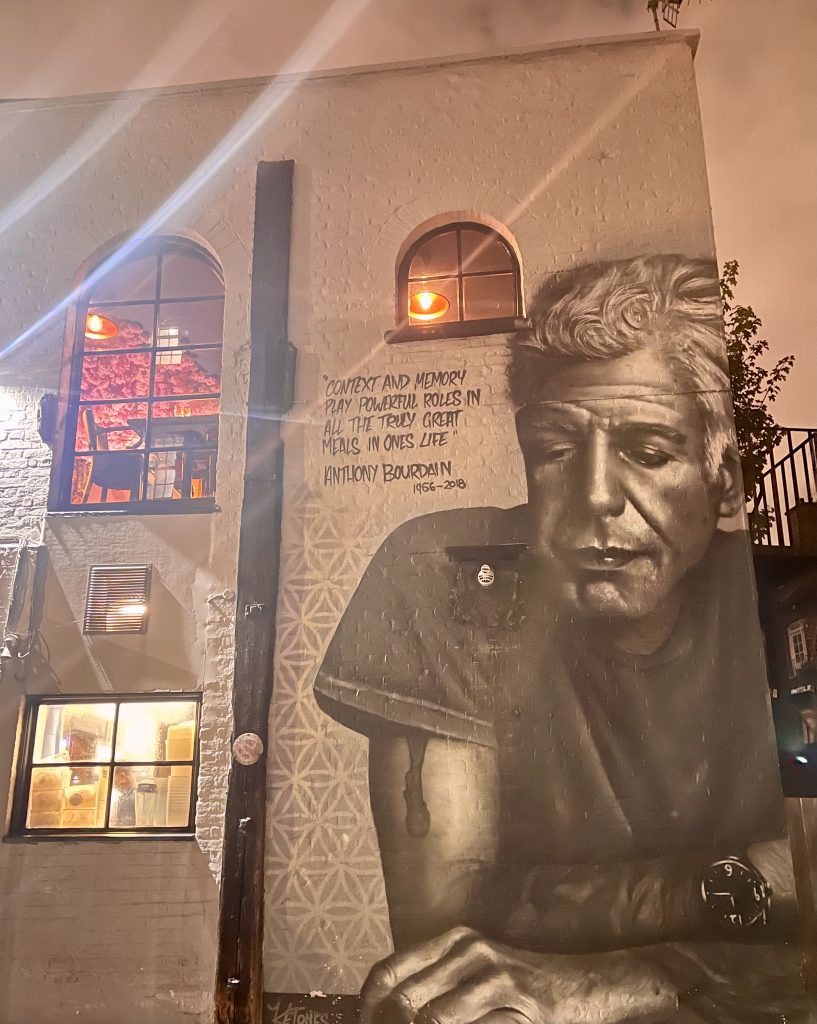 Sticky Mango in Waterloo has been on my list for a couple of years now after some strong recommendations brought it to my attention, particularly as the pricing seemed very fair for a decent meal in London. It was an easy choice to get a booking sorted and arrange to catch up with a couple of old school friends who commute from Milton Keynes, where I was brought up in the distant past. Sticky Mango London is owned by Peter Lloyd who built a strong reputation prior to taking it over, having completed stages with Pierre Koffmann, Gordon Ramsay and Marco Pierre White as well as stints in various reputed kitchens. It's clear that the intention here is to marry great value to big flavours which inspire plenty of repeat custom: should be a pretty open goal in London if the balance is right.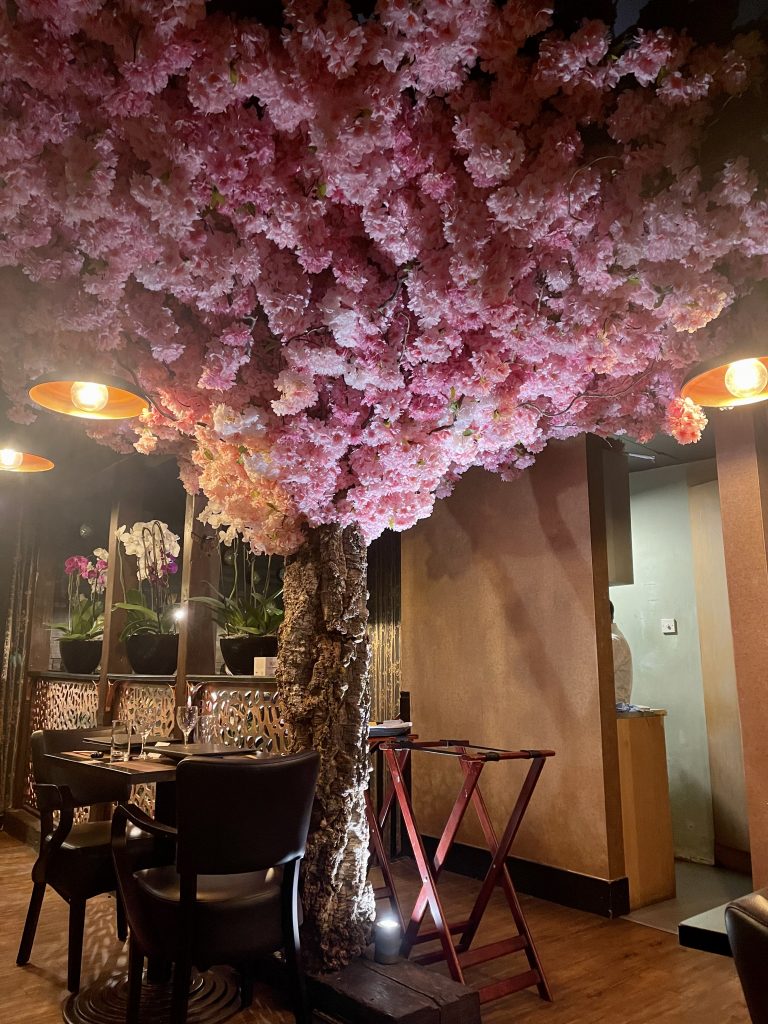 The restaurant is just a short walk from Waterloo station and immediately identifiable from the large mural of Anthony Bourdain that dominates the front of the building along with a quote from the much missed chef and author. The rest of the signage is attractive enough to draw you in without dominating the street unduly, though things ramp up a notch when you climb the stairs to the dining room which is dominated by a vibrant pink blossom tree. Sadly we didn't have time to go through the whole tasting menu but the a la carte is perfectly broad enough and gave plenty for our table of 3 to go at. We started with steamed edamame in a truffle teriyaki dressing, chicken and shrimp rolls and some crab dumplings in a laksa sauce that I'd had my eye on. For mains we agreed on glazed duck, whole seabass and a green vegetable curry while we made doubly sure our collective appetite would be met with sides of crispy baby potatoes and truffled egg fried rice.
Our server was hitting the balance between formality and conviviality nicely by this point, delivering our dishes and drinks promptly without any sense of being rushed, the edamame beans arriving first to make a mess of our hands while we extracted the beans from their pods and made sure to alert every party at the table to discard the casings before too many had been consumed. The chicken and shrimp rolls went above and beyond, paired with fresh crisp leaves and a lively dipping sauce, but the stand out starter was the quartet of crab dumplings. These could have easily been overwhelmed by the punch of the laksa sauce but everything on the plate rubbed along very well indeed with the crab still making itself heard and quail egg bringing a touch of delicacy to presentation.
Expectations were high after those first few plates and further met by the dishes that followed with duck first to make an appearance. The meat, which had been confit and roasted, shredded with virtually no effort and paired nicely with the fresh watermelon for a neat contrast of texture, flavour and taste that was extremely satisfying. The seabass lived up to the promise of being boneless, requiring only the slightest effort to get at the meat and was sharpened up nicely with some pickled veg. The green curry made use of okra as a neat point of difference that set it aside from more commonly found examples of this dish, a reassuring suggestion of the effort going into flavour making and presentation. Crispy baby potatoes were dressed with peanut, mayonnaise and plenty of spring onion that kept us picking at them until the plate was empty but the truffled leek rice was the star of the side dishes, topped with a fried egg that the server mixed through the rice at the table. The hit of truffle went particularly neatly with the duck and the fresh watermelon…and frankly what dish isn't improved by the addition of a fried egg?
Sadly by this point I was in serious danger of missing my return train to York, which actually turned out to be a four hour odyssey of discomfort all to reminiscent of the worst days of our mass transport network, so dessert had to be skipped and I sadly missed the establishment's titular dish. Being back in London and catching up with old friends had put me in a more forgiving mood but I didn't need to draw down on any of that good will for this meal. I'd expected Sticky Mango to offer bold flavours, a kick of originality and good value and it delivered on that with great aplomb.
(Disclaimer – PR meal)