Kirkgate Market is a bit of a Leeds legend, easily found bang in the centre of the city, that local chefs regularly wander round for inspiration while picking up quality produce. Its history in the city stretches over 150 years and it can call itself the largest covered market in Europe. As well providing local chefs with a muse, it offers a good few ways to spend time with an abundance of quality street food on offer and a good few diversions to slow your progress through it. One thing it doesn't have is a pub…until now! The Owl Kirkgate Market itself is a low key presence at the side of the market, painted a classy black with white lettering. When I popped to Leeds recently on a bit of a whim and for little particular reason, the opportunity to dine at that pub on Kirkgate Market arose, so I grasped it with both hands and dived into The Owl Kirkgate Market.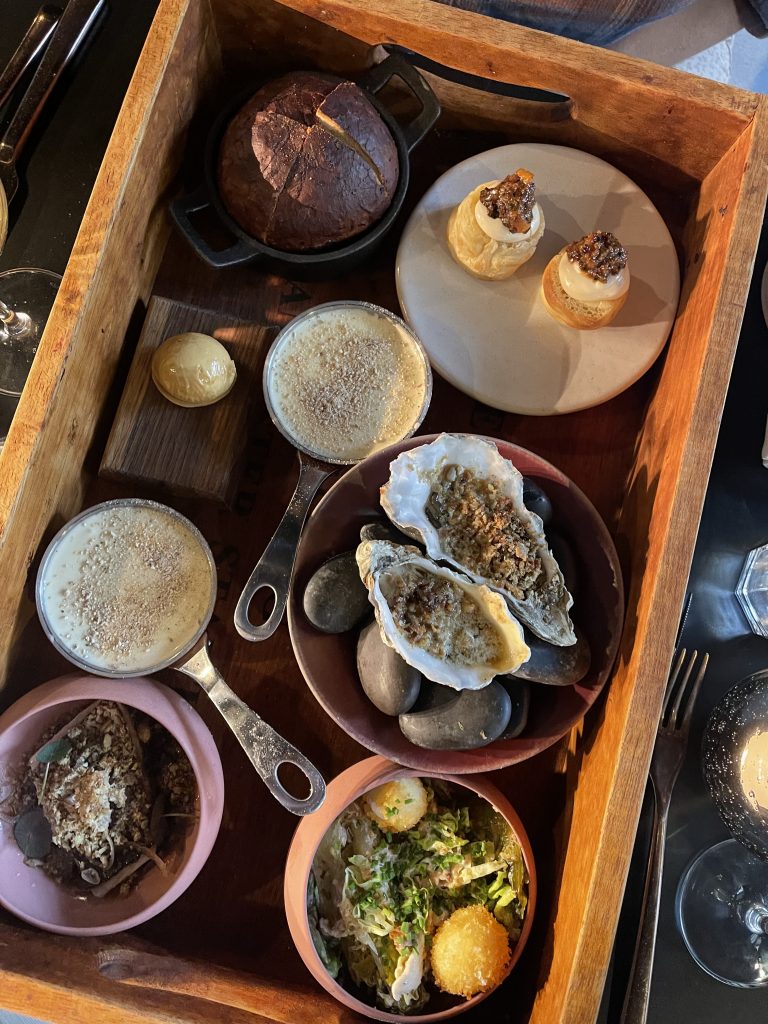 The Owl is the second venture from the creators of "Home", a fine dining restaurant in the heart of Leeds that's been earning plaudits since its launch a few years ago. While I've been lucky enough to pop by Home for an occasional chat with the owners, I've never quite made it round to going through its full dining experience, but I've heard enough good things to be confident in its standard, which I fully expected to be reflected upon at The Owl.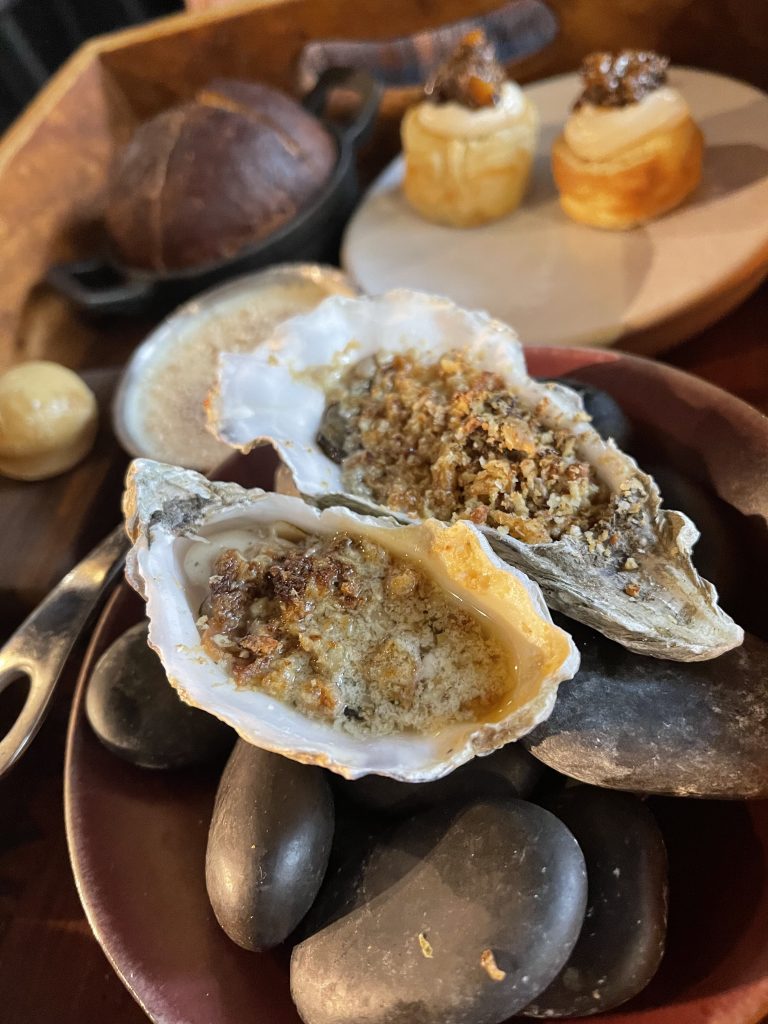 Lurking amongst its menus is a lunchtime grazing platter for two, which only runs to £30 and looked to represent fantastic value while hitting the majority of the dishes we'd have chosen anyway. With that decision made and a carafe of gewürztraminer selected as accompaniment, we settled into our seats to watch the chefs work in the small open kitchen, which also featured a couple of counter seats for a lucky few to get up close. The platter arrived after an appropriate interval in which to make friends with the wine and was strikingly served on a tray whose dimensions perfectly suited the constituent parts of the meal. First to catch my eye were the bite sized crumpets topped with smoked cod roe and wild boar jam which were quickly despatched, and truthfully should have been more than a single bite but for my gluttony. These were playful and made great use of their ingredients to start us off in memorable fashion. Next up oysters, never my favourite but improved greatly by being baked given a savoury topping. We then moved onto cottage pie. Cottage pie isn't a dish I cook often and is ripe to disappoint based on my memories of the frozen versions I occasionally went for as a student. Obviously though this execution was many steps removed from those mundanities, topping red deer with an improbably smooth potato mixture to move lunch along indulgently and with great flair.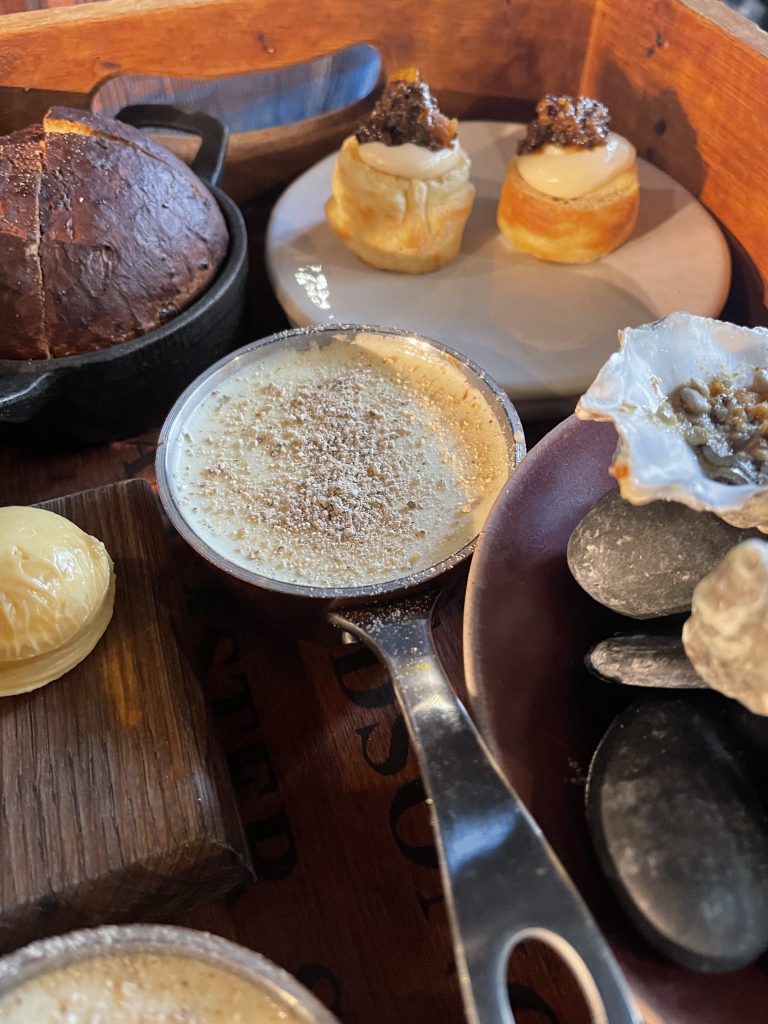 "The Owl" Caesar salad was next, topped with crispy coated quails eggs whose yolks were exactly the desired consistency and, making use of sharp anchovies, this was another bold dish of big flavours that still achieved equilibrium. Marinated Sea Bream with pickled onions was last to inspire debate about equitable portion distribution as we stretched our appetites out with accompanying bread and marmite butter.
Thirty quid for all that is sensationally good value. I'd not sully an establishment such as this with words like cheap, but euphemisms like accessibly priced seem fair enough. There was no hint of compromise to hit a price point, just well thought through dishes executed with confidence and flair to bring together what must surely be one of the best value lunch options in Leeds at the moment.