Throughout 20 years of living in York I've tried to be proactive in looking for new ways to explore and interact with the city that I've come to love, with treats such as the Snickleway Tour of York and more recently the Treasure Hunt York Tour proving their worth. Without getting too much into talk of lockdowns and so on, it almost goes without saying now that 2021 is looking like a summer centred around outdoor activities. This is leading attractions that are more normally indoors to twist themselves to the will of the market and prevailing common sense to shift to the open air. This is where the York Dungeon Walking tour comes in.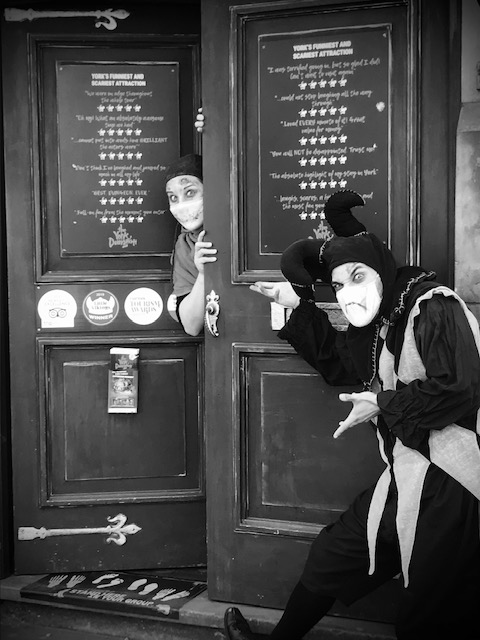 I've been (un?)lucky enough to go through the York Dungeon a few times, familiarising myself with its grim charms quite well, so the idea of adapting this concept to work in the public domain piqued my interest. I was happy to accept an invitation to check it out, arriving to the starting point outside the permanent attraction as nervous about the changeable weather as I was about the potentially unsettling contents of the tour. Umbrellas were provided to all the tour participants and after a brief bit of house keeping to make sure none of us ended up being squashed by a bus to become subject of a future tour. Niceties completed, we were quickly away along the riverside for our first stop.
I'll refrain from going into too much detail about the locations and subjects of the tour, which was ably led by The Black Jester and a filthy assistant. It's not giving away too much to admit that Dick Turpin, Margaret Clitheroe and Guy Fawkes all made an appearance but I won't ruin the fun! The tour makes its way at a fair pace around some of the city's most famous streets and landmarks, giving a good amount of background information at each stop as well as pointing out some of the best photo/selfie opportunities that the city has to offer before finishing in the shadow of one of our most prominent buildings.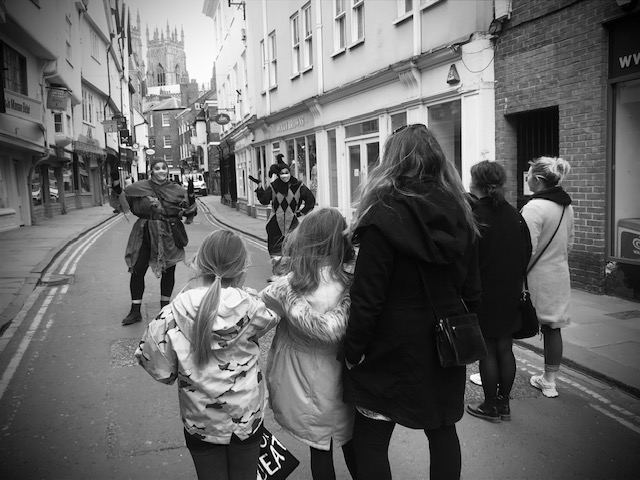 Necessity is certainly the mother of invention and the last 15 months or so have certainly necessitated plenty of invention and reinvention, leading us to new experiences such as this. York Dungeon has spent many years earning its place as one of the city's most high profile attractions and this new York Dungeon Walking Tour is a great fun twist on the well established concept that also represents tremendous value at only £6.50. I can see the Black Jester getting interrupted for selfies by numerous stag dos as the summer takes hold and the city attracts more normal crowds of people, but a dungeon tour shouldn't be for the faint hearted after all! I heartily recommend getting booked on to the York Dungeon Walking Tour to see our wonderful city in all its gory glory.
Disclaimer: PR Visit, no charge made.