Pan Sushi is a small, family run business that operated in Wetherby and the surrounding area to deliver its unique take on sushi to a loyal customer base. While they offer up the usual sushi staples such as Maki and Nigiri they also offer a range of "Fusion Sushi Rolls" that take things in a rather different direction. I've been keeping an eye on these guys for a little while and heard some good reports. So when they scheduled in a drop in York, I was very happy to take the chance to sample these rather original creations.
Collection from The Crooked Tap in Acomb affords the opportunity to pick up some drinks to go with your chosen dishes, or just grab and go. After a quick catch up with the lovely people from both Pan Sushi and The Crooked Tap I was on my way home ready to tuck my bounty into the fridge while Baby Fork was tucked up in bed, her being asleep being something that contributes to the ability to relax during a meal. I'd collected a selection of four different types of fusion rolls, Surf & Turf, Fish & Chips, "Woods" and Winter Cabbage & Sprout slaw which came accompanied by a generous selection of pickled ginger, wasabi and soy sauce to pep things up according to your taste.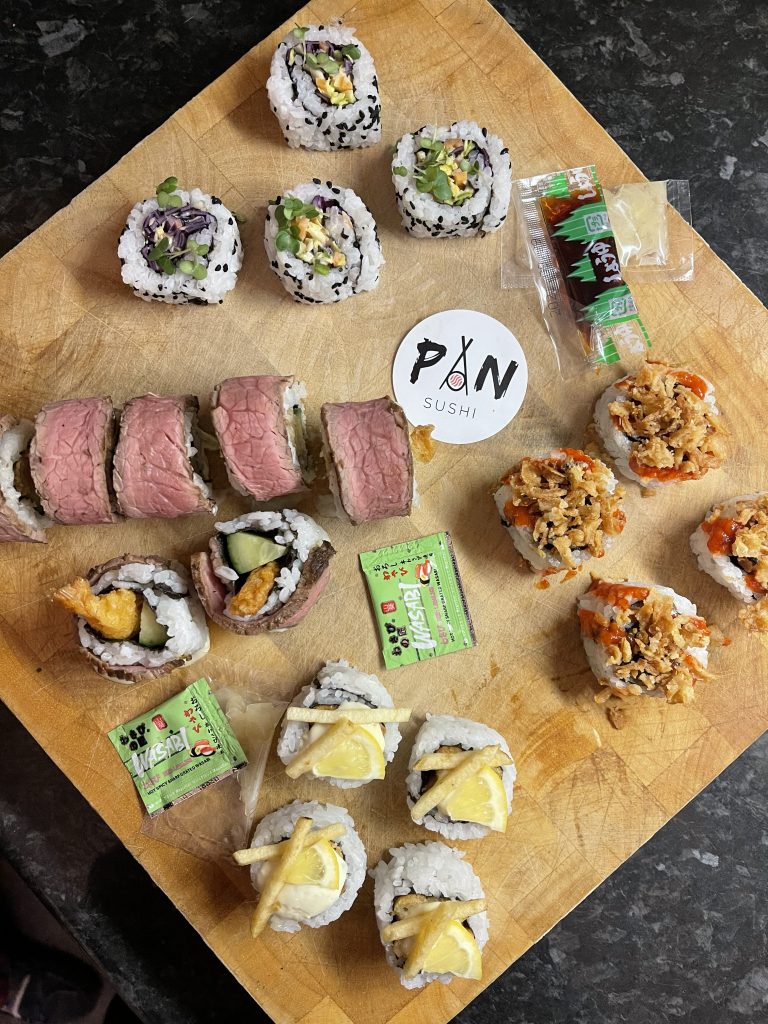 In truth I wasn't totally sure what to expect from a couple of these dishes, and accordingly how well the sushi rice seasoning and traditional accompaniments would pair with the unconventional flavours here.The Winter Cabbage & Sprout Slaw was the most subtle of the quartet with shredded cabbage and carrot being joined by that most under-appreciated vegetable the sprout to give a nice challenge of bitterness. "Woods" packed in mushroom, garlic and truffle under a big hit of Sriracha and crispy onions that did their best to overwhelm the forestry flavours without succeeding. Fish and Chip Sushi could fall into depressing gimmickry but instead trod closer to amusing fun than eye rolling silliness, with a delicacy leant to the presentation by a pair of matchstick sized chips on top of each roll; a smack of tartare sauce rounded these ones off. Hogging the visual limelight was the Surf & Turf Sushi which placed a tempura shrimp at the heart of concentric circles of sushi rice and a steak strip cooked rare with wasabi mayo hustling things along further. These substantial bites sparked some friendly debate about who should get most and delivered on the visual promise, which would have been wasted if the steak hadn't been cooked well. I could spend many an evening grazing on these!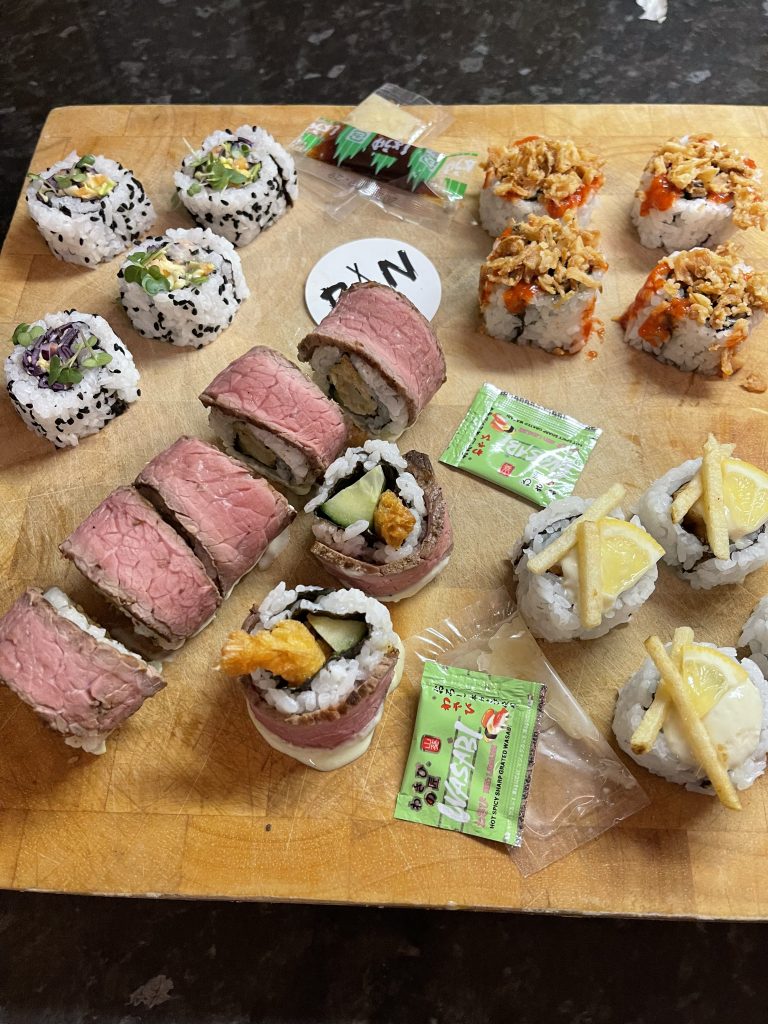 I don't doubt for a moment that a good bunch of people will turn their noses up at the concept of fusion sushi rolls bringing in steak, truffle and chips amongst other things, but I've enough of a sense of humour to relax into the concept and take it as the good fun coupling that it is. Right now we need all the enjoyment we can get and an evening exploring these strikingly different dishes is certainly good fun. Keep an eye on Pan Sushi's social media channels for more York pop-ups.