While we continue to find our way around what a meal out will look like over the coming weeks and months I'm left to reflect on the last place I dined in pre-lockdown, a meal that I'd hesitated to write about with the eventuality of the venue not being able to reopen foremost in my mind. While I'm sure that, sadly, many will struggle to reopen I'm happy to see that Fancy Hanks York, the subject of those reminiscences, is up and running again. That being the case it finally feels like the right time to share some thoughts on that meal.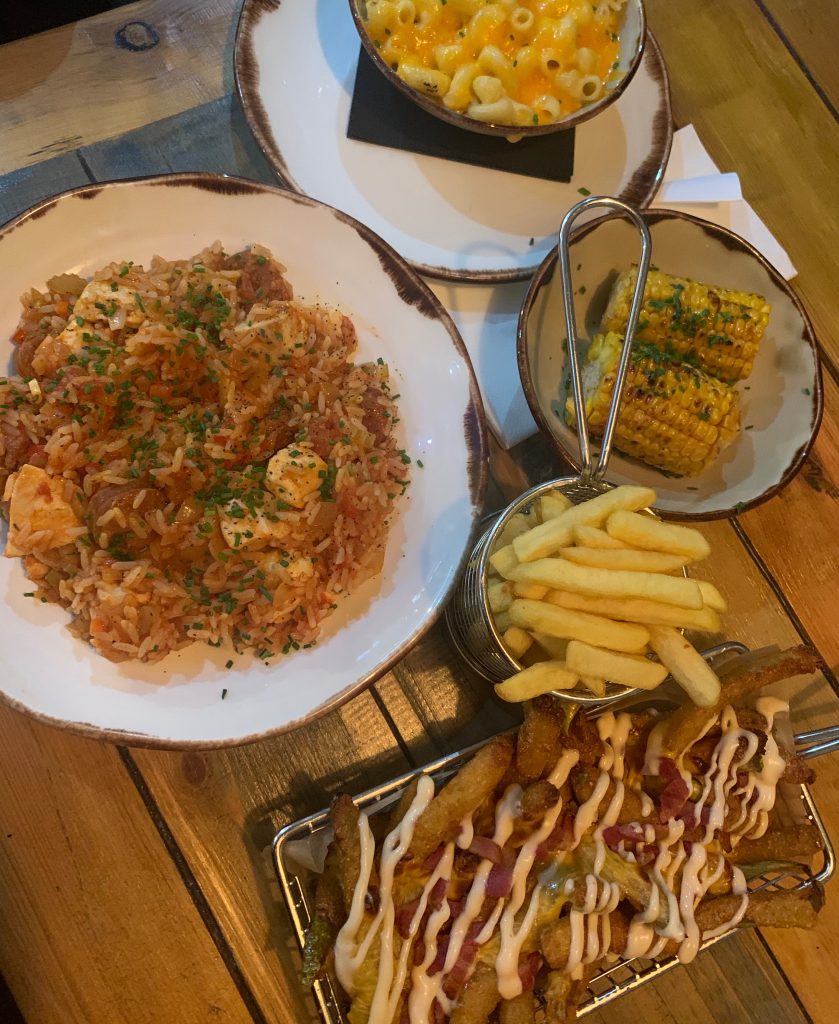 Fancy Hanks York sprang up in 2019 to replace Cut & Chase, the change of name and concept nipping in the bud any potential confusion with a similarly named restaurant that set up not too far away. The offering is very relaxed and firmly planted in casual dining so rather than choosing a series of dishes each and trying to replicate a typical three course meal we opted for a range of smaller plates to graze over and share while anchoring those to a larger plate to share.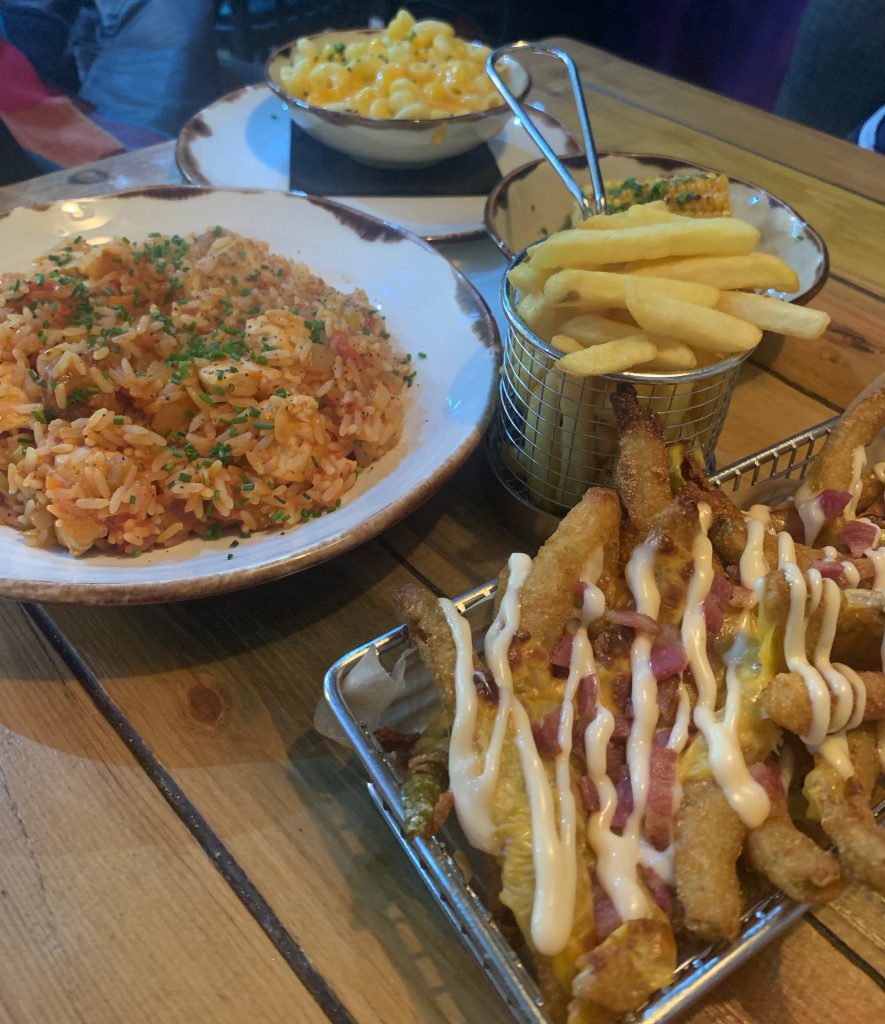 We made sure to order a portion of fries for us to graze on and with which to distract Baby Fork, adding to that loaded deep fried pickles, buttermilk fried shrimp, sweetcorn, mac cheese and chicken and sausage jambalaya to round out a meal.
Fancy Hanks is all about comfort and relaxation, something reflected in the generous portion sizes, our deep fried pickles representing a challenge to work through them all, but the toppings of cheese and bacon along with a generous slathering of sauce did the business. Buttermilk fried shrimp were surprisingly light, presented on lettuce leaves, making up a few light mouthfuls while sweetcorn was as effective a snack as ever. Mac and cheese should be an effective way to silence a table, this version doing the trick nicely for the adult contingent if not capturing the as yet un-knowable intricacies of Baby Fork's palate. Jambalaya featured generous amounts of the headlining chicken breast and sausage along with all the smokey flavour you would want to bring the small plates together into a cohesive meal.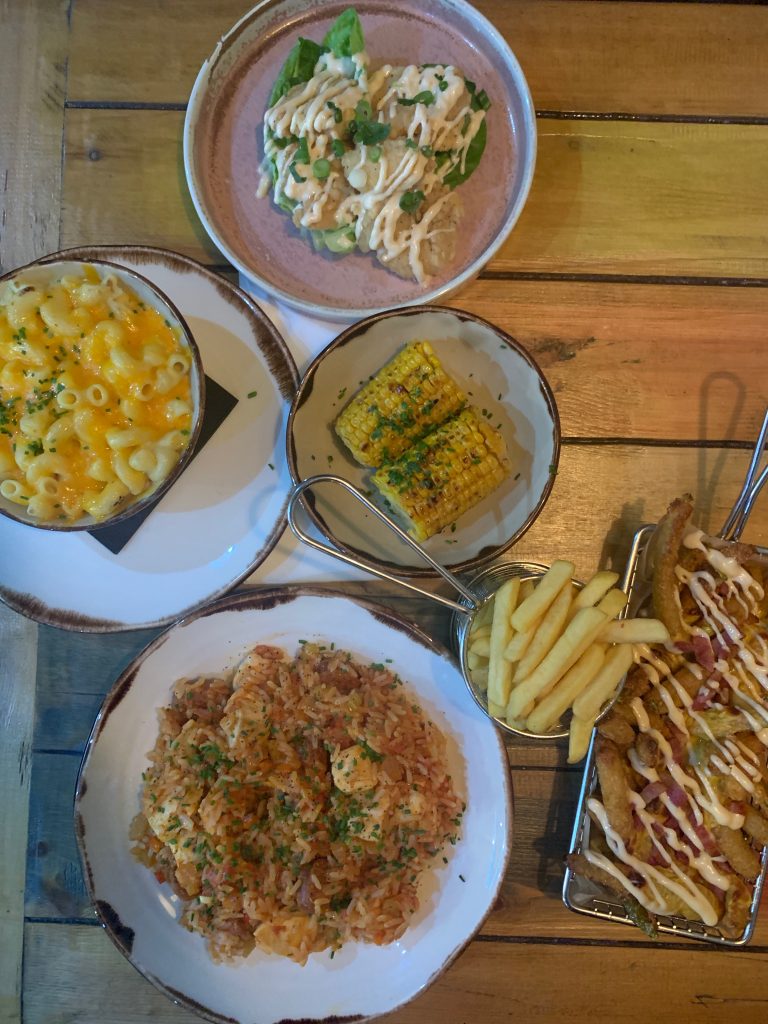 Fancy Hanks didn't feel like it was really about super refinement, masses of technicality or show-off processes but it's not lacking anything for that. The mood on the day that we visited was one of trepidation and uncertainty at how the next few weeks would evolve, not something that we'd planned for or anticipated when making the reservation, but oddly enough something that suited the relaxed comfort food vibe strangely well. My exposure to eating out has been fairly minimal since hospitality has been easing its way back into our lives, but as I look forward to throwing myself into it imminently. I'm grateful to Fancy Hanks for a comforting memory to reflect upon in the midst of the bleak pause we're hopefully coming to the end of.
Disclaimer: No charge was made for meal. Opinions are impartial.