What's the best environment for a Sunday roast? A pub gives you ample opportunity to relax into the Sunday papers with a decent pint while coming to terms with the number of calories consumed; a restaurant can feel a touch formal for what should be one of the week's most relaxing feasts; and the home has the obvious downside of having to deal with the aftermath regardless of how capable a cook you are. Wouldn't it be fantastic to combine the utility of your own home with quality cooking and a distinct lack of washing up? Hog and Apple might have just the thing.
That might sound like a tricky compromise to arrive at but since most things involve an element of compromise at the moment we seem able to tick all of those boxes. Obviously the enforced closure of the hospitality scene has left huge numbers of restaurateurs scrambling to reinvent themselves into something sustainable, even if only for the short term, but spare a thought for the event caterers hit just as hard. With gatherings off the table at the moment, there're all manner of celebrations postponed that would have sustained the events industry throughout the summer months leaving yet more scope for reinvention. On a rather sombre side note, another impact of the lack of gatherings is the building up of a large number of families (including this one) collectively unable to mark the loss of loved ones. I do wonder if that will put a rather grim new revenue stream at the feet of the catering industry in 2021 as the desire to mark those losses can finally come to fruition.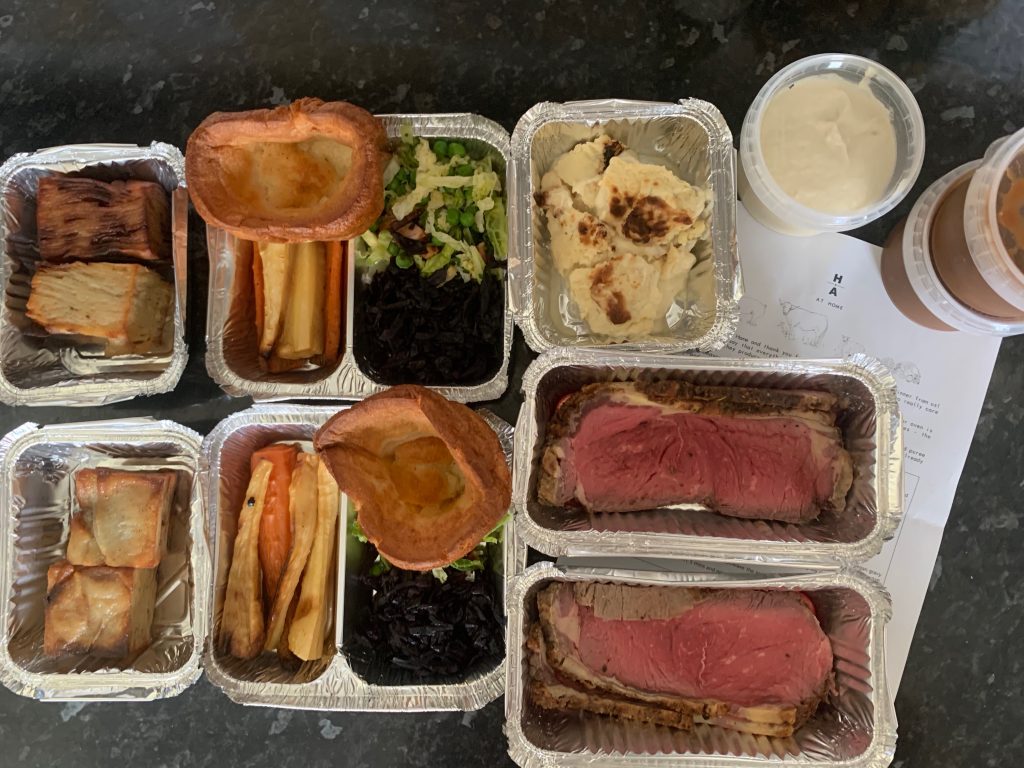 Back in the here and now, event caterer Hog & Apple have been taking advantage of their familiarity with quality mass catering to explore at-home offerings that include Sunday roast, which I was treated to last weekend. Contactless delivery was of course the standard, and so common now that it's hardly worth mentioning, as the day's selection of foil containers arrived. The accompanying instructions were clear and easy to follow while promising to get the food from container to plate in an improbably brief 15 minutes, which turned out to be a promise delivered on after getting the oven up to temperature.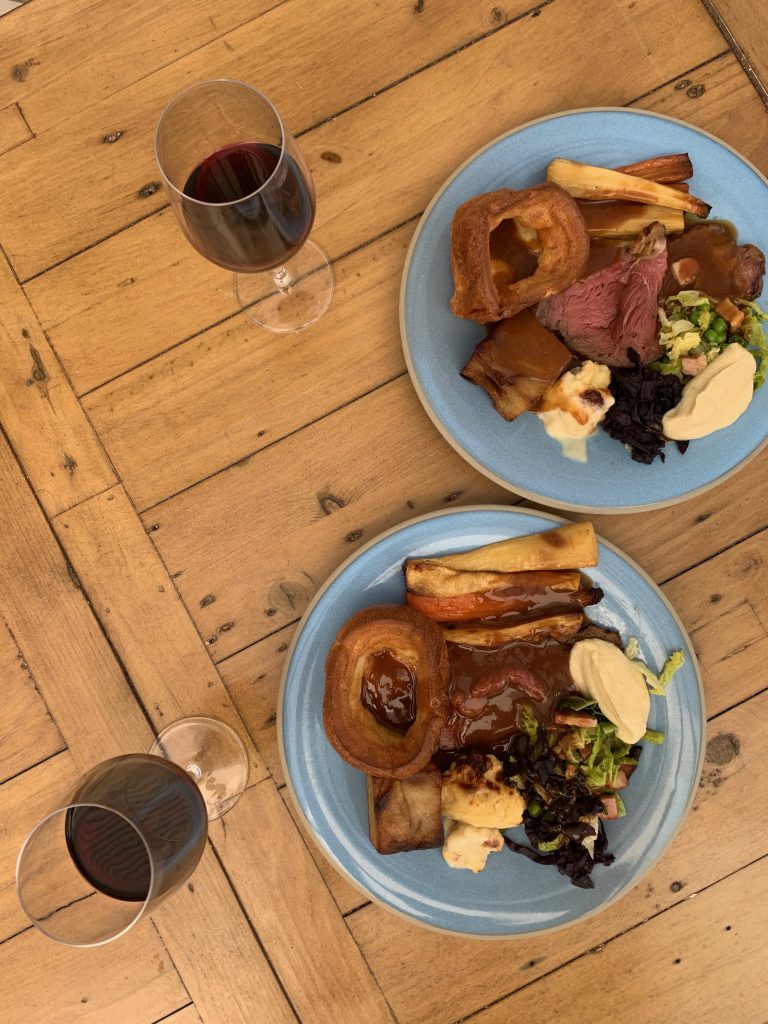 Sirloin of beef came cooked to rare which allows you to take it further as your preference demands. I was more than happy with that, so it only needed a quick warm through at the end of the time spent by the vegetables in the oven alongside Yorkshire puds that just needed a brief heating.
This was, without exaggeration, one of the best Sunday roasts I've yet been lucky enough to encounter, with rich and unctuous gravy going beyond the call of duty to backdrop a range of superbly prepared vegetables and meat. The delightfully rare meat showed plenty of quality and the roots were clearly lovingly prepared, though there was a bit of divergence with the potato that might be unexpected. Rather than conventional roasties, the potato element was sliced, pressed and roasted. Roasties don't always reheat as perfectly as one would hope so this worked ably as a substitute that caught a bit of colour on its top to make sure the crispy shell of a roast potato wasn't absent. Also present and correct were cauliflower cheese, well risen Yorkshire Puddings, sticky red cabbage and braised savoy cabbage with bacon to make sure your plate groaned under the weight of this bounty. The final flourish was celeriac puree similar to one I enjoyed at Sticky Walnut over in Chester a year or so ago. Being one of my favourite veg, this was always going to encourage more affection for this lunch. One other thing worthy of note, there were plentiful leftovers even after what you see on these plates and there's also the option to add on dessert.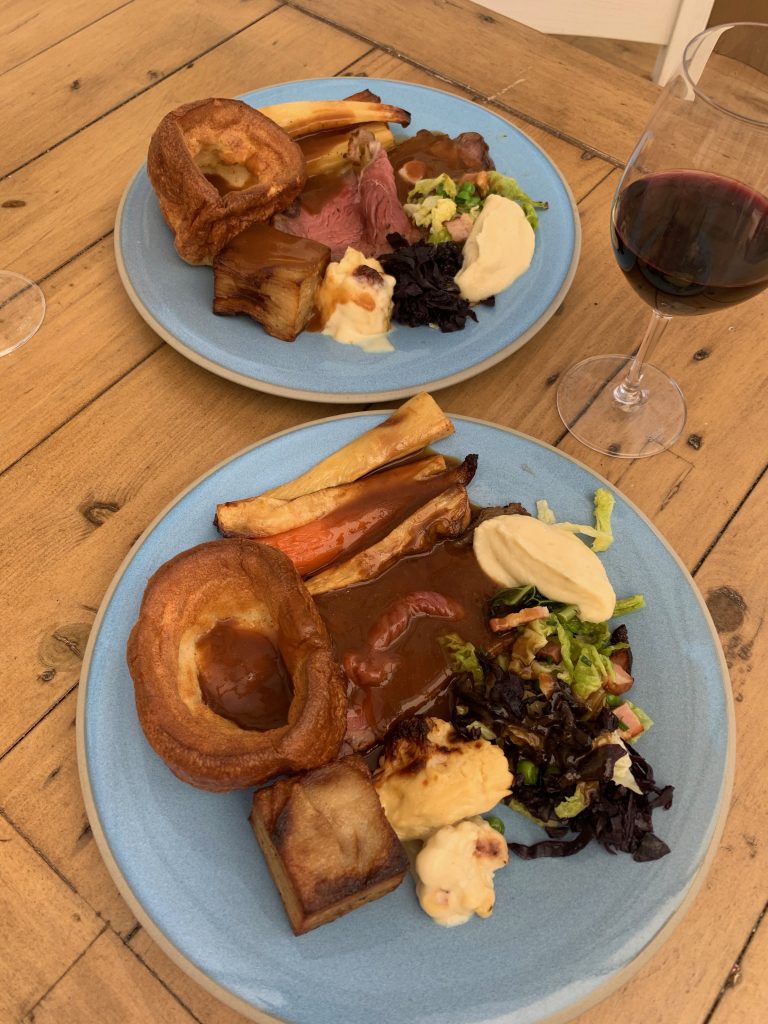 So does it turn out that one's own home is the perfect place to enjoy Sunday lunch when the experience is shorn of all the attendant chopping and washing? That's an even more subjective answer than usual at the moment as we find our circumstances and options shifting on a weekly basis. Like so many of you, I'd happily break a finger (oh, just me?) for a lazy Sunday afternoon full of a Sunday roast in front of an open fire in a pub with the Sunday papers. But in the absence of that, you can still enjoy a top quality roast in your own home with fingers remaining unbroken.
Disclaimer: No charge was made for this meal, opinions are impartial.