When I started this site a good few years ago, I had little idea of the things it would lead me to end up doing. Between train journeys with celebrities, awards judging (and nominations come to think of it), organising events and eating out more than I could ever have hoped, it's taken quite a few turns, expected and otherwise. The last couple of months have really ratcheted up our definitions of unexpected though (remember the days before politicians said "unprecedented" every third word?") leading to the latest twist – reviewing ready meals from a well regarded group of Thai restaurants hastily developed in response to a raging global pandemic. Not something I'd expected to be on my to-do list a year ago, or even three months ago truth be told. Here we are though with the launch of Ban's Kitchen.
Zaap Thai expanded its reach to York in September 2019, taking over the site formally occupied by Gourmet Burger Kitchen and kitting it out with a relaxed, informal street food vibe and dishing up reasonably priced Thai classics to a keen audience. As with so many other businesses though, the last three months have been all about finding ways to shift to business models that are both sustainable and reflect the hospitality experience as best possible outside of the restaurant setting. Zaap Thai's response to this is a range of frozen meals under the Ban's Kitchen brand, allowing you to enjoy Zaap Thai style food countrywide and at your convenience, rather than in the close proximity to an existing branch as a conventional takeaway offering would demand.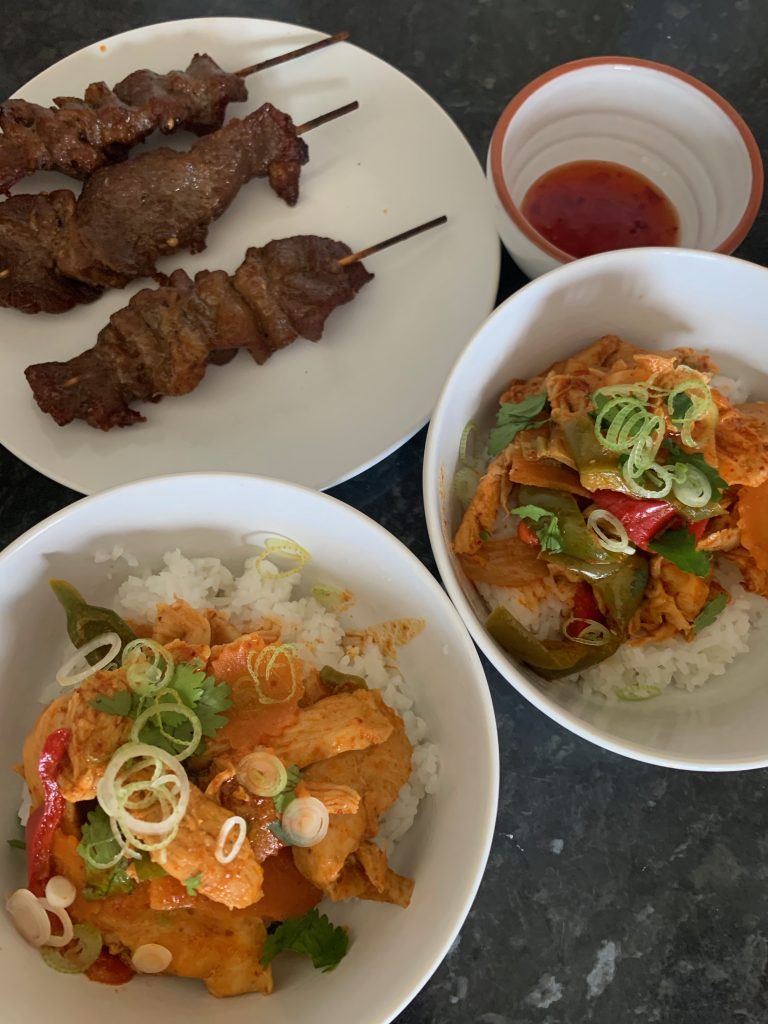 The Ban's Kitchen range is reasonably broad, covering a good few favourites and a couple of starters that justify a bulk order to stock up with. With the amount of demands on my time inversely proportional to the nation's collective terror, things are starting to pick up again but waiting for a delivery looks unlikely to return to being the imposition it once was for a while yet. Upon receipt we went straight into lunch thanks to fortuitous timing, picking out Pad Nam Prik Pao Gai and jasmine rice along with some Moo Yang pork skewers that had been marinated oyster sauce and honey. By the time I'd chucked some spring onions and coriander leaves over the top this certainly looked the part, and thankfully it wasn't all mouth and no trousers with a good bite of heat and generous spicing backed against sticky rice.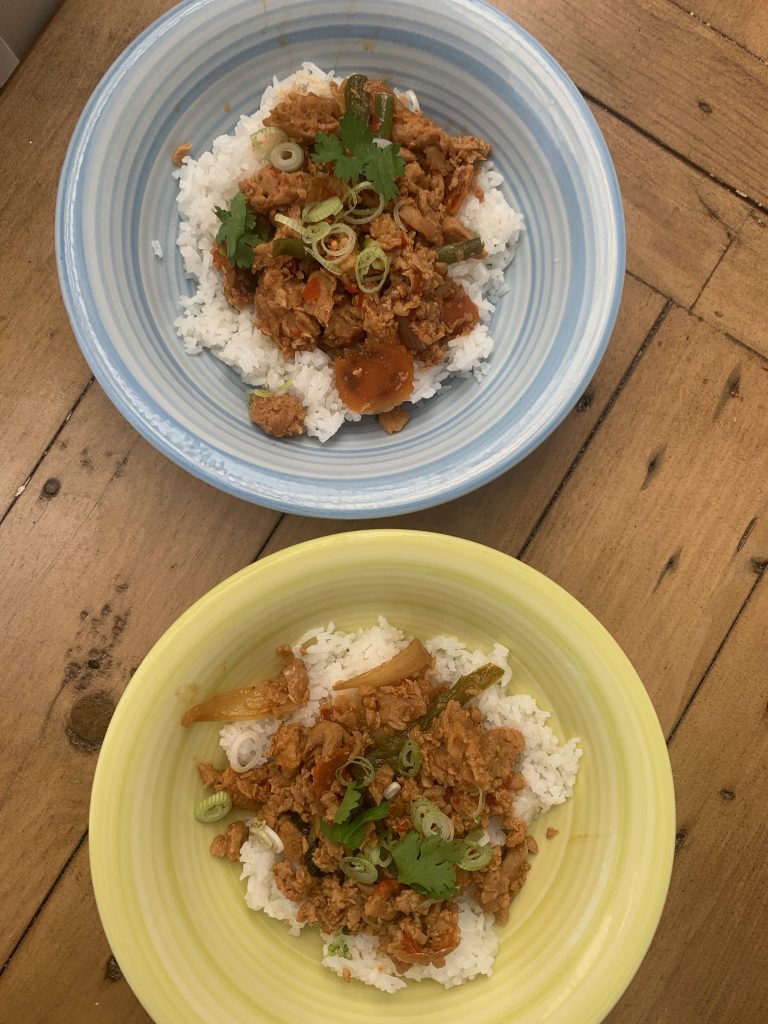 Pad Thai ended up being thrown down quickly enough to unfairly limit its full potential but that didn't stop my appreciating it after a particularly demanding 3 hours spent persuading Baby Fork that sleep would be appropriate. The hottest dish I was sent was a Pad Gaprao Gai that merited a full three chilli rating on the strengthometer, piquing my curiosity regarding how extreme the spicing would be. Thankfully it only mildly went further than my comfort zone and the jasmine rice rounded it off nicely. With this one, I fancied a couple of spring rolls so popped them into my deep fat fryer and only took 6 minutes to cook from frozen. It's worth noting that you need need a fryer to cook these at home, but if you have one they're so simple to bring to the plate and have a far more convincing, crispy texture than oven reheated supermarket equivalents.
The last leg of this Thai marathon was a Massaman with more jasmine rice that felt deserving of a few more spring rolls and pork skewers on the side. The tone that had been set was just as evident in this meal and it hit all the right Massaman notes; rich and rewarding without much in the way of spice.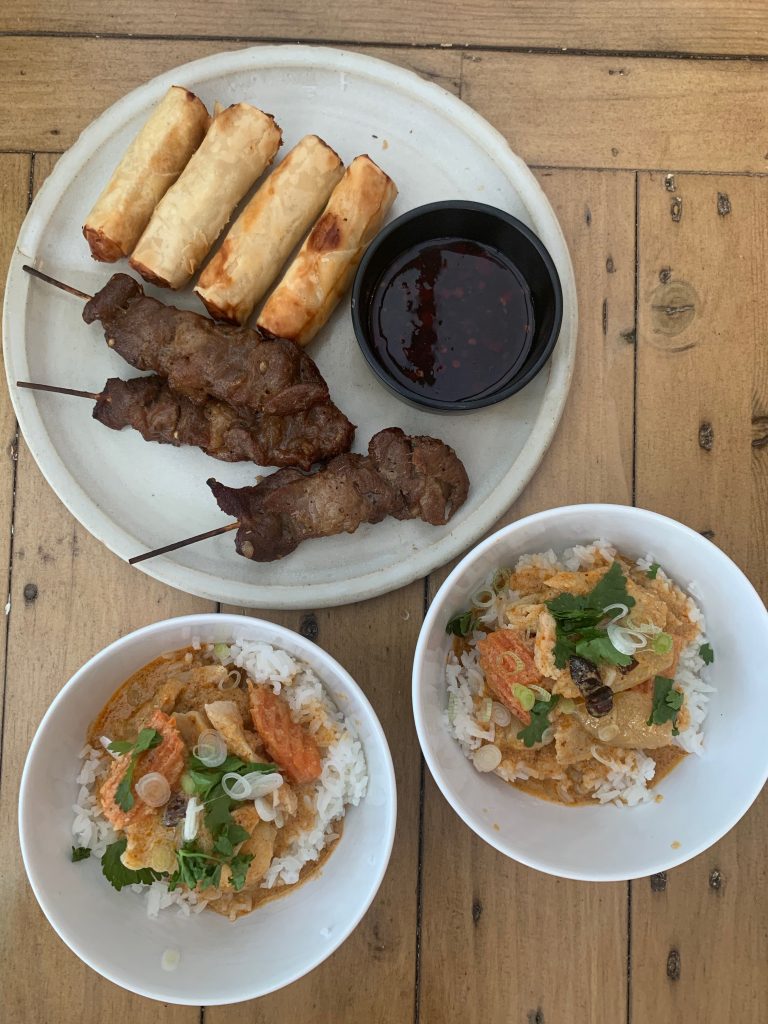 Ban's Kitchen might be a touch pricier than your average "takeaway in a bag" type supermarket offering but they're appreciably better, standing up against a conventional takeaway very well indeed. In fact the last Thai takeaway I had was a bit under-par, making the comparison all the more stark. Bear in mind it's worth reading the instructions before you order though lest you end up unable to deep fry your spring rolls by dint of lacking a deep fat fryer, which was the most specialist bit of kit needed to prepare what I was sent. While we're starting to see a few green shoots of normality creep back into our lives (whether or not they're about to be brutally trimmed is another matter), it's hard to see a reason to cut off services such as this one as our society finds its new standards. Zaap have, in remarkably short order, come up with a range of frozen ready meals that stand up as a product range in their own right. Having a couple of these lurking in the freezer is, and will remain a great shortcut to a tasty Thai meal whenever the urge takes you.
Disclaimer: No charge was made for these meals, opinions are impartial.