What's the best meal you've ever eaten in the confines of your own home? How much does the fine dining experience suffer from being transplanted into a domestic setting and losing the serving staff? How do your plating skills compare to highly regarded chefs? This lockdown is posing a lot of questions that I never expected to ponder the answers to, but this bunch came a little out of left field when I was presented with the opportunity to sample a full-on tasting menu from Leeds favourite Vice & Virtue in the comfort of my own home.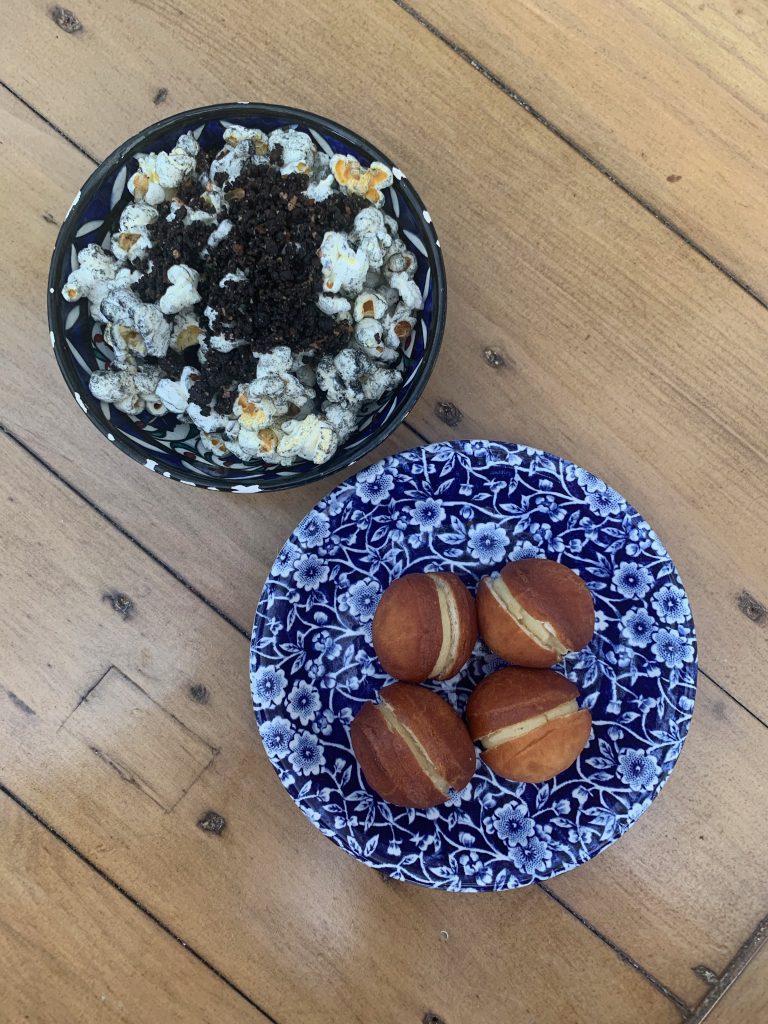 The food at Vice & Virtue is the creation of Jono Hawthorne, who's come up with eccentric masterworks in the past such as cheeseburger spring rolls and the insta-friendly "Hangover Cone" that counted brownie, ice cream, ready salted crisps and pretzel amongst its ingredients. The food at Vice & Virtue has dialled back these excesses in favour of more classical dishes but it's still very much of its own mind and recognisable, with striking plating. As with so many other of our favourite hospitality businesses, V&V have had to do some thinking on the hoof about how to proceed and have come up with a version of their tasting menu to plate and enjoy at home.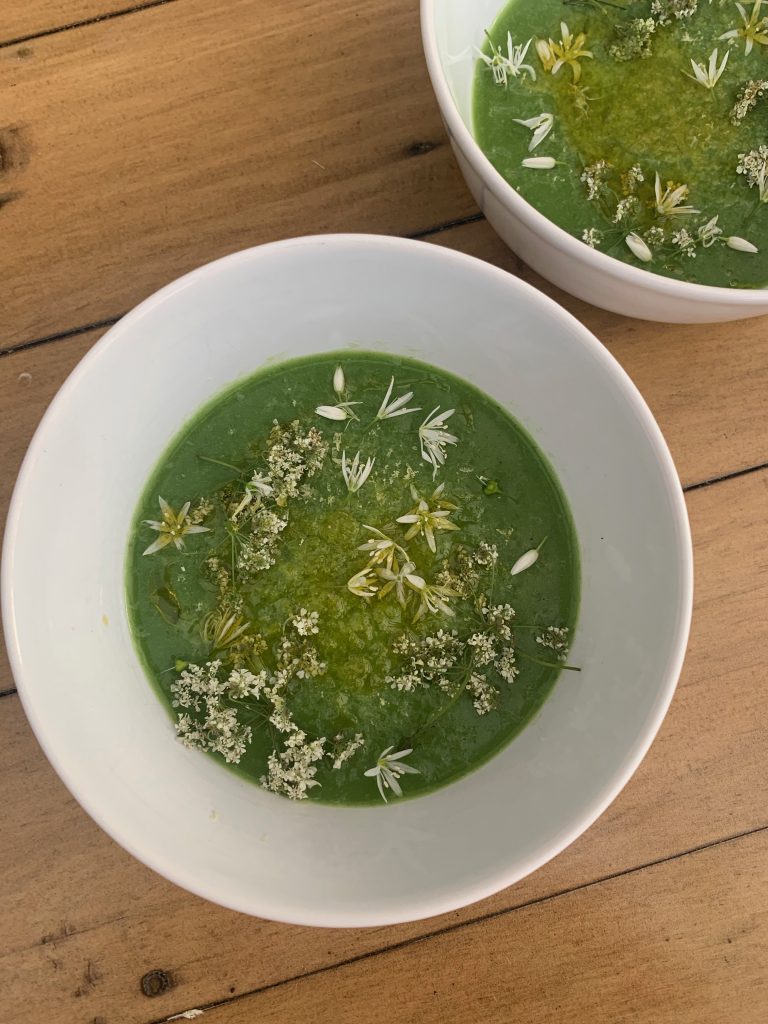 As a restaurant, there are obvious issues to address with trusting the public to cook your food. The crux of which being that we specifically go out for food experiences that can't replicate in the domestic setting. A lot of the at-home options we're seeing remove as much personal responsibility from the process as possible, mitigating again enthusiastic amateurs mucking up lovingly prepared ingredients. V&V's approach puts a bit more faith in you though with cooking that requires some judgement and intricate plating to have a stab at. Speaking personally, this seems like a much more experiential approach that's bound to bring to mind those questions I posed earlier.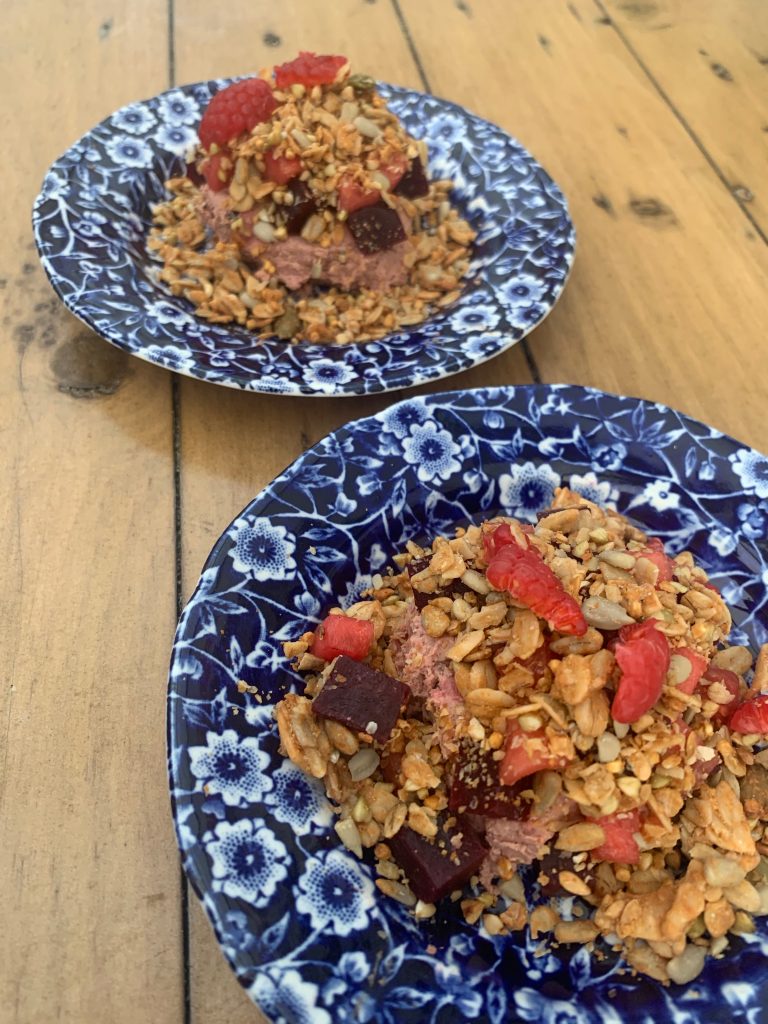 Preparing for a meal like this really shines a light on the quality of your tableware, or lack thereof. Each of us would need 12 plates to get through the experience along with associated cutlery, not to mention a few glasses and pans. Spare a thought for the kitchen porter whenever we're able to enjoy restaurants again! Thankfully the standard of the food exceeded the standard of the plates it was served on. (I'm pretty sure one was from the Kitchen Reject Shop in Cambridge ca1997.) First up came snacks, parmesan doughnuts and black pudding to nibble on while warming through a wild garlic veloute, into which I microplaned cured egg yolk before scattering hogweed flowers over the surface and drizzling with rapeseed oil. Feeling almost like a proper chef after that flurry of (low skilled) activity, we tucked in and immediately felt like this really was as close to a restaurant experience as possible at the moment, the combination of flavours and textures whetting our appetites for the next courses.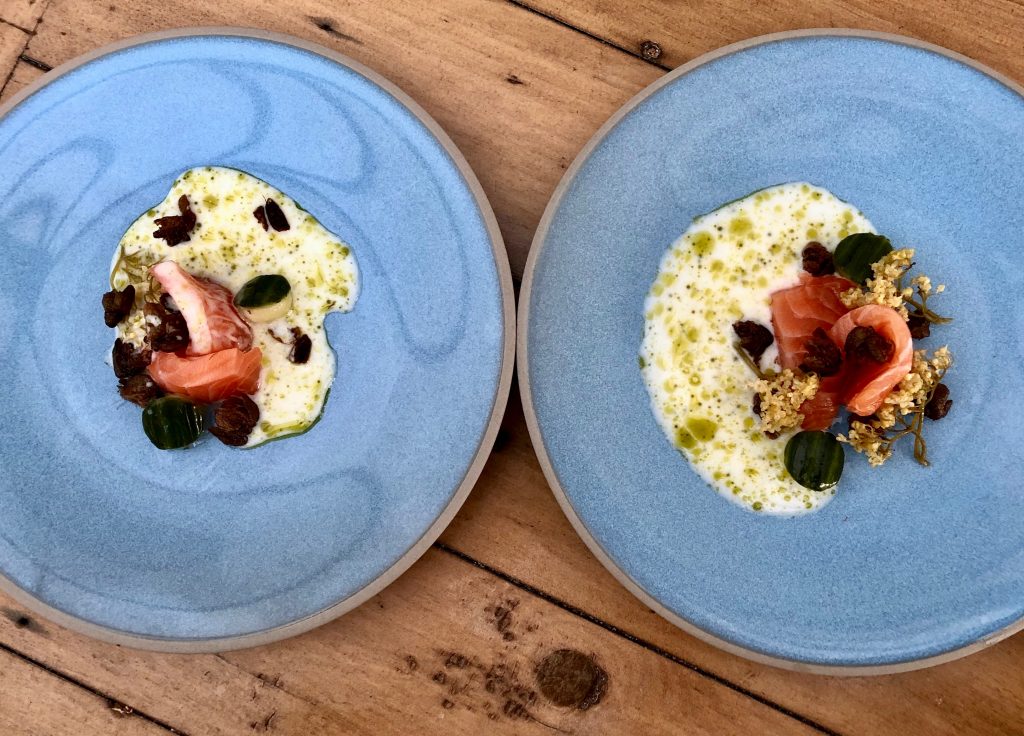 Plating the next course involved encasing a portion of whipped chicken liver pate in beetroot, burnt watermelon and cereal and then finishing with torn raspberries. This one really played with texture, the crunching cereal really accentuating the depth of flavour in the pate and the earthy tones of beetroot. Next came a fish course of gin and tonic cured trout dressed with yarrow and buttermilk and coupled with bold spikes of flavour from capers, elderflowers, and discs of cucumber to throw in some crunch. The dressing brought this one together with real flair, underpinning the texture of the fish and letting the bombs of caper detonate pleasingly.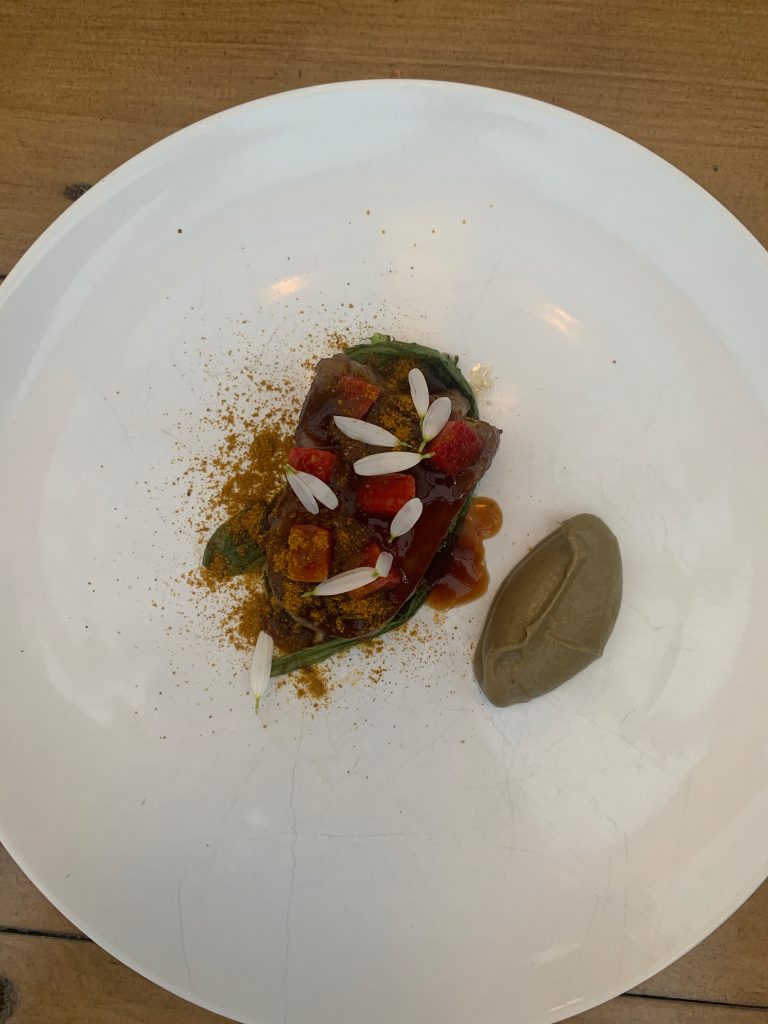 The meat course required a bit more prep, with some portions of aged striploin beef to be finished in a pan having already been subjected to a waterbath. The extent of the cooking needed depended on the diner's preference for rare meat so being confident in my ability to cook a steak, I showed the meat to the pan for a brief sear before resting and plating. After moving the meat through the pan, I wilted dandelion leaves to underpin the meat while simultaneously warming a jus and some aubergine puree. The dish was finished with petals, strawberry and a dusting of vadouvan which reminded me of currywurst spice more than I suspect was intended. Arranging this on the plate and coordinating the elements' arrival was genuine fun and the result was as delicious as it was striking.
Finally, and perhaps visually the most arresting dish was a sweet dish of vanilla and tonka-accented goats cheese. Around this, there were positioned studs of rhubarb before the whole lot was encased in tiny meringues dusted with tarragon. It's very unusual for sweet dishes to feature in my favourite memories of a meal, but this has really struck in the mind, perhaps thanks to tonka and tarragon being unusual notes on which to end a meal and the striking visuals.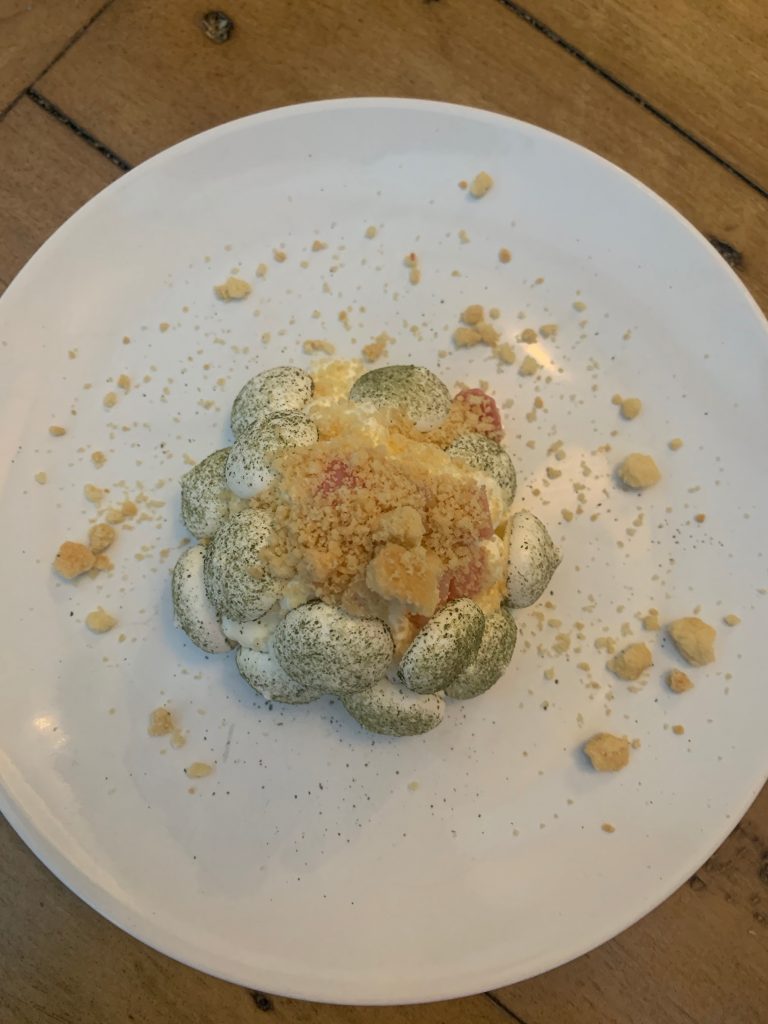 Going back to those earlier questions, I felt like our plating stood up well enough thanks to the relaxed timing we were taking over it. I suspect it'd have been less successful had we been hit with the demands of a series of customers demanding repeated perfection. Does it replicate a fine dining restaurant experience? To a point. While the food exceeded my expectations and was beyond what I am skilled or equipped to produce at home, my conservatory (as fond of it as I am) doesn't have the same atmosphere as a restaurant. Doing the washing up was a necessary side effect that could wait until the following day without detracting from the experience. This minor annoyance was more than compensated for by the experience of getting involved in putting the dishes together, which was to some extent an interesting insight into running service in a fine dining restaurant. Not that I'm suggesting it replicated the pressure in any way! As for whether or not it was the best meal I've ever eaten in my own home? The only comparison that springs to mind is the time a private chef came round to cook for a dinner party. Being on the premises gifted him the advantage but certainly nothing in the way of a decisive win. The experience of assembling dishes such as this was unique and fun, making the food as rewarding as it was memorable. This is a wonderful treat to give yourself in these trying circumstances that offers a little bit of genuine insight into the experience of preparing dishes like this while offering as close to a restaurant experience as we can get at the moment. That feels like a bargain for £35/head to me.