Recipe boxes are far from a new thing or a response to current events but could easily find themselves enjoying a crest of popularity as people look to vary their food experiences in a world that, presently, sees limited options for eating out and takeaway dining.I've tried a few over the years and enjoyed them all, though without ever alighting on a regular delivery. That reflects less on the quality of any of those that I've tried than on the amount of eating out I do and the unpredictability of home dining. While the restaurant visits that I love, so much are off the cards I thought I'd give another one a go then noticed an offer on Hello Fresh and signed up without a second thought, well after I'd double checked I wasn't unwittingly signing up for years of meal delivery unintentionally at any rate.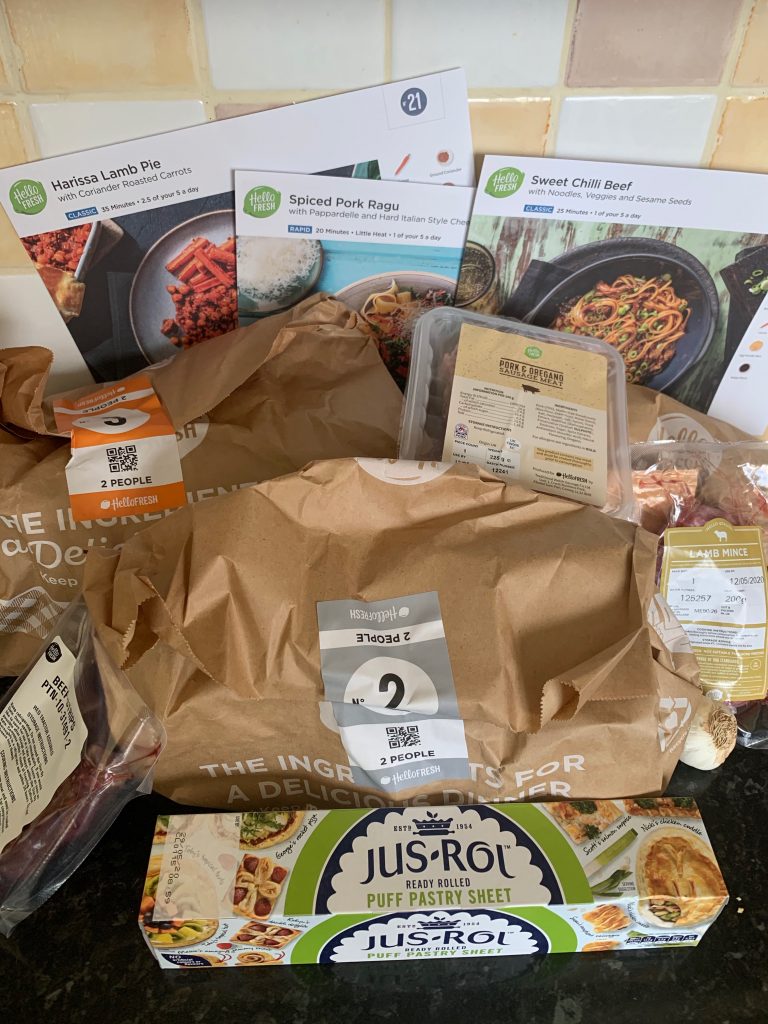 Hello Fresh is one of the main players amongst those who offer this service nationwide, Gousto being the other big name. Incidentally, my favourite amongst those that I've tried (who are still operating) was from Riverford whose veggie dishes were really well rounded and have stuck in this household's collective memory.
Signing up to Hello Fresh was as easy as one would expect, barriers to entry being anathema to a service such as this, and it only took a few minutes to choose my three meals and arrange delivery. I went for sweet chilli beef, spiced pork ragu and harissa lamb pie all of which were delivered exactly on schedule within an hour long time slot confirmed on the morning of that day. The (contactless obviously) delivery was carried out exactly as promised and I quickly got stuck into the box of neatly presented ingredients.
Each of the meals came with the ambient elements packaged separately in paper bags, with a separate chilled bag accounting for the chilled ingredients. The accompanying recipe cards were clearly labelled and the instructions logically presented requiring minimum of interpretation. There're few things more frustrating than cooking instructions that throw a surprise at you two thirds of the way through. None of those indiscretions were here though thankfully with a logically constructed list of kit and ingredients followed by well paced steps toward a completed dish.
All the produce came with surprisingly long use-by dates so after a pause of a couple of days we put our first meal through its paces, choosing sweet chilli beef. I tried to follow the instructions as closely as possible to remove any influence of my competence (or otherwise) and while the timing went a little over that advertised, as it always seems to with this sort of deal, everything went to plan and the dish gave us plenty of flavour and generous portions to enjoy.
Second up came the pork pappardelle that was similarly easy to construct and pleasurable to dispose of and generous of quantity, even flowing into a light lunch the next day, and finally we enjoyed a harissa lamb pie. This final dish included a combination of crushed and whole chickpeas that bulked it out more than I anticipated and will be a technique I replicate. The leftover pastry turned into some wild garlic and cheese swirls the following day too, bonus!
All three dishes that made up my first order delivered on flavour and ease of preparation, removing the need to buy large quantities of a particular ingredient for one meal and giving me a couple of new ideas while maximising convenience without sacrificing freshness or nutrition. I've no idea if this habit will continue as our freedoms continue to return, but I've already placed a second order…