As we find ourselves in yet another week of this interminable lockdown, the consumer appetite for meals out and the professional desire to meet that need continue to coincide in new services. We've been trying to focus on one treat a week and this time alighted on Le Cochon Aveugle, who have entered the fray with a compellingly priced delivery service.Le
Le Cochon Aveugle has a deservedly strong reputation both in York and nationally thanks to the efforts of owners Josh & Vicky Overington, who've created a gastronomical refuge that serves its tasting menu blind, to the delight and surprise of their customers. Not necessarily the easiest thing to translate to a home environment but, undaunted, it's now possible to enjoy Josh's deft touch in the comfort of your pyjamas, should you choose.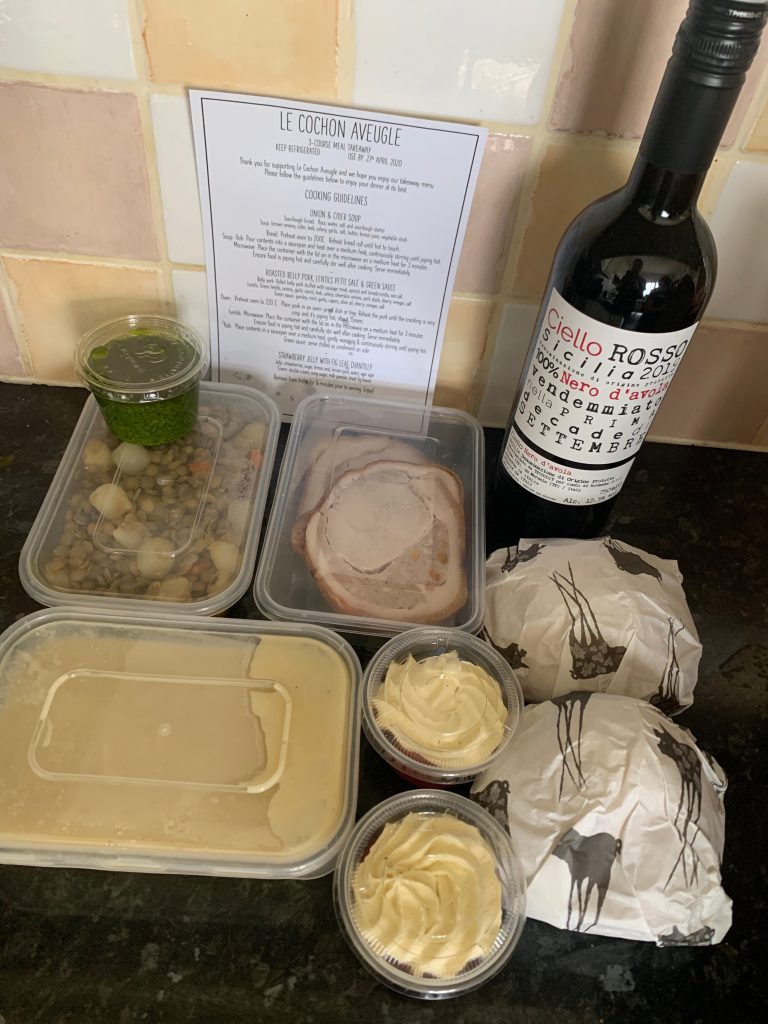 The format is similar to that which I enjoyed from Roots recently, a three course meal delivered to reheat at home which Cochon augment with a bottle of wine (or non-alcoholic alternative). This meal for two with wine comes in at £45 including delivery, an extremely fair price for food from a chef who showed so well on Great British Menu just a couple of years ago and whose establishment has been tipped to receive a Michelin star. Predictably enough it's been selling rather well too, so I jumped to it when my diligently-set phone reminder went off.
Having successfully booked, the delivery arrived as promised. There's not much specificity to the booking slots but with being in the house the default status, this is hardly an issue. Delivery was made onto our now semi-permanent delivery table in the corner of the porch and we were all set for the evening.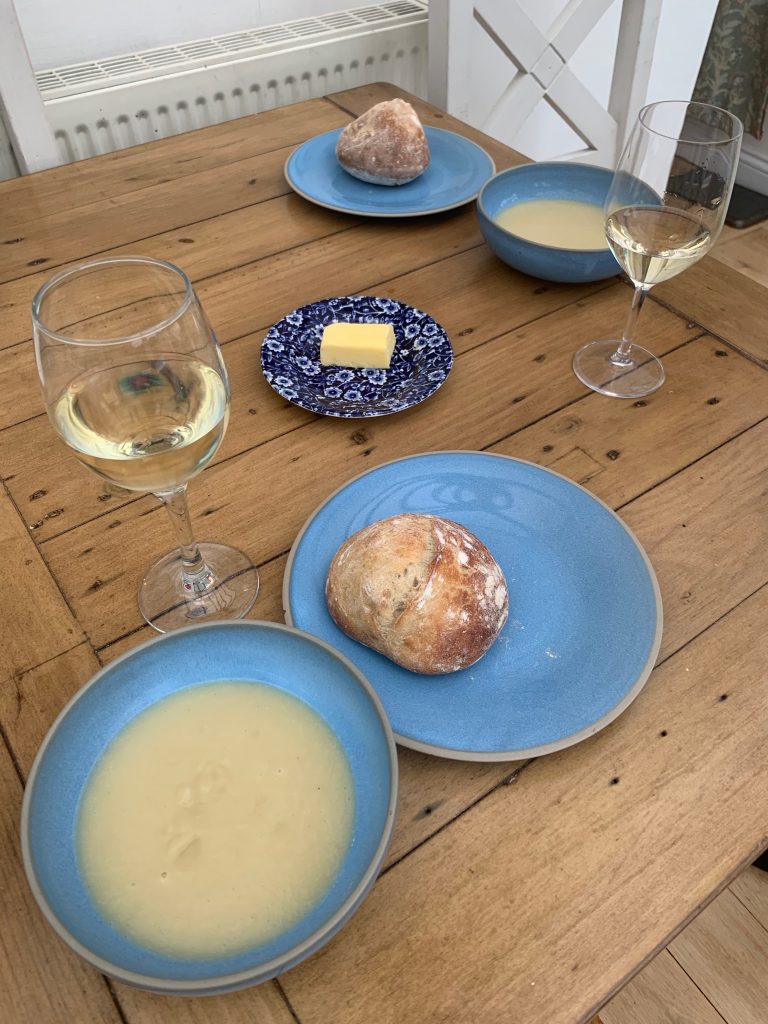 Everything was neatly & logically portioned and ready to go so a few hours later we were happily in the process of getting everything reheated for our meal. The first course was a soup of onion and cider along with Cochon sourdough bread rolls that paired up nicely with a Verdejo, coincidentally from sister establishment Cave Du Cochon. The bread gave the course substance, accenting the soup's balance well and allowing each of the main elements to shine before we moved onto the main event of belly pork stuffed with sausage meat, apricot and breadcrumbs. This one was served with "Lentils Petit Salé" and green sauce that weren't too taxing to get onto a plate, effectively being to get the pork into the oven on a hot enough heat to blister the skin into crackling while reheating the lentils in the microwave. We had to give the pork a few extra minutes to bring the skin to its full potential, an unavoidable variation from a domestic oven I suspect.
The green sauce and richly nuanced lentils really made the pork dish feel like a well developed main course in a good restaurant and gave the sense of delivering something it'd be very difficult to otherwise replicate in a home. Soft meat, well crisped skin and sharp sauce were all underpinned by that bed of lentils, which was further developed by spikes of silver skin onion.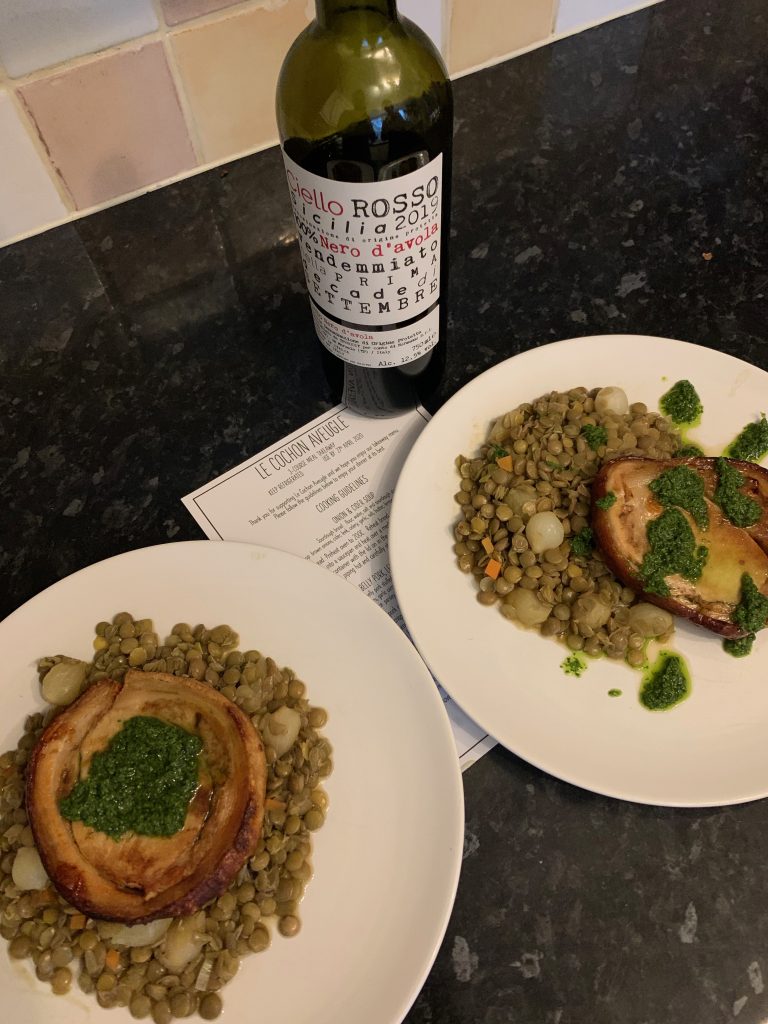 The experience was polished off by a strawberry jelly topped with a fig leaf chantilly that was just the kind of light mouthful you'd want to finish on. All three courses did a great job of recreating a restaurant vibe in the home, though the washing up will always be lurking to puncture that illusion at some point! Forty five pounds for a three course meal and a bottle of wine of this standard is great value and a fantastic way to stay in touch with one of York's best places to eat.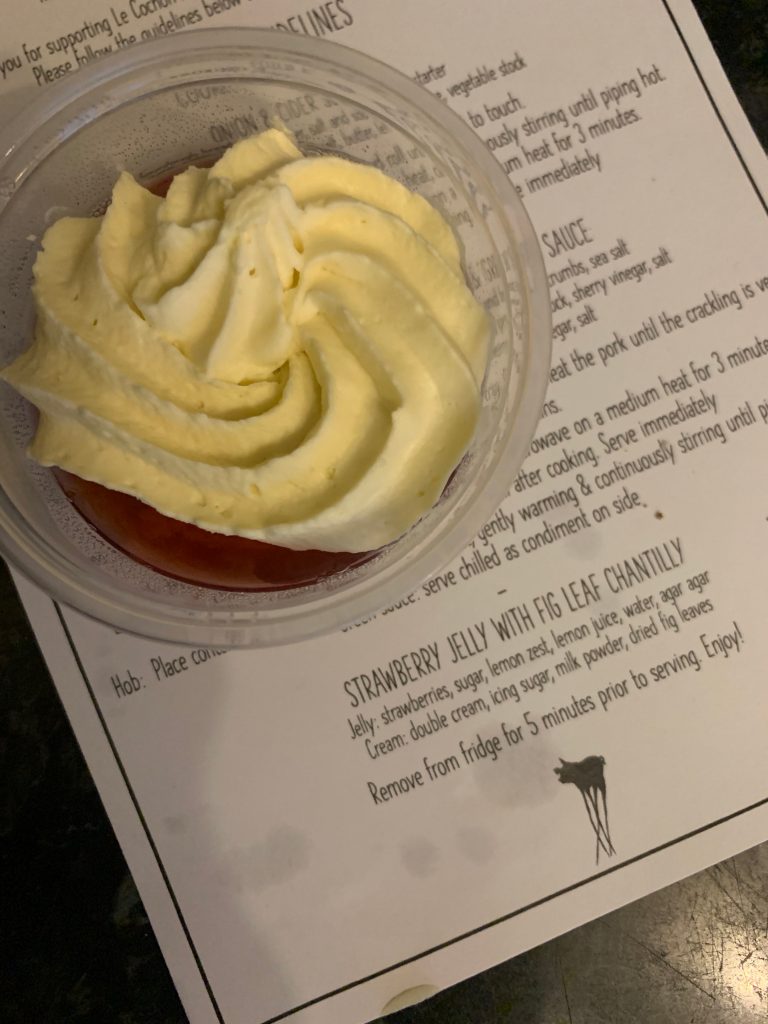 Times are hard for restaurants at the moment and this sort of meal presents a whole new set of challenges for chefs to meet, requiring that dishes can be reheated at home by amateurs with (let's be honest) something of a mix of abilities. That's no comment on the standard of this excellent meal, but there's no practical way to replicate the intricacies of high end restaurant service in the home. That said, this is a new problem which suddenly has the attention of a whole host of talented chefs whose solutions I can't wait to acquaint myself with. I'm sure Le Cochon Aveugle will remain at the vanguard of this and the speed with which they seem to be selling out just serves to further demonstrate the gap that closing restaurants has left in our lives.