People can get a bit sniffy about tasting menus these days. I thought we were past the backlash of a couple of years ago when luminaries such as Daniel Clifford declared that they were over and that a la carte was the way forward. That said, there still seems to be some background noise murmuring against those whose preference is to lay themselves at the mercy of a chef's imagination. As with most things, the truth is somewhere in the middle: of course there's merit in a party being able to divert their preferences according to the evenA very specing's whims, but a shared experience driven by a talented chef can be a special thing indeed. This is exactly what I found at The Chef's Table in Le Duèze Cahors, a Michelin starred restaurant in Chateau de Mercues just outside Cahors, north of Toulouse.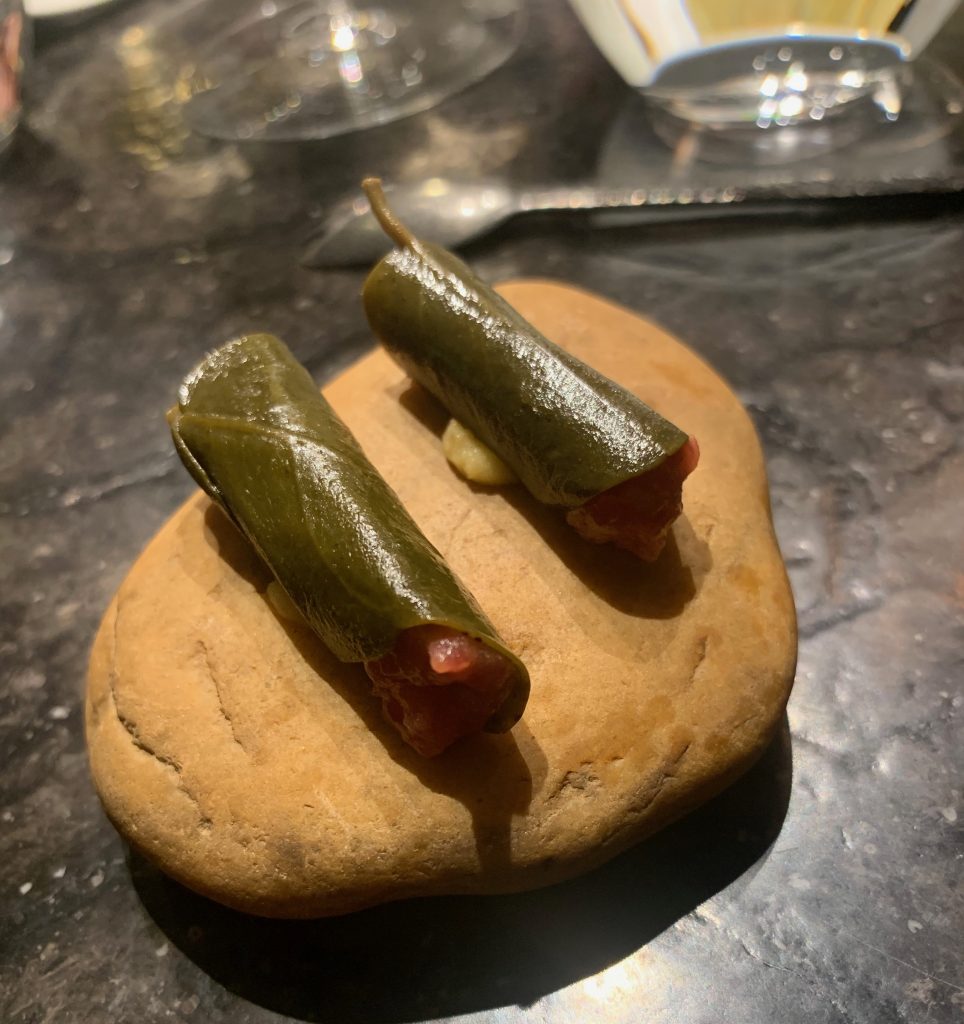 You can read more about Chateaus de Mercues and its surrounding area in this previous post, but this was a meal with more elements than could be done justice in that piece. There's an illicit thrill to be had from marching through a busy restaurant into what other diners must presume is the inner workings of the kitchen. In reality, this was the the secret entrance to Head Chef Julien Poisot's den, part of which is a table tucked unobtrusively beyond the pass for lucky guests to enjoy a unique culinary experience with full view of the chefs at work. Predictably I was the first of the party to arrive, my compulsive punctuality and enthusiasm for food intersecting neatly to give me a few minutes solitary contemplation of the menu to come.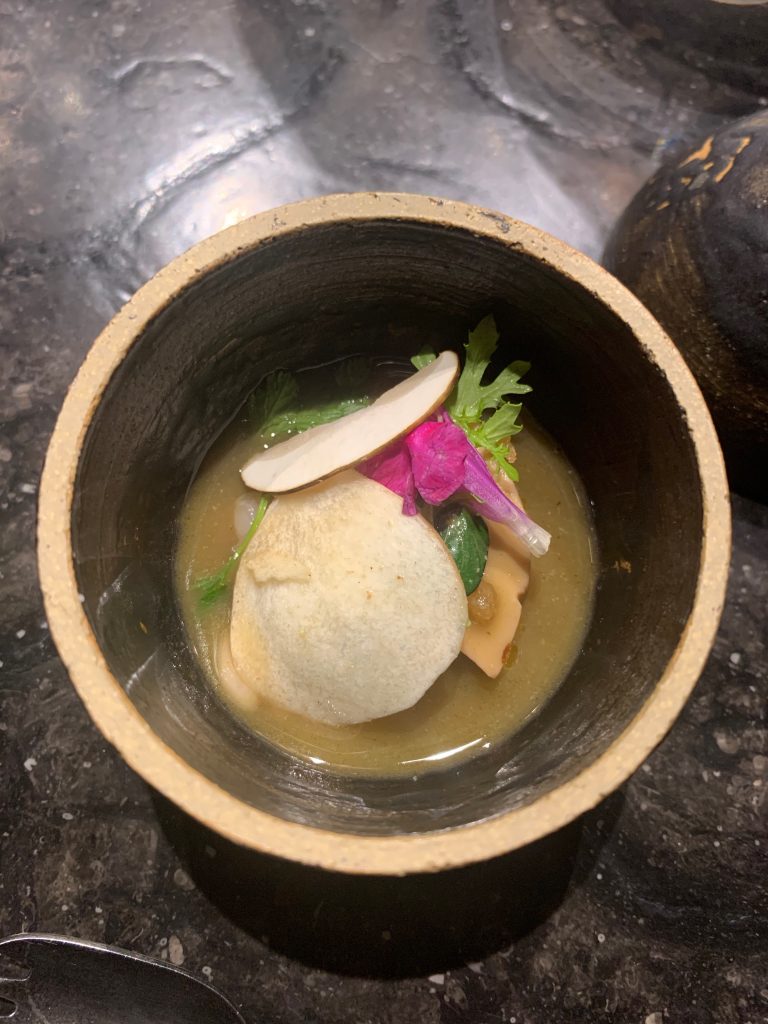 The group was a couple more people than the chef's table at Le Duèze Cahors had been designed for so things were a little snug, but we were all on good terms so that was hardly a concern. With wine production taking place on the premises, you'd expect the drinks to equal the food, the sparkling Bellefleur we started with presaged a series of fantastic accompaniments that leant heavily on the region's feted malbec.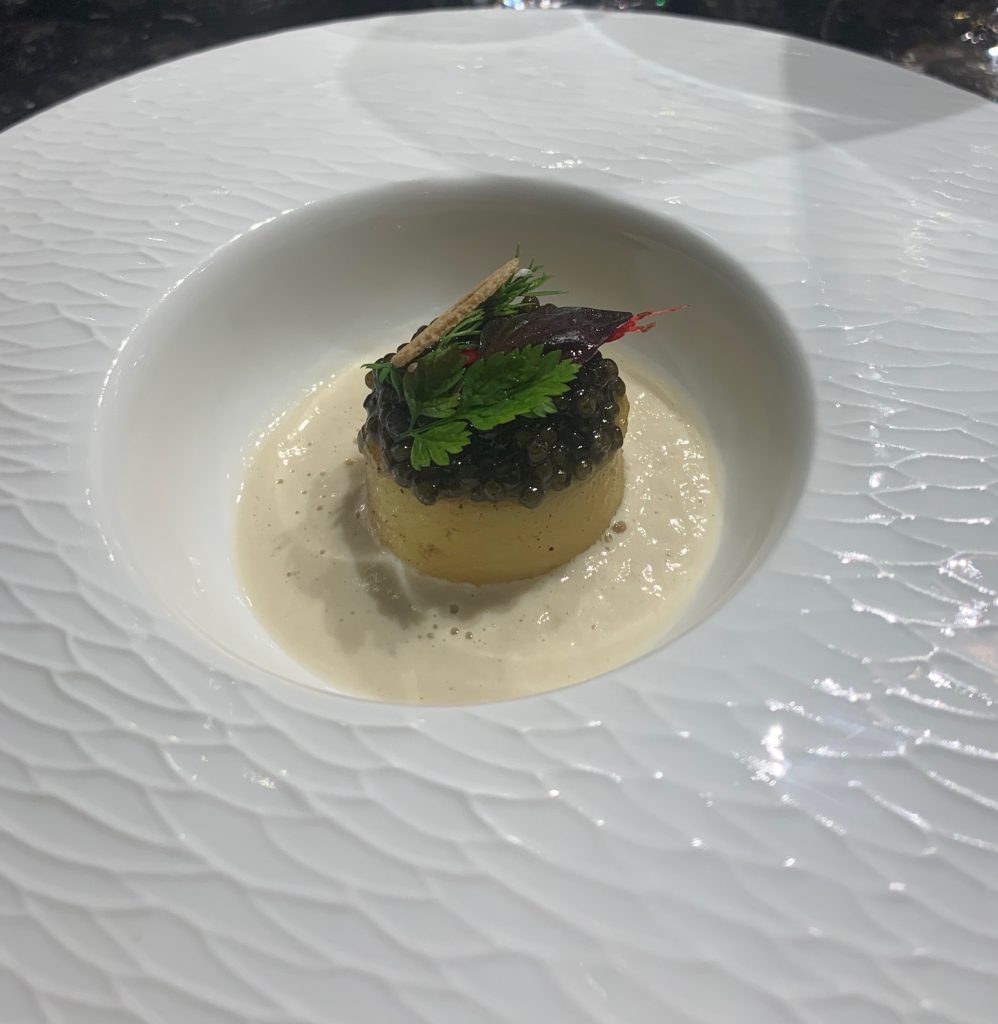 The menu leaned as heavily as one would hope on local produce throughout the succession of dishes and started with snacks including brioche and a caper leaf containing steak tartare. Being a sucker for raw beef, I happily celebrated that particular mouthful before moving onto the first main courses. Smoked duck, Jerusalem artichoke and foie gras featured in the first dish, a take on a Pot au Feu that was lighter than those components might suggest. Incidentally, foie gras raised its head several times over the course of this meal; it's not an ingredient they're squeamish about around here.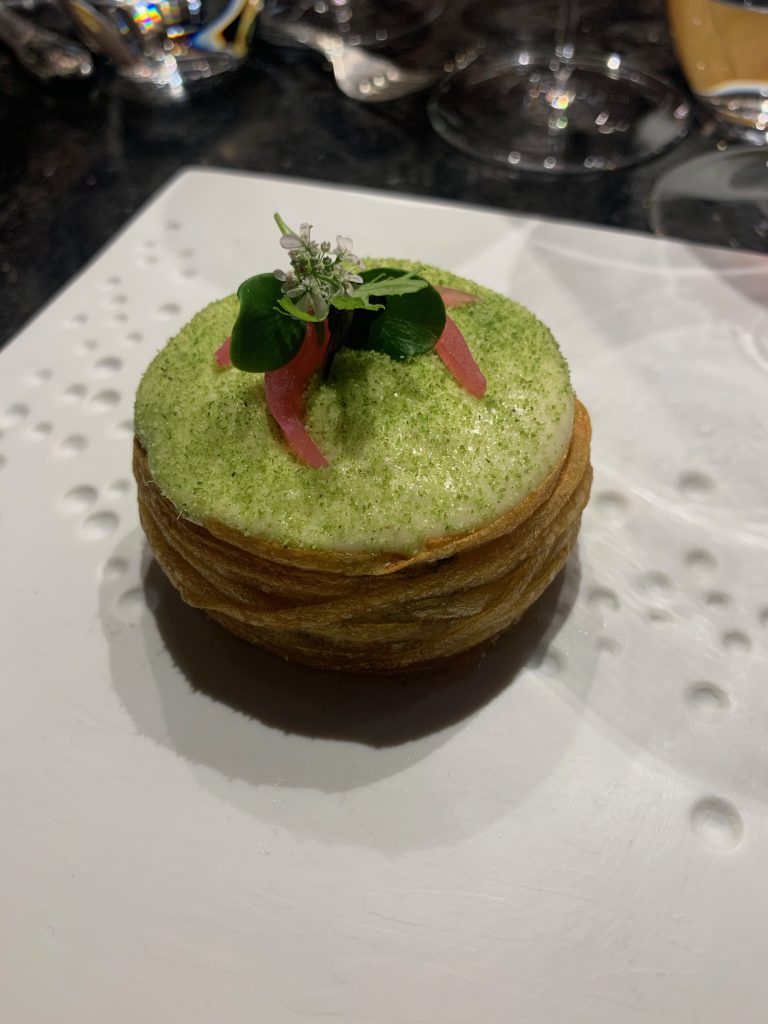 Next up was the obligatory "textures of" dish, in this case an effective run through of Jerusalem artichoke before the chef started to really stretch his leg with one that made oyster and caviar the stars, stuffing them into a potato case. Oysters are never going to make a list of my favourites, but with a generous amount of caviar around too and a richly indulgent sauce, it laid down a marker to represent the indulgences to come.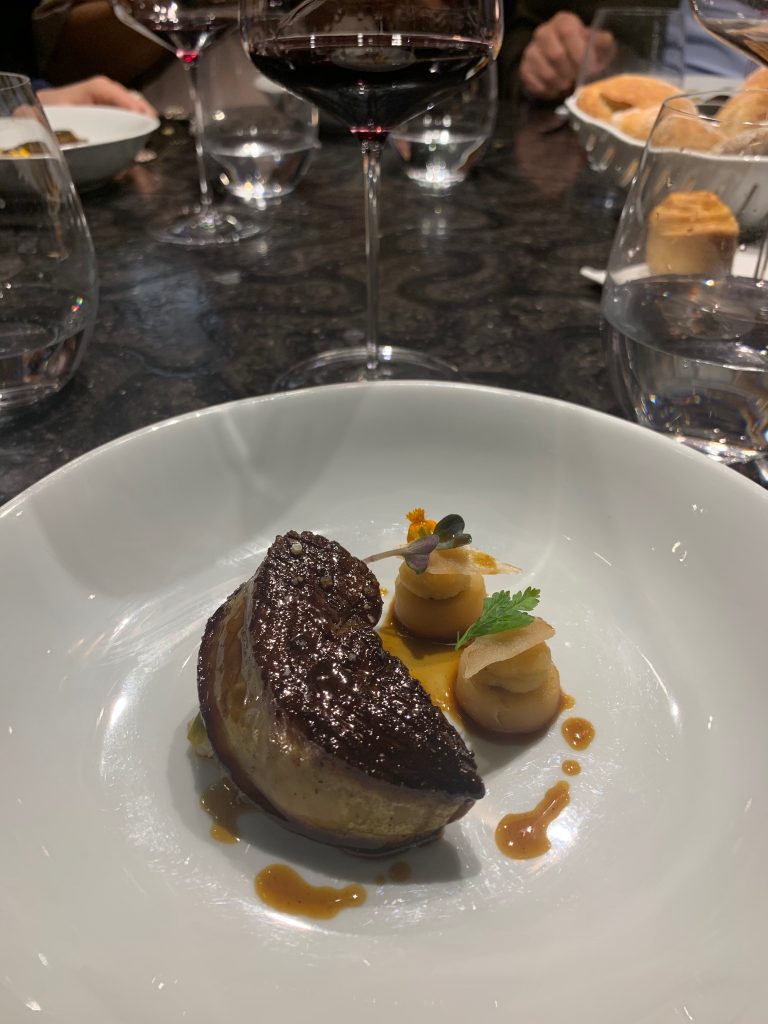 Next up, more foie gras, this time both roasted and carpaccio along with ceps and a delicate broth ripe to be accented by a crunchy topping of bread crumbs which gave it a nice bite of texture. "Cyril's snails" did its best to sell this French delicacy to our Anglicised tastes and, it must be said, was more successful at this than many of us expected. The crunchy potato basket and smoked garlic cream turned out a memorably simple presentation and the flavour of the title ingredient met a happier audience than the texture.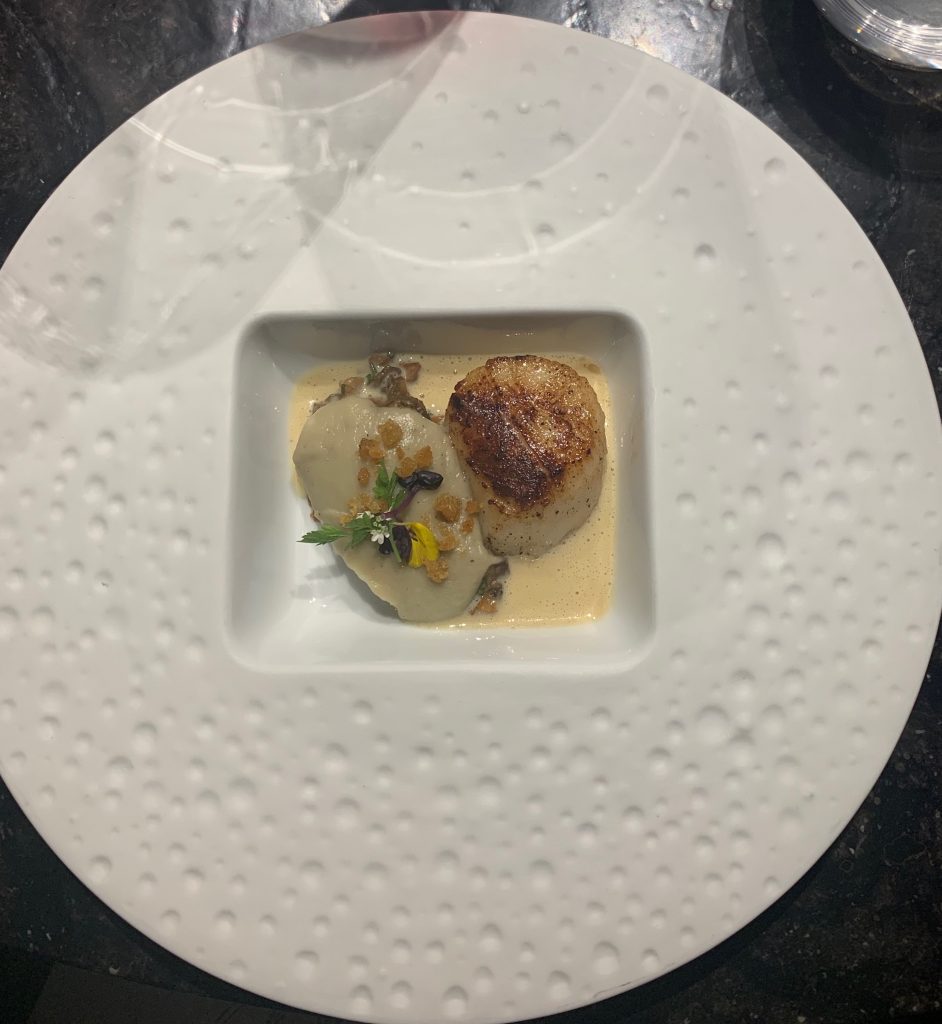 As I've said, this isn't the place for you are squeamish about foie gras, a point underlined by its third appearance on the menu. This time paired with swede and poached pear, the least memorable dish of the evening. Scallops with artichoke and mushroom came and went, the scallop was cooked expertly and was well judged against the earthy artichoke… which was also the title of the next plate. "Artichoke" came stuffed with beef cheek this time and with white truffle thrown around to make sure there was no chance of forgetting the quality of the experience. Beef cheek rewards care and Chef had clearly lavished plenty of affection on this occasion to underscore the richness and indulgence of the menu so far.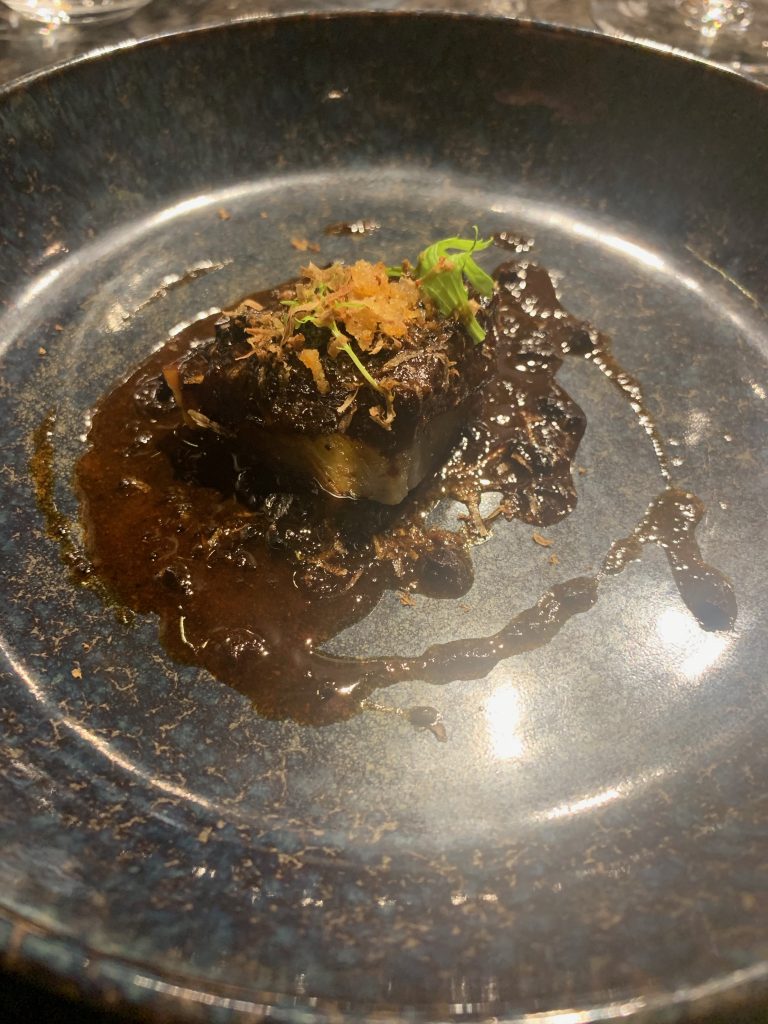 It's rare to come across a tasting menu featuring only one sweet dish, not something I would necessarily complain about given my preference for savoury. We worked our way back down to Earth with a passion fruit soufflé which reached skywards and which was good friends with fruit sorbet and "fresh fruit exotic salad". Served elaborately to leave a dramatic final impression, these were remarkably fresh notes on which to finish a quite extravagent meal.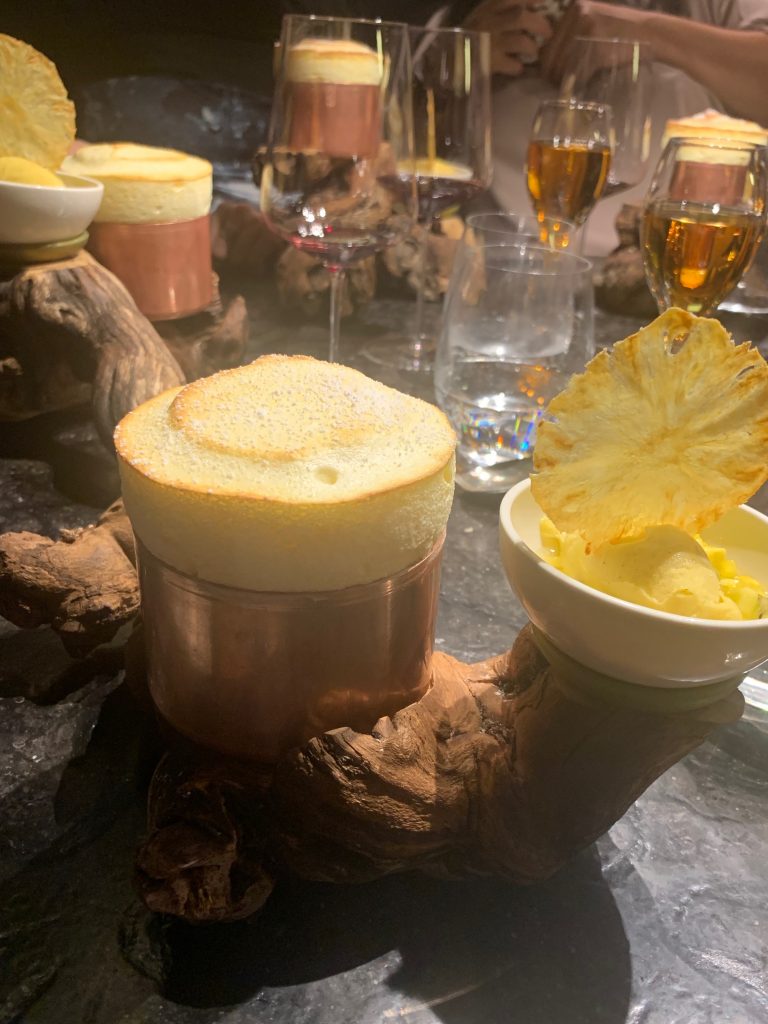 I always assumed that the backlash against tasting menus would be a passing thing and I think that's proving to be the case, for reasons ably demonstrated by Le Duèze Cahors. This menu gave the chef the opportunity to highlight the local specialties that he obviously takes pride in working with, something that could be missed by ordering a la carte. Of course not every meal is going to benefit from giving a chef carte blanche to show off in the way they see fit but on occasions such as this, it's entirely appropriate.
Disclaimer: This meal was included in a press trip.