It's intrigued me for some years that there's a restaurant in York College by Askham Bar. I've periodically looked at the menus and intended to go along and check it out as, frankly, it looks incredibly good value for the produce listed. How does £3 for crab cakes sound? Or two courses featuring ingredients such as lobster and pork belly for £13? With the added bonus of helping some young students with their education, it should be an easy decision to support Ashfields Restaurant, York College.
When I finally got round to visiting Ashfields Restaurant York College, there was a "Land & Sea Banquet" evening scheduled which looked to offer a good mix of dishes and techniques for the young chefs to show off, sounding like a good bet. I'd never been to this College before, so instinctively popped to reception on arrival for guidance on where to head next, but with a greater sense of adventure, I'd have spotted the large Ashfields sign 30 feet away. I'd worried that the room would rob the meal of any sense of occasion, being shoehorned into the corner of a dining hall or some such. Those fears were quickly dispelled though, the restaurant feels just that and features a discreet but perfectly functional bar with a range of drinks to complete the restaurant experience.
The Land & Sea Banquet took the form of three platters to share between the two of us, seafood first followed by meat and vegetables before a dessert to finish. The seafood platter featured smoked salmon from Bleikers along with mussels, mackerel, crab, prawn and dill bread. The dill bread sat happily underneath smoked mackerel pate while pickled beetroot gave breadth to the fish elements. Bleikers salmon was as good as one would expect and it didn't show up any of the elements prepped by the guys in the kitchen. Baked mussels were subtle as was prawn escabeche and the crab Scotch eggs were generous with the star ingredient.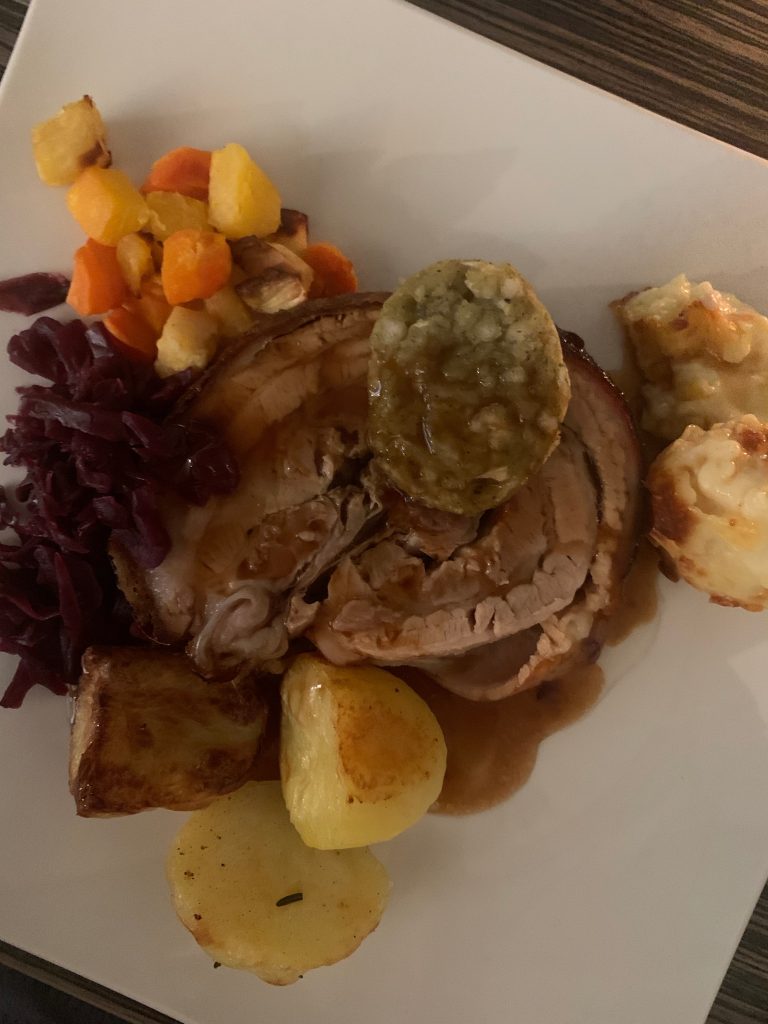 The headliner on the 'Land' platter was porchetta which was carved by the students in the dining room as the centrepiece of the evening. It was served with roast potatoes, stuffing, root vegetables, red cabbage and a particularly luxuriant cauliflower cheese. The porchetta wore a beautifully judged layer of crackling around its succulent meat and paired delightfully with those roast vegetables.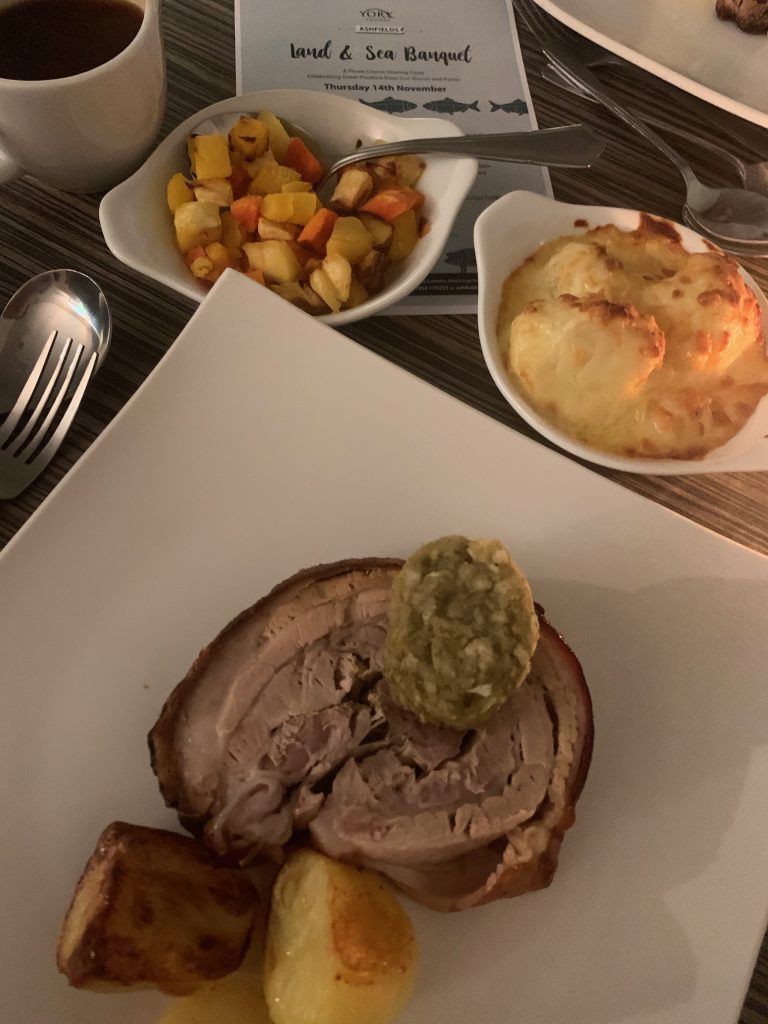 The meal finished with a dark chocolate maple pecan pie with a white chocolate truffle and milk chocolate ice cream. I've had some unusual ice creams in recent years that have been of varying attractiveness, but this was a refreshing, light example that tempered the rich tart well.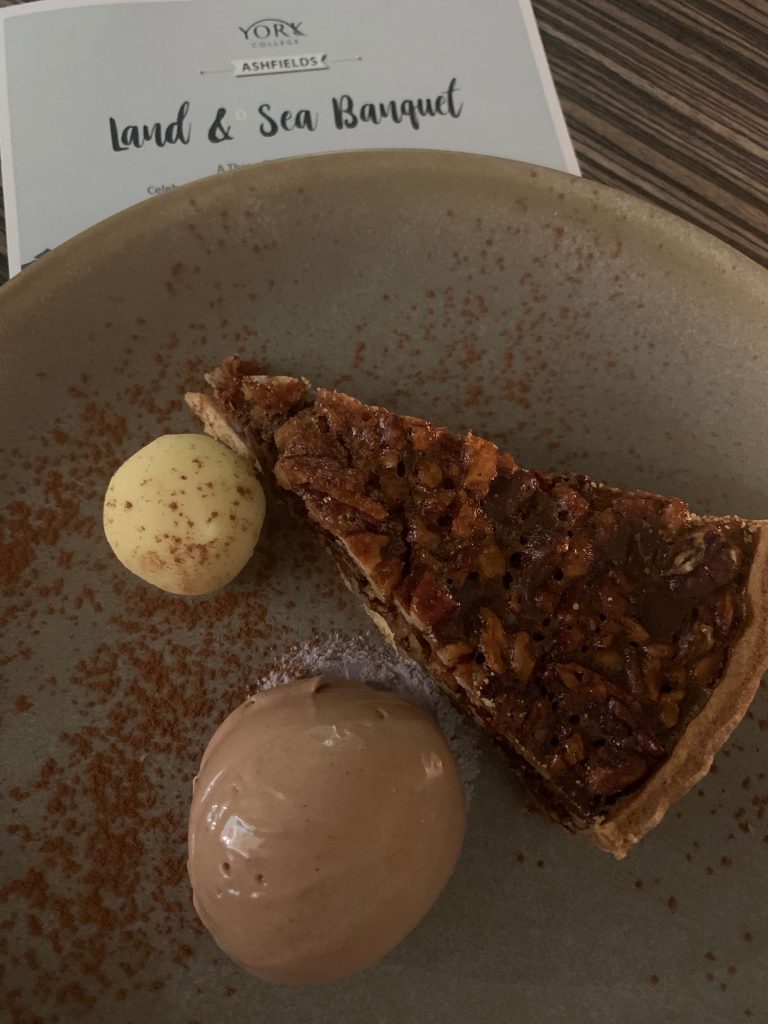 I'd thoroughly recommend getting a little out of town to try out a meal here. If I was being picky, I could mention a couple of rough edges in the food, for example it would have been nice to have a runny yolk in the Scotch egg, but I've seen far worse things happen for a great deal more money in well reputed restaurants. Similarly the service, while entirely efficient and friendly, betrayed a touch the age and experience of those delivering it. That should be taken as an observation rather than a criticism though, to treat it as anything else would be to forget the purpose of the meal. Yes you're paying for a nice experience but don't forget that comes as a by-product of these guys gaining the experience they need to take up careers in the industry. Why not treat yourself to a bargain of an evening that gives you the chance to enjoy hospitality from the future of York's food scene?
Disclaimer: No charge was made for attendance, opinions are impartial.