How many times have you been offered a sample of fudge as you enjoyed a mooch through York's city centre? The friendly team from The Fudge Kitchen York always seem to be on duty to spread their sugary message outside their Petergate store, as they were on Kings Parade in Cambridge when I lived there. I've enjoyed their products occasionally in the twenty intervening years between those two locations but with little understanding of the process behind it. I popped along to the York store to investigate and get the full low down.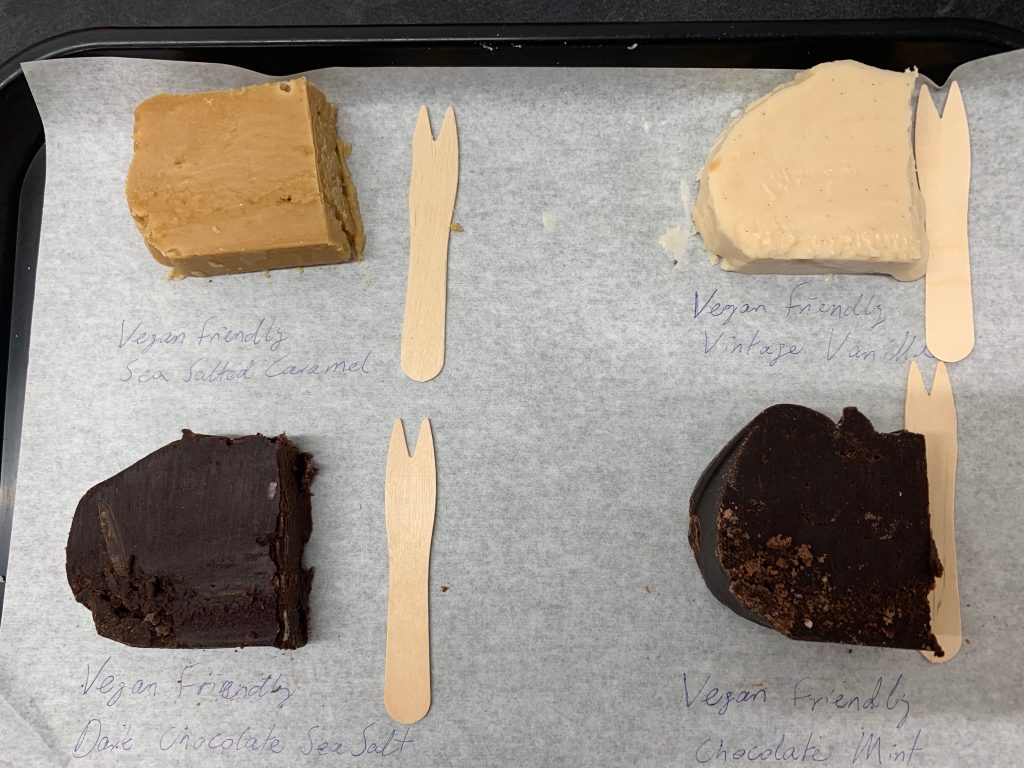 A fudge experience for 2 people costs £95 and offers the opportunity to get really hands on with the fudge making experience, and of course the chance to sample an awful lot of fudge. The shop itself is a friendly little spot led by manager Dawn whose love for the company and its product is evidenced by more than 30 years in its employ! The object of the experience is to participate in the fudge making process and come up with a finished product good enough to be sold to the general public alongside that produced by the regular staff…while also enjoying it yourself of course.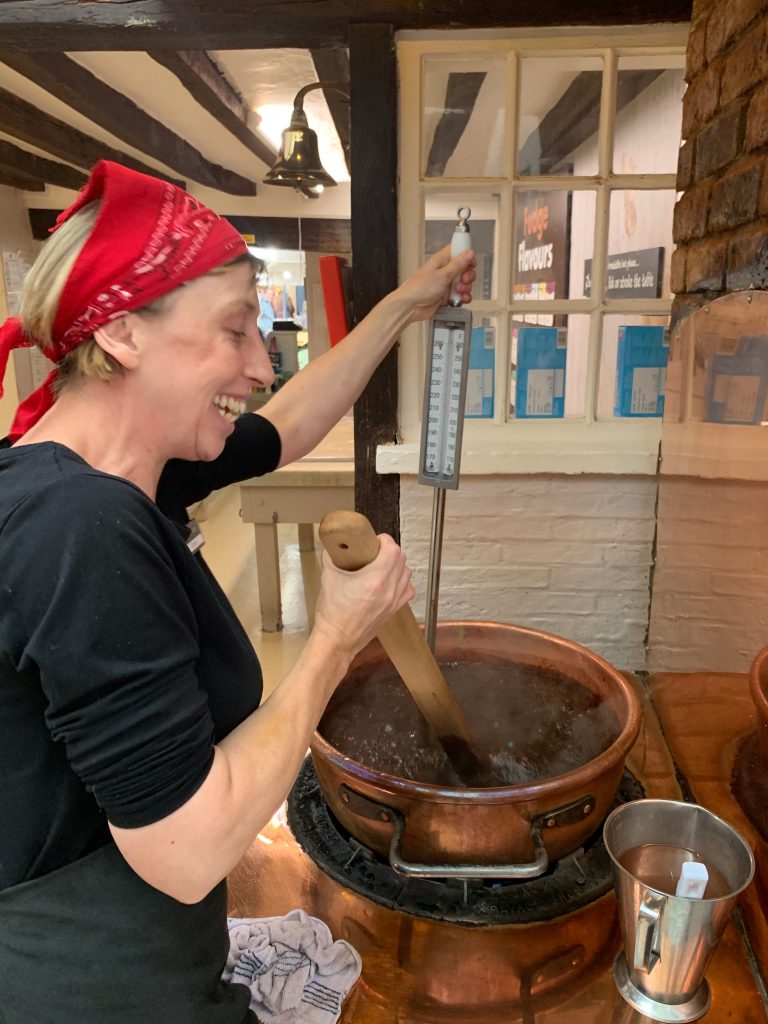 Before you get hands on with the fudge, it's important to know what the end goal is, so the experience kicks off with generous sampling of all of the flavours for sale that day. One thing this gave the opportunity to do was sample both conventional and vegan fudges back to back. With November being World Vegan Month the guys at Fudge Kitchen were keen to give me the chance to try their vegan range which is made using soya milk. I was pleasantly surprised to find them totally interchangeable, the flavours being entirely indistinguishable. If you're in the market for something properly indulgent tasting and vegan friendly, this is definitely one to try.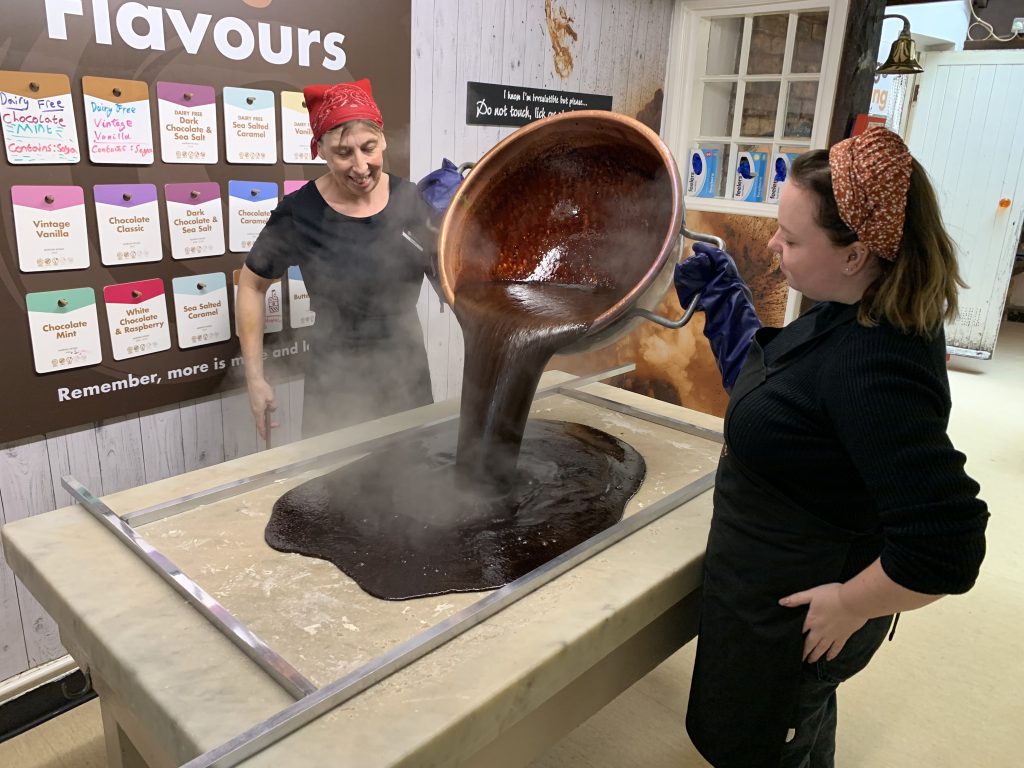 Having sampled each of 12 different fudges, it was time to go back to the beginning of the process and get the mixture that would turn into our finished product heated to the appropriate temperature. When this had been reached, I was invited to step back behind a barrier while it was poured out. Health and safety might be maligned these days, but the idea of getting splashed by sugar at a couple of hundred degrees didn't appeal. The professionals amongst us got the mixture happily cooling on a marble table, constrained by weighted bars.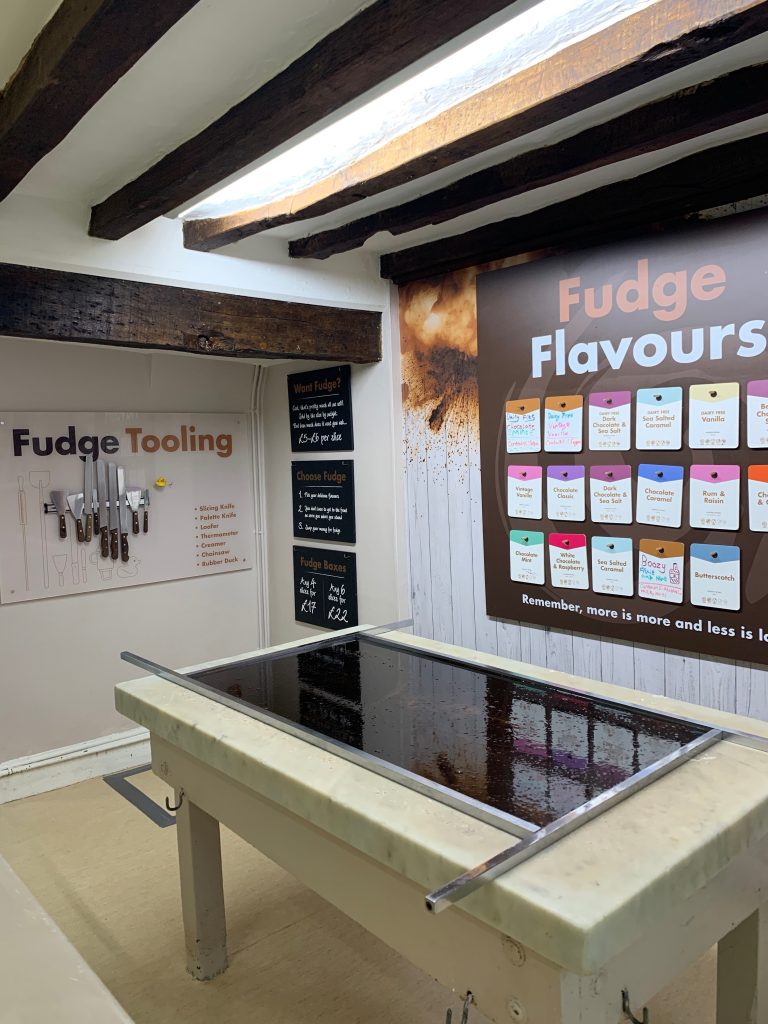 After allowing the mixture to cool a little bit, I (under close supervision) set about using a creamer, reminiscent of a garden hoe, to work it and turn it to make sure it picked up a suitably creamy consistency. Then it was time to shape the product into an appropriate elongate to allow it to be sliced and sold.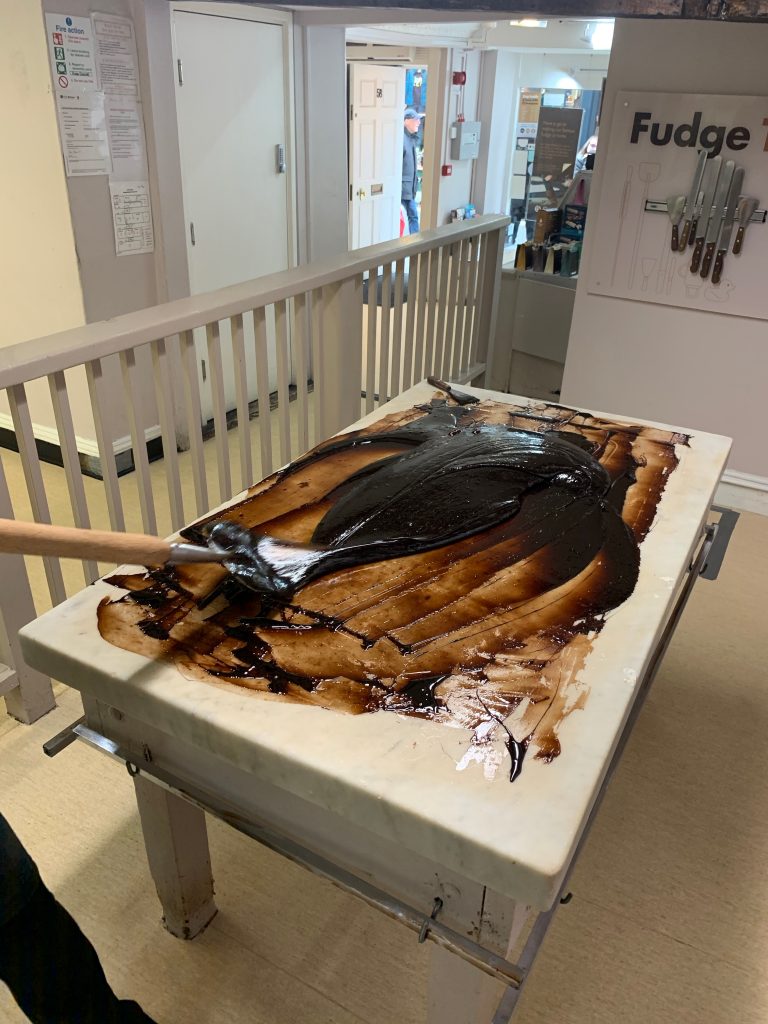 The table on which we were working was in full view of the public and by now my efforts had attracted the attentions of a friendly family from Scotland who were asking questions of us and curious about how a relative amateur had come to be working in this capacity. I was happy with the audience, but their presence was left to my discretion so don't assume you'll be put on show without your consent if you try this. By now, I'd worked down to using smaller hand tools and was in the final stages of shaping the 'baguette'.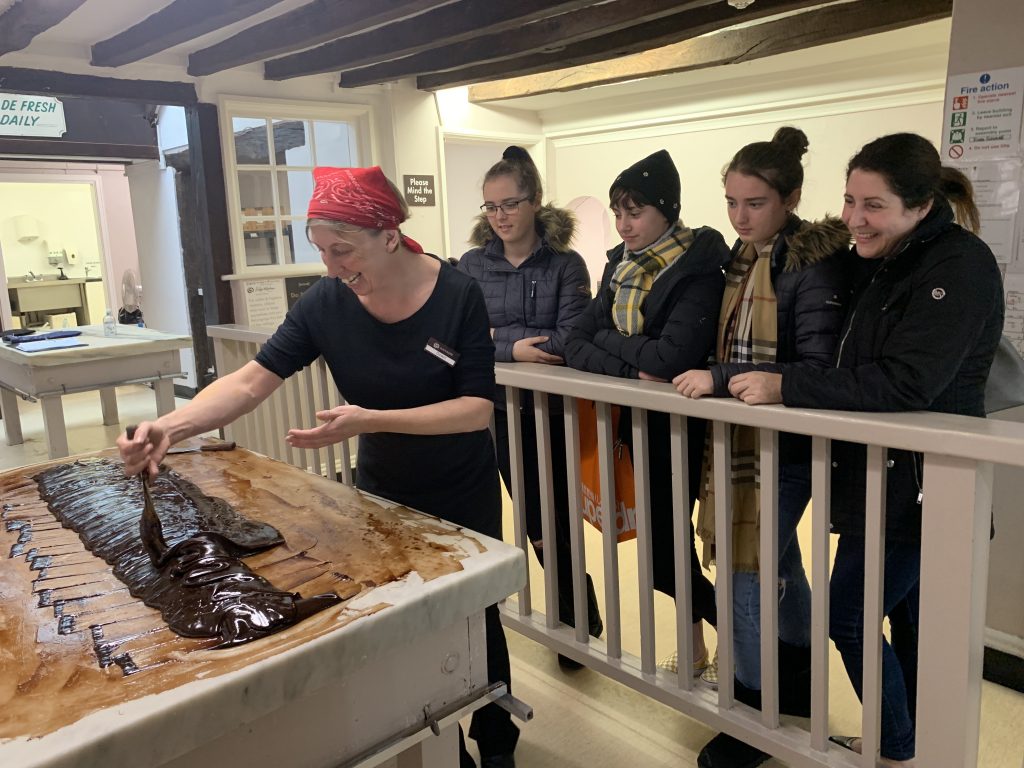 A little more tuition followed to show me how to produce slices ready for sale that looked suitably refined before I stepped away and let the professionals finish the job, though I was proud to have attracted a few compliments from them on my work.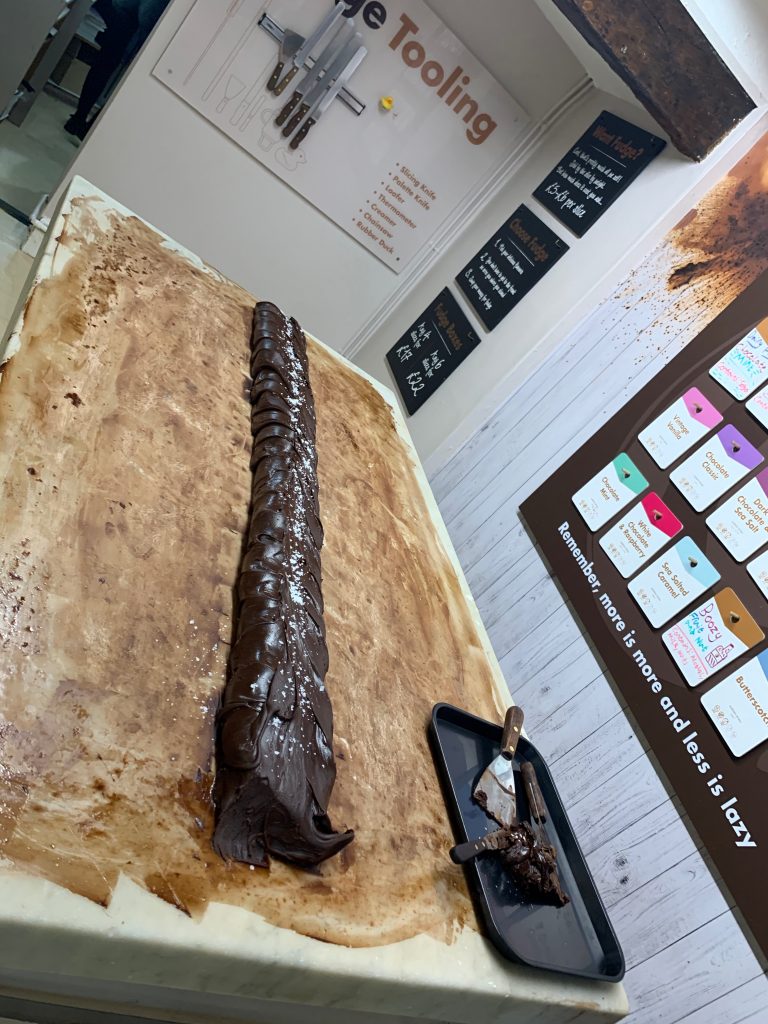 To take away with me, I was able to choose several slices of the flavours available that day along with the samples that I'd been provided with earlier. This was a hugely generous amount of fudge that ended up benefitting a few friends and neighbours over the rest of the day. It's always fun to learn a new technique and this experience was no exception. The guys were unfailingly friendly and informative, showing great enthusiasm and helping me to produce and taste some delicious treats. It's worth more than a passing hello in the street next time you're encouraged in.
Disclaimer: No charge was made for this experience, opinions are impartial.