Restaurants in hotels always seem to start on the back foot. Having a restaurant with rooms is one thing, but there's undoubtedly a stigma surrounding restaurants that are perceived just to function as a service to the hotel thaFirelake t hosts them. There always remains the possibility that this will inspire greater depths of effort from those involved though and there're certainly some gems out there, so an invitation from Firelake Leeds piqued my interest enough to justify a train journey.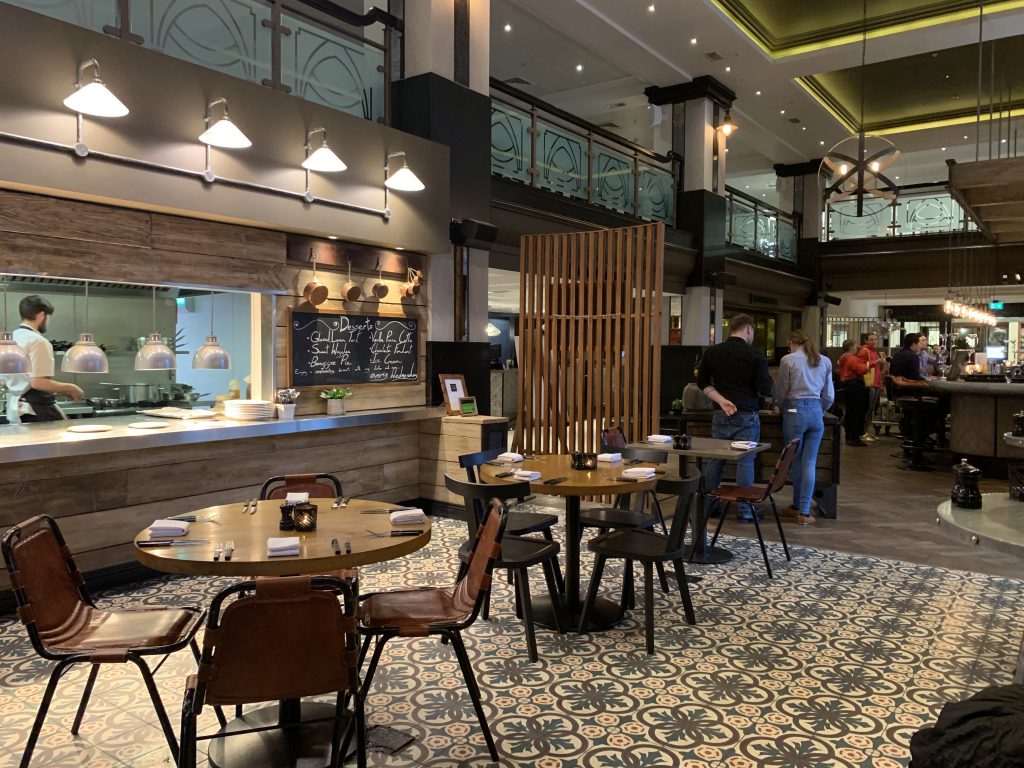 The Firelake brand is used by a small collection of restaurants within the Radisson Blu chain, amongst the number of which is this example a short walk from Leeds railway station. The building in which it sits allows you to wander straight into the bar and restaurant without the sense of invading a private space. The restaurant area feels every inch the modern, airy space that weary travellers and curious locals would expect to find and we were able to keep an eye on proceedings in the open kitchen as we were seated and worked over the menus.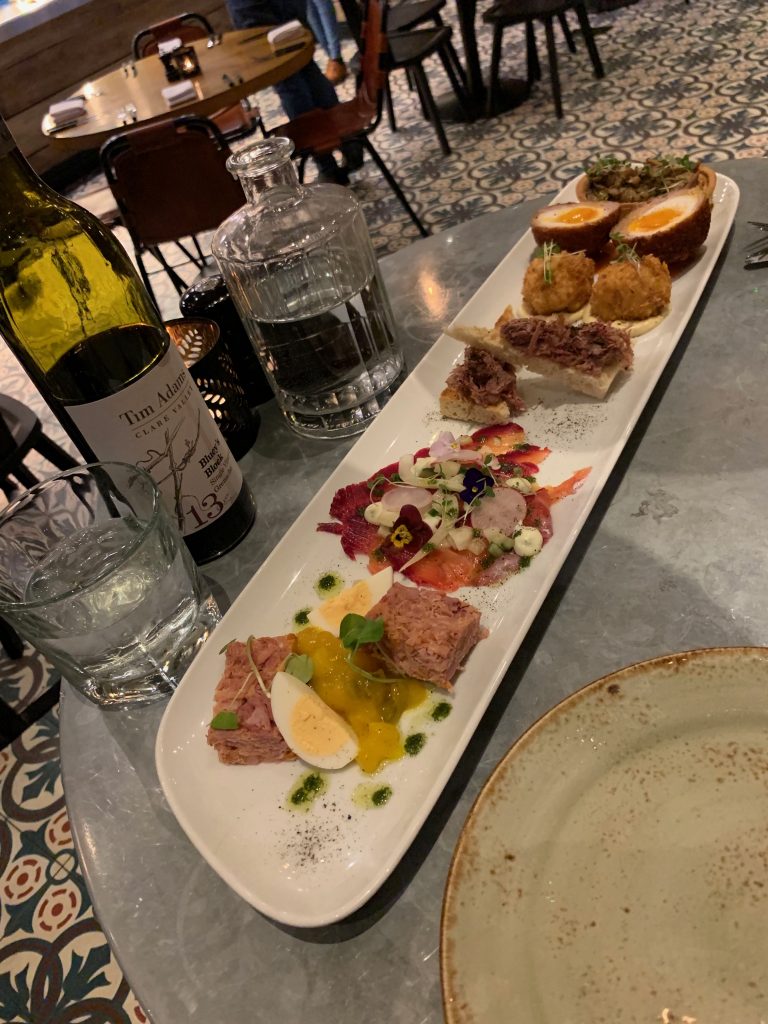 The menu highlights include a range of small plates that function perfectly well as starters as well as dishes cooked on a Josper charcoal oven along with more traditional dishes such as burgers and fish and chips. After a chat with the chef, we plumped for a range of small plates to sample followed by flat iron steak and monkfish dishes.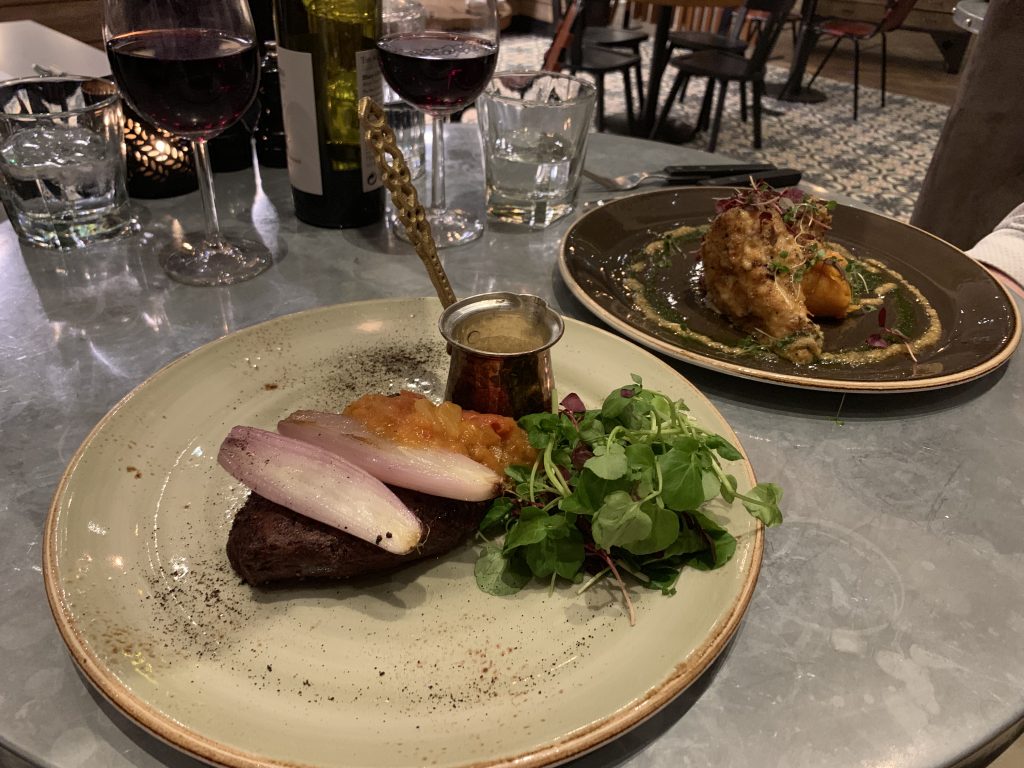 Suitably equipped with a decent bottle of red, we were soon tucking into some platters that had been kindly made up so we could get a sense of a wide range of small plates available. Mac cheese bites have been a consistent crowd pleaser almost everywhere I've had them and the Scotch duck egg was well executed with a pleasing dollop of roasted tomato ketchup. Smoked pig cheek made good use of this under-rated cut while gin-infused salmon added itself happily to the party. This just left cheddar and leek tart and chorizo and ham hock terrine to finish, both of which being enjoyable, but lacking a touch of punch and refinement shown by a couple of the others on offer.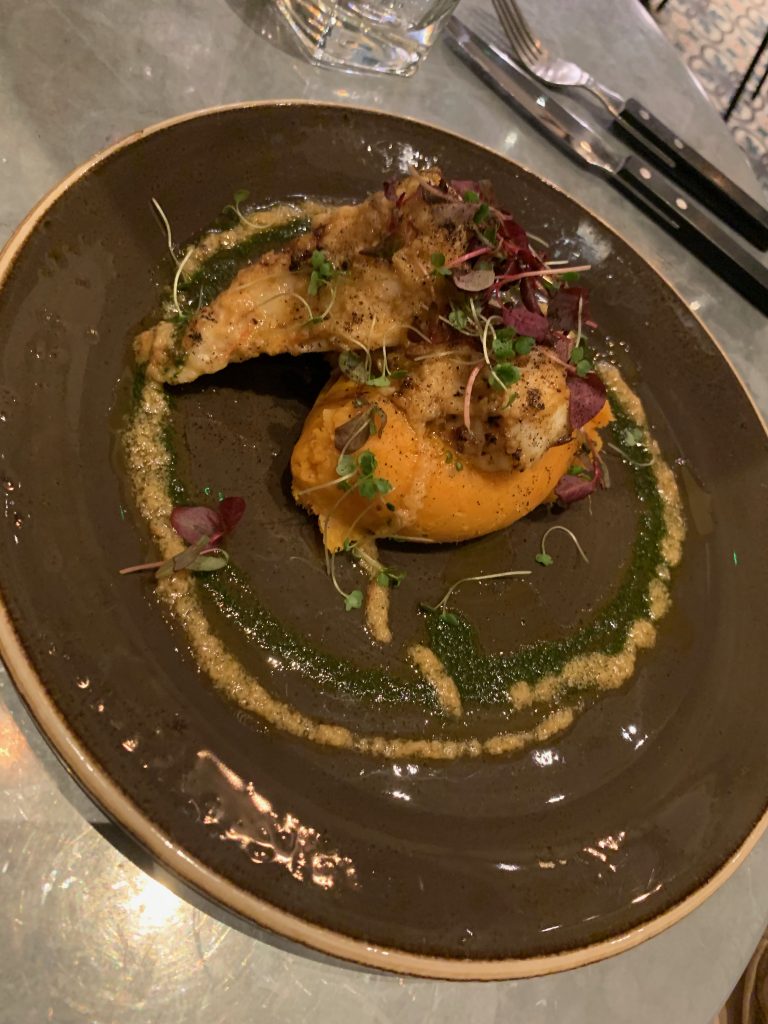 Our friendly server transitioned us comfortably to main courses after a polite interval to form a coping strategy that reflected the quantity of food we'd been presented with. I'm always nervous about ordering steak somewhere unfamiliar, the disappointment when it's not cooked superbly being strong, but the kitchen's confidence in the Josper grill wasn't misplaced and I was presented with a cut allowed to show its full potential. Apparently this was also achieved without recourse to a water bath, judgement and experience taking the place of the shortcut I use at home. I'd chosen a blue cheese sauce to go on the side which also drew the best out of the shallots served as an accompaniment to the steak.
Coal roast monkfish was accented with tomato, garlic and ginger to good effect and benefited from the same skill as the steak as it sat along with a good wedge of sweet potato. Along with the steak, it formed half of a pair of dishes that showed off the benefits of the Josper, its high heat and kiss of smoke being evident and appreciated if not overbearing.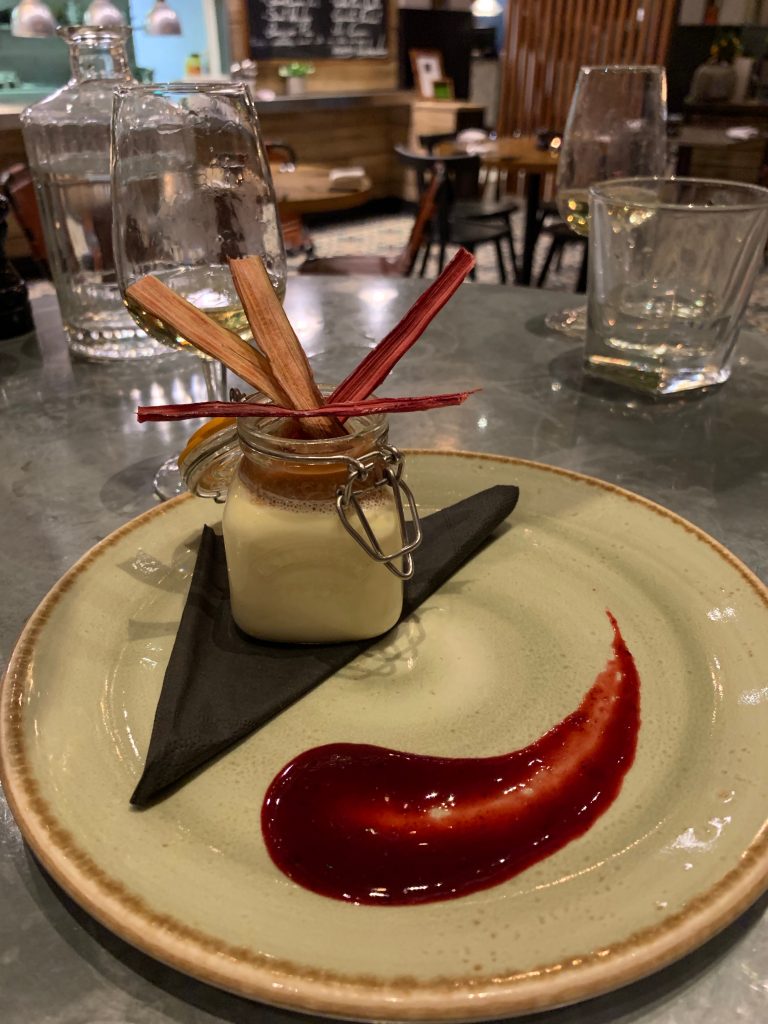 To finish we just about had the courage to face a Panna Cotta with rhubarb that paired beautifully with a few mouthfuls of Hungarian dessert wine. Dessert was never going to be the focus of this meal, but this was still a relaxing dish to finish on and one that allowed us to take stock of our surroundings. As I say, as a hotel restaurant, it's hard to shake off the perception that you're there to knock over the requirements of ambivalent business travellers rather than strive for good things. Firelake might not be the most prominent name in the Leeds dining scene, but it delivered a series of dishes with plenty of punch and enthusiasm that were well worth the visit.
Disclaimer: No charge was made for this meal, opinions are impartial.