It's not too long since I visited Filmore & Union but whenever they have a new menu on, it's worth a trip. They have a new summer menu to check out that's great value at £14.95 for two courses or £18.95 for three. This menu continues the usual Filmore themes, catering for meat and dairy free diets while offering plenty of variety at the same time. The wide range gave us ample consideration over a cold glass of wine as we took up a table in the upstairs dining room to enjoy an evening enjoying the Filmore & Union summer menu without Baby Fork.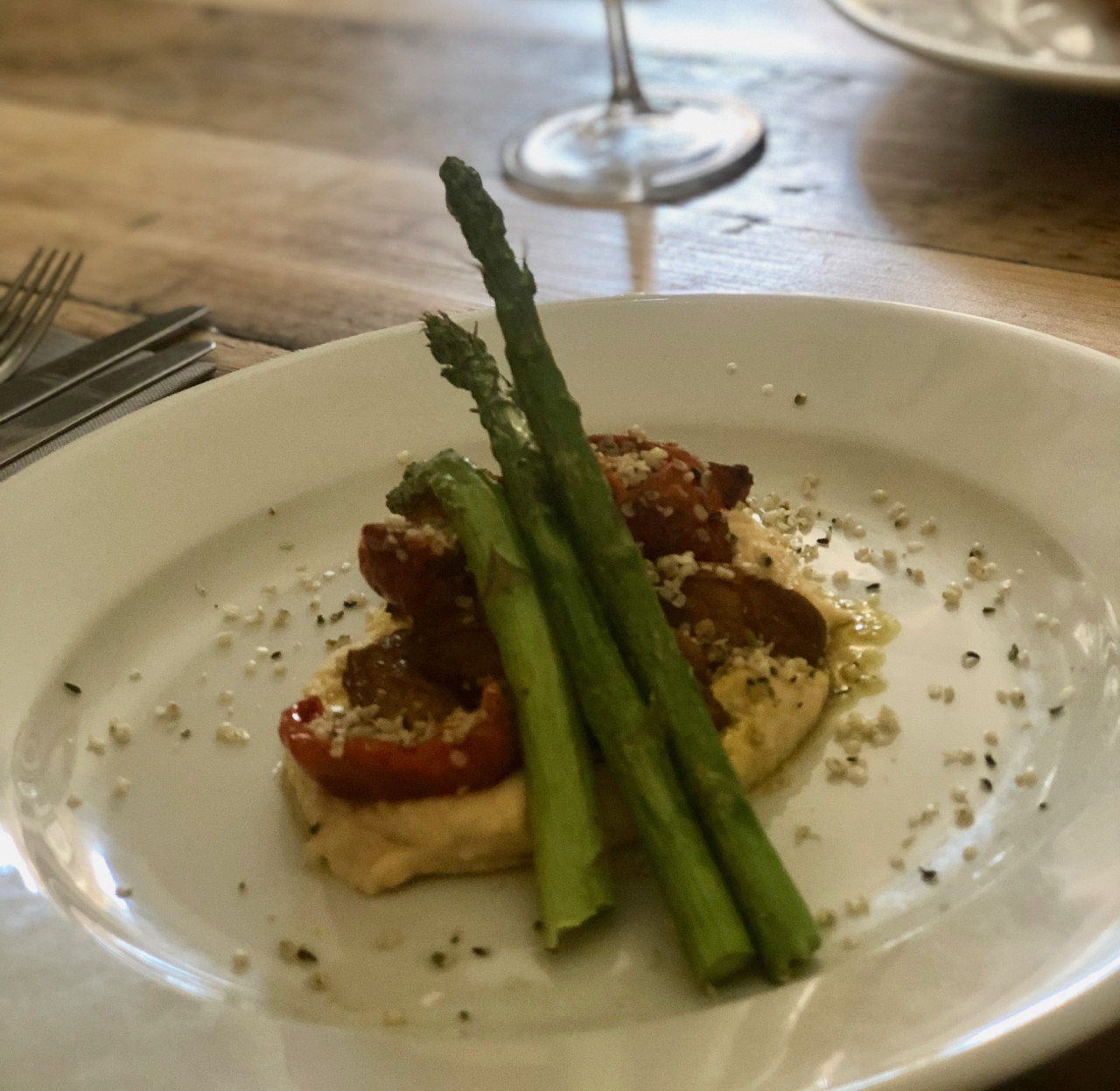 To start with, we stuck with vegetarian options, choosing asparagus with white bean hummus and a cashew & tomato pâté. The pâté came with a simple salad, which would have benefited from a stronger dressing, and some gluten free toasts. It's only on double checking the menu now that I realise those toasts were gluten free, which speaks well of them. The pâté worked well, perhaps not as smokey as advertised, but light and delicious with no hint of compromise to become vegetarian. The asparagus was presented over a few crispy potatoes and roasted tomatoes which sat in that promised bed of white bean hummus. The tomatoes were in danger of over shadowing the rest of the plate, but the asparagus was still able to speak for itself and the hummus was well balanced. With the potatoes in the mix too this was a great start to the evening.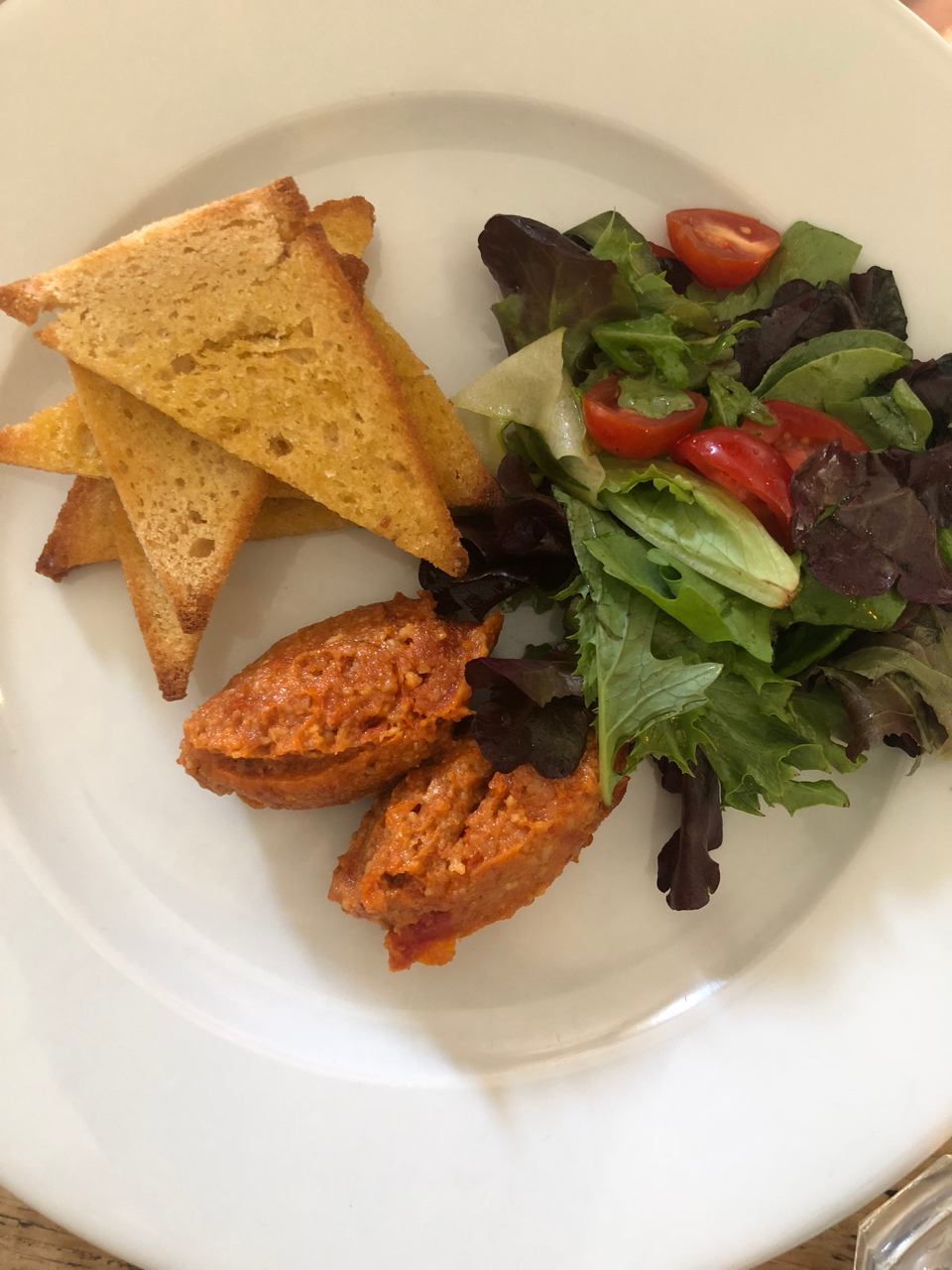 We'd not consciously avoided meat in the starters and similarly not sought it out for mains, with chicken and hake (£2 supplement) being our choices for the next course. The chicken was cooked with ginger and lemongrass then served with turmeric roast potatoes and broccoli with a saffron sauce. This dish attracted a bit of criticism in a recent review, so I was curious to try it myself for the sake of comparison. It's fair to say the chicken was perhaps a touch dry, but there was plenty of flavour in the plate, arguably too much going on with the turmeric and saffron fighting it out. The saffron sauce really made the dish: rich but delicate and balanced well with the fresh broccoli.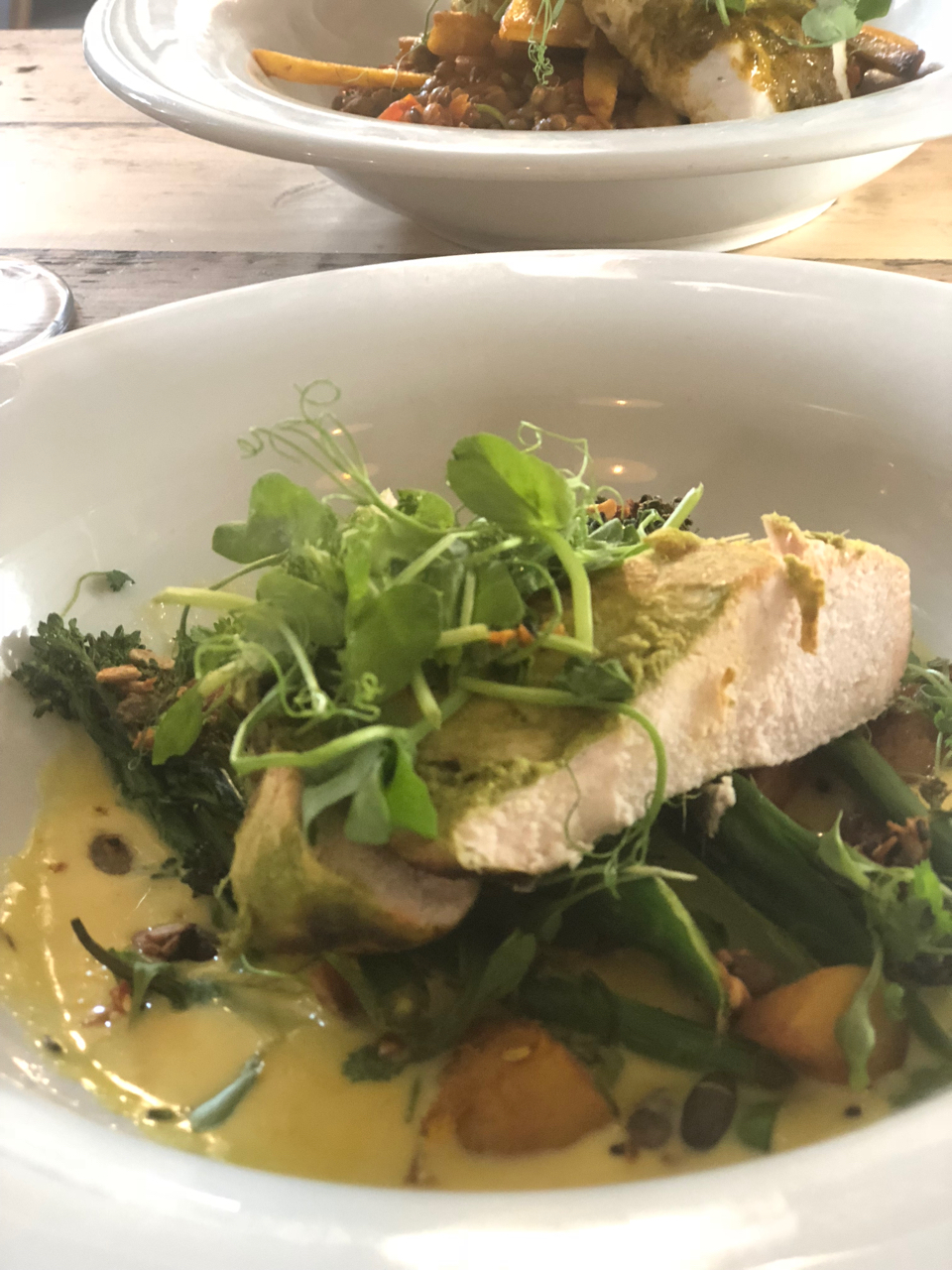 The other main we chose was hake fillet baked in chermoula with spiced lentils and salsify. This really packed a punch, with a good amount of spice and a generous serving of the salsify that had been roasted in batons to present itself as an exciting alternative to chips. The fish flaked into chunks as it should and the chermoula made its presence felt with a good balance of coriander, lemon, garlic and so on. The lentils needed to be aggressively flavoured to face off against all this and were entirely up to the challenge. If anything we were over-faced by the quantity of fabulous lentils with which we were presented, making it a shame to leave some.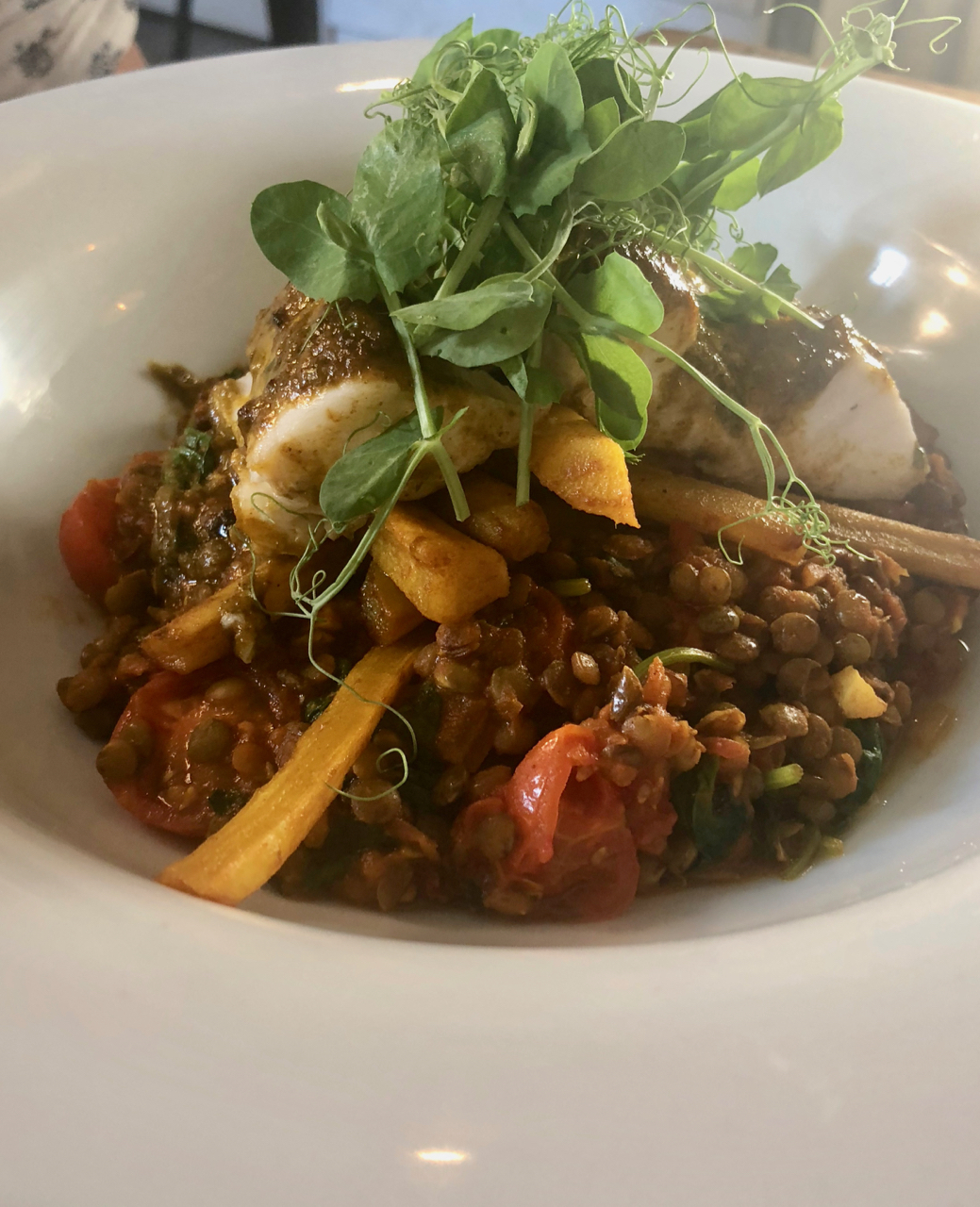 Despite failing to summit the mountain of lentils, we thought it appropriate we attempt a pudding too so made our best attempt at a vegan chocolate mousse. As with the gluten lacking from those toasts in the starter, I'd not have guessed this was missing dairy. Topped with mint, raspberry and pistachio, the mousse was made from an avocado base with almond milk which gave a lovely smooth texture and nutty undertone.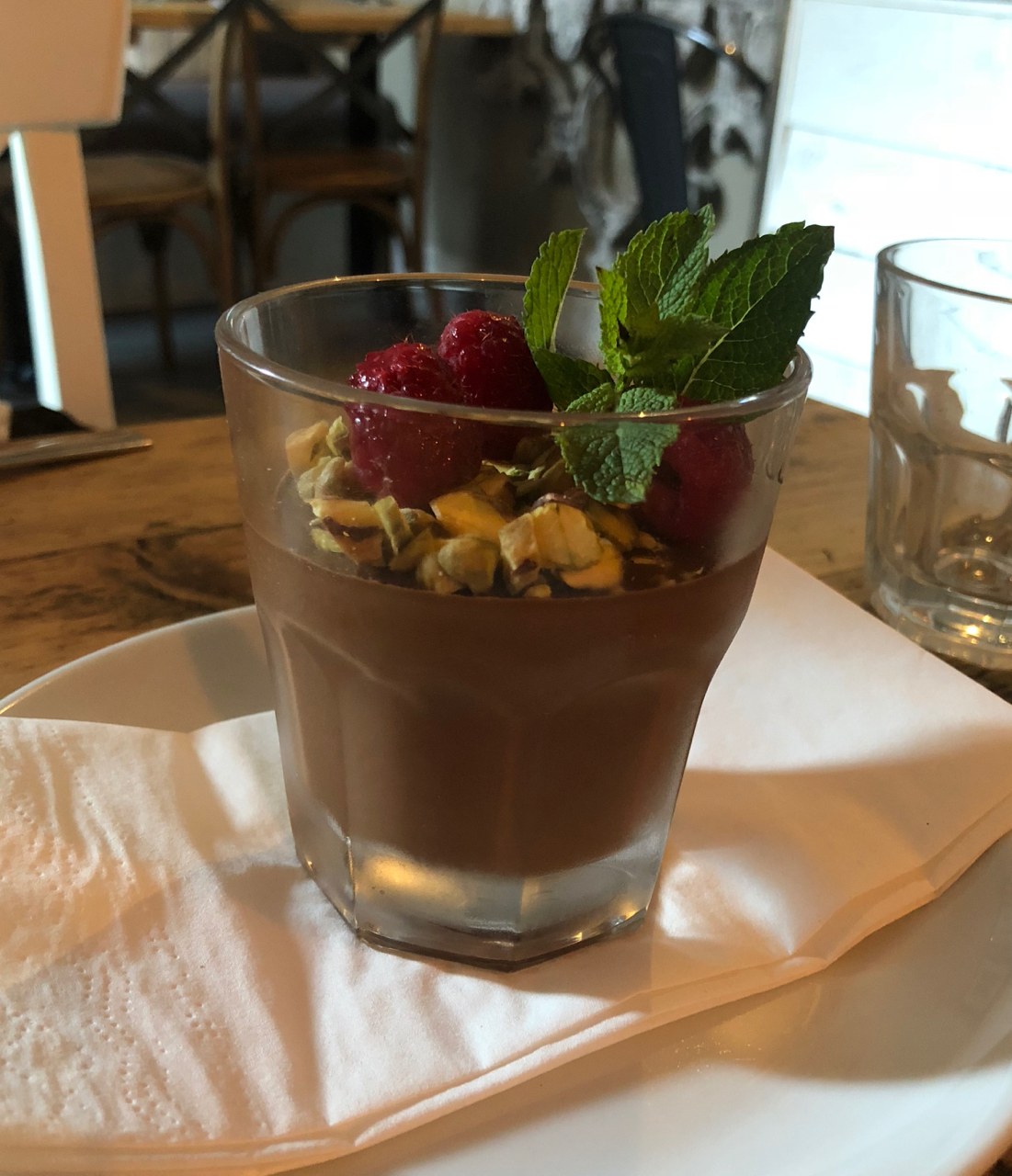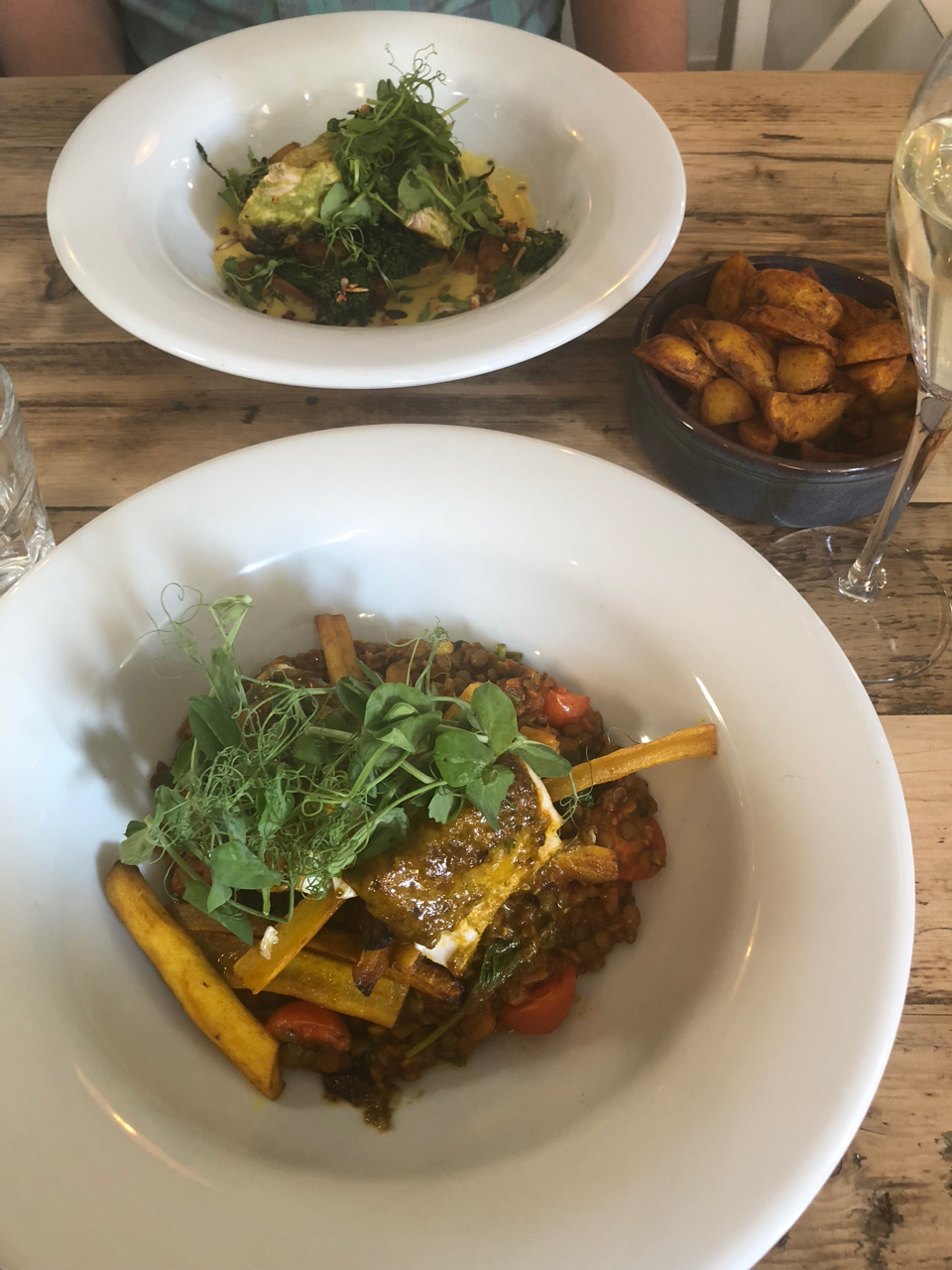 At a shade under fifteen quid for two courses or nineteen for three, this all represents great value. There's a pleasing amount of invention in the dishes, using good ingredients, but not at the expense of flavour. Filmore & Union has been a reliable option in York since it opened, particularly for those following specific diets. We had a lovely evening with good food from the Filmore & Union summer menu and I heartily recommend it for a great value evening out.
Disclaimer: No charge was made for our visit. Opinions remain impartial