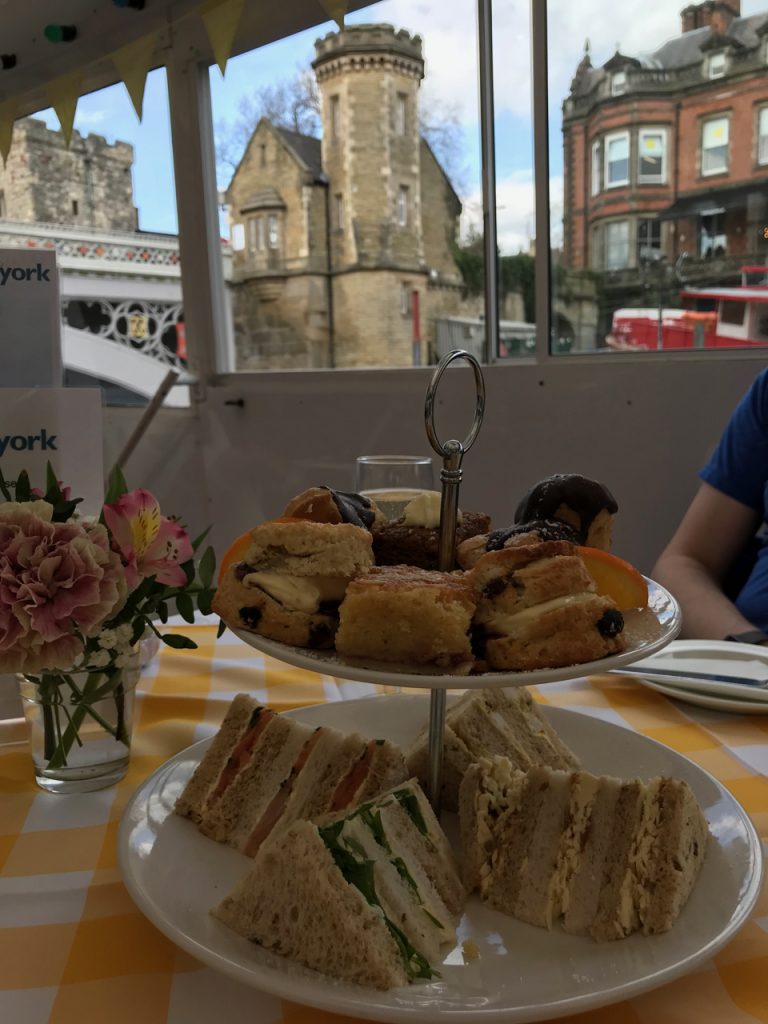 York has so many assets, it can be hard to work through them all even as a resident with a bit of time on your hands. There are so many glorious nooks and crannies in this city to explore so perhaps it can make sense to combine a couple of activities in the interests of efficiency? One company taking this approach is City Cruises York who are offering the opportunity to double up your time investment by taking afternoon tea while enjoying the riverbank sites from a boat cruise.
The City Cruise boats are a familiar site in York around their moorings at Kings Staith. After a few exploratory efforts we located the correct boat on the sunny day we were lucky enough to be enjoying and set about loading Baby Fork onto her first boat. Thankfully that was accomplished with the help of the crew without anything child shaped falling in the river and we took up our table for the mandatory, and reassuring, safety announcements.
The afternoon tea cruise is one of the lengthier ones offered so gives the opportunity to head along the Ouse in both directions from the City Centre, first north past the Guild Hall, Museum Gardens and Railway Museum before turning near the back of St Peter's School and heading back south. It's been some years since I went on one of these cruises and had forgotten what a pleasure it is to see York from a different perspective. It should be no surprise that the boat's captain had the commentary down to the smallest detail with plenty of info to please visitors to our lovely city.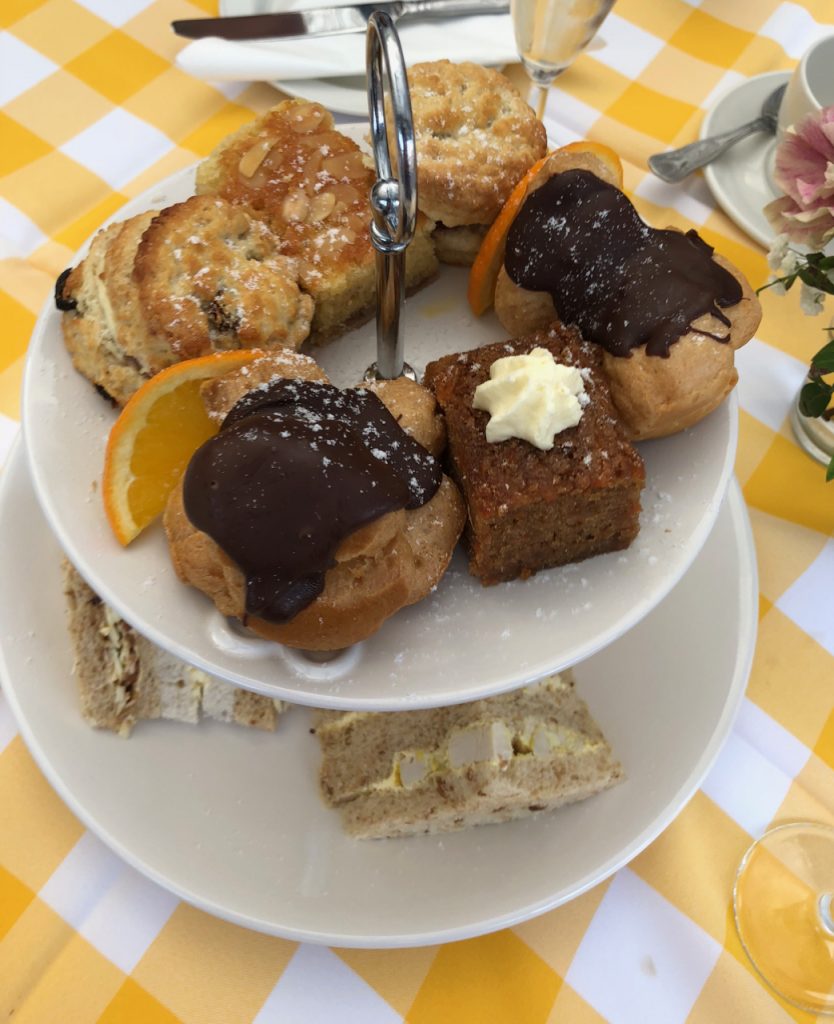 We'd gone for the option that included a glass of prosecco to accompany the two tiered afternoon tea that was provided by local catering company Bradshaws. The afternoon tea included all the appropriate staples such as finger sandwiches filled with smoked salmon & cream cheese, Wensleydale & chutney and Coronation chicken. On the sweet front, we found profiteroles, carrot cake and bakewell slices all in good form. Sultana scones with raspberry conserve and clotted cream made sure that our appetites were met while we enjoyed our prosecco and headed south.
I think the views from the Ouse South of York are rather more pleasant than those to the North, taking in the Georgian New Walk, Rowntree Park and Millennium Bridge before passing views of the old Terry's Factory on the way to checking out Bishopthorpe Palace. I've no idea if Archbishop Sentamu was resident at the time, but if so he didn't pop out respond to our waves.
The river is an asset to York which, having lost some of its purpose from a more industrialised time, affords tourists and residents alike a different perspective on the city it serves. The afternoon tea cruise comes in at £25 a head (or £30 if you want Prosecco to temper a hot day, as we did) which represents fair value given the respective costs of river cruises and afternoon teas.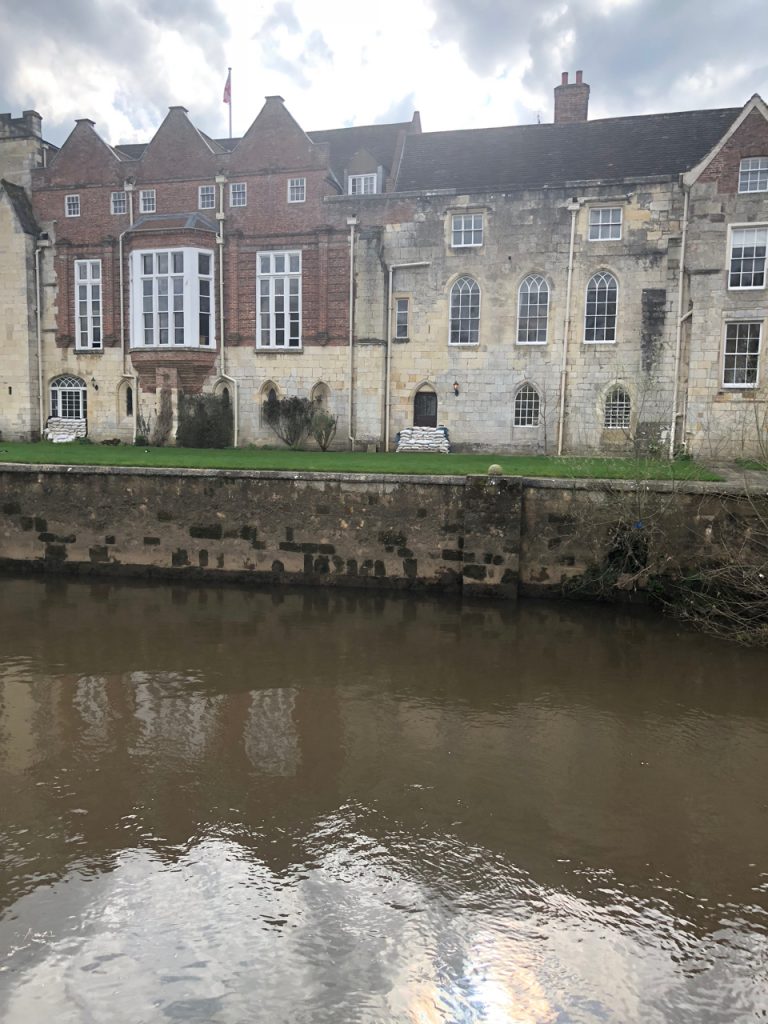 Disclaimer: No charge was made for our experience, opinions remain impartial