I don't understand the appeal of competitive eating. It's a pleasure to eat out and, on occasion, to eat large amounts, but to continue eating through discomfort and to the point of feeling sick seems a strangely self-defeating activity. Thanks to the popularity of Man vs Food, we've started to see some establishments cropping up on this side of the pond, one of which is Holy Moly's Deep South Kitchen just a short buzz up the A64 from York.
One does wonder if this is the kind of place that's going to really worry about quality when, for many, quantity would be the main attraction, but I'd heard good reports from a few people I trust so we fired up the yoafmobile, filled it with a few moderately reputable friends and hit the road.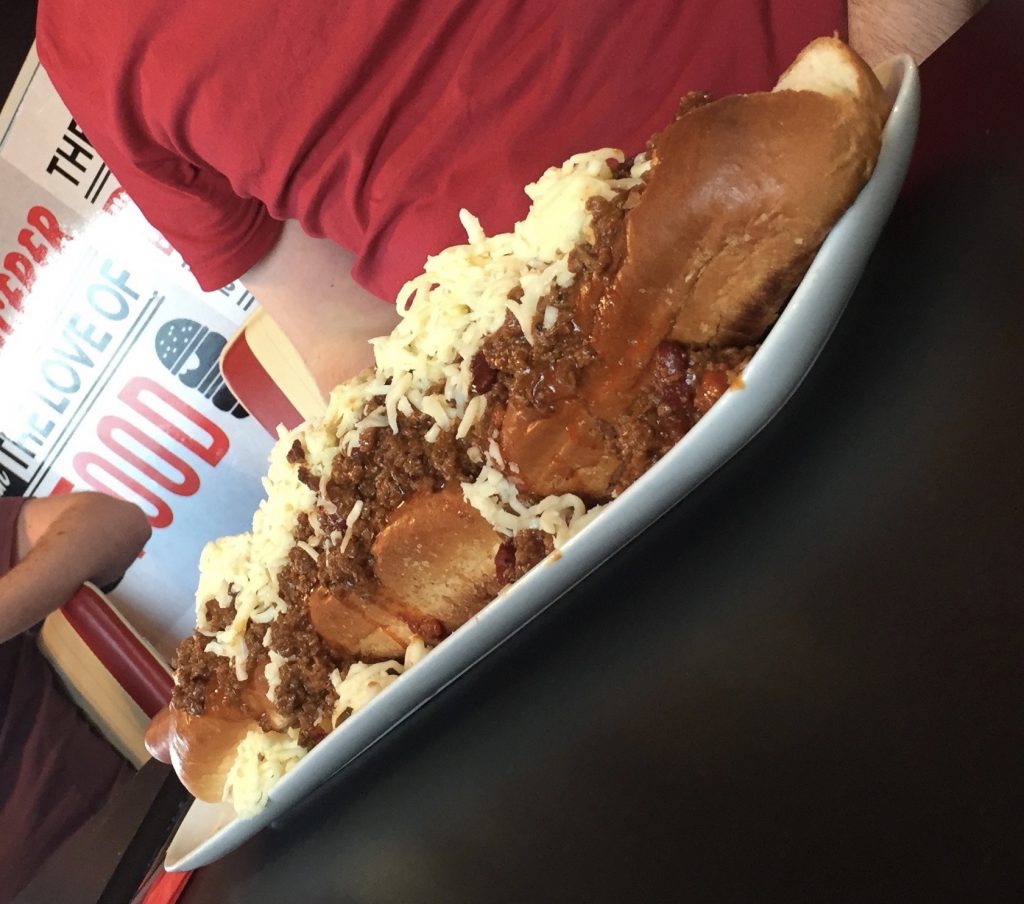 Early discussion around the table centred, after the drink order, on if any of the group would succumb to peer pressure and tackle a food challenge. Thankfully the answer was yes, though it must now be said that the individual in question has requested his identity be omitted (if you're wondering why the pics are strangely cropped, it's for the sake of his modesty). The challenge in question was "Man vs Dog": a pair of hot dogs smothered in chilli and topped with cheese. If that sounds achievable, remember they're actually two feet long. Each. Four feet of hot dog, could be tricky.
The rest of the table showed more restraint and went for a variety of sliders, platters and meats which started to arrive in fairly short order as we watched our intrepid companion exhibit some nerves at the prospect of what he was about to take on. The whole party agreed that the various cuts of beef and pork reflected long and careful cooking processes with ribs and shredded pork gaining particular praise. Sides of corn, onion rings, fries, coleslaw and salads all hit the spot without being allowed to get in the way of our mission to consume large quantities of various animals.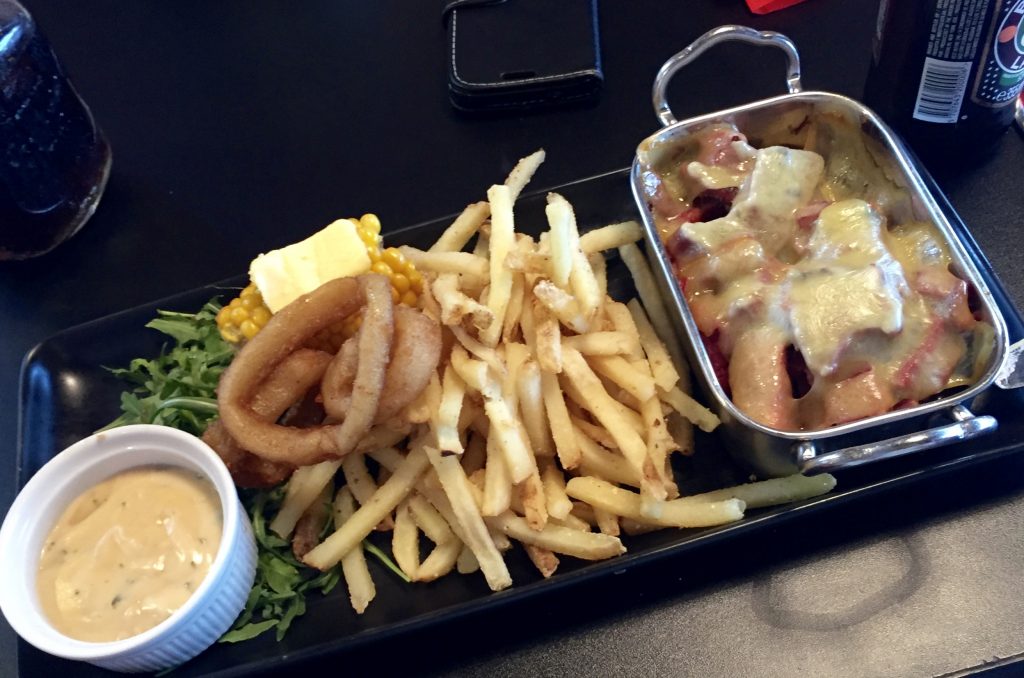 While all this was going on, our companion was girding his loins ready for battle having been christened "The Sausage Slayer" by our server. The hot dog arrived, the comedy headwear was donned and the clock was started. Initial progress was made at a sensible pace so as not to over face his stomach, so things were looking good for a very respectable performance,but I don't think anyone really expected victory by this point. Thankfully the difficulty of the challenge was reduced by virtue of the food's quality. Good quality hotdog and bread were slathered in chilli with well-judged heat and a good balance of flavour with gooey cheese on top and all elements were being hoovered up with enthusiasm. At this point our server clarified a point for us. Just as the sausage warrior was starting to look a little defeated, it was confirmed that this was but half of the challenge as the question "Shall I get the second one now?" dropped on the table to a thinly disguised look of pain. 'He who shall remain nameless' had performed well, working through roughly three quarters of the first 'dog, and done us proud. The server admitted that most people didn't even get that far and a penny dropped in my brain as I requested the remaining two feet and chilli to go, an uncharacteristic feat of foresight that took care of several meals.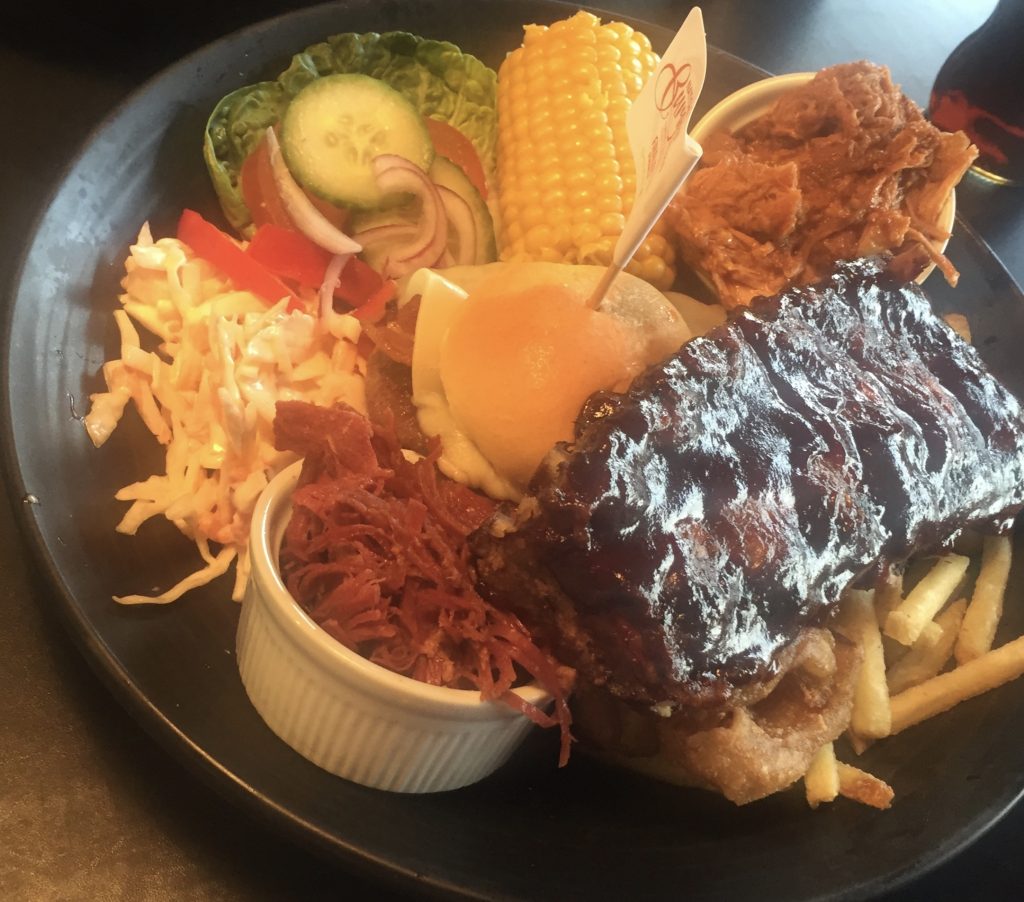 I can't say you're going to see me at Nathan's hotdog contest any time soon, but I have to admit, I get it now. We had a thoroughly good time at Holy Moly's Deep South Kitchen, the food was good quality and well-priced and we walked away with a load of leftovers, so nothing was wasted through our excess. It still seems oddly negative to me to force yourself to eat until uncomfortable, but each to their own and the sight of it gave us all a good chuckle. Now who else can I find who will bow to peer pressure?