I touched recently on the stirrings of regeneration that are starting to take root around Kings Staith with My Thai and Masala Craft taking up residence there. The drinking area at the front of the Kings Arms has traditionally been a gauntlet of stag parties and candidates for river rescue later in the day. Carpeted with cigarette butts and the occasional smashed glass, it doesn't present York's best side. Winner Winner opened with some fanfare and a sense of distressed style earlier in the year and, I have to admit, I was cynical about a fried chicken joint that looked to me like it might appeal to the less attractive elements of York's night time economy. Another barrier to entry was Mrs YoaF's (justified) aversion to battery-farmed chicken so I fired off an email to Winner winner and was pleased to get a very quick response confirming that all the restaurant's meat was sourced from M&K on Bishy Rd., whose reputation is beyond reproach.
Still, even with that reassurance, it was beyond me to book, so I crossed my fingers as the four of us arrived on a Friday night and assured my friends that sitting in the bar had been the plan all along. Table found though, the evening was on its way.
The drinks list was sensibly constructed of good quality Brewdog beers and a small selection of wines that looked well chosen. It certainly did a good job of supporting our opening arguments about who would eat what. This was fortunate as service certainly wouldn't be characterised as brisk, perhaps finding ourselves in the bar and off the beaten track for the servers left us at the mercy of their chosen routes between kitchen and dining room.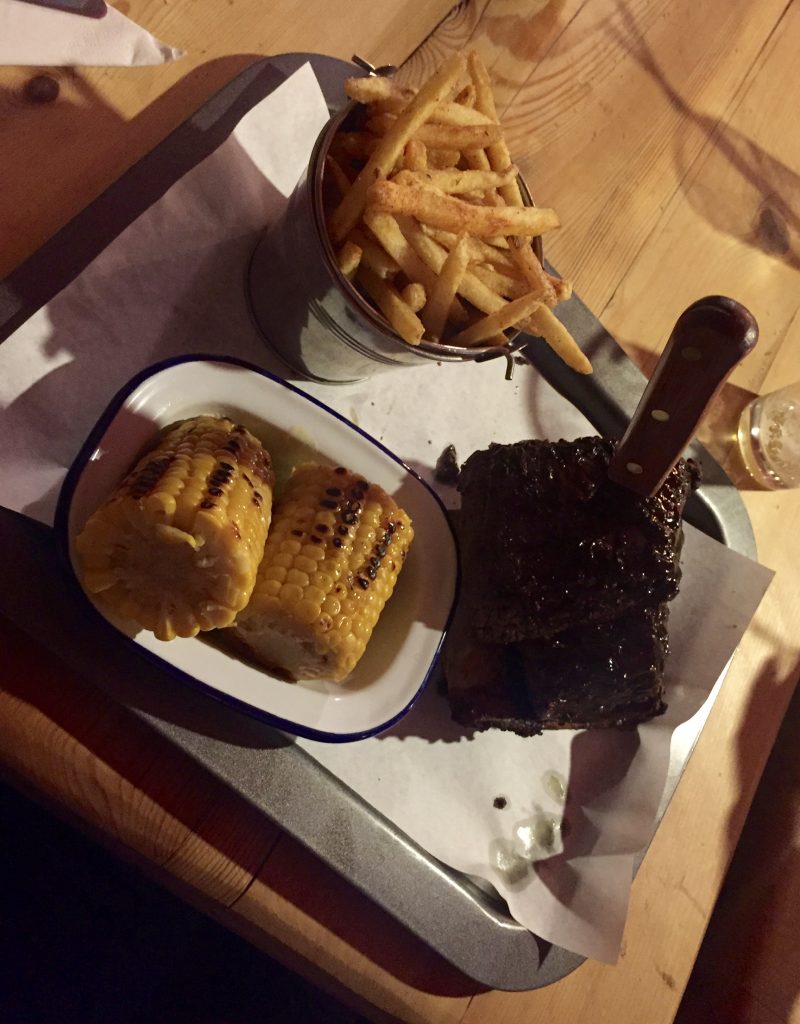 We decided starters were redundant as it's pretty clear that the portions aren't going to leave anyone wanting, an assumption validated by the large lunch of leftovers I had the following day.
As drinks finally arrived, service still wasn't hitting the mark. Two of the party ordered gin & tonic that was initially served with sparkling water instead of tonic, an issue alleged to be rectified when the replacements were issued with lemonade. Not great, but the need for refreshment overtook the desire to further debate.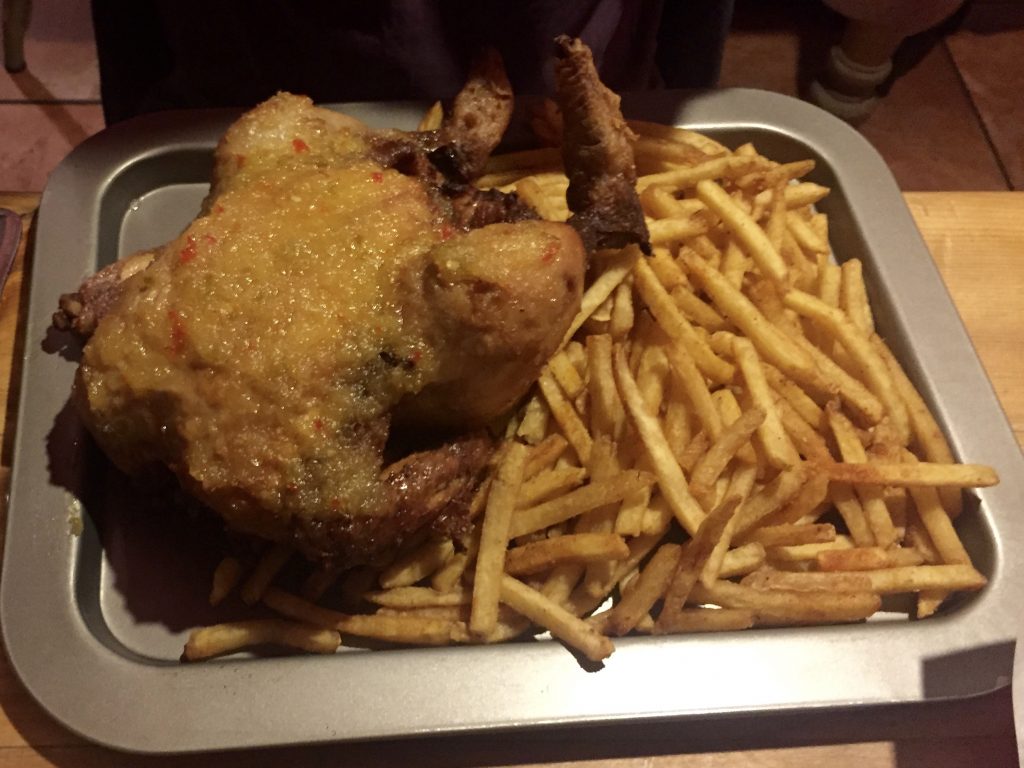 A selection of dishes turned up after another significant delay, all notable for the quantities. Mountains of food were present on each plate or tray. I'm not going to make a point about growing levels of obesity in society though… That's a high horse that I'd be quickly thrown from as so on as you notice that one of the party ordered an entire chicken, a tempting spectacle given his track record of refusing to share food (he's a royal pain at tapas).
One and a half chickens, "Winner Winner chicken dinner" and a chunk of beef chased down with plenty of sweetcorn, slaw and fries made from both regular and sweet potato was a challenge too far for dinner, but made a cracking lunch of leftovers the following day. Given the quantities involved, its perhaps a bit surprising that there're no challenges on offer, something that Huckleberrys diner seem to be making good business out of.
Slow cooked smoky beef was falling apart and succulent and my companions reported the chicken as superbly moist and tasty. That aversion to sharing precluded me from trying some so I'll have to use that as an excuse for a return visit. The eponymous dish came with as much maple sauce as one could want to drizzle over crispy chicken, bacon and fresh waffles. A tasty dish with perhaps a uncharacteristic restraint given the surrounding quantities.
We all left very happy despite the mis-steps around service early on, I'm pretty confident that the whole party have recovered from the extreme chicken consumption and as I mentioned earlier, leftovers sorted out the following day's lunch nicely. Definitely worth a return visit, maybe I'll even book this time.