Being the vibrant sort of place that it is, York's residents are often keen to share their culinary skill with fellow obsessives. As a result of that, there're a variety of nice supper clubs around the city that I've singularly failed to take advantage of over the years, despite even living on the same street as a well regarded one for a while. As usual, I'm a couple of years behind the trend, but ready to start playing catch up with a visit to Set The Table supper club.
Generally hosted in someone's home, a supper club lets you sample their food in return for a suggested donation – not a fee, that would imply compliance with hygiene rules incompatible with a domestic environment amongst other things – along with a few other lucky strangers. One of the features of the York Food Festival is a 'Dine at my table' option that lets York's residents open up their homes and publicise it in conjunction with the wider festival. That publicity finally pushed me into getting on board.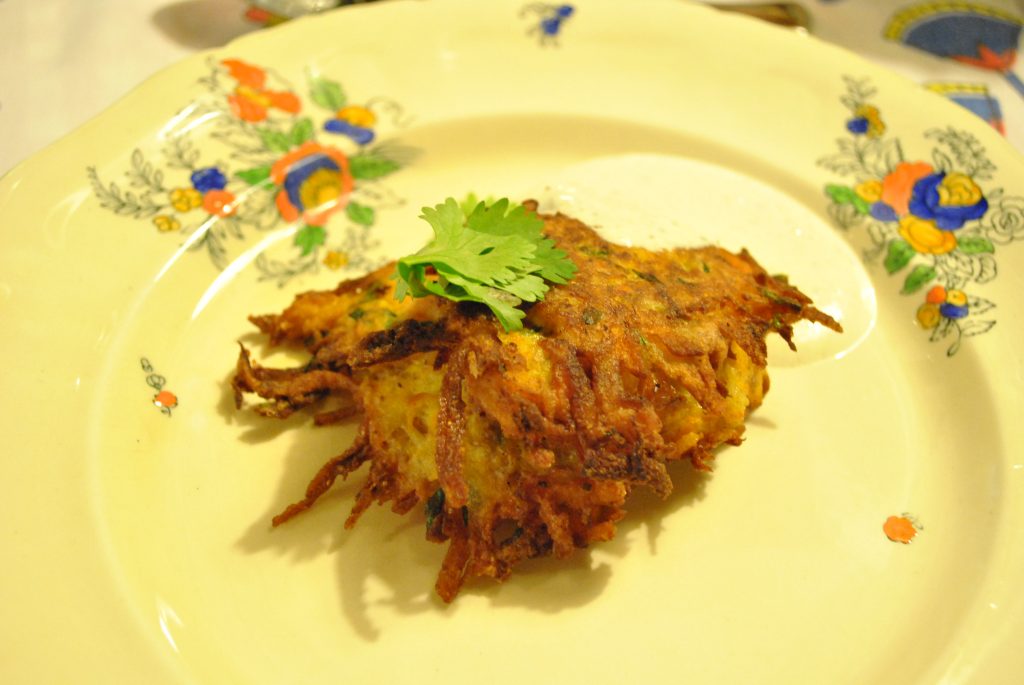 I selected Set the Table supper club on the basis of the host's training under Yotam Ottolenghi and quickly emailed a request for a seat. Slightly less quickly, I realised that it was clearly fully booked already… and hastily changed the date.
Conveniently located (for me) near Fulford School, we found ourselves rather early in our eagerness to eat. No problem though; a quick half in the Plough put us back on schedule, though sadly their pub cat wasn't to be seen. A friendly welcome from hosts Becky and Matt assured us that we were in the right place as we got straight into canapés of roast beetroot, caramelised onion and fig tarts alongside delicately spiced lavosh (seeded crisp bread). The Viognier we'd picked up on the way from the York Beer & Wine shop proved superb, and a good basis for the evening was formed. More guests arrived in due course to make up the evening's full complement of nine people and we took our seats.
The wooden clothes pegs securing our napkins were impossible to put down between courses, so thankfully we got our first plates quickly: carrot and butternut fritters with a sharp lemon and coriander yoghurt dressing that were quickly demolished by everyone and raised expectations of the next course even higher. Pleasant small talk pushed to one side, we got stuck into the mains: arancini formed of quinoa (go on, admit you can pronounce it) and goats cheese… those expectations were easily beaten.
With just dessert left to summit, I enjoyed the plum, pistachio and coconut cake, despite my pathological plum aversion. Coffee and chocolates rounded things out and we were away. Returning to the ugly issue of price….twenty five quid. There's little point discussing value relative to a restaurant. Becky's food speaks for itself and is comfortably on a par with anything I've had served in York, and the experience notably more intriguing. There's of course an inherent risk that someone awful will turn up and ruin the whole evening but what's risk without reward? Becky is clearly a talented cook and, based on our experience, these events seem unlikely to tempt the truly antisocial. A unique opportunity to meet new people over fantastic food that I can't recommend attending enough!