La Vecchia Scuola has a mixed recent history. It's a stunning building in the centre of York that, at the right time of day, presents great views of the Minster. That said, for locals following York's food scene there's the lingering memory of its former owners. Aggressive leafletting and an attitude to food hygiene befitting – well, someone who was to be banned from the restaurant trade – stuck this place on the periphery of the acceptable for York's food explorers. In fact to be be totally honest, La Vecchia Scuola had a terrible reputation and we avoided it.
Now that new ownership has brought this building back into service, breaking with the past, I'd been meaning to check this out for a while. I was finally prompted by a Groupon offer, buying a £40 voucher for £20, valid despite it being Friday evening. I usually stay away from these sorts of offers, but this one seemed like I could navigate the small print without a lawyer's advice, so onward.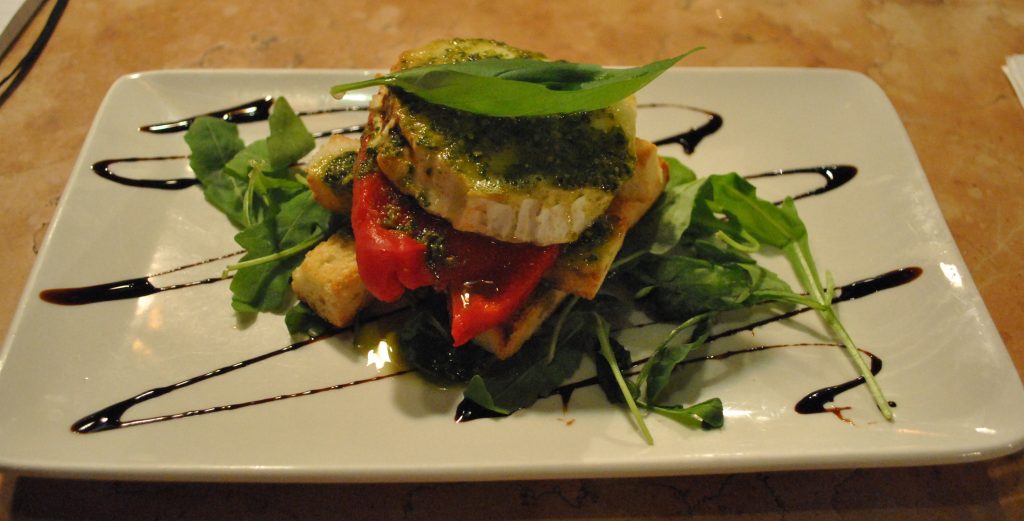 This really is a unique setting. La Vecchia Scuola Inhabits the former York School for Girls and overlooks the Minster, while nestling in the centre of town. It's not unique in being striking, but that speaks of York's choices rather than anything negative about this spot. We arrived at seven o'clock on a Friday evening to a bustling scene, perhaps quieter in volume than one might have expected with lots of hard surfaces around.
The La Vecchia Scuola menu offers lots of Italian staples – pizzas, pasta and the usual antipasti selection – opening up to a few more intriguing options. We went for salmon roulade and grilled goats cheese starters.
The goats cheese came splashed with the obligatory artful balsamic drizzle and lots of basil leaves. A bed of oil enriched grissini (breadsticks) bear little resemblance to the dry batons one typically expects and give body for the cheese and pepper.
Goats cheese was cooked to just the point of caramelisation and delightfully matched the sweet pepper; a well executed classic.
More of those breadsticks nestled under the salmon and king prawn roulade that used mascarpone to create the right texture. Quantities were certainly generous and more stylish splashes of balsamic gave the dish bite.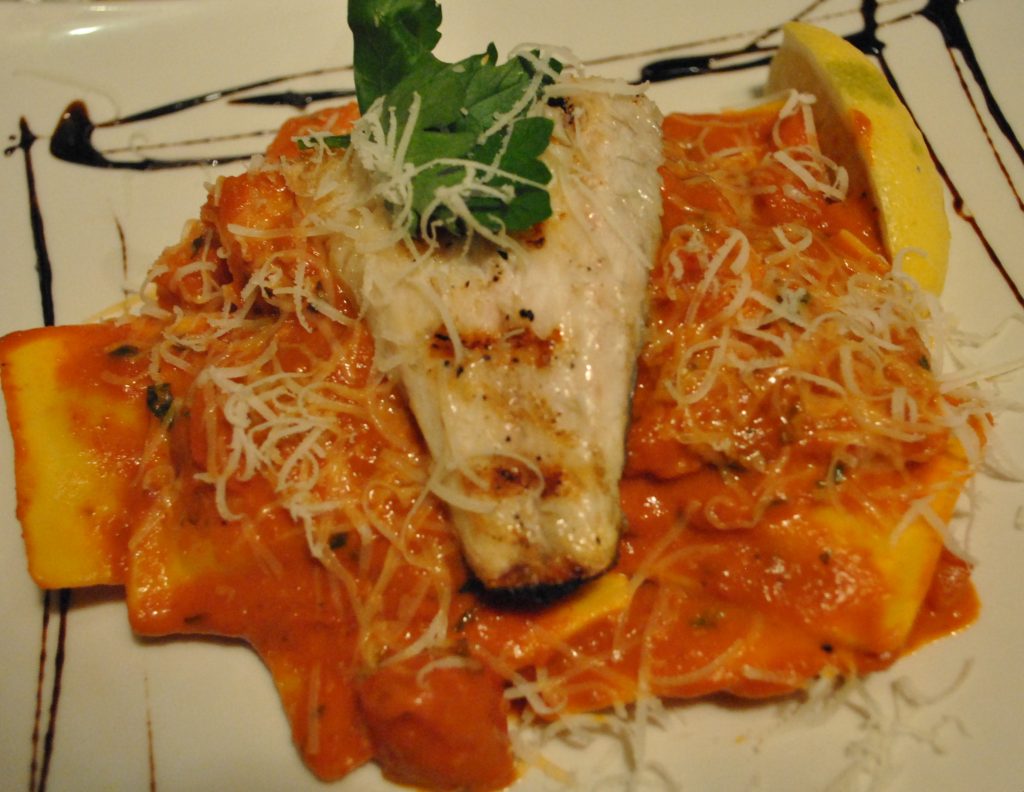 Moving on to mains, we chose sea bass ravioli and pork medallions. The sea bass ravioli was nicely put together and topped with a fillet of sea bass, tomato and prawn sauce bringing the elements together. The flavour of the fish inside those pasta parcels wasn't lost under the flavour of the sauce and the prawns were nice and meaty. Perhaps a touch too much lemon in the ravioli, but not a big deal.
We both agreed that the pork was the best dish of the evening. Good quality meat, superbly prepared to be beginning to scorch on the outside but moist at the core. With spring onion, sauté spinach, pancetta, pine nut, sage and shallots all contributed to a crushed potato bed with lots going on, possibly even too much, but only the coriander leaves threatened distraction.

The big questions I wanted to answer were
1) Does the new ownership do the building justice?
2) Does it now rise above the danger of becoming a generic tourist trap italian?
With a bottle of perfectly drinkable pinot grigio the bill came to £65 for two, with only £25 to pay after that voucher was taken into account. I've made no mention of the service as it was decidedly un-noteworthy. Perhaps a bit rushed but friendly enough and entirely serviceable.
The memories of the food hygiene horrors committed here in the past can truly be laid to rest on this experience. Well prepared food with good ingredients in a nice building all make a pleasant experience. It felt a touch pricey and lacking in sense of occasion compared to a few of Yorks other options around this price but it's good to see this place back on the menu. The answer to those two questions is Yes.
One final closing whinge, the portion sizes would be better pared back. Maybe my appetite isn't as gluttonous as it might be, but i'd rather find space left for a dessert.
References
http://www.yorkpress.co.uk/news/10363373.New_start_for_La_Vecchia_Scuola_restaurant/