You can take a fair guess about where I tend to eat from the title of this site. Not that I object to eating outside of York but It's hard enough trying to get round the best of York's offering (the majority on my own pocket too) without casting the net further afield too often. An offer to head past Selby and check out the Peppered Pig was happily accepted though.
I've got to confess that before receiving that invite I'd not heard of the Peppered Pig, perhaps partly because of it being out of my usual stomping ground, but it's easy to find just outside of Snaith, and an unpretentious, welcoming spot.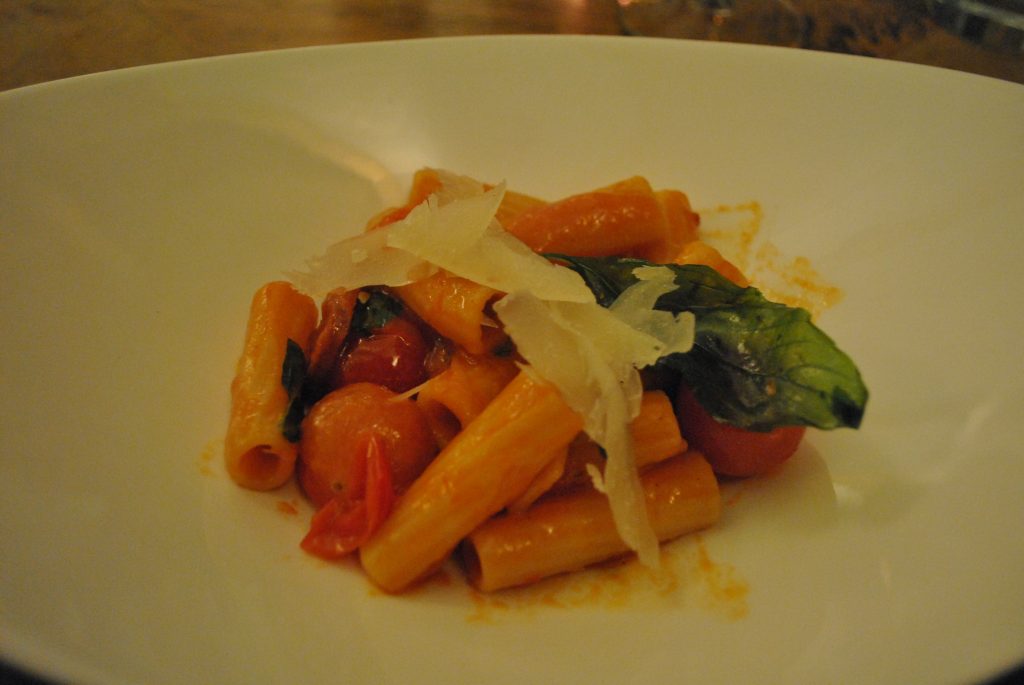 Opened a few years back by a husband and wife team recalibrating their life in the light of new parenthood, the Peppered Pig was initially a nursery but expanded to include the restaurant via a seemingly eccentric thought process that I wholeheartedly approve of. The in-house delicatessen makes more obvious sense.
To avoid having to think too carefully about the choices on the menu, my companion and I ordered the five-course tasting menu. We discussed with the manager any particular likes or dislikes to cater for and clarified that neither of us had any allergies to work around; a two-sided and honest chat rather than, as can happen, a cursory attempt not to poison you on the premises.
Our desire to try as much as possible from the menu meant that (with our consent) we ended up with different dishes for each course other than the amuse-bouche of spiced parsnip soup. I've said before that my tolerance of heat is, well, pathetic but my dining partner confirmed it well within the range of normal people's tolerance. Indeed, by the time I'd enjoyed it, my palate had adjusted fine. Perhaps a touch of cream to thicken it up but a good start.
I'd generally dismiss a starter featuring pasta as too heavy, but acceding to the chef's suggestions worked out just fine. Tortiglioni presented tubes of penne in a tomato sauce with local rare breed chorizo, cherry tomatoes and shavings of parmesan. Juicy tomatoes and subtle chorizo made things work very well while we agreed that the other starter presented was the one we'd both return to.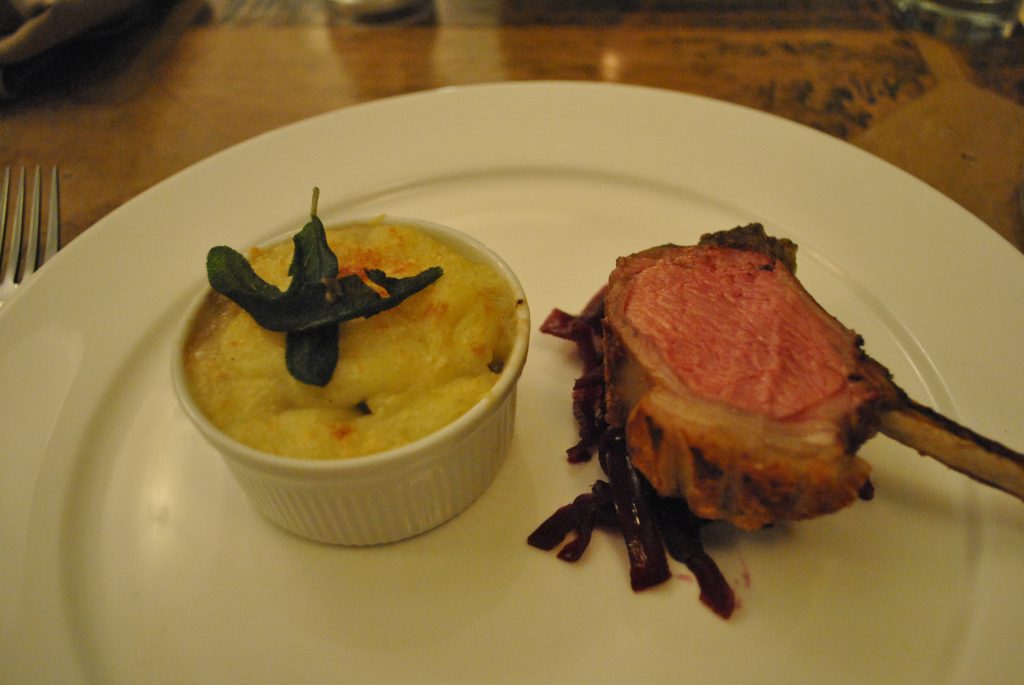 Pigeon breast with poached figs and goats cheese was superb. The meat presented well against the texture of the walnuts and the slight sharpness of goats cheese – a simple dish executed very well.
The next round was the remainder of dishes available as starters on the standard menu: chicken escalope and smoked haddock Florentine. Chicken escalope is another dish that sounds in danger of being overwhelming as a starter but, in the event, was lighter than one might have feared. Tender chicken that retained moisture well was paired with smears of pesto and a fresh tomato salsa to turn up an, perhaps unfairly, unexpected treat.
We both agreed that one of the stars of the evening was the haddock Florentine. So often it takes simple things that are well-realised to raise a dish, and the perfectly poached egg topping the smoked fish and saffron risotto did exactly that. Sweet risotto and spinach finished things off to make an exceptionally well-rounded course. It's worth noting that my companion, who occasionally chefs for money, loved the egg despite a general aversion to them.
Next up, we moved through the main course options, starting with belly pork that was paired with swede mash, dates, apricots and black pudding. The meat was exactly as tender as one hopes from belly pork, perhaps a touch more bite to the crackling would have improved things even further but the strongly seasoned swede mash and sweet sauce brought things to life very well.
Manfully working our way through the courses, we got stuck into the fish pie. Swirls of beautifully creamy mash surrounded a chunk of tender, flaking white fish and a pleasingly meaty prawn under a well-judged sauce and peas. The tenderness of the fish speaks volumes of the chef's skill.
With only two more mains to sample, the evening was heading to a conclusion. We'd agreed to skip desserts and cheese so, as with every good meal, looked forward to finishing on a high note. which is exactly what happened.
Pheasant breast with bread sauce and raisin was excellent in itself but we both agreed the dish was lifted by the accompanying parsnip puree croquette. Impressively smooth after the pleasing crunch of the initial bite and lent a salty bite by the shard of paper thin crisped bacon.
Last up was an exclamation mark in the form of a mini rack of lamb on a bed of red cabbage. Served as pink as good quality meat deserves to be and with a crust of nicely crisped fat, this was everything I'd hoped. On occasion braised red cabbage can be rather sharply vinegary but there was no sign of this, just sweetness to complement that lamb. The accompanying shepherds pie was extremely good, but felt slightly unnecessary to me. Formed of rich meat and smooth potato, you'd be happy to receive that as the foundation of a main course, but I felt it was a slightly heavy accompaniment.
All in, this was £33 a head plus another £10 for two good glasses of garnacha, good value that I'd have been happy to pay myself. I was particularly impressed with the relatively unusual sweet flavours used in the main dishes that perhaps represented a middle eastern influence. I was sorry not to have had a chance to try the desserts.
It's pretty seldom that I'm tempted to venture out in the car for a meal, but I'd be inclined to make a return visit….I owe myself a good Sunday lunch out after all.
Disclaimer: I was asked to review the Peppered Pig and, as such, didn't pay for the meal. No conditions were requested of me.