Where is the cheapest place for a serviceable meal in the centre of York? There're plenty of pubs who'll serve you something gloomy and calorific for a few quid and a few places to get a fry up… if you're willing to take a few steps outside of the centre then The Fulford Arms does a bargain Sunday lunch.
If though, for example, you end up having had a chat about good food with one of the talented chaps in charge of the Star Inn the City and looming unemployment dictates budget, where's your obvious choice? Gourmet Burger Kitchen is just around the corner from the Star and falls into that category of 'middle of the road but far from terrible' places to eat.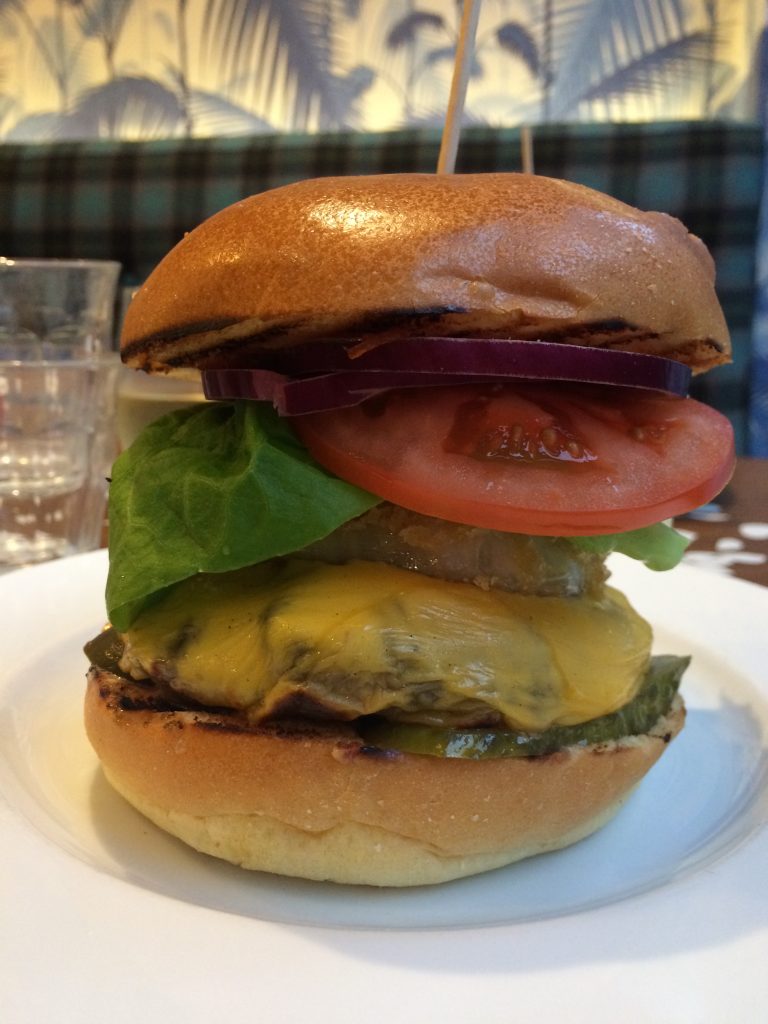 The York branch seems to have recently had a spruce up, giving a more retro feel that in all honesty is a little contrived and feels like it's playing catch up to the artfully distressed Byron Burger. Ignoring the complimentary monkey nuts and any idea of starters, we just ordered a couple of burgers and a side of sweet potato fries with baconaise dip. That side was very tasty and presented a strong alternative to chips, as do Byron's courgette fries, but as hay fever sufferers, my friend and I both sniggered our way through their branding similarity to a well known nasal spray.
After a wait just long enough to irritate and which gave us the chance to take in the server's bum crack (the bike had already been parked before you ask), drinks arrived, wines of both red and white varieties being quite acceptable. Given how long that'd taken, the pause before burgers arriving was minimal. I'd gone for a Taxi Driver ( Cajun relish, American cheese, smoked chilli mayo & dill pickle on a brioche bun) while my companion went straight for the middle of the road with a 'classic' offering house mayo, relish and salad.
One lesson that's apparently trickled down from Byron is serving burgers medium rare. GBK's claim that the burgers are delivered daily doesn't scream of the skill of their kitchen staff, but the end product is entirely decent. That might sound like damning with faint praise, but that's not my intention; juicy meat and well-judged condiments kick against crisp salad for a satisfying burger. The sweet potato fries need cutting thicker and roasting longer, but they served their purpose.
Price then. Making our way back onto Lendal, it dawned on us how cheap it was. £22 for a meal for two including a glass of wine each? Yup. Bargain. There's a catch to this though I'm afraid. That price includes a 25% discount courtesy of City Screen membership. At that price, you could argue that the City Screen are pushing their own customers away, but I've had a lovely meal (albeit not an especially memorable one) for a bargain price. So I'm not entirely sure who to thank for this. GBK did what was needed and City Screen made it a good price. Thanks guys!