What are you doing tomorrow? As I type this, it's half seven on a Saturday evening and I'm in a glorious haze of good food and beer. This weekend sees the British Street Food Awards Leeds heat taking place and, as much as York has an abundance of strengths, it's well worth getting onto a train tomorrow to let you stroll up to Millennium Square. In fact, you're well advised to cancel your plans and go over to get stuck in to The British Streetfood Awards Leeds.
Braving the typical fug of hen parties and drunk men on a Saturday morning train, we made it across to the bigger city by half eleven or so. Eight quid gets you through the door and puts a first beer in your hand courtesy of Brooklyn Brewery or Erdinger which is useful to take stock of your surroundings while you plan your attack on the enthusiastic stalls lining the event.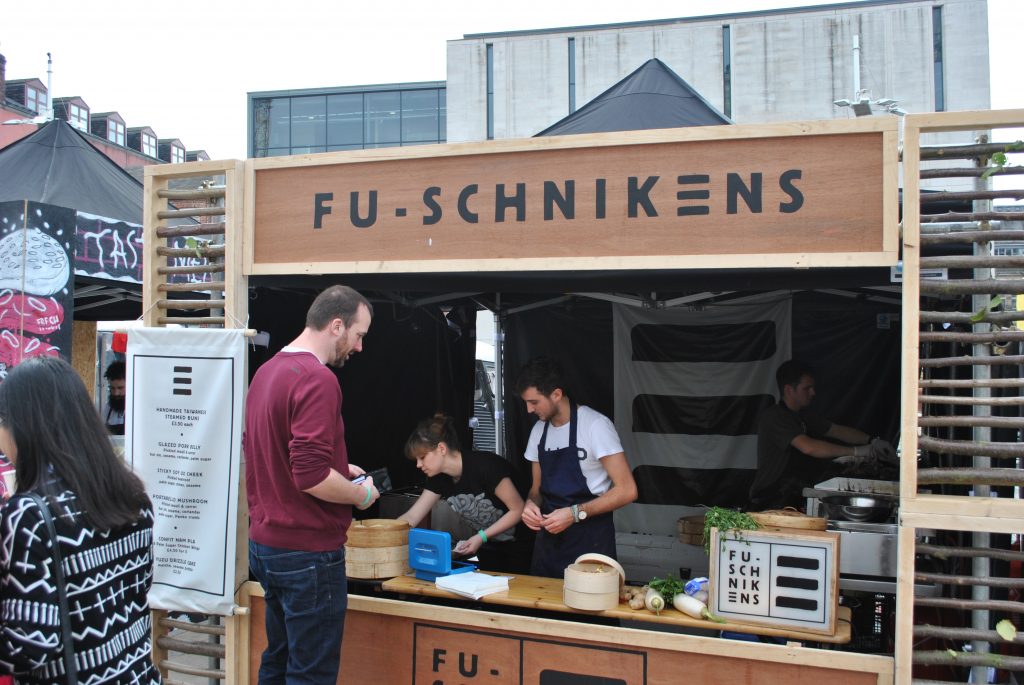 We kicked things off with http://www.thecauldron.org.uk and a "Moo's boosh" that stacked up as three small, carefully assembled flavour combinations. Sorrel mayo on air-dried pork loin was superb and smoked pig's head with liver fully endorsed the 'Nose to Tail' ethos espoused by these guys. More strolling and debating left us at http://themoocher.co.uk to order Japanese style rabbit. Our faces betrayed our disbelief at the delicate flavours and soft meat that sat on a beetroot slaw, chunks of deep fried meat somehow infused with delicate flavour and comfortable texture were a treat.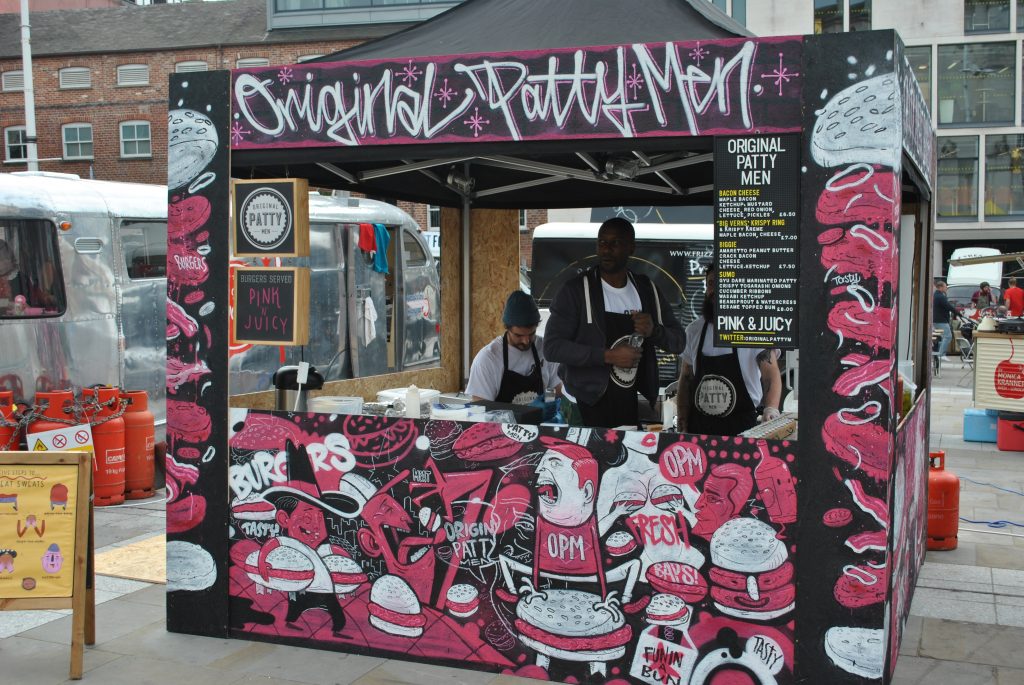 Next up were break dancers who pulled a couple of volunteers out of the audience for a dance off. As entertaining as it was, I can't imagine a worse way to spend several minutes short of being forced to kick puppies to death at gunpoint. Thankfully this horror was avoided courtesy of Nordic Street food. A Chanterelle mushroom wrap was subtle, meaty, reassuring and well counterpointed with sharply dressed leaves that stop short of that lemon sucking frown we all want to avoid. Impressive balance headlined the dish.
Breaking away from the food, we took in our surroundings and thanked our lucky stars it wasn't raining. The lack of cover would have made it a rather grim day in the event of inclement conditions. Next up, Dorshi. A range of flavours made their dumplings stunning. Steamed, fried….both superb. Get stuck in! With one more step left in our appetites, we found ourselves wondering why so many people were queuing at https://www.facebook.com/fuschnikens. The first reason was that these friendly chaps seemed to have over reached themselves and were struggling to keep up with demand. The second reason was clearly (eventually) that they served stunning food. Sticky ox cheek with beetroot in a steamed Taiwanese bun is something I'll forever treasure and want to repeat.
Everything we ate we shared and, in most cases, went for the smallest portions we could in order to get the most variety. We spent about £30 between two of us on top of the cost of the tickets. Given the quality of what's being offered, that's a bargain.
Full to the brim, it was time to meander back to the train for a break before hitting York and the local Food Festival again. Sadly the Taste Trail targets we had in mind let us down but, for once, I've a time critical message to deliver… GO TO THE STREET FOOD FESTIVAL IN LEEDS TOMORROW. If you're vaguely nearby, vaguely free but totally interested in food you'd be a fool to go anywhere else. I want to know what you make of the stands I didn't get to too, so get out there and please report back!