One of the culinary highlights of York's year is always the two week long food festival. Restaurant offers, food markets, tasting events, ale trails, roaming dinners and a taste trail are testament to the variety and quantity of ways to expand your waist at the expense of your wallet. Time for York FOod Festival 2014!
Things are a bit different this year though. York plays host in two weeks to the Tour de France, providing a overnight stop and a suitably picturesque backdrop for the peleton as it makes its way out to the Dales. To capitalise on this focus the organisers have split York Food Festival 2014 in two, half of it taking place this week and the remainder in the traditional September slot.
The focus this week is on the market and demonstration tents in the town centre with September's events to include the taste trail, more markets and treats as yet unannounced. My chances to get stuck into this week's market is limited a little by the prospect of a holiday at the end of the week but I'm compensating by taking advantage of a day off on Tuesday and also got stuck into the ale trail yesterday.
One promise made this year was that there would be a little more effort to extend the York Food Festival 2014 evening offering with live music laid on. That in mind we dutifully trotted down on Friday evening and felt a little disappointed by the range of food on offer. Meltons Too and Shambles Kitchen both had people hanging around their stands still but nothing to offer us. What we did find was a glass of sparkling wine from the south of the country and a very pleasant seafood platter over which to toast a friend who we heard had passed away earlier that day. Hopefully more of the vendors will offer food later into the evening for the rest of the event. Retiring to fill up on cheese toasties, I reflected on plans for the following day.
Having never completed any of the ale trails offered by the festival before I plotted to take a serious run at this year's and enlisted the help of a good friend to help marshal proceedings. Sadly he had a catastrophic hangover, but must be complimented for his stoicism in the face of adversity.
We gathered at the market in town and fortified ourselves with the street food offerings around the place. I chose a 'Pulled BBQ Chicken Sombrero' from El Kantina that was superb. It was a shame they'd run out of the neat basket shaped tacos but they cut the price for me and loaded up on nachos instead. Perhaps the nicest surprise was the perfectly judged heat. My ability to cope with spice is utterly average so it's always a nice surprise to have some heat without tears and nose running.
My Welsh wingman accepted a chicken kebab from Zouk that, while acceptable, didn't quite meet the promise of the portions being cooked, the meat having been kept warm. Suitably engorged we tucked into our first half in the beer tent, entitling us to a card ready to be stamped in each forthcoming venue.
Time to get down to business, we cut through the crowds past Kings Square via the Merchant Taylors Hall to allow us to head back to the centre along Goodramgate. The Royal Oak fell first allowing us to move next door to the Golden Slipper. Having never visited here in my 13 years in York I was pleasantly surprised. A traditional pub with several seating areas, though largely open plan, the beer range was good and we opted for a 'Full Brazilian'. Nice surrounds excepted, we left as quickly as we could as the pub filled with drunkards apparently intent on farting the pub into extinction as quickly as they could.
Only a couple of doors further up we popped into the Nicholson-run Cross Keys where we tried an American hopped craft beer. Inoffensive as it was, not something either of us felt warranted further investigation.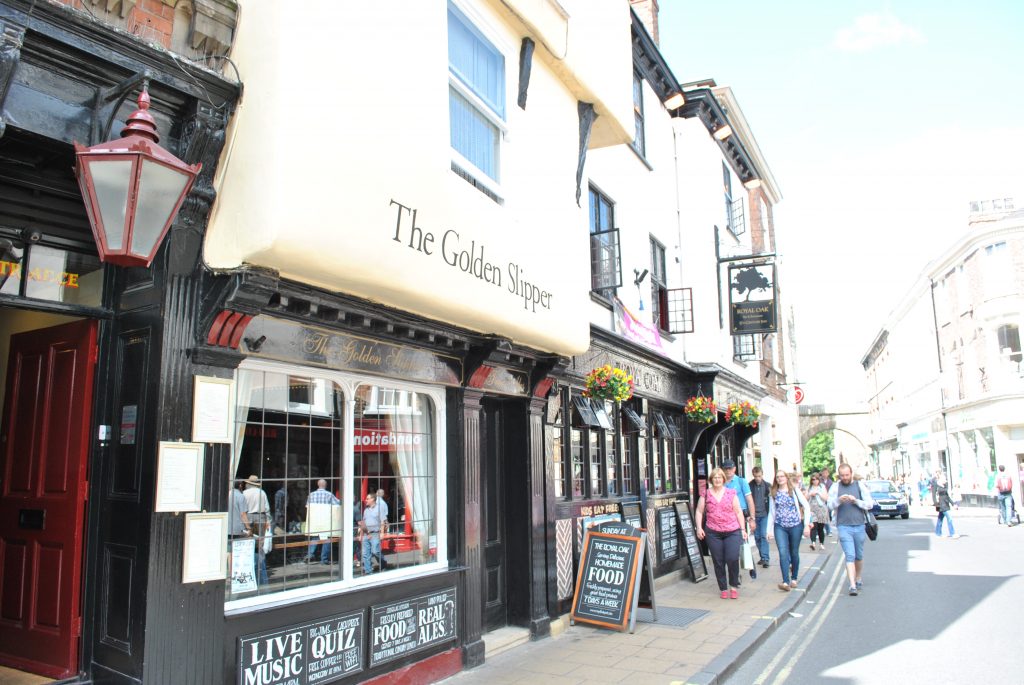 With a few pubs under our belt we headed back to explore more food options. My wild boar burger was superb, juicy and well seasoned without overpowering the meat. Moving from boar to dog, figuratively rather than literally thankfully, we wandered back toward Stonegate and checked into the Yorkshire Terrier. Always an oasis of calm in the centre of town regardless of race days, stag dos and general unruliness it was tempting to settle in with the paper we picked up on the way, but with a half each of York Brewery's and their associated stamps under our belts, it was once more into the breach.
Our next stop was somewhere I certainly wouldn't previously have recommended for a drink. While the food is superb (review coming soon..ish) in The Whippet Inn that really is what it's all about. So I was pleasantly surprised to find an astroturfed area outside that was not only relaxed and friendly but also clearly delineated from the smoking area. Mentally making a note of a nice place to sit that's both smoke free and outside it was time to hit the road. again.
Passing the sleeping horrors of Rougier Street's drinking establishments we stumbled across a group of fellow adventurers in the York Brewery Tap room. Comparing notes, strategies and intentions we had a good laugh at my companion's still unabated hangover and popped round the corner into Brigantes before taking the, relatively, long stroll to Bishopthorpe Road where we popped into The Swan and The Slipp. The Swan's beer garden proved an interesting counterpoint to The Whippet's smokelessness while we were joined by a fellow member of the Phoenix Bar Billiards team in the Slipp. Both nice places to be but we dragged ourselves to finish our challenge.
My companions were greeted like old friends in the Red Lion due to their poker playing fondness but we didn't hang around before making our final call in Melton's Too. Not a traditional boozer by any stretch but the barmaid patiently listened to our boasts and plied us with jelly beans before we strolled triumphantly onward to collect our t shirt trophies.
Ending the evening in the Phoenix with a 2-0 Bar Billiards victory to the Welshman, and a pannini, we headed home into the night clutching the spoils of our win.