Some places have been part of the York food scene for as long as I can remember. When I first moved to York one of the best value places to hit was Melton's Too on Walmgate, where I recall a particularly good value early evening tapas offer to take care of a Friday evening. Times change though and Melton's Too was subject to a major rebrand a few years back that transformed it into The Chopping Block and Walmgate Ale House, with the ground floor occupied by the Ale House and upper floors given over to The Chopping Block York restaurant. Housed in a 17th century building, the downstairs bar area is an attractive space that serves up well kept local beers amongst a full drinks range as well as a good range of bar snacks, some of which are surprisingly hefty. The games room is also home to a Bar Billiards table, so as a team captain in the York Bar Billiards League, it's a space with which I'm well acquainted, but the focus of my most recent visit was up the stairs in the restaurant for my first meal there in rather too long.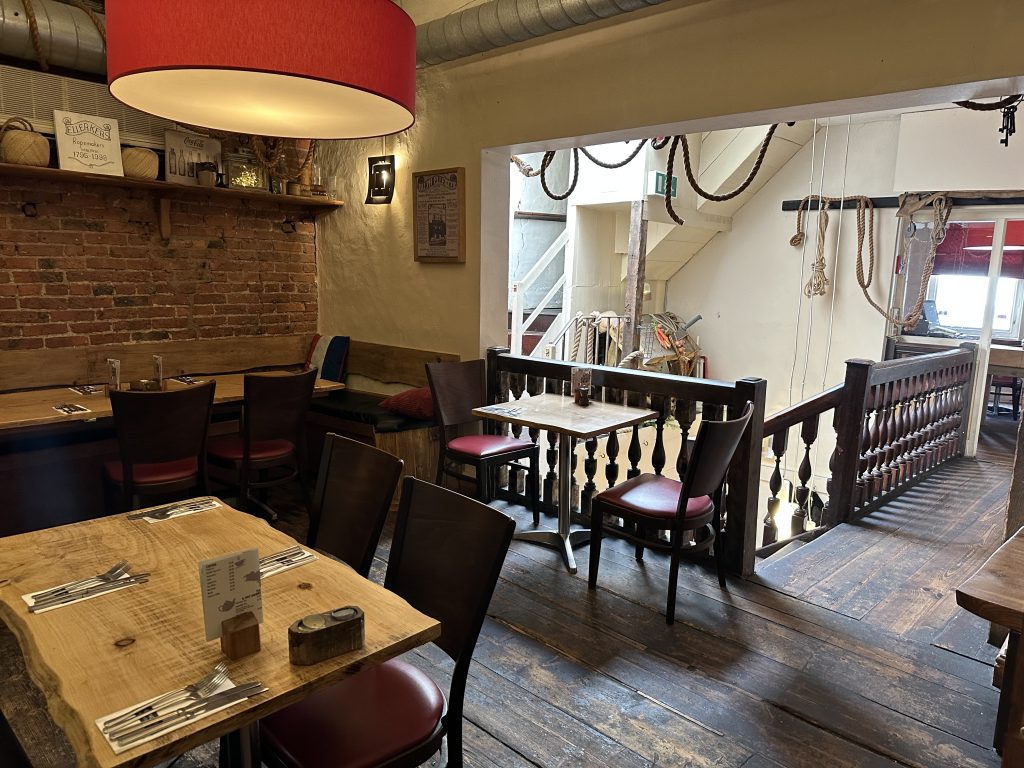 The Chopping Block York is well known for serving up one of the best Sunday Roasts in the city, to the extent that it can somewhat overshadow the real breadth of its qualities. The menu reflects the experience of Chef-Proprieter Michael Hjort and features a range of anglo-French dishes that use quality Yorkshire produce to put a local twist on some French classics. Walmgate Ale House is a striking building to arrive at and the welcome is encouragement enough to stop for a pint downstairs but we were hungry so quickly made our way upstairs to the restaurant space and took our table.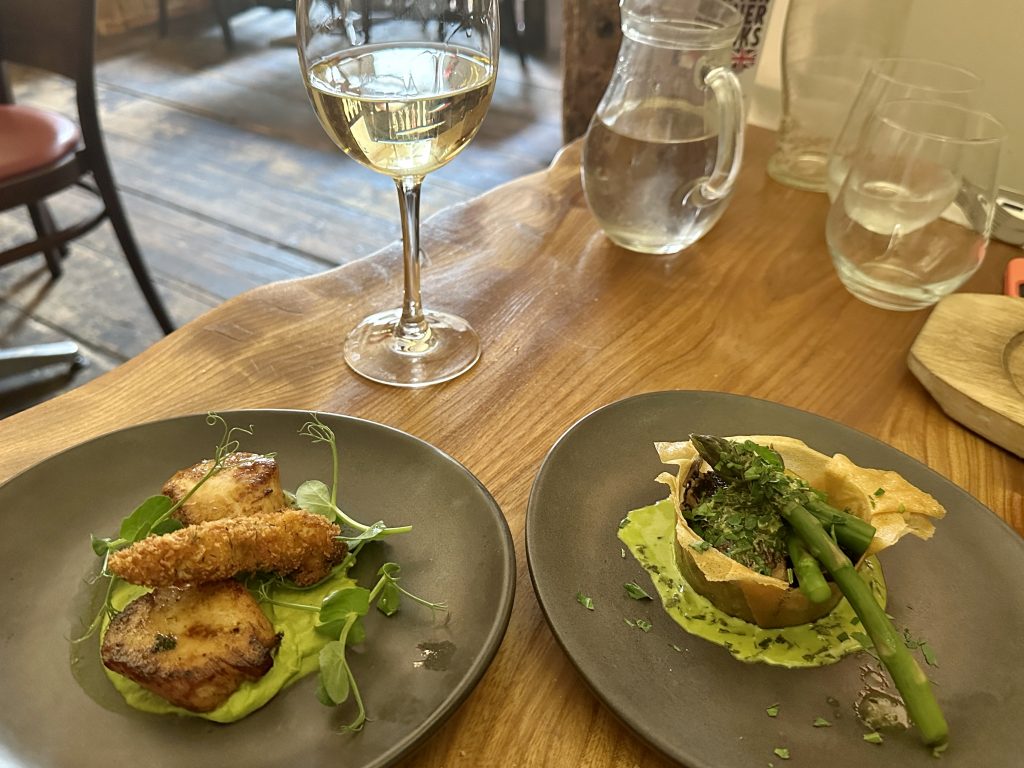 The main menu has roughly half a dozen each of starters and mains with a few nibbles available too, and there's also a set menu which represents cracking value at £20.90 for 2 courses. It goes without saying that I'd thoroughly inspected the menu prior to arrival but in the event it was a couple of the specials that caught my eye along with a pair from the usual menu. With bread on the table livened up by beetroot butter, we were quickly on our way with starters of scallops and a mushroom and asparagus tartlet. I'd resolved recently to order scallops less frequently but the addition of a scallop croquette here piqued my interest enough to pierce my resolve. The pair of scallops were simply presented on a pea and herb puree with a few pea shoots and the croquette tying things together visually. The cooking did the scallops justice and the croquette was a refreshing change from bacon or black pudding, making it a light and original dish with the fresh pea underpinning things. The starter from the specials board was a pastry tartlet of asparagus and morel mushrooms with a confit egg yolk. This was original and interesting texturally with the yolk adding a note of indulgence to the boldly earthy mushrooms and fresh asparagus, I'd happily order this one again.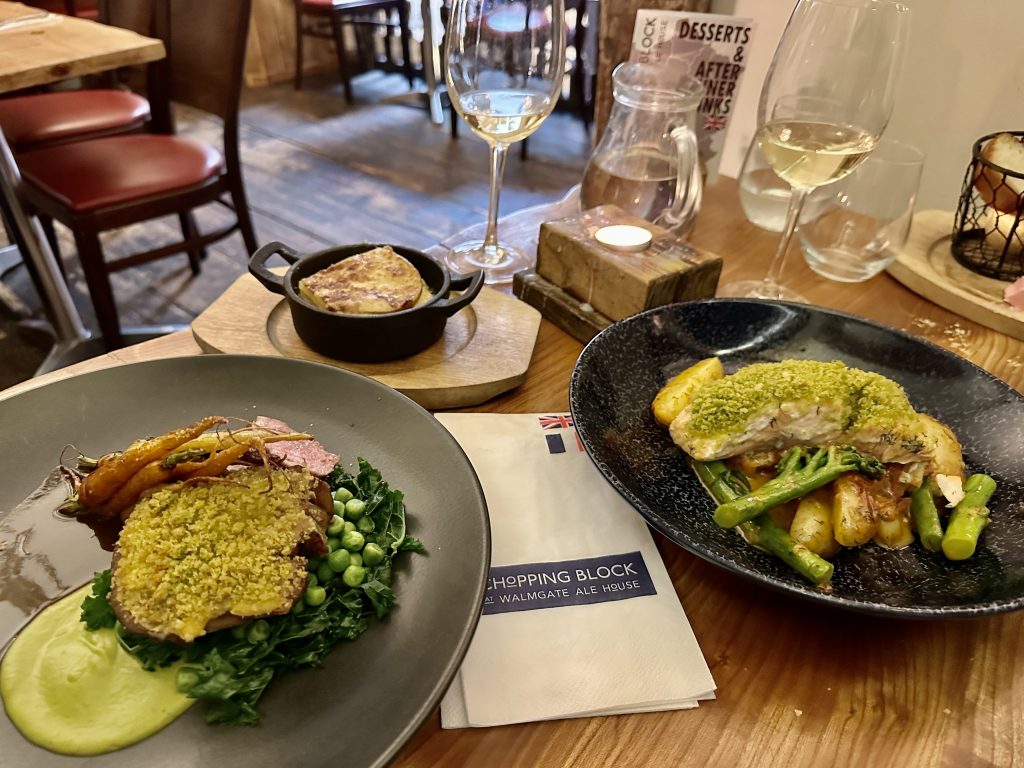 Mains followed on quickly with lamb shoulder and rump paired with spring veg and an indulgent Dauphinoise on the side and sea trout supported by new potato and broccoli with a tomato and herb butter emulsion. Both dishes were eye catching without needing to resort to tweezer-fiddling levels of presentation and followed through on the visual promise. Bursts of fresh pea and fresh vegetables tempered the indulgence of the lamb, which was superbly cooked and tender. The side of potato Dauphinoise felt equally indulgent and rounded off a well conceived and executed dish that did justice to the excellent produce. The herb crust on the hefty piece of sea trout lifted it in just the manner intended, dialling up the fresh flavours and pairing with the potatoes well too. While a much lighter dish than the lamb, it still felt very much a treat and gave full voice to everything on the plate.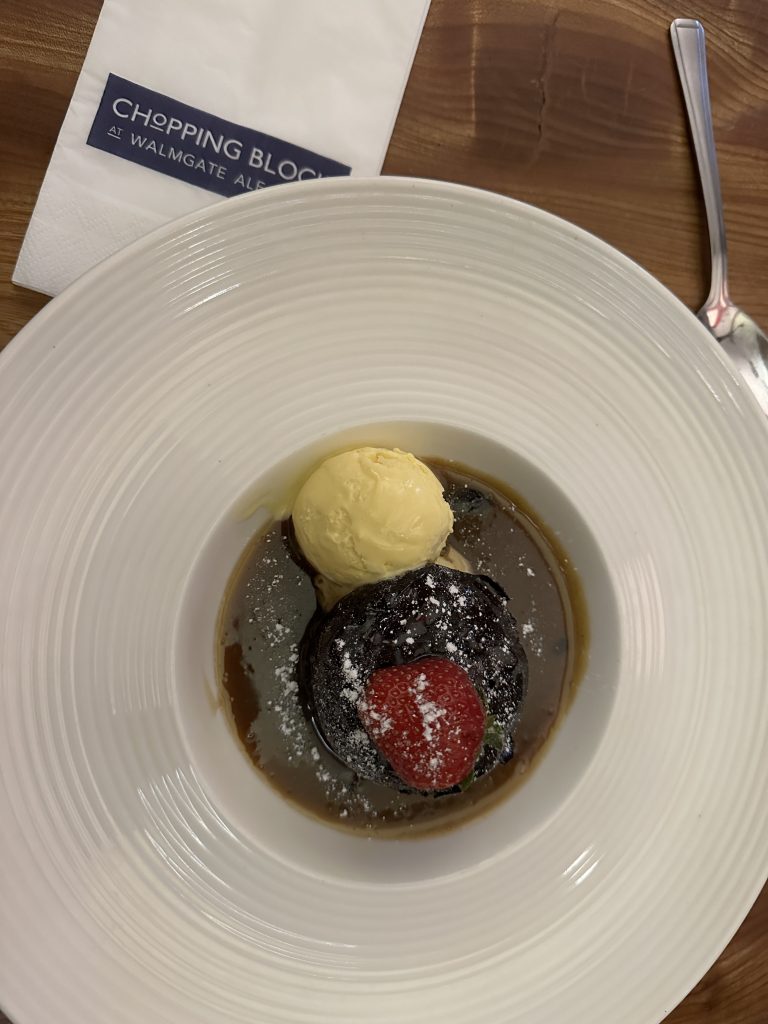 For dessert we went slightly off-piste from my intended French theme and picked up a sticky toffee pudding, which while slight veering from the brief was as unctuous and sticky as it's reputed and was an entirely appropriate end to the meal. The Chopping Block York combines the great value that I recall from the Melton's Too days with well resolved and satisfying dishes that combine the best of Yorkshire and France. Its momentum was perhaps unfairly interrupted by the pandemic but it really has found its groove now and both restaurant and Ale House are distinct from one another with quality offerings. The Chopping Block in particular offers an unusually good value set of dishes using produce from quality suppliers; it gets a firm recommendation from me.