Spark has done a lot for the hospitality scene in York both directly and indirectly. As a venue to be able to reliably grab decent food in a relaxed, family friendly setting, it's broadened the city's offering greatly and as a launchpad for new businesses it's made a strong contribution to the wider offering and economy. Just Smile Designs, Frango Eduardo, Sloppy's Bar & Kitchen, Dough Eyed Pizza, Street Cleaver, Once Across the Garden, Helston Street, Fish & Forest and Toner & Co have all made the transition from units at Spark to traditional bricks and mortar premises and the latest to join that list is Shori which has been reborn on Grape Lane as Izakaya.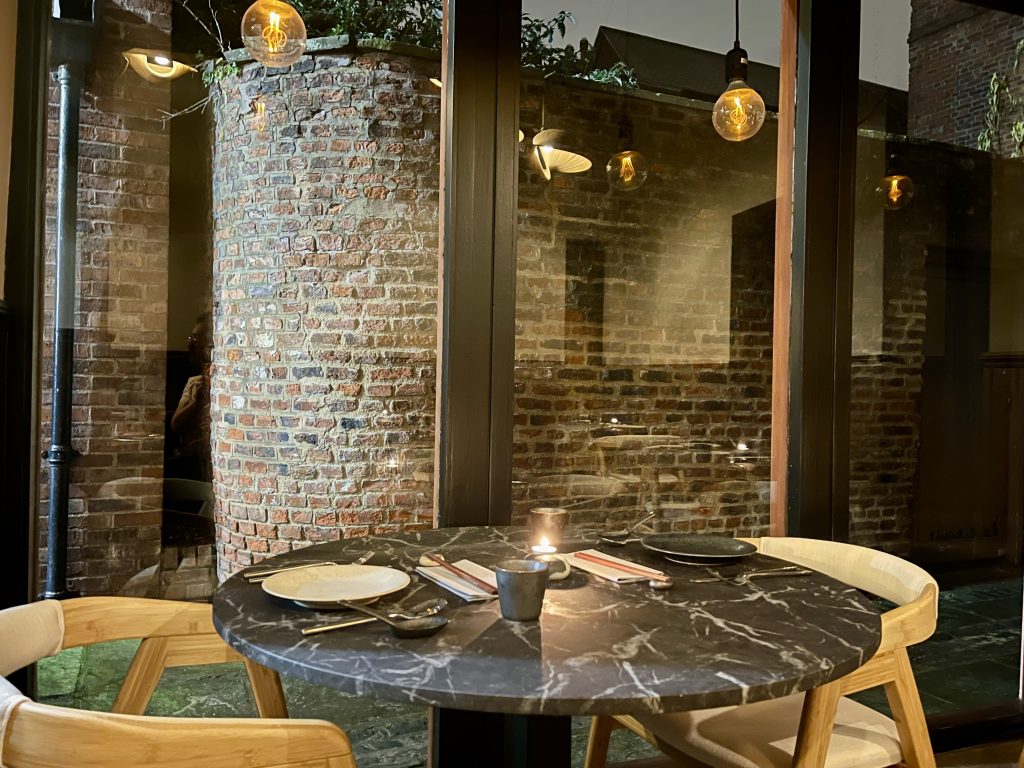 At Spark, Shori served up a range of small plates, snacks and larger dishes whose complexity betrayed the ambition to open a restaurant. After a detour to run a kitchen in another premises, that ambition has been fulfilled with the opening on Grape Lane by the junction with Coffee Yard. Chef Danny Victory has gone into partnership here with a fellow Spark business owner who can broaden the skill base on which this new venture is built. I can't remember the last time I visited these premises' previous occupant but upon entry there's precious little evidence of the past in the smartly decorated bar and dining spaces, which are minimalist without undue austerity. In fact the interior was rather more well resolved than I had expected in all honesty with it being a new opening; I can't count how many restaurant launches I've been to that smelled of wet paint! I particularly liked the view out of the expansive glass in the dining area which revealed some delightful curved brickwork that I'd not seen before. A striking blackened wooden arch separates the dining and bar area effectively, also acting as a visual centrepiece for Izakaya.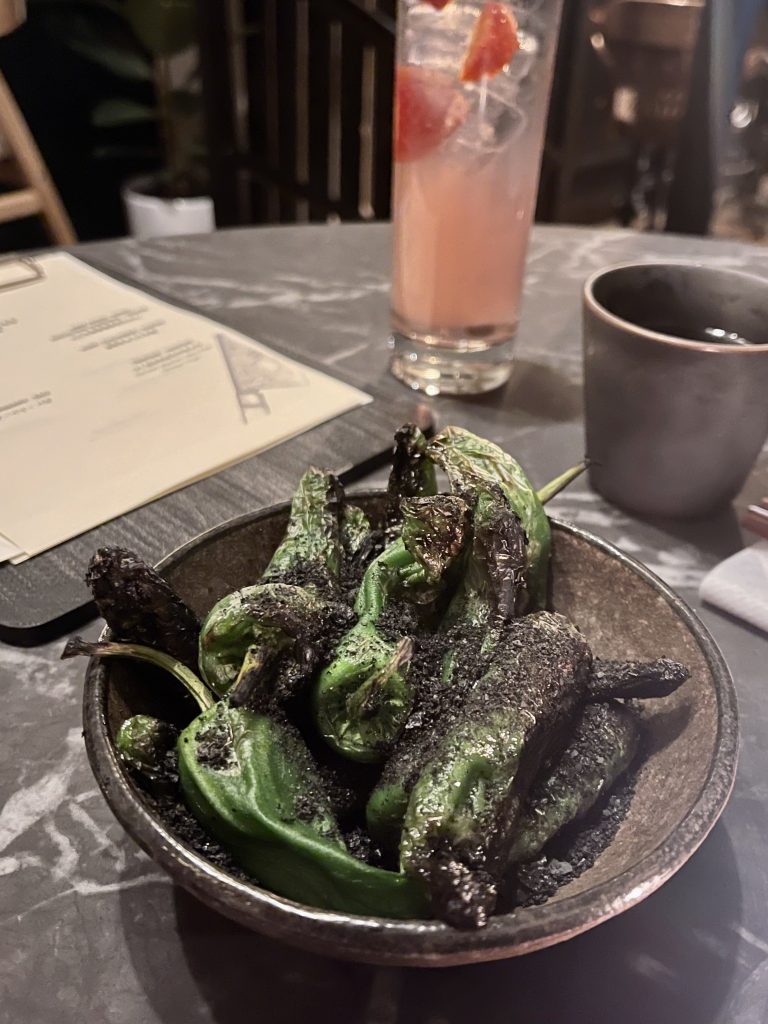 We were served a set menu on the evening I attended which aimed to cover most bases and consisted of a series of small plates representing different areas of the menu. First up were charred peppers dusted in a bitter, dark crumb that demanded a cold Asahi to counter before some Yakitori and Bao buns arrived along with a dipping sauce with an egg yolk floating in the centre. After puncturing with chopsticks to mix together, this formed an unctuous dip for the chicken skewers which were perfectly tender and given a touch of charring to make things that bit more interesting. The bao buns had been bisected rather than folded around the filling as one would usually expect but that had no impact on how perfectly they were executed, the dough having just the right bounce under slight pressure and the lamb filling both characterful and indulgent. A portion of cauliflower had just the right amount of bite left as well as a generous hit of spice to accompany a luxurious beef tataki and a satisfyingly bold green curry. Both these dishes continued to show confident execution and bags of personality while sesame dressed noodles and refreshing cucumber rounded out the meal neatly, the noodles in particular being particularly intriguing with much more complexity from the dressing than typical. I'd not intended dessert after that lot but with a bit of encouragement I caved and ordered a pandan tiramisu that turned out to be a well judged twist on such a well trodden dish.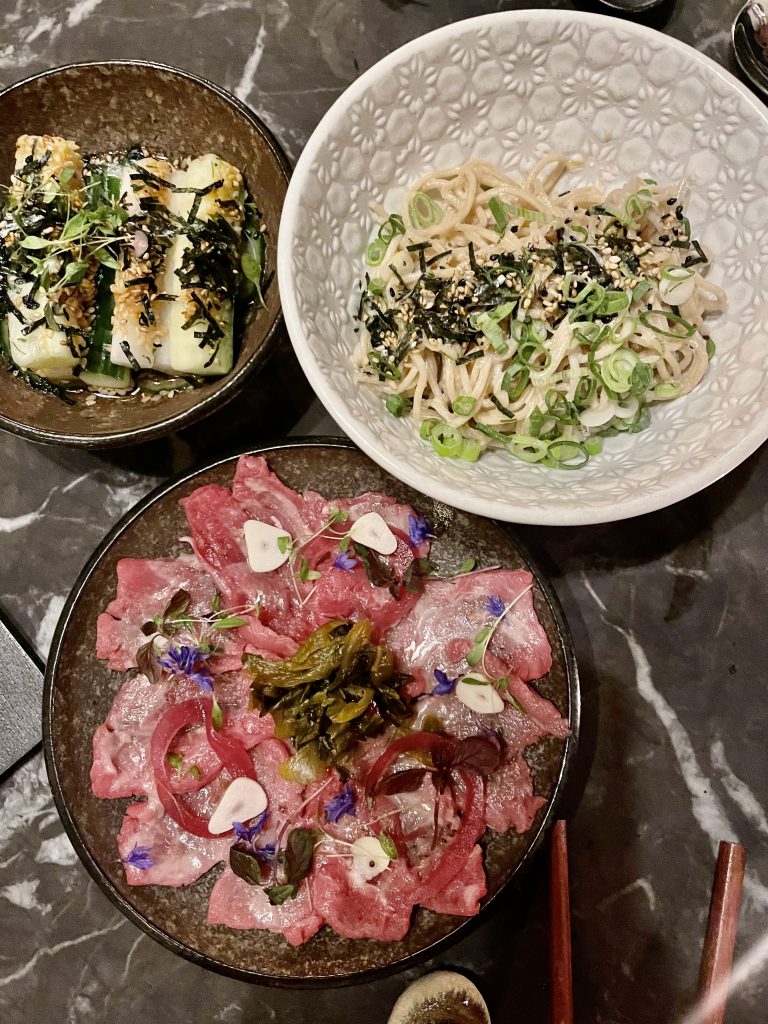 The leap from a street food or a pop up to permanent premises can be a daunting one and I was prepared to be making allowances for that but Izakaya felt like an impressively complete offering at the early stage of my visit. It's easy to see this becoming a winning combination of ambience, quality food and drink offering and sense of occasion. There're some great restaurants around Grape Lane such as Los Moros and Sotano, Izakaya only makes this an even more delicious corner of York.
(Disclaimer – press meal)