A Sunday roast, done properly, should present more opportunities than for just eating. It should be an enabling factor in letting your Sunday afternoon expand toward early evening as you go through a few courses and graze on leftovers. I've always been of the view that having a Sunday roast in a restaurant can be an impediment to that as the proprietor will, understandably, want to turn tables for more profit. New though, and fully embracing the idea that this is a meal to lean into, is the Galtres Lodge Sunday Feast which can be found in Forest at Galtres Lodge and which throws several stages at the meal.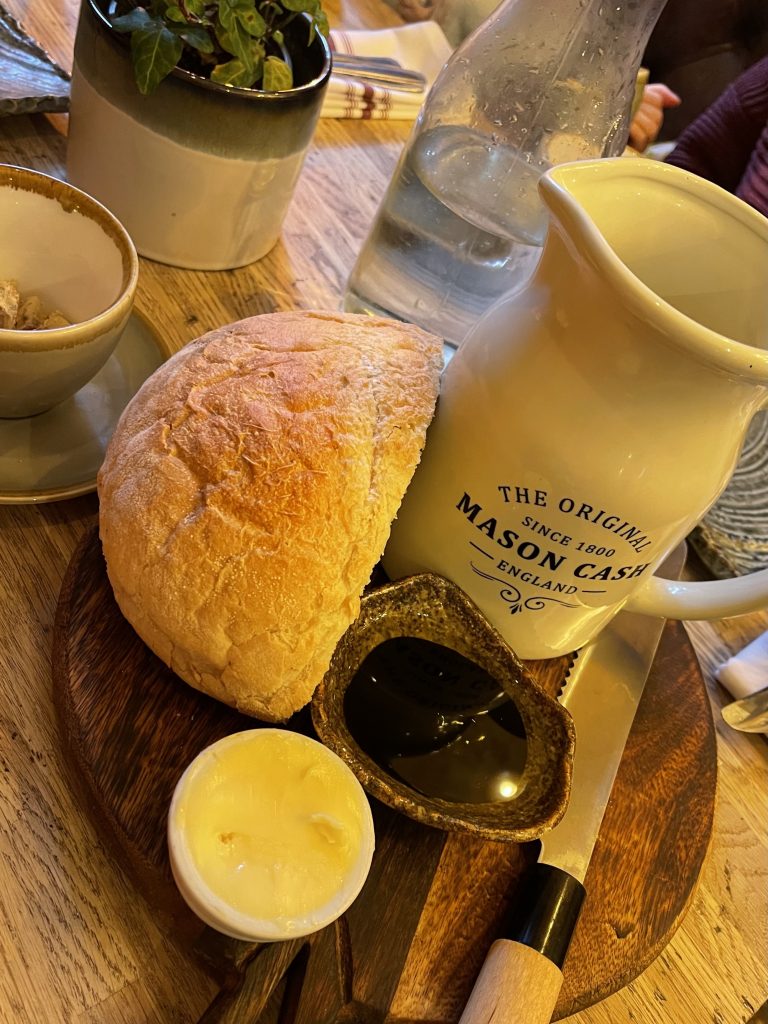 Galtres Lodge has been transformed over the last few years after a change in ownership and is firmly embedded as one of the best places to stay in the city, while its restaurant Forest certainly isn't an afterthought and has its own sense identity. I've eaten there a few times and always enjoyed the balance struck between fun and formality so the idea of their new Galtres Lodge Sunday Feast tickled my fancy, looking like a quite significant amount of food for £35 per person. This multi-stage meal packs in a soup course and a grazing platter as precursor to the main dish before throwing dessert at you too, with cheese an optional extra if you have the appetite. Bread and soup are the first things to be presented to the table with the celeriac soup coming in a jug from which to pour over blue cheese and onion chutney in individual cups that dictated a sensible portion size to start us off. Pushing tableware into service for which it's not originally intended can be a minefield but I enjoyed the quirky presentation on the basis that it actually supported the utility of the dish, which was delicious and enhanced by the texture and spikiness of the blue cheese. Bread from Bluebird Bakery is always a benefit to a meal and was perfect to mop up the soup.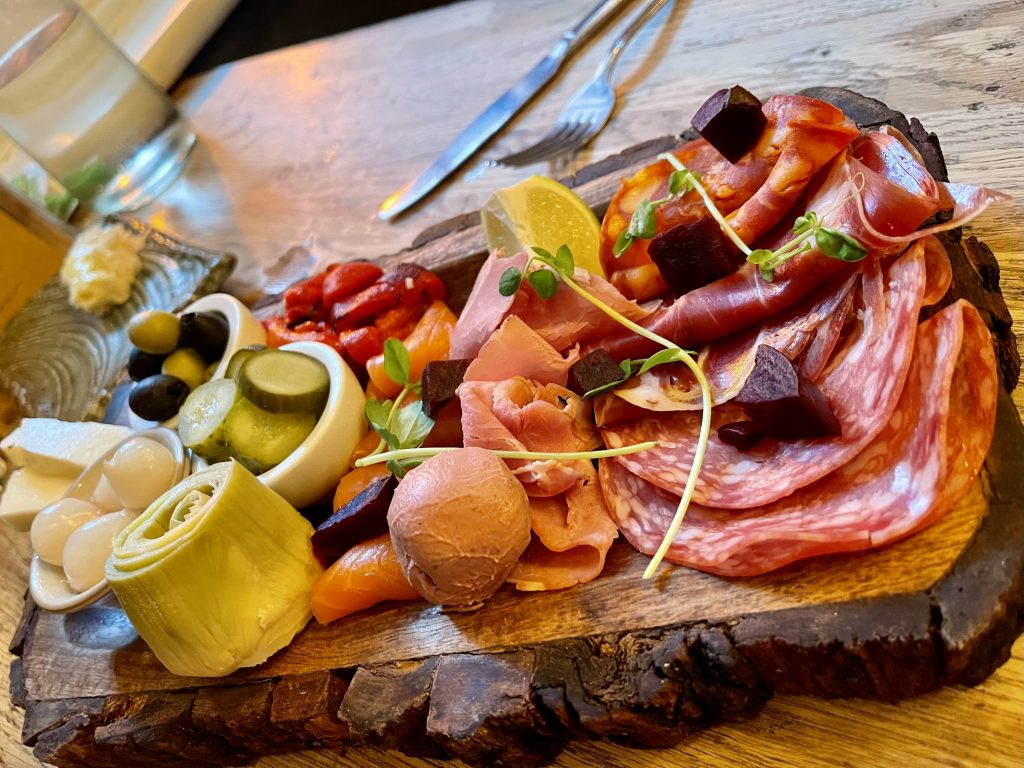 With the soup course cleared away, we were really gaining momentum as we rolled into the grazing board presented next. Prosciutto, salami and salmon were faced off against pickled baby onions, olives, beetroot and peppers to pick at; all I was missing was a Sunday paper to enhance my repose! I should also give mention to a really well executed chicken liver parfait that was very at home on the remainder of that Bluebird Bread.
All of this would be in vain if the main element didn't live up to expectations but the arrival of generously dressed plates of meat and Yorkshire Puddings augured well, with the arrival of platters containing side dishes next to challenge the table's dimensions. We enjoyed chicken and beef which had been taken to their full potential by skilled cooking then draped in gravy and topped with a hearty Yorkshire pud, sides of roast potatoes, cauliflower cheese, heritage carrots and buttered greens all present and correct too. A generous jug of extra gravy provided even more comfort as we tucked in to the course that amply justified the "Feast" title. Before we left, we also enjoyed a selection of desserts: a posset, sticky toffee pudding and a dark chocolate fondant all vying for our affections from which the sticky toffee took most praise from me, though I particularly enjoyed the bitter dark chocolate too.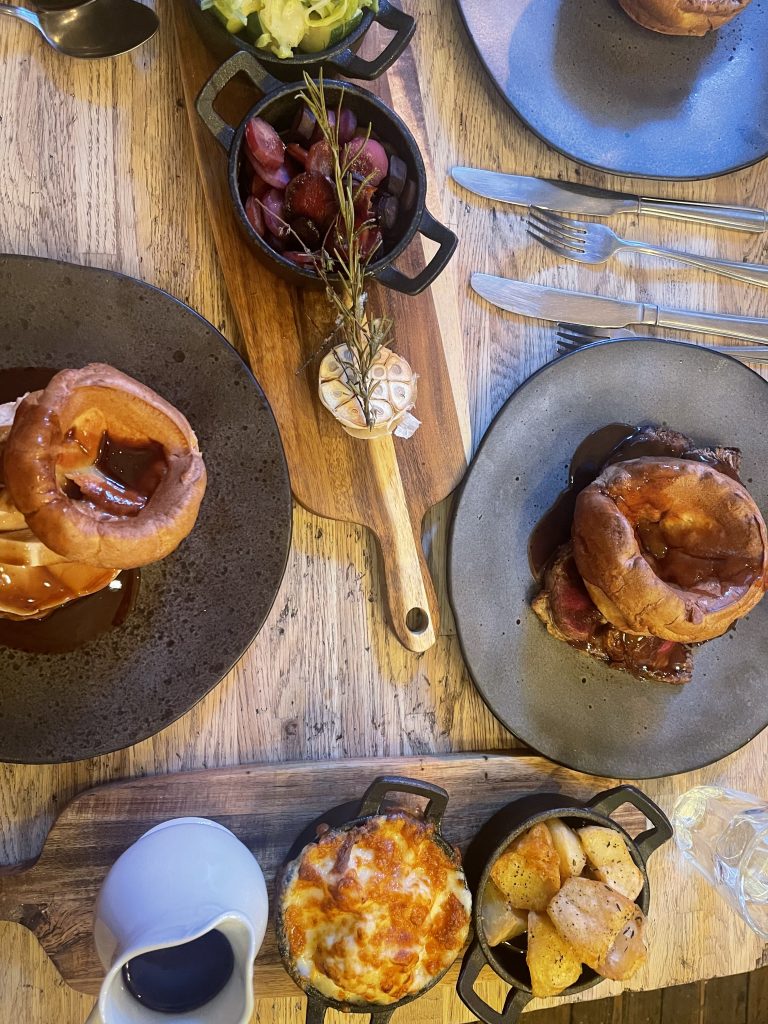 A Sunday roast really does need to be a laid back experience that amounts to more than a few plates of food before one feels obligated to move on and free up a table. Taking this feasting approach means that you're duty bound to spend a decent amount of time over the meal, properly engaging with it and perhaps lingering over a drink as you ponder how best to digest the meal. This meal absolutely justifies the title "Feast" and is a very significant amount of food, presented well and making up a cohesive meal from which you can take the opportunity to return home with leftovers. It's unique in the York food scene and a perfectly indulgent way to spend a Sunday.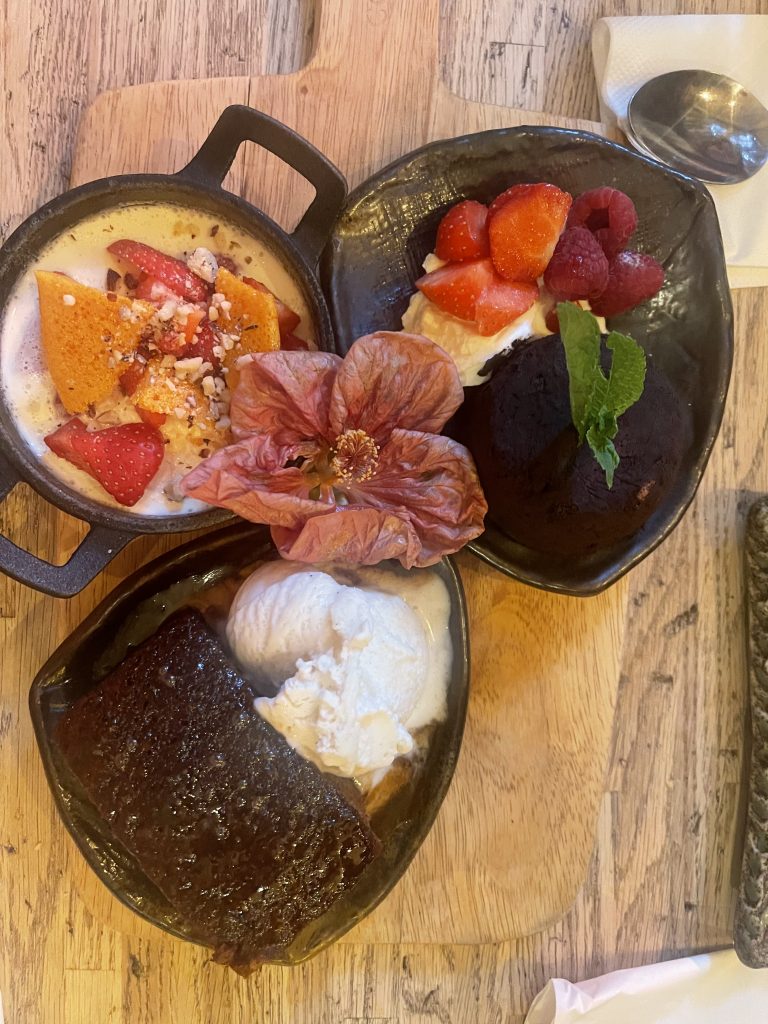 (Disclaimer – review meal at no cost)