I've written many times about the unfair tarnishing that restaurants based in hotels seem to suffer in York, with The Park at Marmadukes Townhouse and Hudson's at The Grand unfairly failing to find the audiences they deserved leading to the chefs involved moving on to pastures new. One of those though is starting to turn the tide on this unfair assumption as Adam Jackson's kitchen at The Bow Room in Gray's Court has been deservedly winning plaudits. Next into the ring is a new fine dining experience from The Grand which has launched Legacy at The Grand to broaden and enhance their food offering and meet the high expectations of their residents. At the helm of the kitchen here is Ahmed Abdalla who is jumping in with both feet for his first Head Chef position at this high profile launch. Ahmed has certainly got the right names on his CV after stints at established Yorkshire hotspots such as Skosh, Yorebridge House and The Swinton Estate.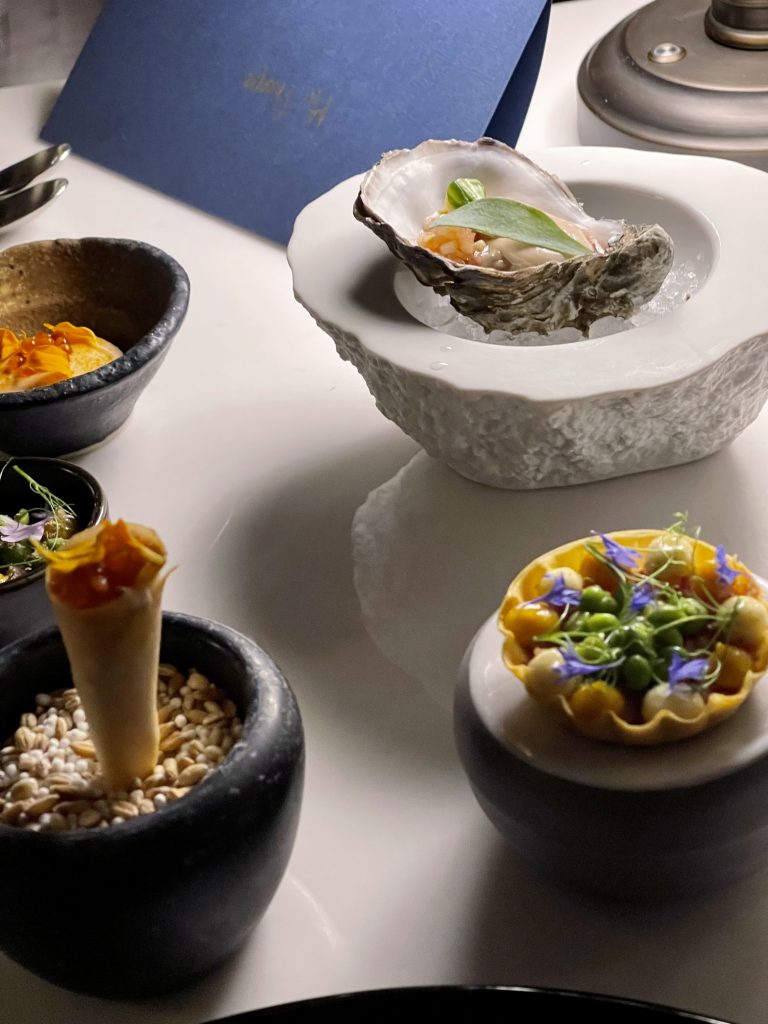 Arriving at The Grand needs to, and does, feel like an occasion with a line of Bentleys, Aston Martins and so on sitting outside as super-expensive window dressing as well as a rather handsome Ford Mustang which I think looked like the 1967 model. Things hardly cool off when you make your way through the hotel reception with the scale and furnishing perfectly in keeping with The Grand's standing as York's 5 star hotel. Legacy at the Grand can be found at the end of the main ground floor corridor where we were greeted by a hostess who took our coats and remained attentive throughout the evening. The space itself is anchored around a large, central wine station from which Restaurant Manager and sommelier Derek Scaife would be serving drinks throughout the meal, and which felt cool without being contrived. First from that wine station was a glass of Nyetimber Classic Cuvee, always a good starting point for a meal and a great accompaniment to a chat with Ahmed as he came out to introduce the trio of canapés which would start the journey. Following Ahmed's advice I started with one of my least favoured treats, an oyster. I've enjoyed these as tempura and ice cream but always struggled a touch with the texture when they're unmolested. This, though, was given real punch by a verjus dressing that imbued it with a strong, almost vinegar punch along with a refreshing smack of ginger. Next up was a little whipped cod's roe cone for a refreshing and clean tasting start that didn't last too long before finishing with a ham hock and gherkin tartlet. This one was livened up by dehydrated and grated gherkin along with delicate pearls of piccalilli puree and was a fantastic end to this scene-setting prologue.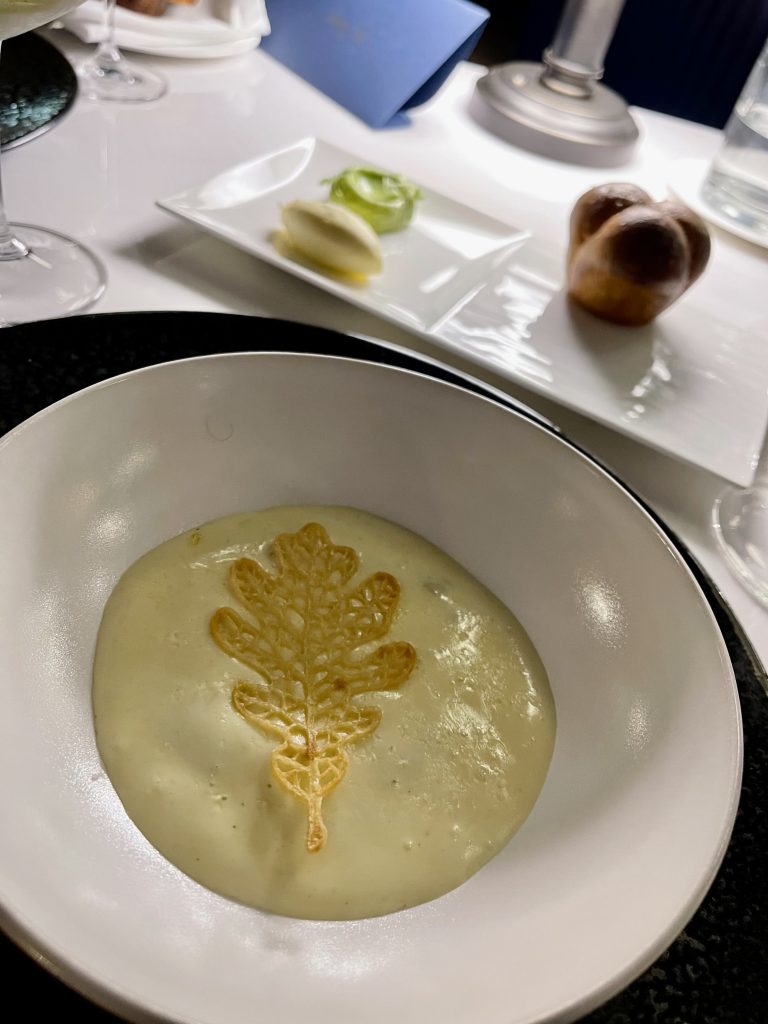 Getting into the menu proper, bread arrived at the table in a couple of different forms with a Parkerhouse roll which had been sculpted to ease its dismemberment and subsequent lavishing with cultured butter or goat's butter with chive. The other side of the table received sourdough as a substitute as the friend with whom I was dining suffers from an egg allergy, which was dealt with perfectly throughout the meal. Next was a Jersey Royal veloute given a shot of character from pieces of cooked potato as well as slightly burnt cheese and a touch of sherry, topped with a pleasingly intricate leaf of chicken skin for extra seasoning and visual appeal. Properly excavating the dish to make sure each element featured in a single mouthful without any single one overwhelming showed a reassuring sense of balance: each element given voice but none drowning out the other. After that strong start we moved onto a langoustine course that put a langoustine ravioli alongside chunks of the star ingredient and amongst a langoustine broth with a few discs of carrot and some micro herbs to finish. Derek was keen to make the point that all the parts of the langoustine that would otherwise be wasted were used in the making of the broth, a nice touch to underscore the point that this style of dining isn't simply about throwing more and more at a dish and doesn't necessarily imply huge wastage. Whatever process had gone into it though, this was another successful dish that showcased the best of its star attraction that left us eager for more.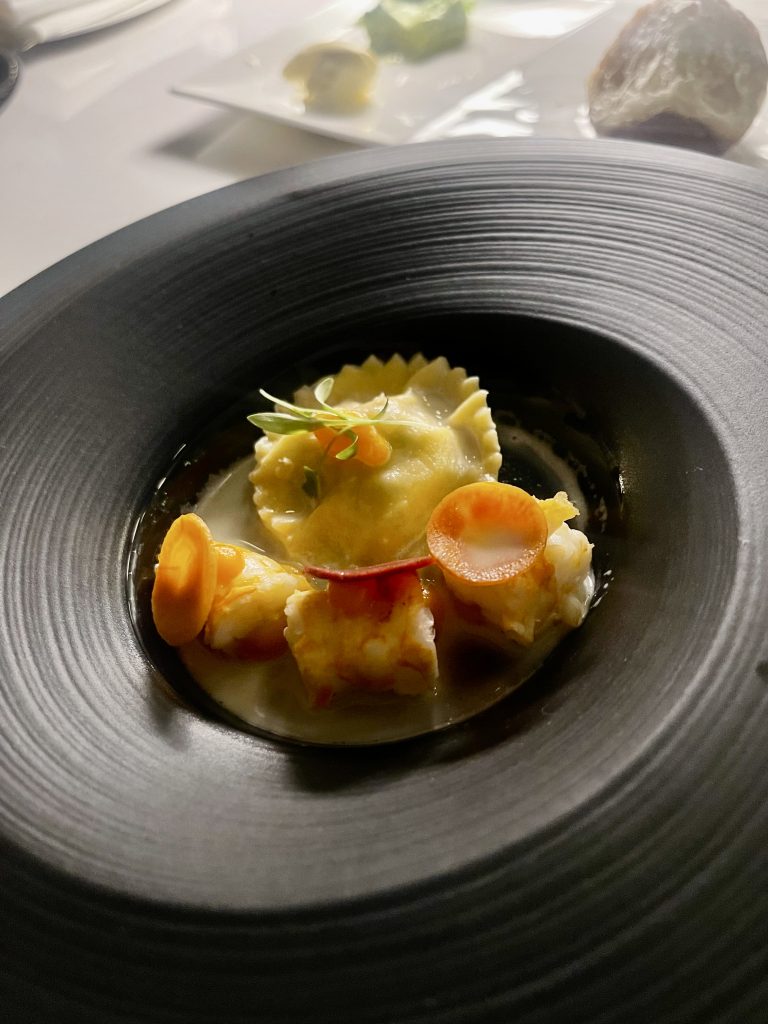 Celeriac is one of my favourite ingredients and often features at the core of plant based dishes thanks to the unique flavour that can be teased out in different ways with different techniques and partners. This dish also leant on a hefty dose of truffle to signify indulgence while a glaze of black garlic punched through along with a hazelnut pesto that gave context to those strong flavours before we moved into a fish course of halibut with cauliflower. A rich Mousseline sauce reminded us that this was a high end experience as did a few dots of caviar while the cauliflower took things back down to earth and a couple of mussels underscored the seafood theme. It's worth noting again that the Mousseline was omitted from my egg-allergic friends plate in favour of a beurre blanc, making sure that he wasn't missing out.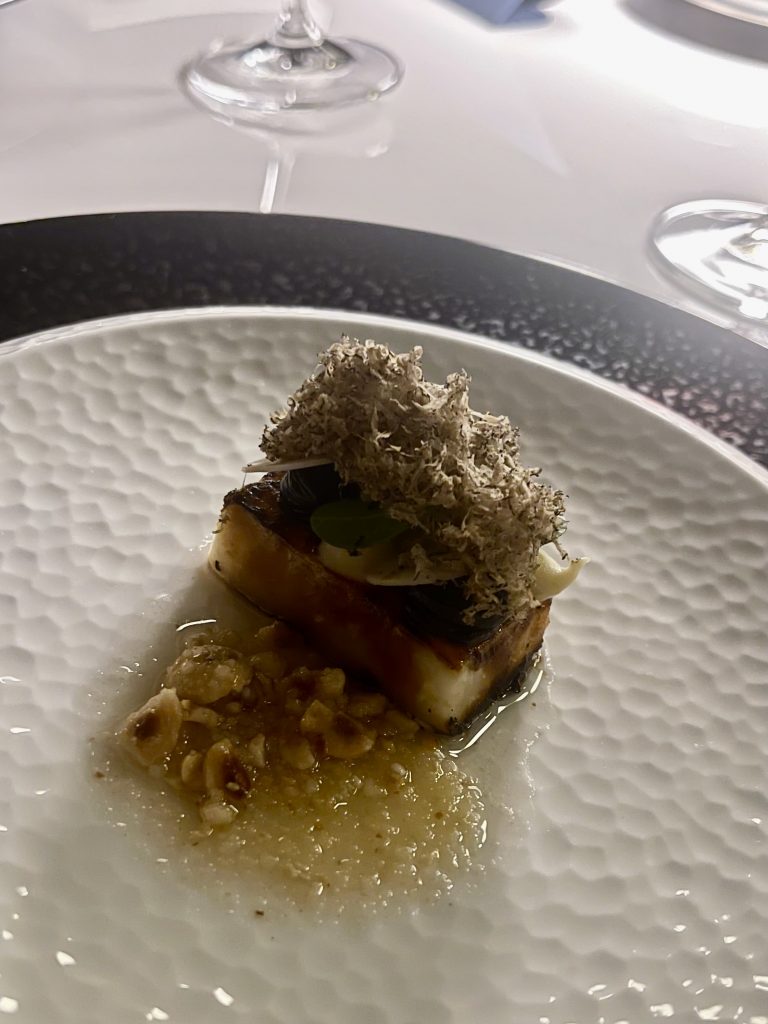 Lamb was the backbone of the final savoury course and presented in three ways with a cutlet being joined by sweetbread and sitting on top of more slow braised meat along with cubes of turnip and a sauce with an accomplished sheen. The cooking of lamb cuts such as this are always a balance between pleasing those who'd like it pretty much raw as well as those who'd happily desecrate the meat by cooking it through. Ahmed and the team hit the spot with this one though making sure the seasoning was spot on while fat rendered and the meat pink but unintimidating; an appropriate piece of punctation to end this chapter of the meal.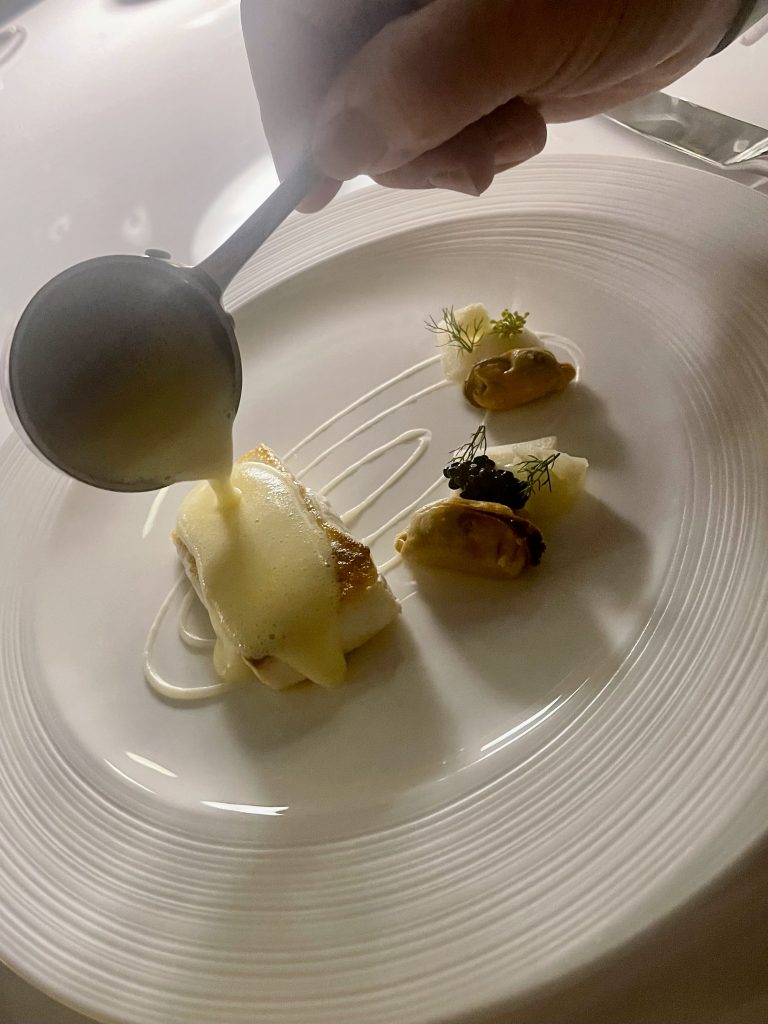 Strawberries from Annabel's Strawberries were first amongst a brace of sweet dishes, fleshed out by an aerated chamomile top with hints of lavender that refreshed your palate after those previous indulgences and began the process of livening one up with a shot of sugar toward the end of the experience. The final course featured ice cream and pannacotta with an intricately formed sweet honey comb topping and a single petal to break up the colour palate, another well resolved and visually striking dish on which to end….or not as an unscripted final cheese course emerged! Amongst the cheeses was one of my favourites, Baron Bigod which originates from Suffolk and is a match for any French brie, but the star of the cheese course was actually a section of honeycomb that had come directly from the roof of the hotel which has had beehives installed in the preceding year's expansions.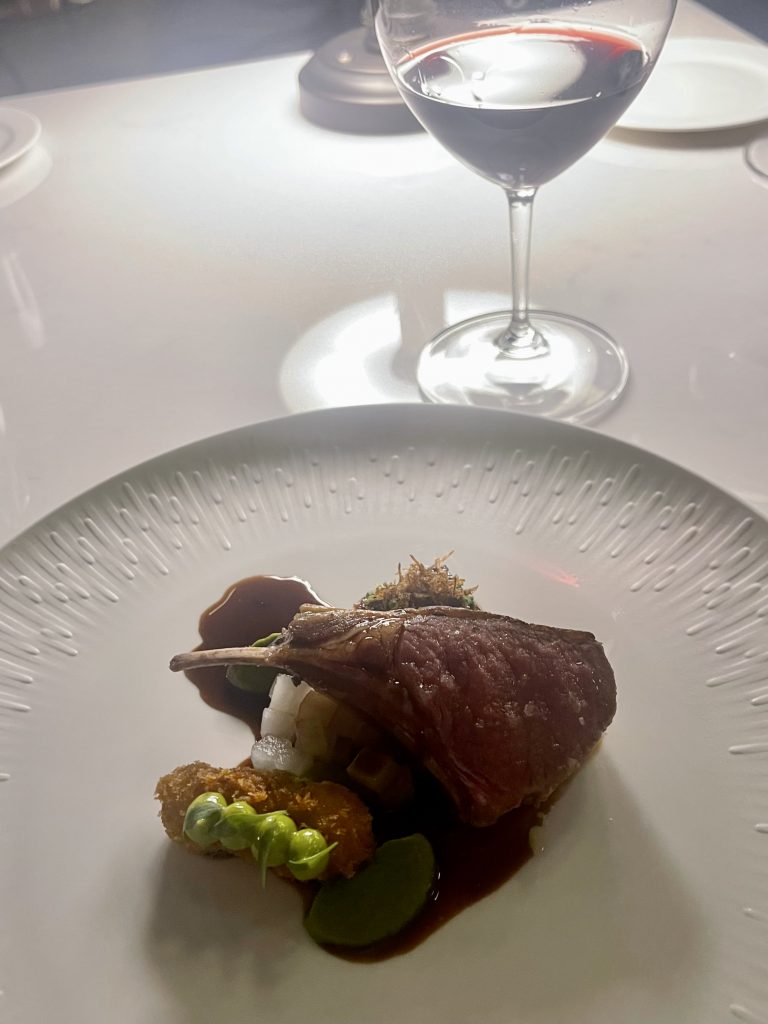 A hotel restaurant which wants to rely on more than the inertia of residents who may or may not want to venture out, but has the ambition of counting itself amongst the best in the city needs to have a sense of identity, hit or exceed the standards across the rest of the city and take advantage of the resources afforded it by being part of a wider business. Ahmed, Derek and all the team at Legacy at The Grand have achieved all of those things and immediately announced themselves as one of the best fine dining options in York. This is obviously not a cheap experience but £120 a head represents fair value for this style of food served in this environment and is slap bang in the middle of similar experiences in York, and the wine pairing at £60 was generous and with some unusual inclusions. The menu is thoughtful, well-paced, beautifully presented and served in a tasteful environment that imbues occasion while feeling representative of the hotel. Its own identity and touches such as their own honey elevated the experience further.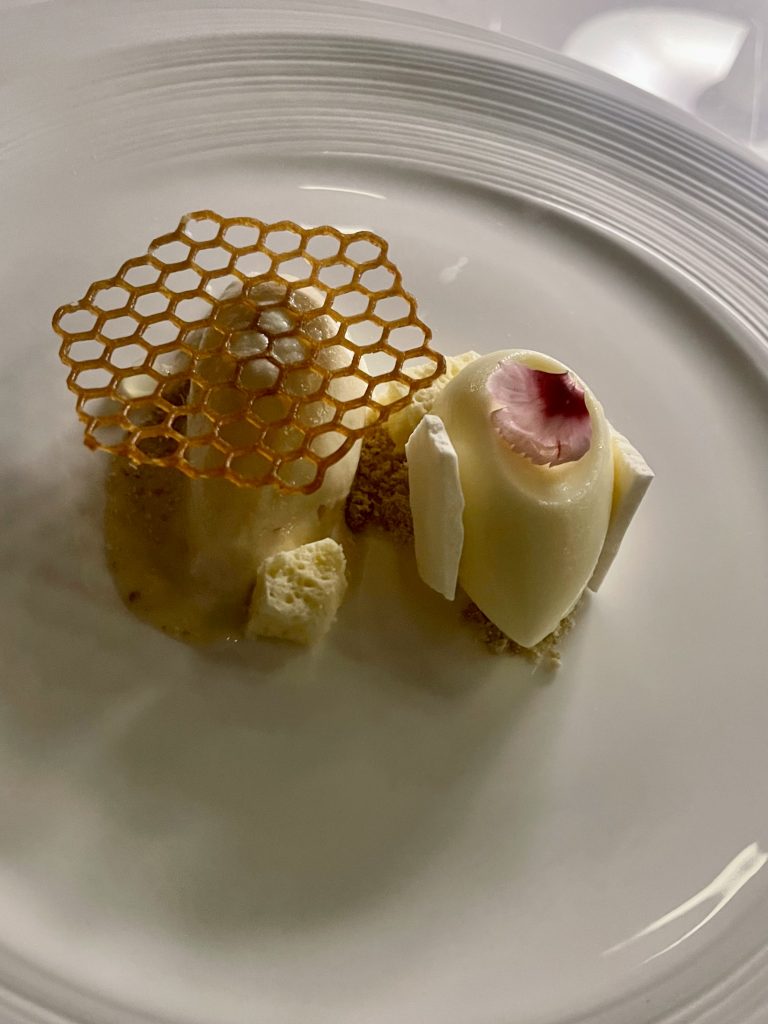 Disclaimer, complimentary visit for PR purposes.