Caribbean food is not something York is terribly well served for. It's cropped up as pop-ups in pubs and at the occasional street food market but there's only one permanent venue in the city offering it and one takeaway that offers it to the best of my knowledge. Perhaps that makes the city attractive for prospective marketers of Caribbean food, but for the moment there's not a huge amount going on. As I've alluded to previously though, the current strong foothold held by Covid in the UK has shifted the focus of the hospitality industry and so I'm able to enjoy a meal from Juici Jerk in the comfort of my home thanks to nationwide delivery.
Juici Jerk have been serving up Caribbean food in South West London since 2017 and have seized upon the opportunity presented by this pandemic to offer nationwide delivery on their products, neatly grouping them into well presented boxes of food that include everything you need for an indulgent evening of eating. There's a real sense of attention to detail and breadth of experience with the boxes, some of which feature access to spotify playlists along with rose petals to scatter for the more romantic occasions. We took delivery of a "Juici Jerk box" that retails for £30 (delivery is another £5) and proposes to feed two, also including drinks and sauces!
My run of astonishing good luck with delivery drivers remained unbroken with this one as it arrived exactly as promised, deposited happily on the now semi-permanent porch table for deliveries. Opening the box revealed sensibly compiled instructions and a large number of vacuum packed treats to look forward to along with bottles of fruit punch, sauces and some fresh produce with which to embellish your dishes.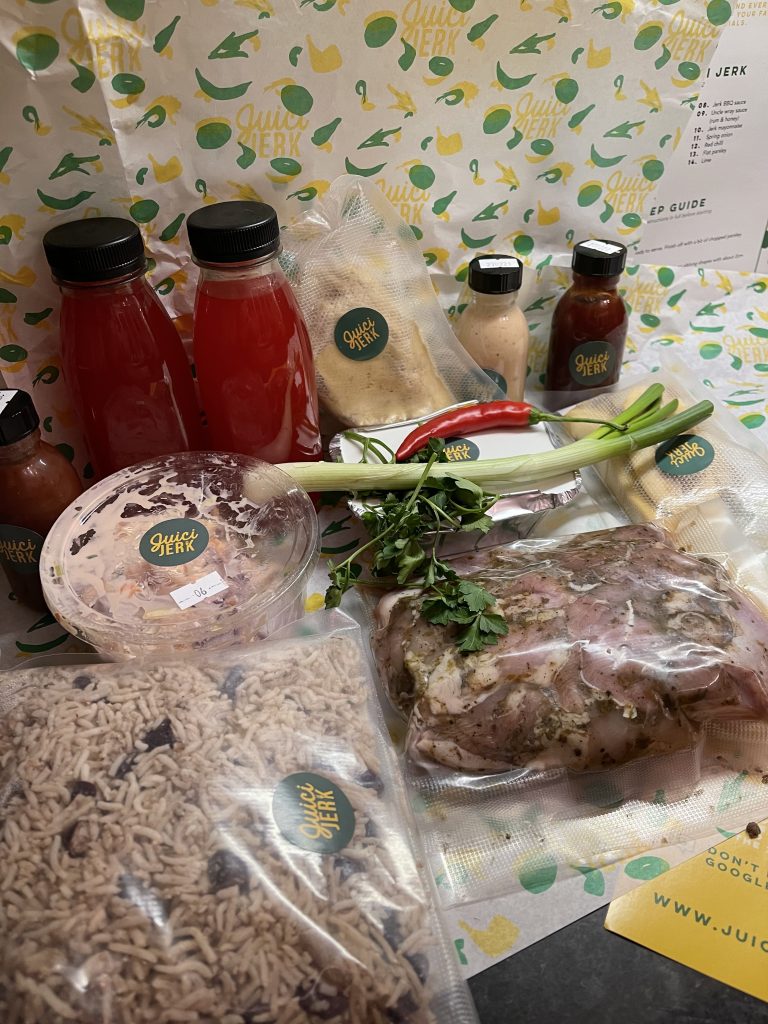 The logical instructions require thankfully little common sense to be applied beginning with getting the pre-marinated chicken in to the oven, which is later finished using the Jerk BBQ sauce as a glaze. The only other element to require the oven is Mac Cheese so it's easy enough to leave both of those to their own devices while preparing the other dishes. Rice & peas needs little more than a blast in the microwave at a convenient moment while plantain demands a frying pan be introduced to proceedings before the same utensil is used to fry off "Festivals", a sweet fried dumpling. With the included fruit punch poured we were tucking in quickly, trying not to be over faced by the quantity. While this is notionally for two people, there was significantly more food here than our appetites could tackle; you certainly wouldn't need to add anything else.
Most of the meal kits I've worked through so far have focused on presenting meals composed of a sequence of courses, which if you're not in the mood can interrupt the flow of an evening. It was a nice change to see everything presented at once to pick from at leisure as we put together an attractive (and substantial) spread. The cooking instructions for the chicken left it perfectly tender and succulent with a decent tingle of heat from the marinade, and the Jerk glaze I'd administered before finishing and Mac' Cheese delivered all the comfort that it should along with a refreshing coleslaw that added bite to the plate.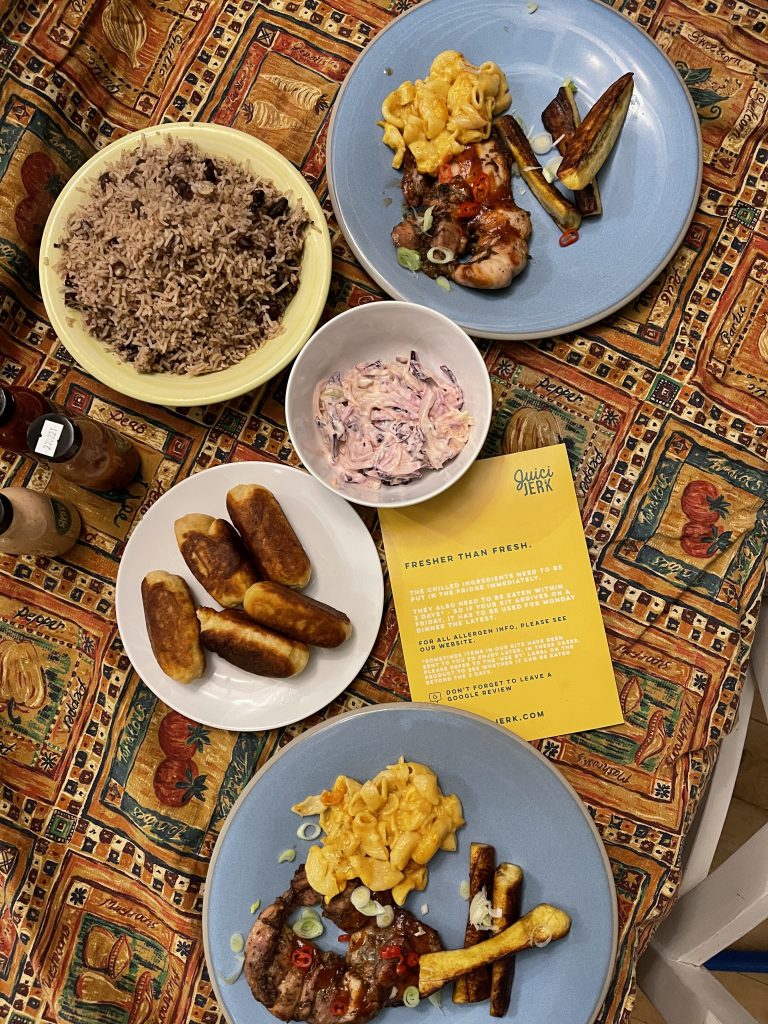 Plantain has never been one of my favourite things to eat but after being hit with a good amount of heat and caramelisation they were perfectly satisfying, and the fried Festival dough that had been through the same pan was a very happy surprise. Festivals are new to me and represent another happy expansion of my culinary horizons: sweetened fried dumplings sound like such an obviously wonderful and wonderfully obvious thing in retrospect. A mountain of rice & peas finished things off.
With a few sauces and some fruit punch thrown in with the food, this was a superb way to spend an evening enjoying a cuisine that's not widely available in York. This was undoubtedly one of the best value at home offerings I've enjoyed so far, producing a genuine sense of indulgence and occasion. I've made the point before that the necessity for restaurants to find a way to enter the home is one of the few silver linings we've got in our current circumstances, I'd strongly encourage inviting Juici Jerk in for a try.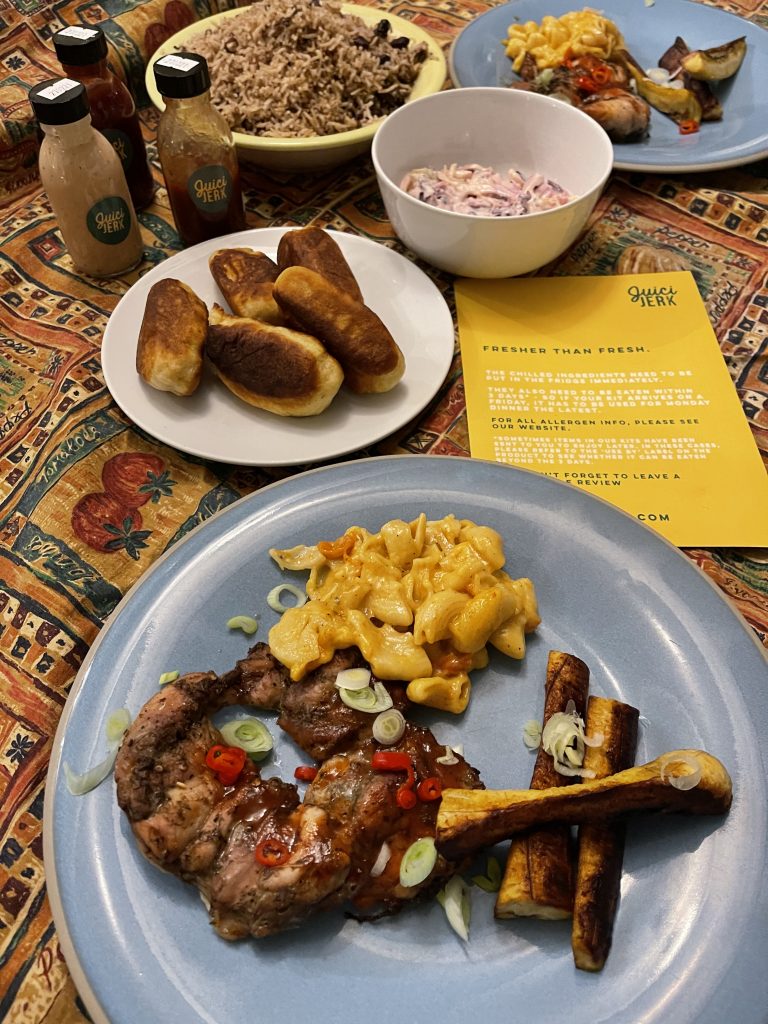 Disclaimer: No charge was made for this PR product.