Aroma home dining is another business hit by the need to adapt from its existing business model into something more appropriate to our newly socially distanced society. While day to day business activities such as private cheffing, event catering, bbqs, canapés and shooting parties are off the cards, there's still plenty of appetite to enjoy good food in the home, something that Aroma is keen to continue supplying.
Aroma is the brainchild of chef Roma Buczkowska, who has made her way to working as a private chef in York via life as a fine dining chef in Scotland and Yorkshire after a food-fixated upbringing in native Poland. She usually offers a range of services that are as rooted in conviviality as the rest of the hospitality world and just as incompatible with our current lack of opportunity to socialise. To maintain the business and keep going, Roma is now offering at home dining that draws on the skills she's learned in that varied career. The delivery menu consists of a frequently changing combination of salads, mains and desserts along with a Sunday roast option. So when Roma got in touch to see if I fancied trying it, I suggested that she just send along whatever she felt best represented her business and food.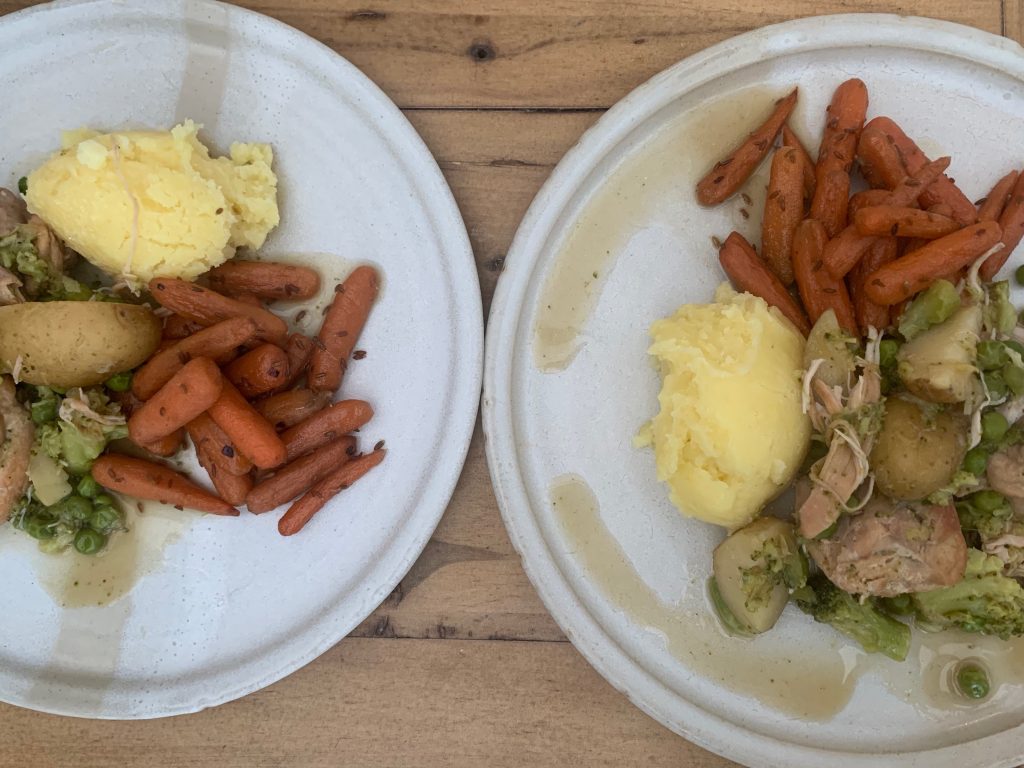 The dishes Roma sent were a representative sample of the types of dishes earlier mentioned, which we enjoyed over a couple of sittings. The salads were perfect light meals and would equally have functioned as starters. I'm always fearful that salads can end up an expression of restraint that only offer marginally more in the way of nutrition than enjoyment, an assumption happily disproved here. Anything with feta, balsamic glaze and a selection of fresh crunchy red onion, green beans and tomato is unlikely to end up bland and the fresh produce used here kept things ticking over well. The other salad was a traditional Tuscan Panzanella that ripped chunks of bread through red and yellow tomato, red onion and fresh basil, nothing complicated in terms of technique but no less an opportunity to balance flavours.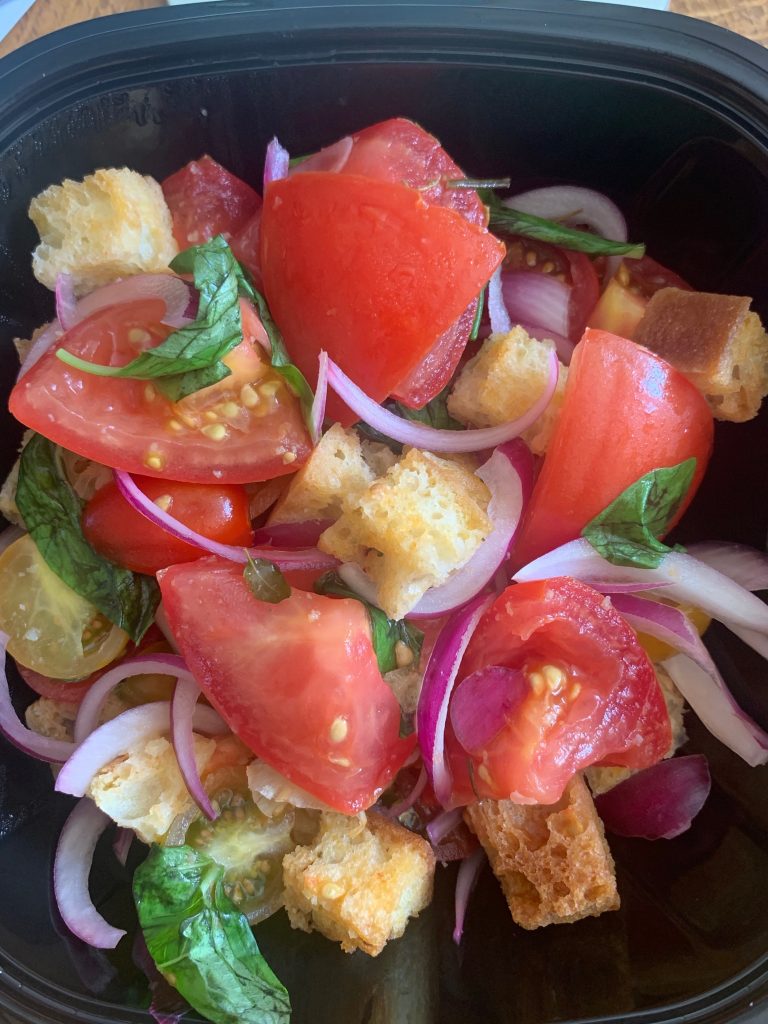 The two mains that we tried were a Summer Chicken Stew and cannelloni made with broccoli, spinach and feta. Sides included honey and cumin roast Chantenay carrots, parmesan mash and buttered greens. It wasn't hard to reheat those dishes into a couple of generous meals that represented great value at only £7.50 for a main and £4.50 for a salad or a side. It's fair to say that the casserole wasn't an ostentatious dish but the relatively humble ingredients made their way to a hearty and delicious ensemble that went particularly well with parmesan mash and carrots. Oddly enough I'd been meaning to get round to cooking cannelloni for the last few weeks, an itch neatly scratched here by this vegetarian version. We finished off with a brace of pannacotta topped with strawberry compote that rounded off the meal nicely.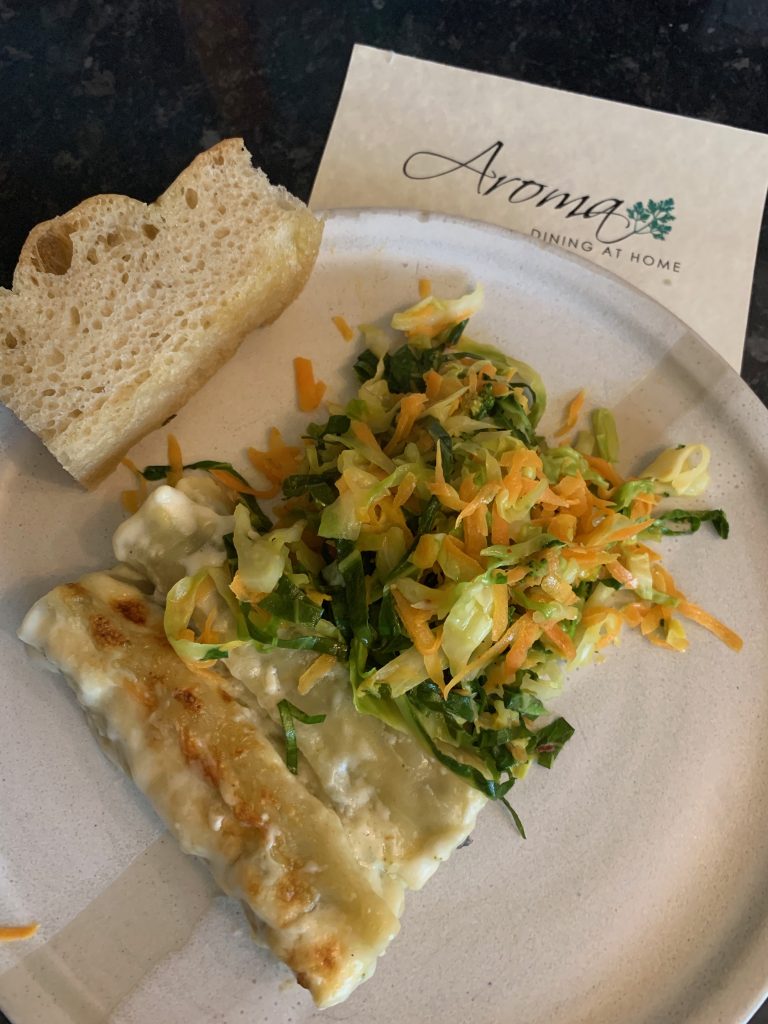 The "at home" market has been becoming more and more crowded through the last few weeks as businesses and life in general start to recalibrate into a changed world. Aroma might not be the most high profile name amongst the nationally regarded York restaurants but that doesn't make it any less a good value option. The food we enjoyed represented great value, being hearty and plentiful with bags of flavour and the right amount of refinement for a comforting meal to enjoy at home with minimal effort. Absolutely worthy of a place on your list next time you fancy a treat.
Disclaimer: No charge was made for this meal, opinions are impartial.