Gillygate seems to be becoming the default location for businesses moving on from Spark. Just Smile designs are about to take up a new spot on the corner with Bootham, Toner & Co have been there some time and Cardamom & Dill have plans to make the move imminently. Everett's Coffee is just around the corner on Petergate and new amongst this contingent is Fish & Forest, whose new home is in The Gillygate Pub.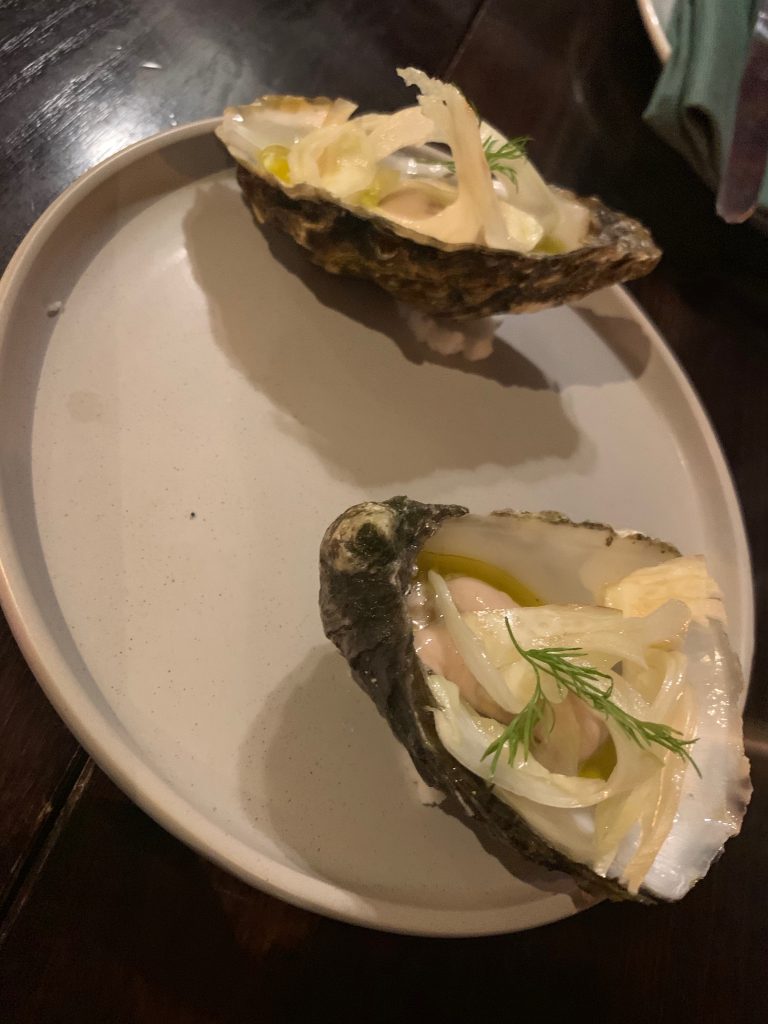 Fish & Forest made its name in Spark selling well realised fish dishes that showed a level of refinement greater than one would expect of a street food offering. It was always clear that this ambition would need a venue that would allow for niceties such as plates and waiters, so it's not a surprise to see them form an alliance with The Gillygate to shift the offering up a gear by putting a roof over it. I was a fan of the dishes served at Spark so more than eager to sample a tasting menu that would showcase the sort of experience F&F would be aiming for at The Gillygate.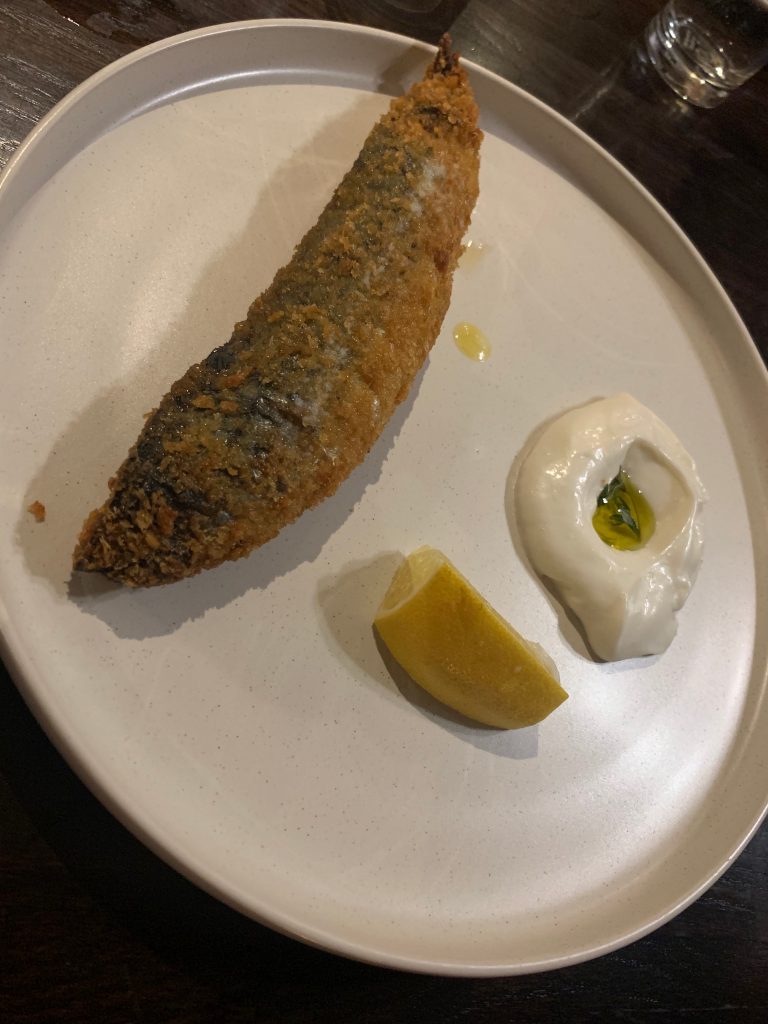 The one disagreement I have with the people behind F&F regards oysters. I've tried my best and have enjoyed them as tempura and ice cream but never managed to appreciate them raw in all their slimy, salty glory. Still, allowing for my preference, the examples that started the meal were well presented and those at the table with a finer understanding of these things than me certainly looked to be enjoying pairing them with Guinness.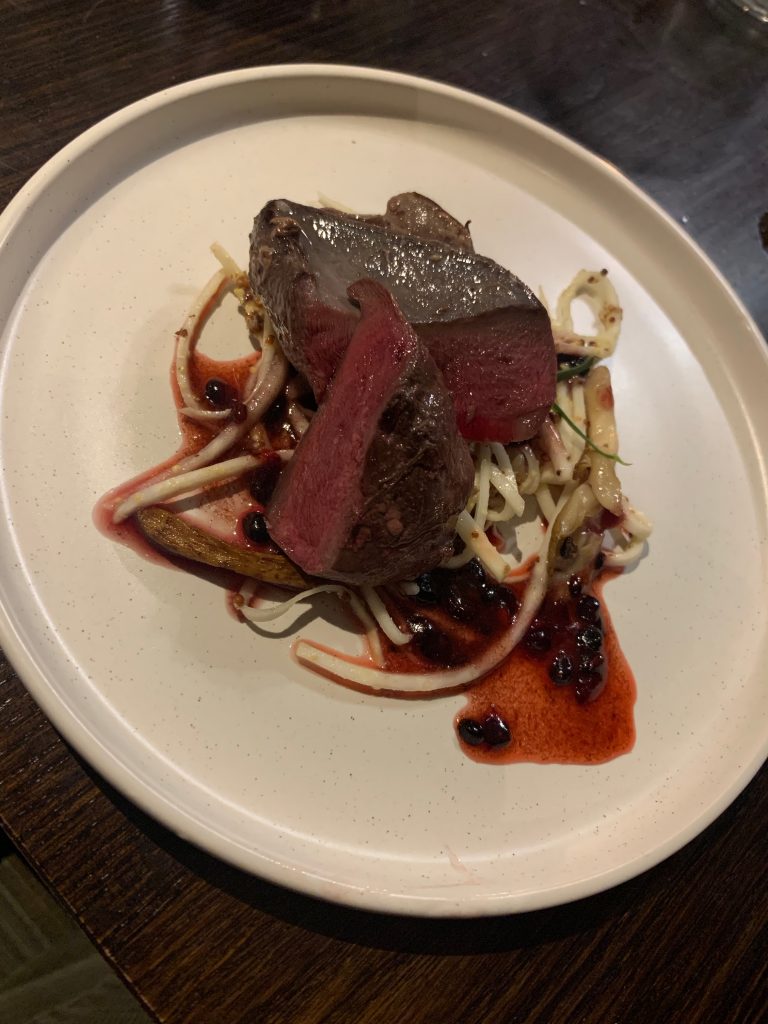 Next I waited for a mackerel kiev to arrive for my first course. This dish was a refinement of one of those popularised at Spark, presented here looking like a whole fish but filleted to allow us to just get stuck into the aioli it was served with. The transition to a covered venue has served only to enhance this one and the combination of the strong fish and garlicky dip remains as alluring as ever.
For the next course, we moved onto meat with a pigeon dish that relied on remoulade and berries to balance the weighty flavour of the meat, further depth coming from a few mushrooms. Overcooked pigeon is a terrible experience but the required delicacy of touch and technique was in evidence here, making this the rare treat of perfectly cooked pigeon – something not seen on menus often enough. Next up were scallops with caviar cream, shallot and a generous spicing of Nduja to tie everything together. The caviar cream was a subtle embellishment that could easily have been drowned out by the Nduja's heat, but the centrepiece scallops stood up to the task in hand, though the presentation suffered a touch on this one as the small scallops looked a bit lost. I gather they've subsequently been replaced by larger examples.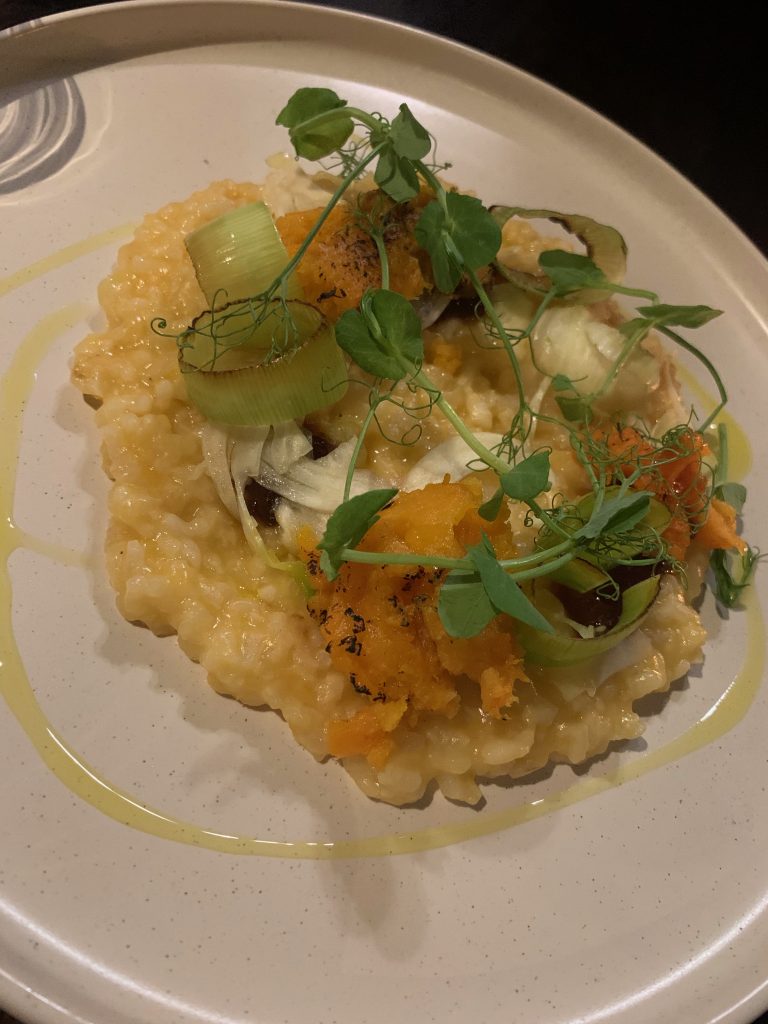 We then moved on to a vegetarian dish, a risotto of squash, sweet potato and leeks that while justifying its place on the table wasn't as memorable as what had come already or was to follow, a half duck with greens and an unctuous jus. This one really let the meat shout its advantages. I didn't manage to pick up the details of the cooking process but "One Day Cured" is apparently just the right amount of curing to produce wonderfully tender duck that it's a pleasure to pull off the bone and make a mess of oneself with. Hasselback potatoes are an indulgence I'll chase any time, so I kept snacking on those as Skate wing appeared at the table served with a Veronique sauce. We finished up with a paper bag of sweet beignets and a sense of fulfilment after our meal.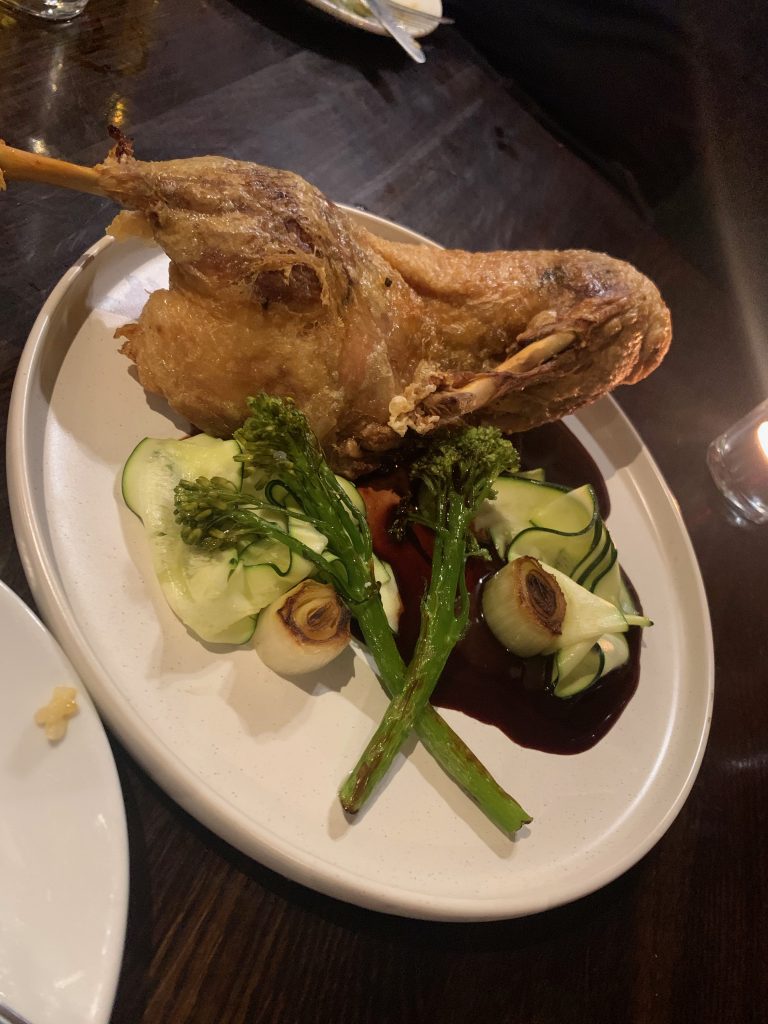 Fish & Forest was always going to outgrow Spark and, truth be told, will likely outgrow The Gillygate at some point but it's got a good home here now. Gillygate feels like it's getting a bit of momentum around it at the moment and I absolutely expect the partnership between The Gillygate and Fish & Forest to be a key part of it for some time.
Disclaimer: No charge was made for this meal. Opinions are impartial