For a variety of reasons, it can sometimes take a little bit of a push to get me out of York to check out somewhere new. While there's certainly a proliferation of great places to eat in York, it's hardly the only place in Yorkshire to find fantastic food. With that in mind, for a good few months now, I've had friends telling me that I need to get out to Dunsforth and check out the Hideaway Kitchen at the Dunsforth, with reports praising the Sunday lunch, among other things. Thankfully I got the push I needed recently when Victoria (AKA The Harrogate Girl) arranged an opportunity for local bloggers to get out and sample the place. I didn't need asking twice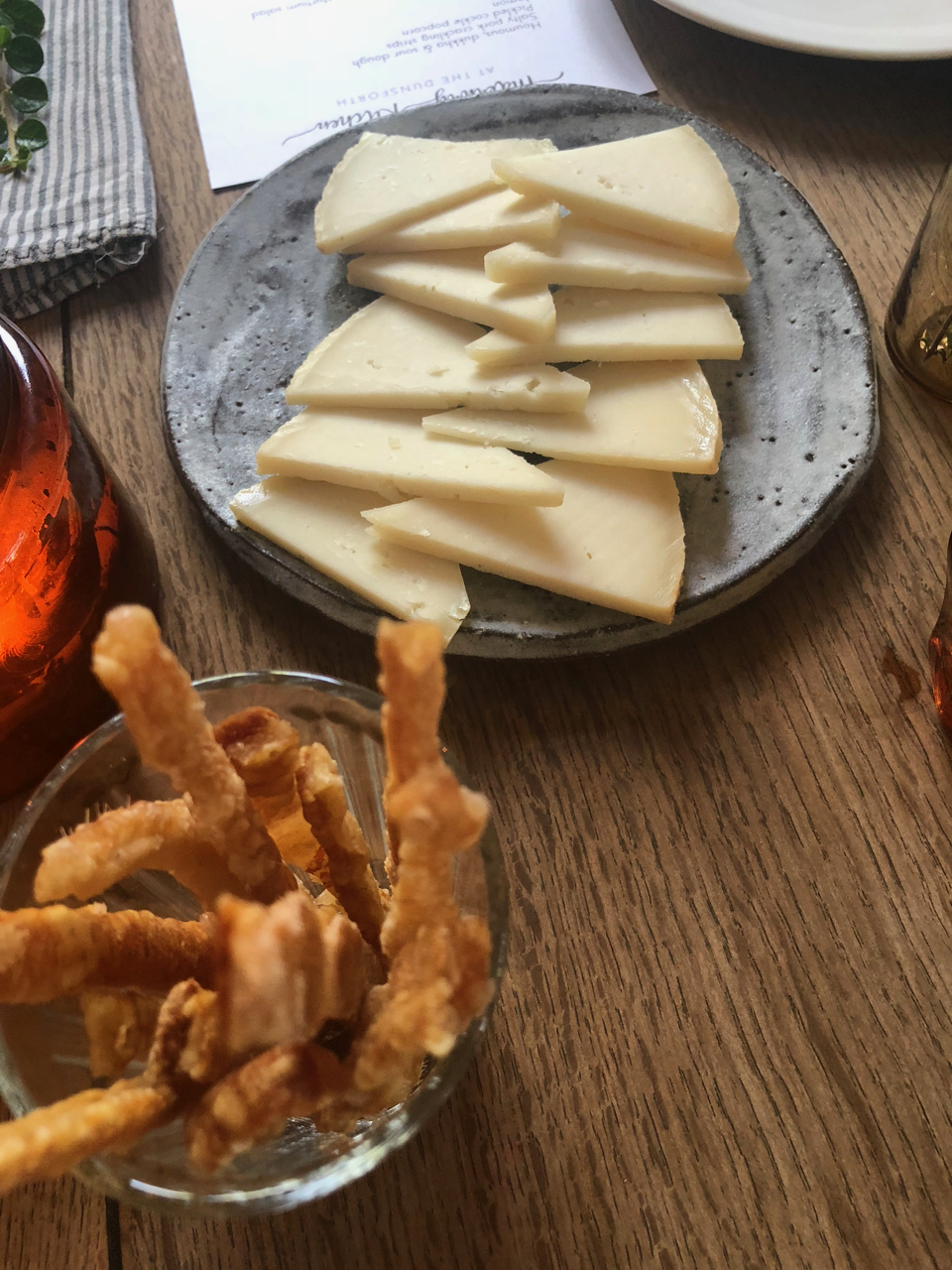 With the role of the village pub sadly marginalised these days, The Hideaway Kitchen at The Dunsforth has set out to take on a variety of roles as an informal place to eat and drink, offering anything from just a quick drink to relax after a walk to a full on foodie blow out. Owners Amelia and Georgina have a strong history in hospitality which has involved a​ couple of AA Rosettes and a prestigious boutique hotel in Spain.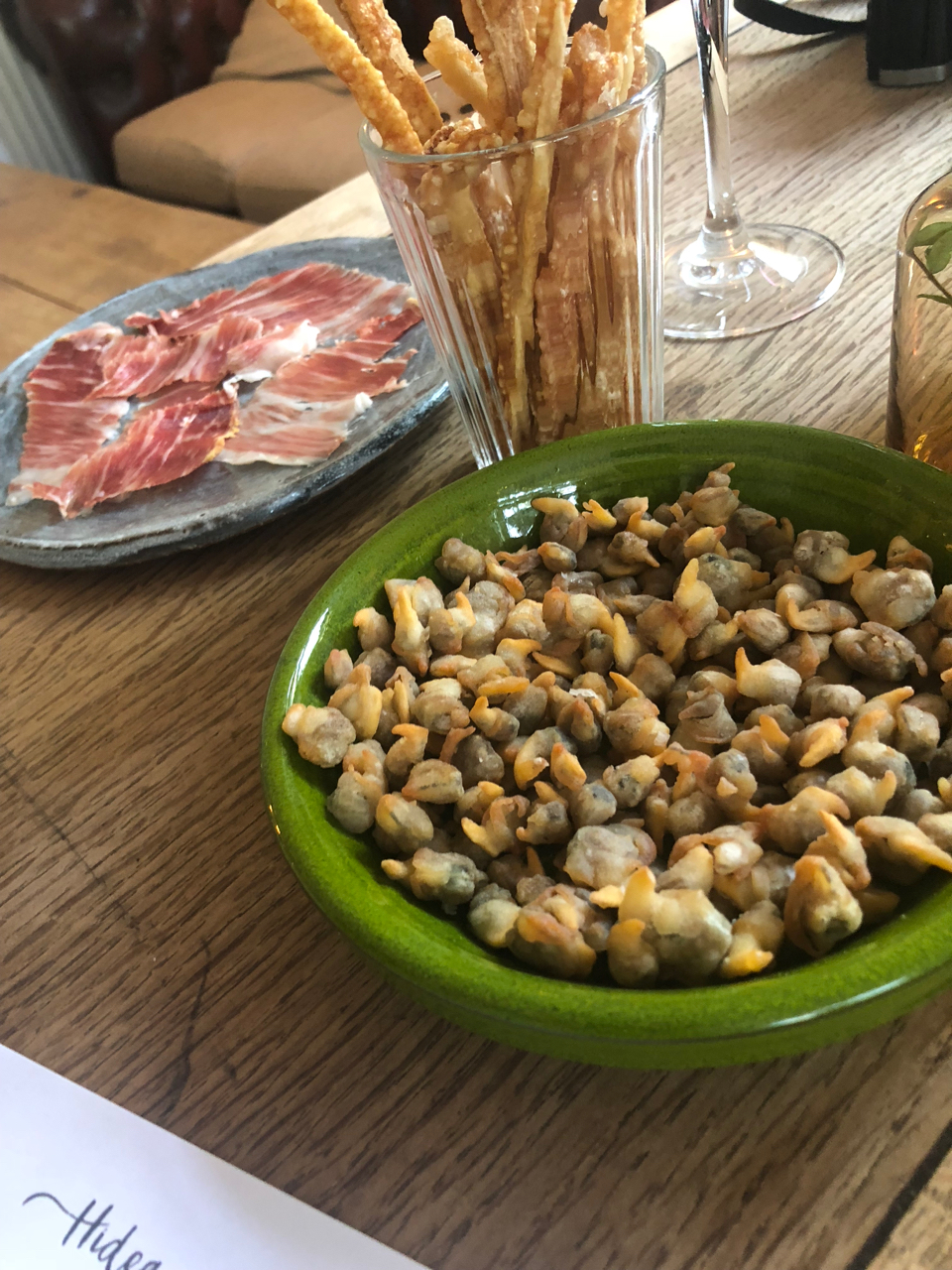 Dunsforth is about half an hour North West of York by car and surrounded by countryside typically attractive for the area. The space itself is comfortable and has a few rooms off of a central bar, which lends a homely air to the place. It felt as appropriate sitting at the bar with a drink as it did dining more formally later and all the while a family were happily playing board games and keeping themselves occupied. We were to enjoy a five course tasting menu to give us the opportunity to get a good feel for the breadth of the food offering. While we took in the menu, some snacks arrived to start us off as we enjoyed a glass of wine.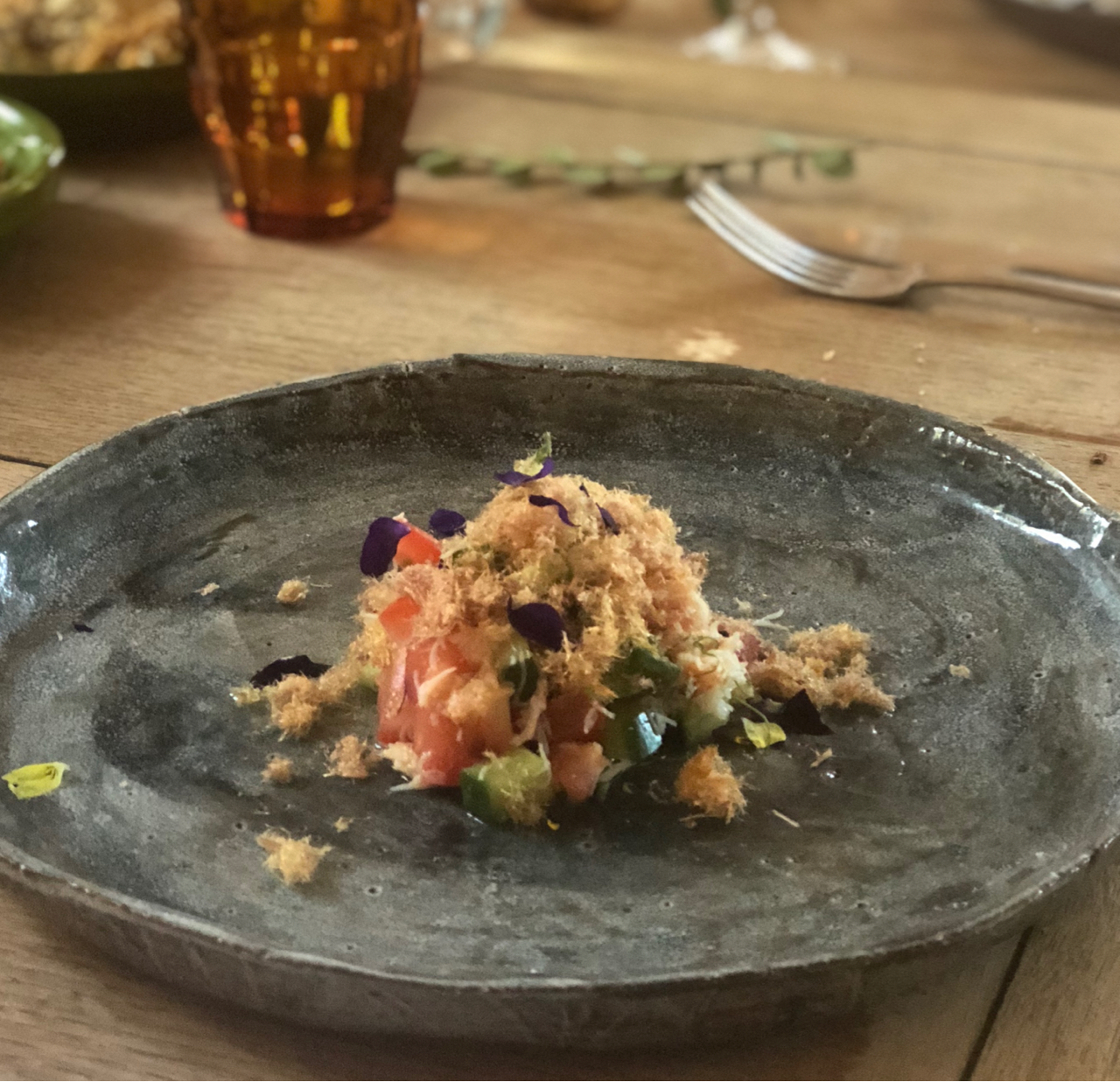 The generous snacks started with delicate slices of jamon that had been carved from the ham sat proudly on the bar. The indulgently fatty slices matched off well with the intensely crunchy pork crackling strips that made an improbable amount of noise as we giggled our way through them. Houmous and sourdough added to the spread but the real star was the pickled cockle popcorn (try saying that fast after a few drinks) that we all found ourselves shovelling down by the handful. Pots of this stuff should be mandatory anywhere that serves a decent chilled glass of wine.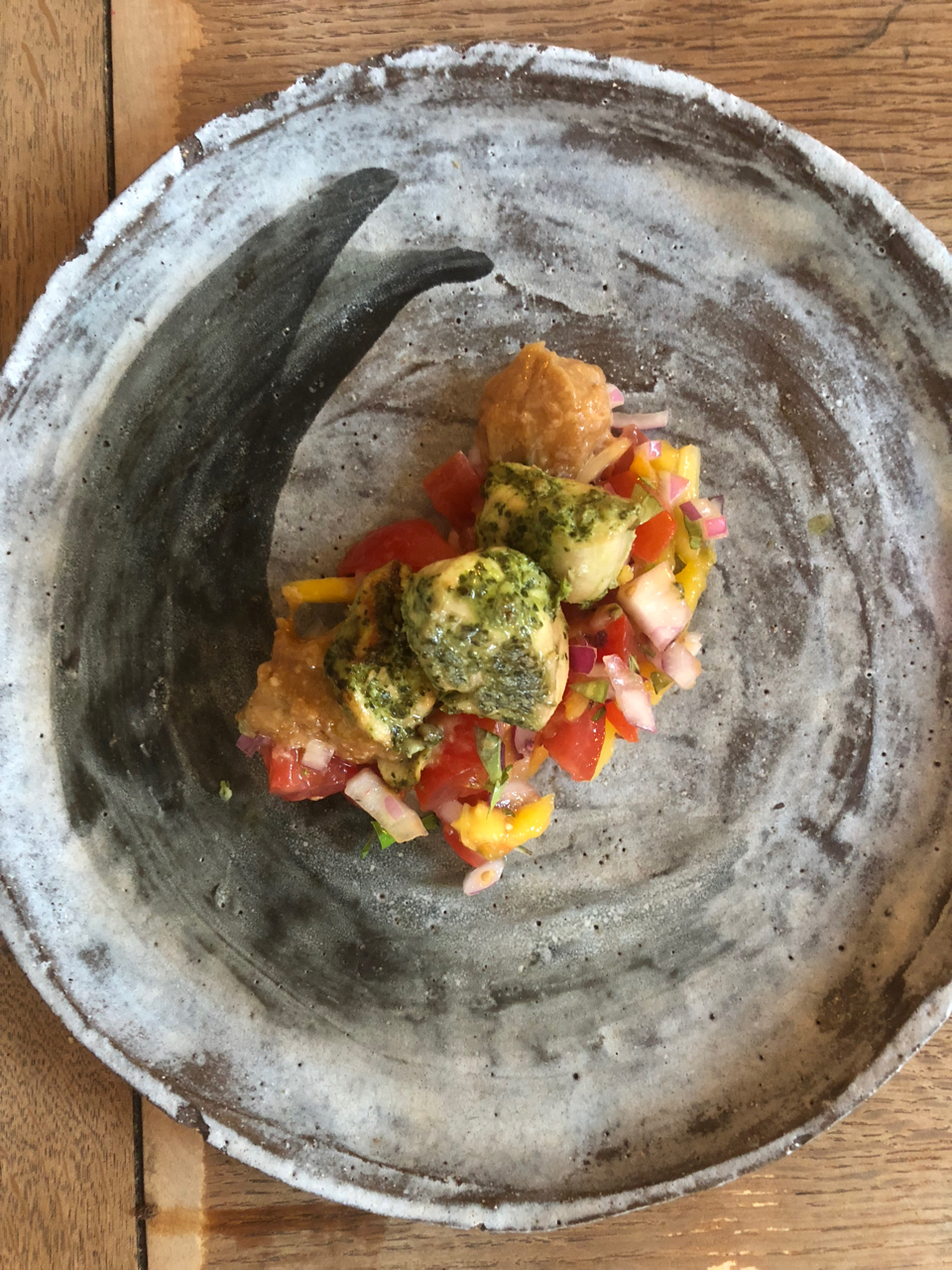 The first 'proper' course was a crab salad which used mojama to deliver extra depth alongside peppery nasturtium. Mojama is dried, salt cured tuna which brought to mind smoked bonito flakes that I've seen used to give steak tartare another dimension, the boldly dressed salad underpinning a good start. The next dish was a twist on satay chicken, the nut element being replaced with cashew, which came with a Thai basil salsa and a satay dipping sauce. The dish still packed a punch despite mango making every effort to sweeten things off; another enjoyable plate ready to move us toward a fish dish of tuna carpaccio.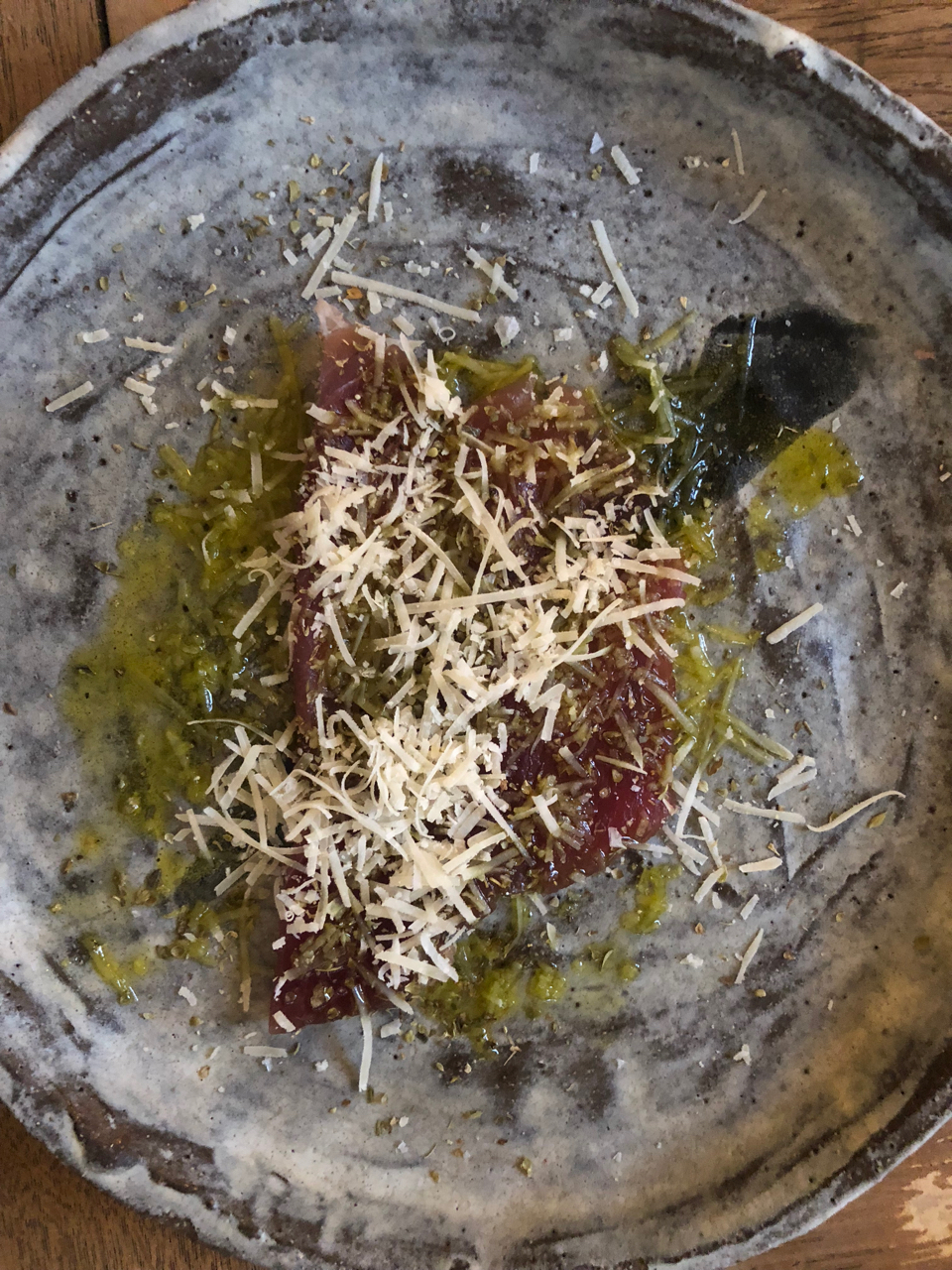 I'm a sucker for a good carpaccio so looked forward to this one, which would be paired with parmesan and oregano. This one was simply plated with the tuna under a hefty shroud of parmesan with a generous serving of olive oil, the combination of which threatened to drown out the plate. The oregano struggled to make its presence felt against the other strong flavours on the plate, but the quality of the produce wasn't lost amongst the shouting.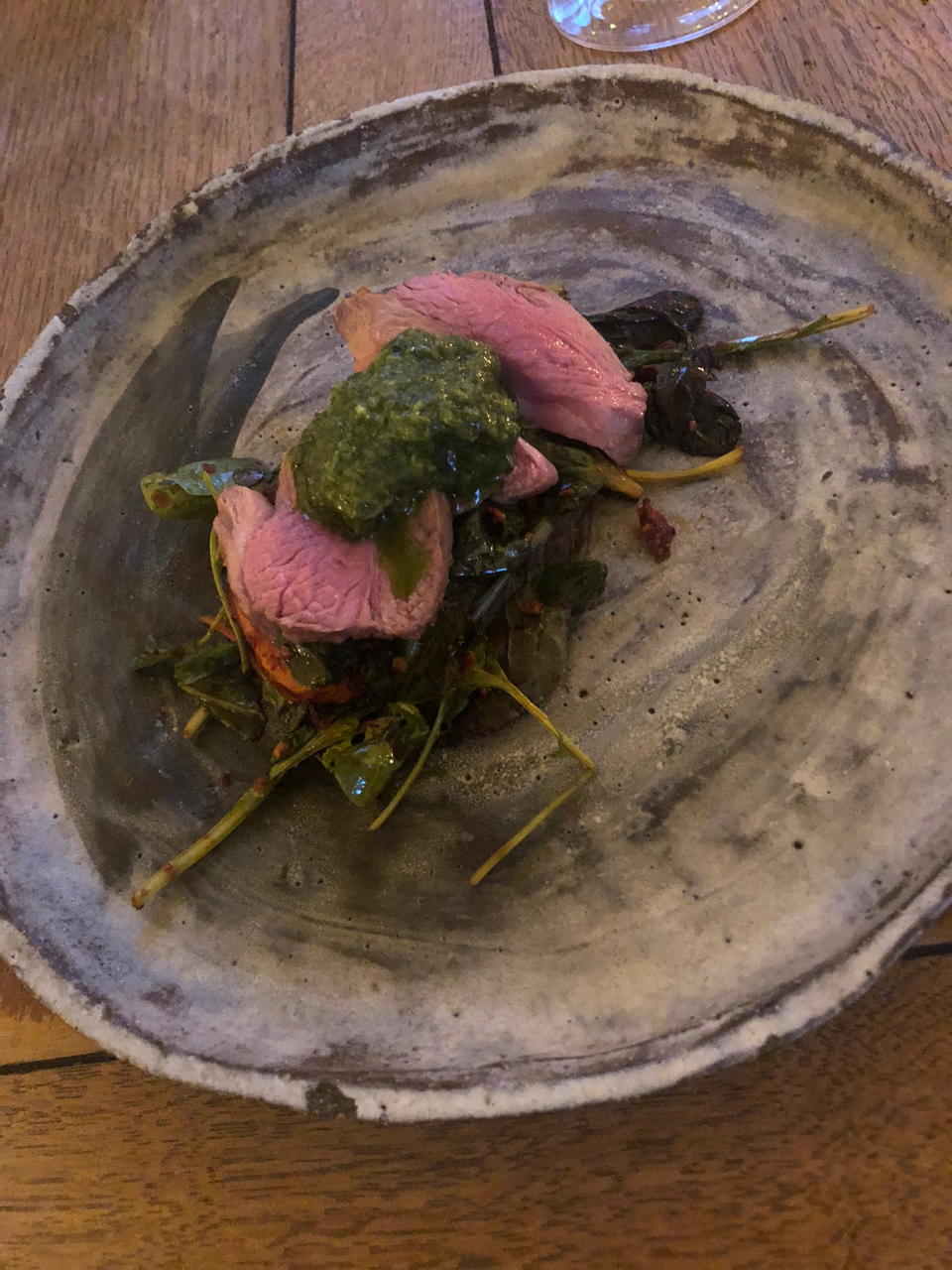 Our last savoury dish was lamb rump set against a spicy chimichurri dressing, harissa sweet potatoes and a mint and pea salad. Again there was plenty going on here, with any number of risks to be avoided. Thankfully the lamb was bold enough to hold its own and everything stacked up, though the spicing was on the generous side for my weedy palate.
To finish things off, we enjoyed a dish centred around strawberry parfait which also featured fresh examples of the fruit along with pistachio and basil. This one was restrained in its presentation but still managed to remain memorable as we ended the meal, with basil balancing itself well against the strawberry elements.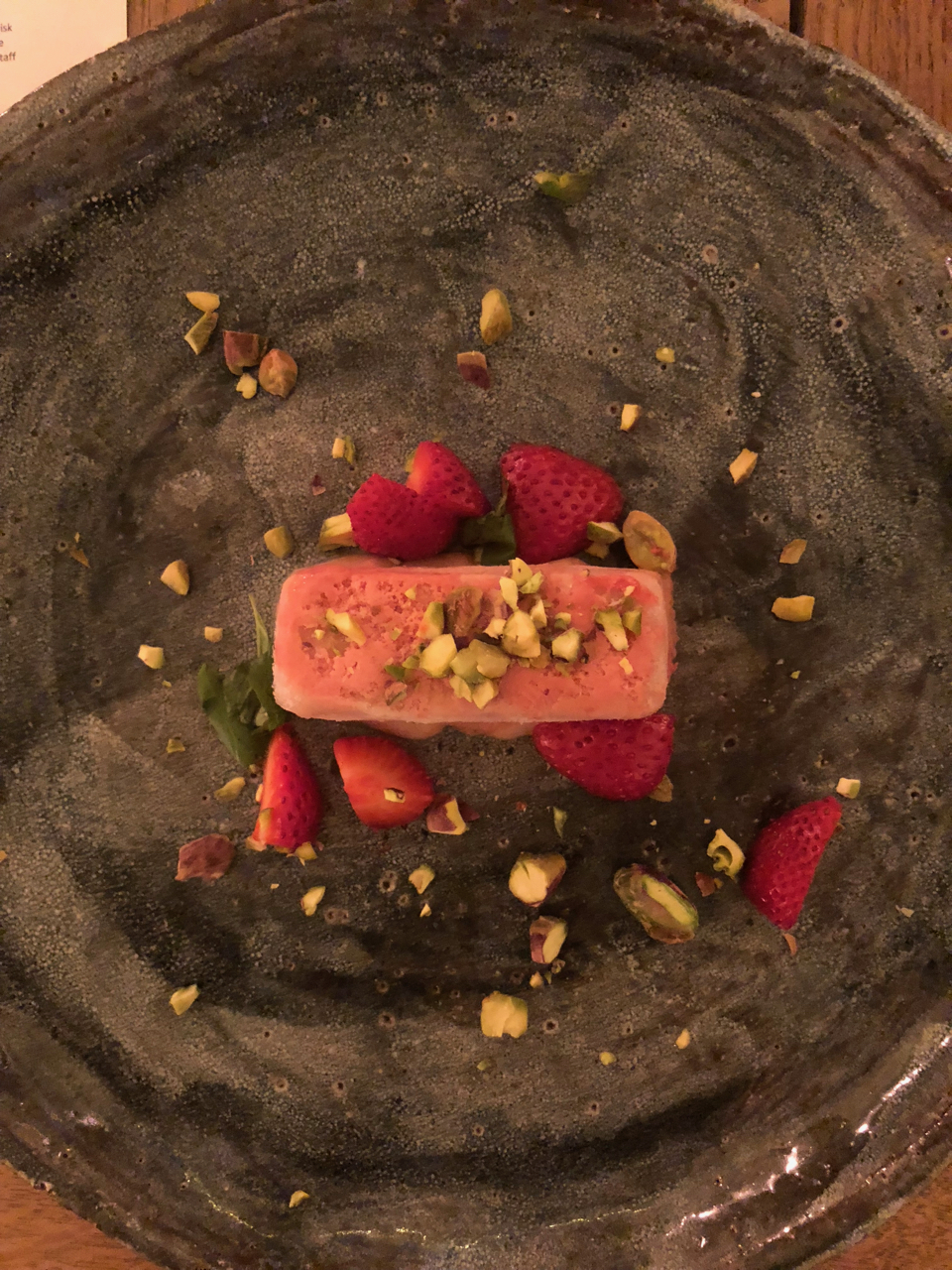 The standards for food businesses around York have been relentlessly on the up for the last few years, with a rural location being an added hurdle to leap over. Despite that, there's still the opportunity for progressive operators to thrive if they can come up with a broad offering that hits a number of audiences. By making itself welcoming and comfortable, the Hideaway Kitchen at the Dunsforth makes a good start and by backing that up with good food, sensible pricing and a sense of inclusivity, it really makes its case as a destination. There're plenty of places that could learn a lot from the hospitality on offer in Dunsforth.
​Disclaimer: No charge was made for this event, opinions are impartial