It can be unfairly hard to get noticed when you're a good restaurant in a hotel. All too often hotel restaurants are lazy affairs that rely on the perception of captive audience to get by, but in York the Park restaurant at Marmaduke's has made a name for itself independent of the boutique hotel in which it resides and Hudson's at the Grand in the Grand Hotel is also in the position of needing to ensure it pushes its elbows out from under the five star wings of the Grand Hotel and makes its presence felt in York's wider food scene. To that end, there's an offer this month on the tasting menu which we were lucky enough to be asked to sample. Two people can enjoy for the regular price of £65; for £32.50 a head that should be improbably good value.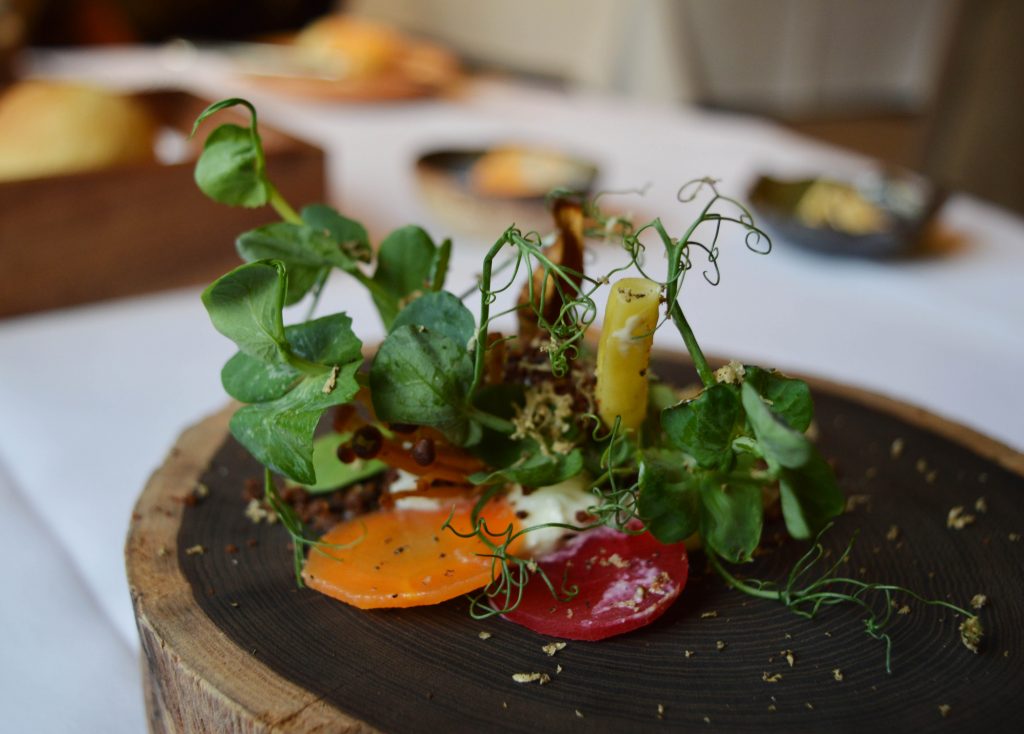 The Grand is an undeniably lovely building and wonderful place to relax, with a very nicely appointed bar to enjoy. If you're interested in the building itself then keep an eye out for Residents' Weekend in January; they've historically run tours that let you have a good old nosey round. Once you're past the reception and bar, you'll find yourself at Hudson's at the Grand ready to be seated and allow the flow of seven courses to begin.
We dined on a Monday evening and found the restaurant fairly quiet, though not stiflingly so, but without the slightly snooty atmosphere that can pollute higher end dining rooms. It doesn't take long to say 'two tasting menus' so ordering was predictably quick before an amuse bouche arrived of squid ink crackers with fish roe and cubed apple served on a pebble. The crackers were dramatically black and offset nicely by the salty roe, while given variety of texture by the apple cubes that demonstrated excellent knife skills by their uniformity.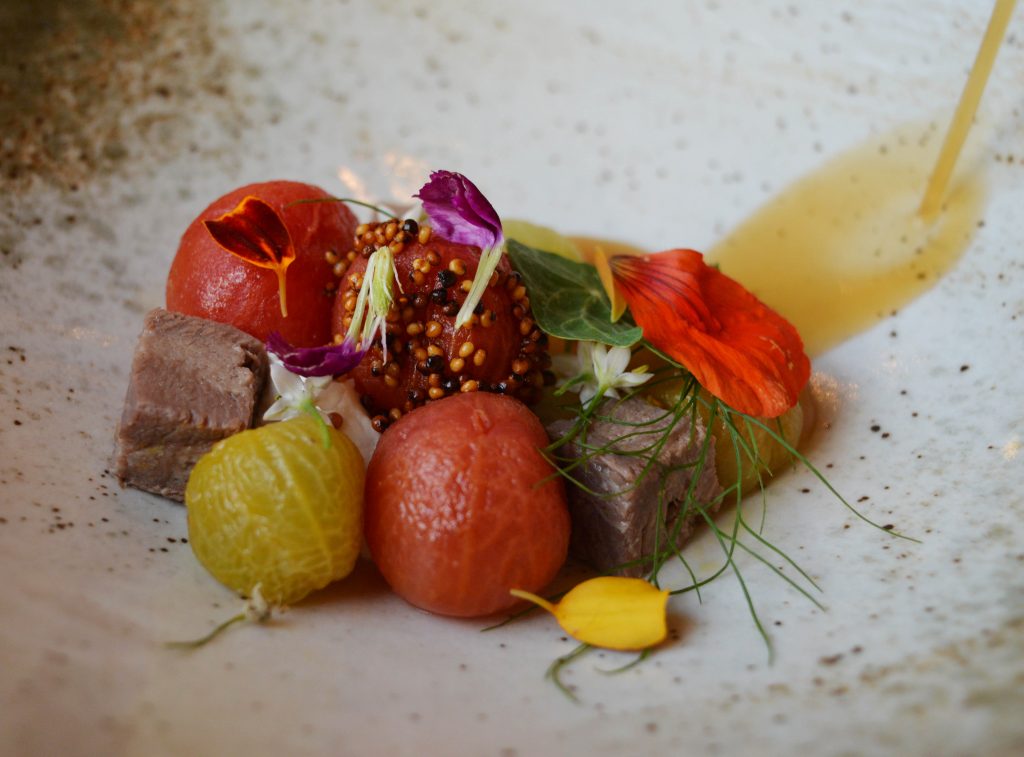 The first course will live in my memory for a long time. The intriguingly named Cryogenic Mojito was presented as a sorbet along side a pestle and mortar in box while the server brandished a jug and instructed us before he risked letting loose with the liquid nitrogen. The mortar was presented with brown sugar biscuits and dried mint leaves over which the LN2 could be poured, allowing the diner to attack it with the mortar while keeping fingers well clear. Once reduced to a savoury powder it could be scattered over the mojito sorbet to complete the dish. I've never held the slightest interest in cocktails so I'd been concerned that this dish would be a gimmick resulting in something I was ambivalent about, but my fears were crushed in that mortar, the result was fantastically textured and refreshing with the mint coming through toward the end of the mouthful, the Perrier-Jouë Brut champagne pairing nicely to give a theatrical and fun start to the meal.
Breads were delivered to the table next. Neatly presented sourdough and rosemary focaccia in another box came with with beef and sundried tomato butters. The beef was topped with intense dehydrated short rib and the sundried tomato butter perfectly brought out the rosemary in the foccacia.
The first main dish presented by Hudson's at the Grand was summer veg with goats cheese, root vegetables and mushroom soil. This was garnished with pea shoots that I didn't feel added much more than decoration to the dish, but the vegetables were tremendous and goats cheese sharp without being overpowering. When I started posting images on social media later in the evening, this was the first to provoke comment as it was presented on a section of wood. For the record, unless a dish is served in such a way as compromised by the presentation, I don't care. If something is rolling off a board or you get soup served on a slate then fine, complain and whine to your heart's content, but if you can eat your food without issue, frankly who cares. Certainly not I.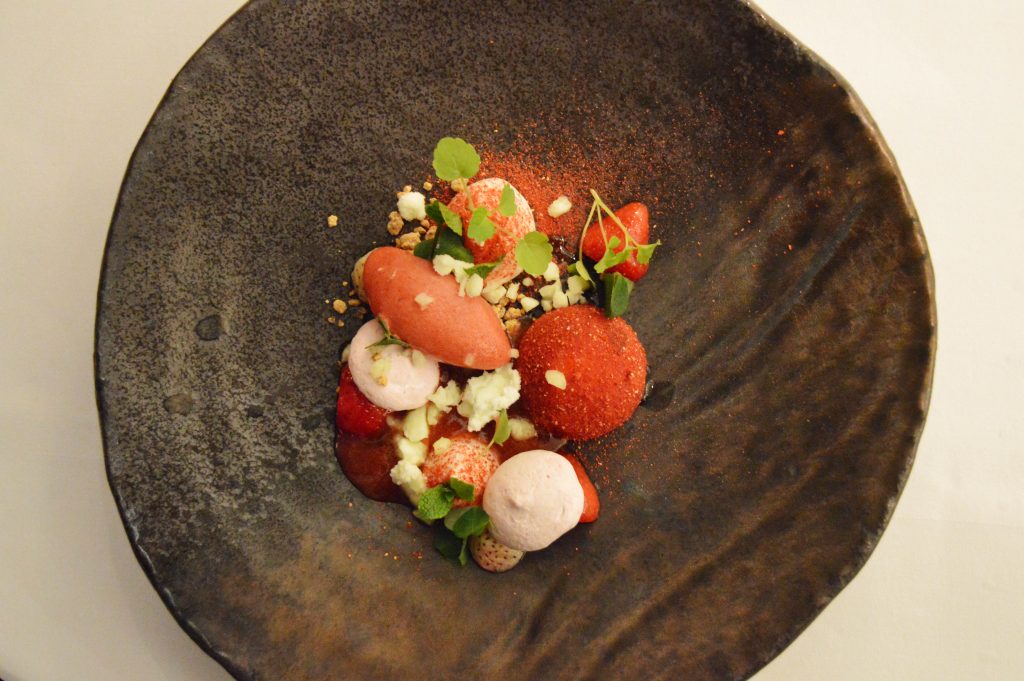 The next dish was again wonderfully executed. Ox tongue with skinned cherry tomatoes and goats curd with a vegetable broth and rose petals. Minimally presented (conventional crockery, should you care) and bursting with flavour, the cubes of meat had a lovely texture.
Next to take the stage was seafood in the form of buckwheat-accented langoustine, stone bass, fennel and fennel puree with lobster bisque paired with a superb Riesling. All the elements of the dish came together with the bisque accenting the fish and langoustine wonderfully and the buckwheat giving the plate a neatly contrasting crunch.
Next we went back to meat. Carrot cooked in wagyu beef fat sat next to sirloin whose wonderfully moist consistency indicated the use of a water bath. Slow-cooked pressed beef was presented in a well-moderated quantity with a few mushrooms finishing the dish. The medallions of beef were perfectly trimmed of fat, showing real care being taken in the kitchen. I found the Rioja paired with this too powerfully astringent.
As the savoury dishes came to an end, one of my pet hates was deployed by a server. Yes, crumb scrapers are a practical solution to a problem, but having someone clear away the detritus I create makes them appear a little too servile for my preference.
The two sweet dishes were, again, fantastically well executed. First up was meadowsweet ice cream with raspberries, honeycomb and sorrel leaves. The ice cream had just slightly crystallised, but the flavour was spot on and the honeycomb sweet without compromising the ice cream's flavour.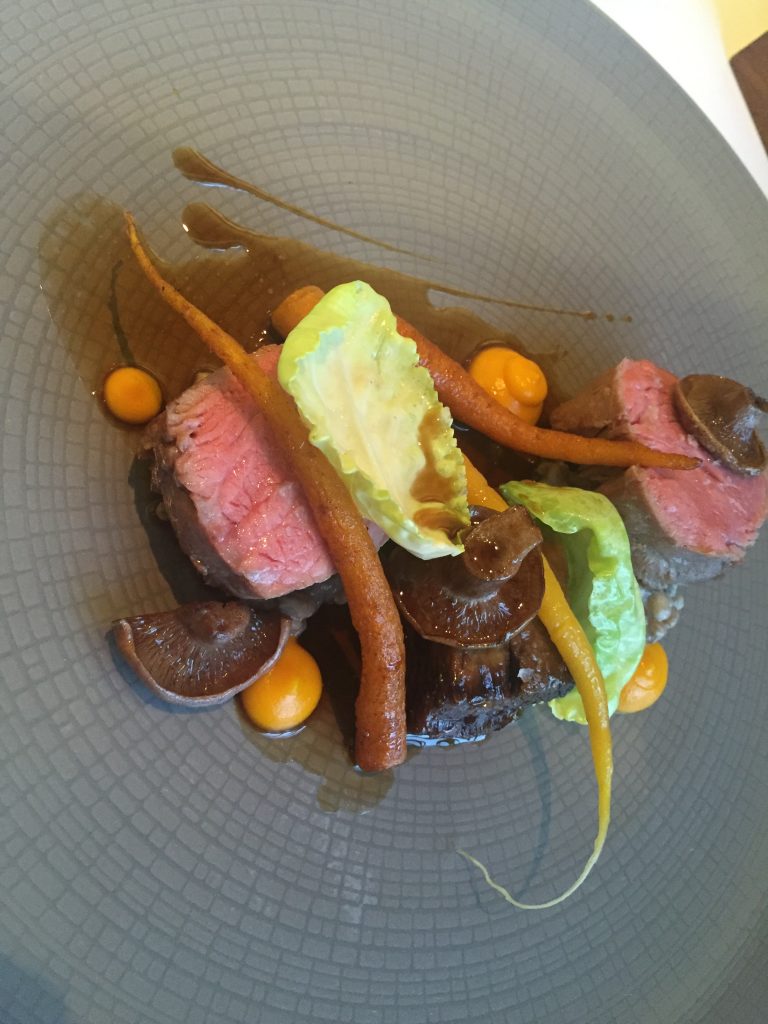 Strawberry formed the base of the final dish with set elderflower coated in strawberry powder, elderflower jelly, basil and mint leaves and a wonderfully realised powder-coated bon bon. The final wine pairing was a late harvest Errázuriz Sauvignon dessert wine that worked brilliantly and was my favourite of those presented throughout the evening.
We had a thoroughly lovely evening at Hudson's at the Grand and enjoyed some superb dishes, even if a couple of elements weren't to my taste. At sixty five pounds a head (wine an additional £35) this is a very well executed series of excellent dishes that complement each other extremely well, but for half that, it's a massively tempting proposition that I'd definitely recommend checking out. We've booked a table to take advantage of the offer again later in the month with a couple of friends!
Disclaimer: While this meal was complimentary, opinions are in no way influenced by that