For years when driving to Helmsley I've passed through the village of Gilling East and quietly thought, "That pub looks lovely. There's a stream in front of it and everything. I really must make time to stop there one day and check it out". I'd guess I first thought that around 2003 sometime so when, a mere thirteen years later, we received an invitation to pop out to the country and try the food at The Fairfax Arms, it didn't take long to accept.
The Fairfax Arms has seen some subtle change in recent times. Andy Daly took over as General Manager in the Spring and, while no wholesale change has been required, has been busy making sure that things run as smoothly as needed and the standard remains as high as is required to compete in this crowded market. The Fairfax has recently been shortlisted in the White Rose Awards and scored highly in the Yorkshire Pub awards, so clearly things are going well!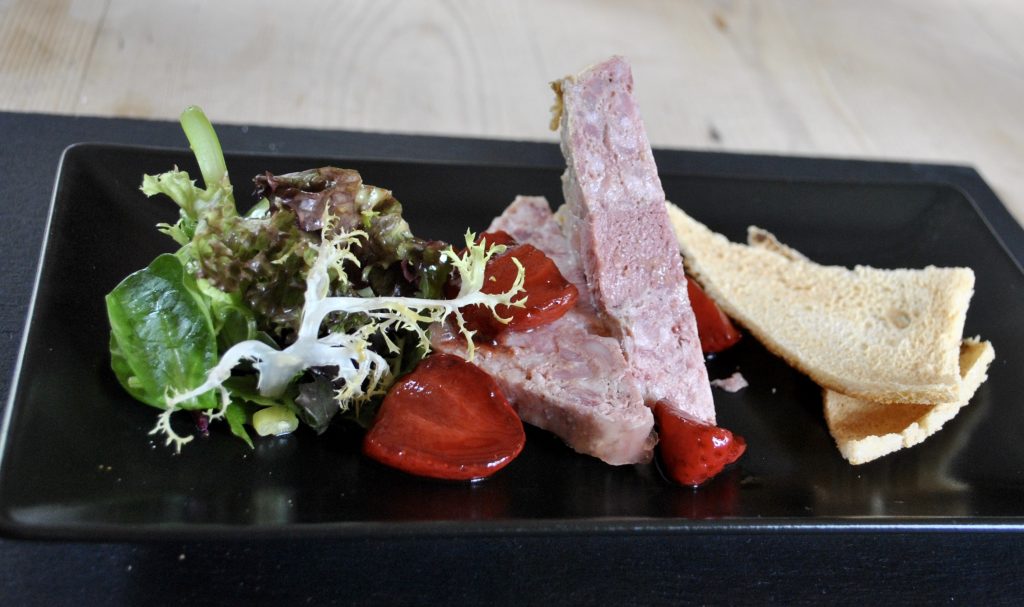 Grace and I enjoyed the drive out of York on a sunny Thursday, admiring the attractive surroundings, and before long we were sat in The Fairfax Arms bar area looking through menus. We opted for rabbit terrine and garlic mushrooms to start before moving onto Yorkshire beetroot gnocchi and pork and cider pie of the day. We were joined by Anna Lupton, who's lending her expertise in marketing and social media to the Fairfax. Anna ordered the chicken with garden pea risotto based on her previous experience and wasn't disappointed. I stopped short of stealing chicken from her plate, but she was kind enough to pass some risotto over, which entirely justified her enthusiasm.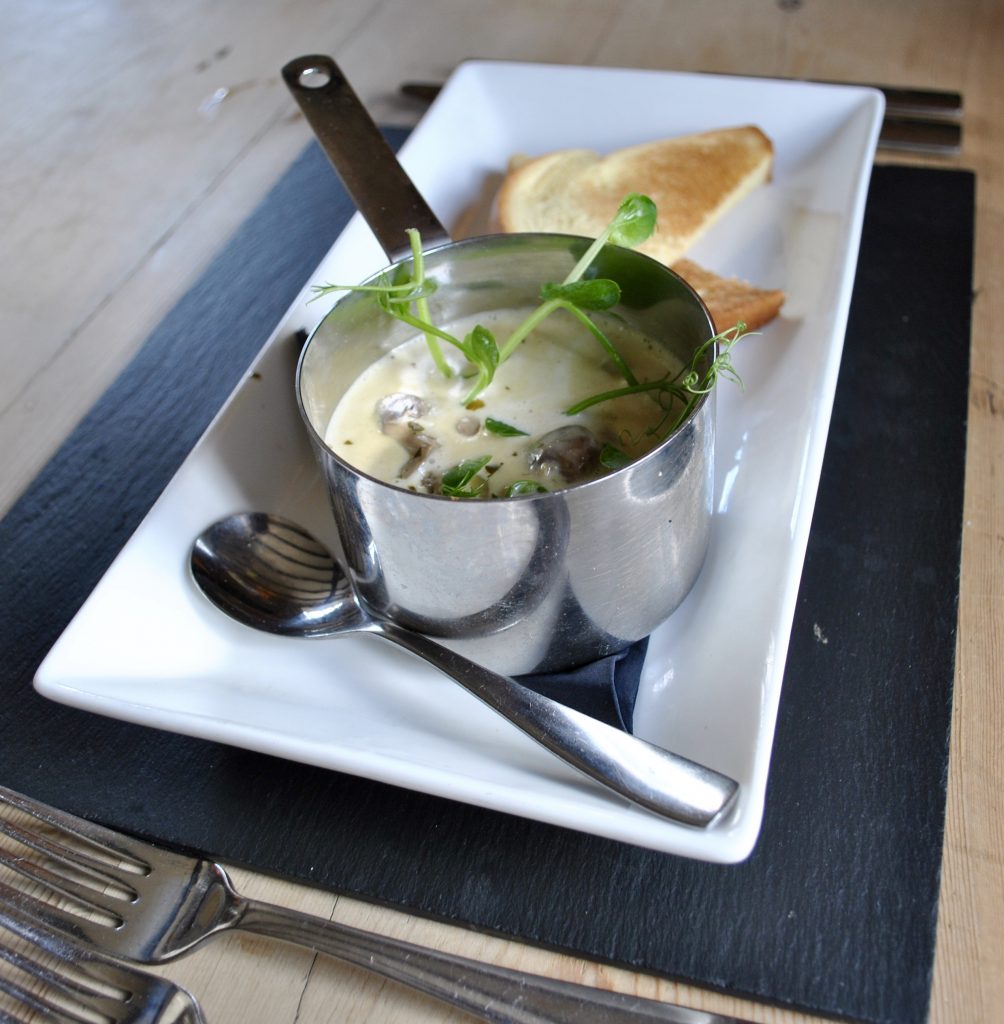 The first courses arrived quickly courtesy of our friendly server and were nicely presented without undue fuss. My terrine wasn't overloaded with garlic as is often the case and the seasoning was well judged. Strawberries were an unusual accompaniment that I later discovered from the chef had been cooked in a vacuum to get them to the desired texture. Grace spoke very highly of the garlic mushrooms indeed, some more of her thoughts later.
As the focus of the meal shifted to the mains I was curious about how the Yorkshire beetroot would be presented. It turned out to be wonderful and, for me, stole the show. Vivid pink gnocchi, Yorkshire Fettle cheese and golden beetroot sat under pea shoots and combined to a delightfully well balanced dish. Light fluffy gnocchi balls with the sharp golden beetroot and crumbling Fettle paired fantastically. If I was to level any criticism at the plate it would only be that (with half an eye on a review meal coming up in the evening, woe is me) I couldn't finish it. Worry not though, nothing went to waste as my wife gleefully got stuck into the leftovers later in the day.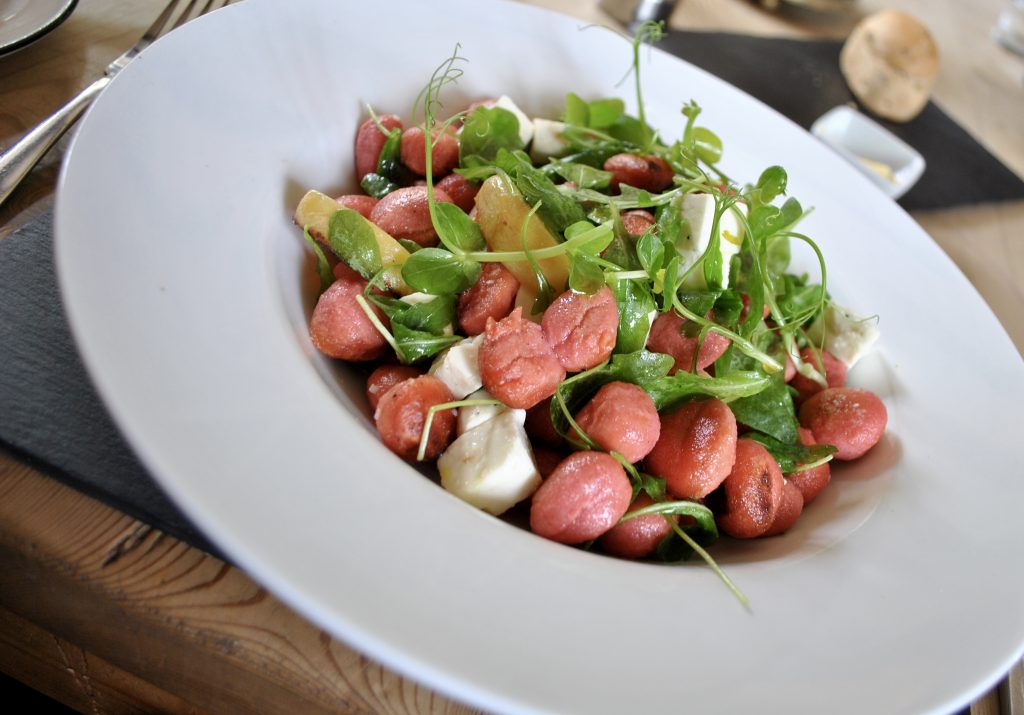 The pie Grace ordered was, again, simply presented: a portion of chips and a small gravy boat accompanying the main event, the details of which I'll also leave to Grace. As the plate came down my reaction was of surprise to find it an actual pie. Yes that may seem like an odd reaction, but to find all sides of the pie made of pastry rather than just the lid is an increasingly rare sight.
There was no space left for dessert unfortunately but we'd thoroughly enjoyed our meal. Over a coffee we had a nice chat with chef Ben Turner who spoke passionately about produce and authenticity in local produce. Ben had come from a tiring visit to the Great Yorkshire Show in Harrogate so, it must be said, his chirpiness really underlined his passion.
The Fairfax is a lovely pub in a picturesque location with an awful lot going for it. Great food, friendly service and a related environment come together well and, under the stewardship of the a talented head chef and an efficient manager, will no doubt continue to do so for a long time to come.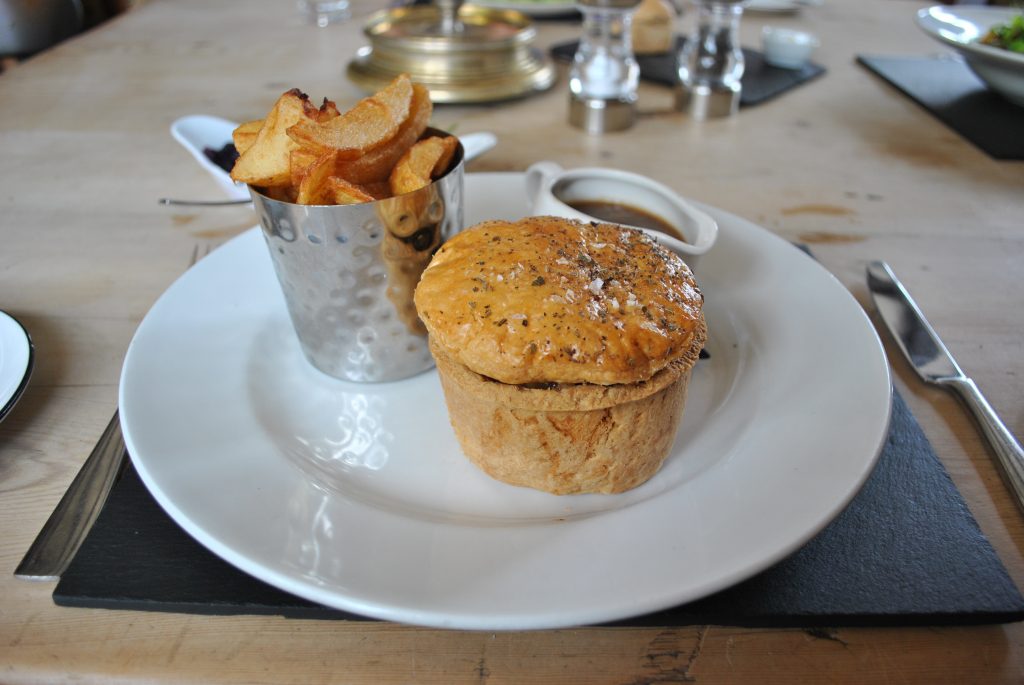 Grace says:
Throw away any conceptions of garlic mushrooms you might have acquired from Italian restaurants. My starter arrived bathing in a Wensleydale and parsley cream, which was indeed creamy rather than oily. Thankfully this complemented the mushrooms rather than overpowering them. Brioche is the pain du jour, and while I feel it is used in many restaurants when regular bread would be better, the sweetness of the thinly-sliced toast contributes to this dish.
When our attentive waitress Anne-Marie announced that the day's pie was pork and cider, I had no need to browse the menu any further. It didn't disappoint. This was one deep pie, with a biscuit-brown shortcrust pastry crust topped with a puff pastry lid. This was brimful of tender, falling-apart pork pieces, sausage meat and a cheeky occasional slice of carrot or button mushroom in a gorgeous light gravy. Real comfort food- and the combination of pastries makes it a real winner. Fancy making your own puff pastry? Of course you don't. (Even Mary Berry has confessed to buying hers.) This pie is the definition of why it's worth going out for dinner. The accompaniment of chunky chips and vegetables were faultless, serving as carriers of the tasty gravy made during the pork-wrangling. The generosity of the portions here demonstrates value for money. However, it left me no room to try a pudding. I'm a self-confessed dessert queen, so will return with my own special spoon to sample everything served with custard!
Disclaimer: We were invited to review a complimentary meal at the Fairfax arms. No editorial bias was requested.