Melton's has been at the forefront of fine dining in York for many years, occupying an unpretentious building a little outside of the centre amongst the increasingly fashionable occupants of Bishopthorpe Road (9th coolest place to live in the whole country dontchaknow). Having also established Melton's Too and with a close interest in the York Festival of Food and Drink, it's easy to see where the owners' priorities lie.
Our most recent visit (of only two it must be said) was for one of the monthly 'First Saturday' meals. These set menus are repeated on the following Monday and follow varying themes.
The Moroccan themed menu was served to a lucky group upstairs in a lovely room that'd be ideal for private dining should you be in an appropriately sized party. Being a set menu, the most difficult decision initially was whether to go for sparkling or still (complimentary) water. Having been impressed with the advice we were given on wine matching on our previous visit, we didn't bother looking any further than the suggestions made and took a half litre of Lebanese Chardonnay.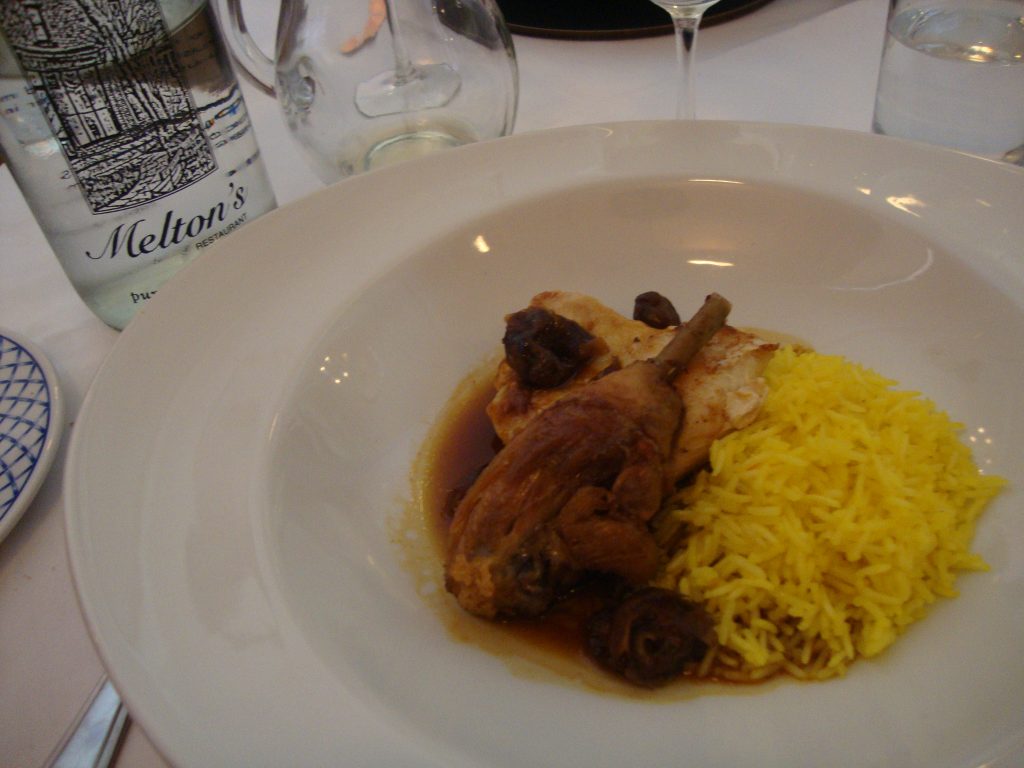 Along with beautifully textured bread our initial course was a Moroccan Salad, rich with clean sharp flavours of mint, coriander, radish and raisin. Unsurprisingly, we found the wine to be a perfect partner. Alhough we were initially slightly taken aback by how tart it seemed, it proved a perfect companion when cutting through the fragrant salad.
Moving forward to a fish course of Chermoula marinated Grilled Mackerel, what caught the attention was not necessarily how well the different elements complemented each other (that was already taken for granted) but rather the skill evident in the preparation. The fish presented itself with the most beautifully moist texture through its flesh but still retained a crisp skin spiked through with the marinade flavours. Neither of us could identify the presence of a single bone either, though I've not the slightest idea if that was resultant from attentive preparation or dumb luck.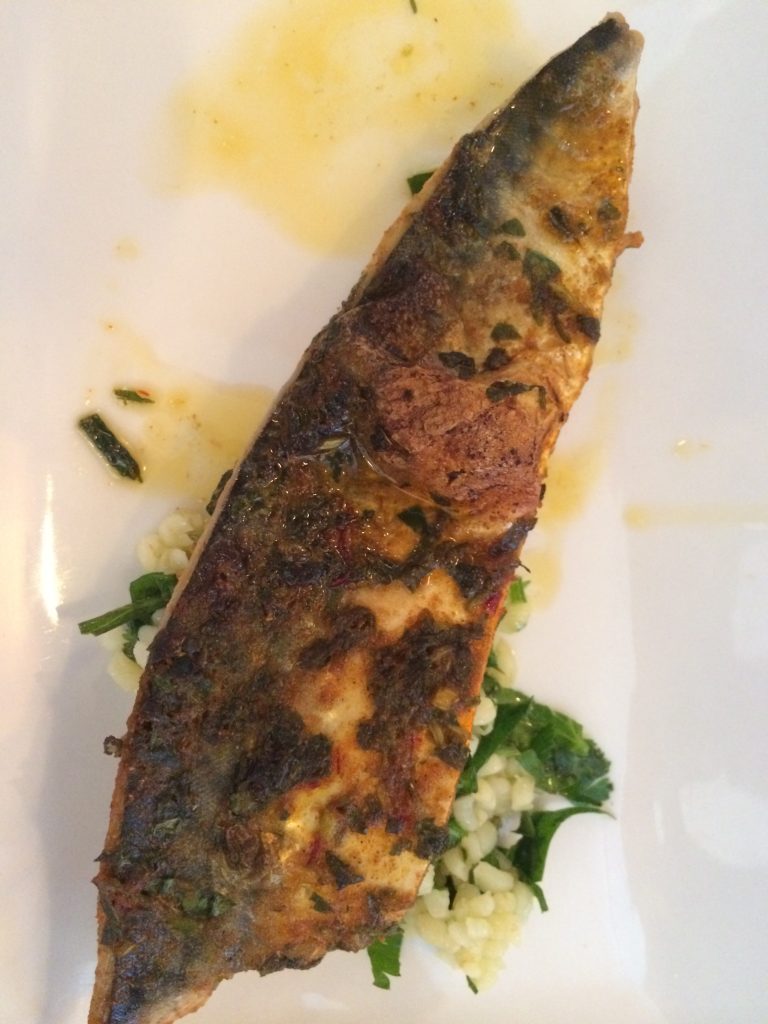 After a suitable pause to regain our composure, we moved onto the meat course: a chicken and date dish with saffron rice. One of the exciting things about set menus in restaurants you trust is that you can feel assured that the flavours will be complementary and just let them get on with it – ordering what seem to be challenging combinations of ingredients and being proved wrong is a great pleasure of more upmarket places to eat. That being the case, I felt able to lay aside my unfounded reluctance to order dates under normal circumstances and just tucked in. The two cuts of chicken revealed mildly differing textures and flavours and when combined with the dates and saffron the experience was tremendous, further enhanced by the beautifully contrasting Chardonnay.
The final Melton's flourish came with a sweet couscous dessert. Similar to sweet Turkish rice dishes I seem to recall from another York restaurant this was lighter than it may sound and served as an excellent counterpoint on which to finish. We'd no time for coffee (we were in a rush to get to the butchers and Good Food Shop actually before another engagement), that would have been complementary, so called for the waitress to drop the hatchet.
The only irritation throughout the meal was the occupants of the next table. Though not actually offensive, their constant and loud attempts to score points in conversation was pretty tiresome. Whining that the taxi driver not knowing where "real Meltons" was rather than "that tatty bistro" felt particularly uncalled for. Also, the jug the wine came in made it look a touch like a urine sample but that really says a lot more about my maturity than anything significant about the restaurant or meal! My initial attempt to leave a tip resulted in an insultingly derisory amount (rectified with cash) but as with my previous comment, you can take from that only my inattention. Eighty five pounds (plus tip) for two of us including a half litre of wine didn't feel particularly brutal, so off we went to the deli and butcher.
It's always a pleasure to leave a meal out feeling like there'll be space in you for at least a sip of water later in the day. I always get the impression when trying to force down a third course that eating the whole meal themselves isn't something the chef has ever attempted. Everything about Melton's portrays a commitment to good food without showing off. I can't recommend them enough.