(ad – pr) Whenever I think I have a handle on all of the best buildings in York it feels like another contender looms into view all ready to wow me again. The concentration of landmark buildings within the city walls is practically endless and there're plenty of examples around the wider city such as Goddard's and, further afield, Beningbrough Hall, but one which has slipped past me so far is The Elm Bank Hotel. This building looks down on Tadcaster Road from its junction with Love Lane and I hadn't realised quite what a remarkable interior it possessed and how beautifully it had been brought back to life in a 2019 refurbishment. Prior to that I've heard it was some distance from its full potential and it would seem that the news of its refurbishment got somewhat lost in the maelstrom of news we've endured in the last few years. Dinner in Leetham's Brasserie at Elm Bank was the perfect opportunity to take a closer look.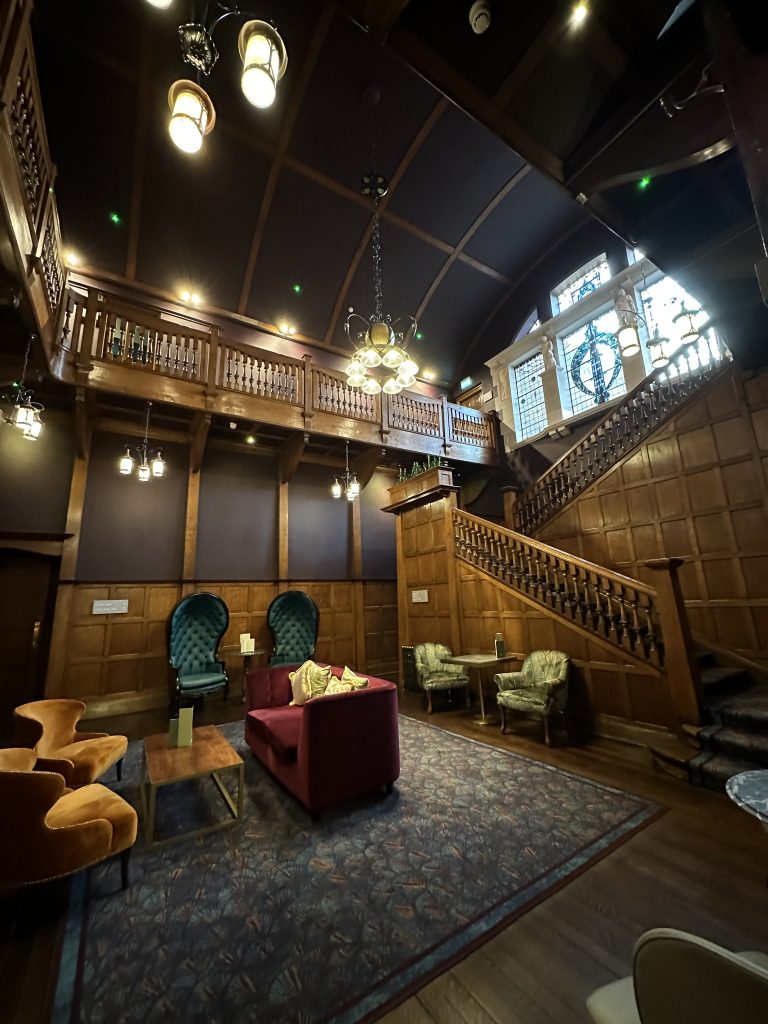 I first clapped eyes on that interior last summer when I was calling by for a meeting and recently I had the opportunity to really take it in while having a good look through the food offering. The building was redesigned in 1898 by Mackintosh contemporary George Walton, and that's evident throughout with the whole restaurant, bar and downstairs littered with impressive stained-glass, beautiful murals and detailed stencils. We started in the bar with a drink to take in the surroundings, noting that the bar is open to non-residents and would be an easy way to have a nosey around the spectacular interior. We then moved through to Leetham's Brasserie at Elm Bank to have a proper look at the menu and let the food distract us from the setting. We chose scallop and asparagus dishes to start with which would be followed by sea bass and chicken schnitzel, though dining as a group of nine for this event the scallop dish certainly took a lot of people's fancy and was an obvious favourite!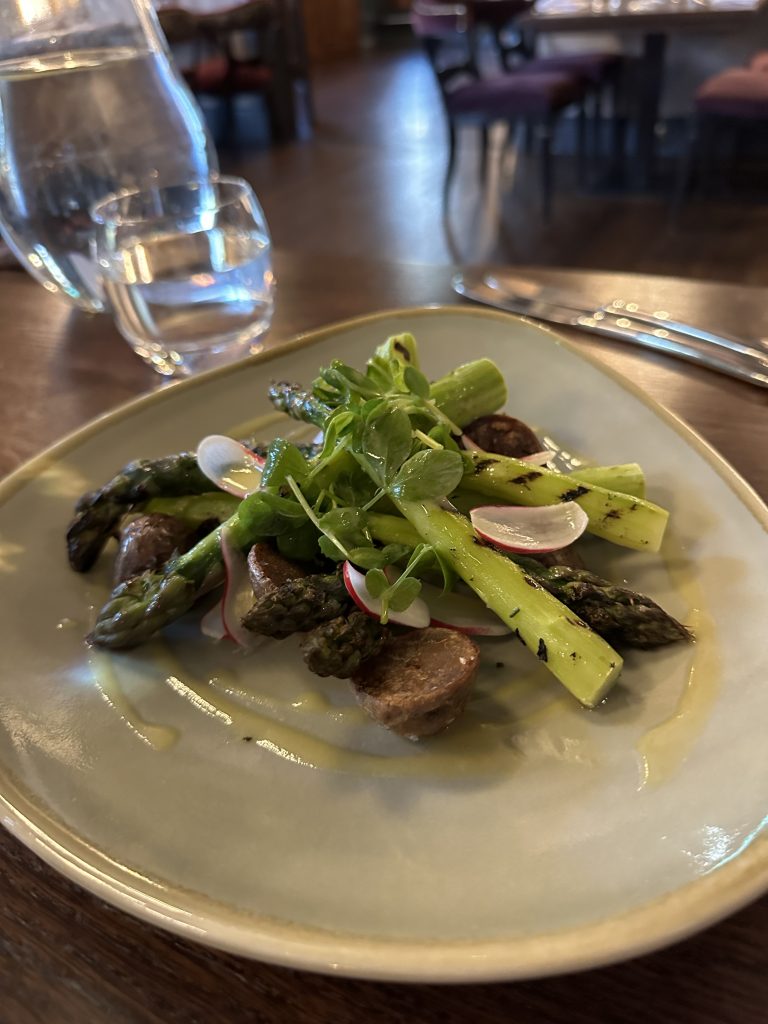 A well judged char on the asparagus spears gave a pleasing hint of bitterness to the first starter to arrive, with purple potatoes also on the plate and piquant mustard dressing to liven things up. Asparagus doesn't need too much mucking about with and the restrained approach taken here let it speak for itself, making a fresh and zingy starter. Similarly a scallop subjected to too much augmentation on a plate is a sad thing, thankfully here though just with bacon and pea puree to add salt and freshness. Mains followed on quickly with purple potatoes reappearing underneath a sea bass fillet and more asparagus pulling duty on top of chicken schnitzel that used crispy capers for a spike of flavour and a brown butter aioli in which to dip triple fried chips. Those chips were a real treat and, with the schnitzel and dip, turned into an indulgent and satisfying dish with the capers bringing welcome sharpness and asparagus bringing a light touch. The sea bass was well cooked and presented with a brown shrimp beurre blanc that would have only been improved by being present in greater quantity. Purple potatoes are often unpleasantly floury but the ones on this plate were cooked well enough to avoid that fate so this was another enjoyable dish. As is so often the case my appetite wasn't quite up to dessert, though I was due on the other side of town for another engagement anyway which made it time to stop proceedings.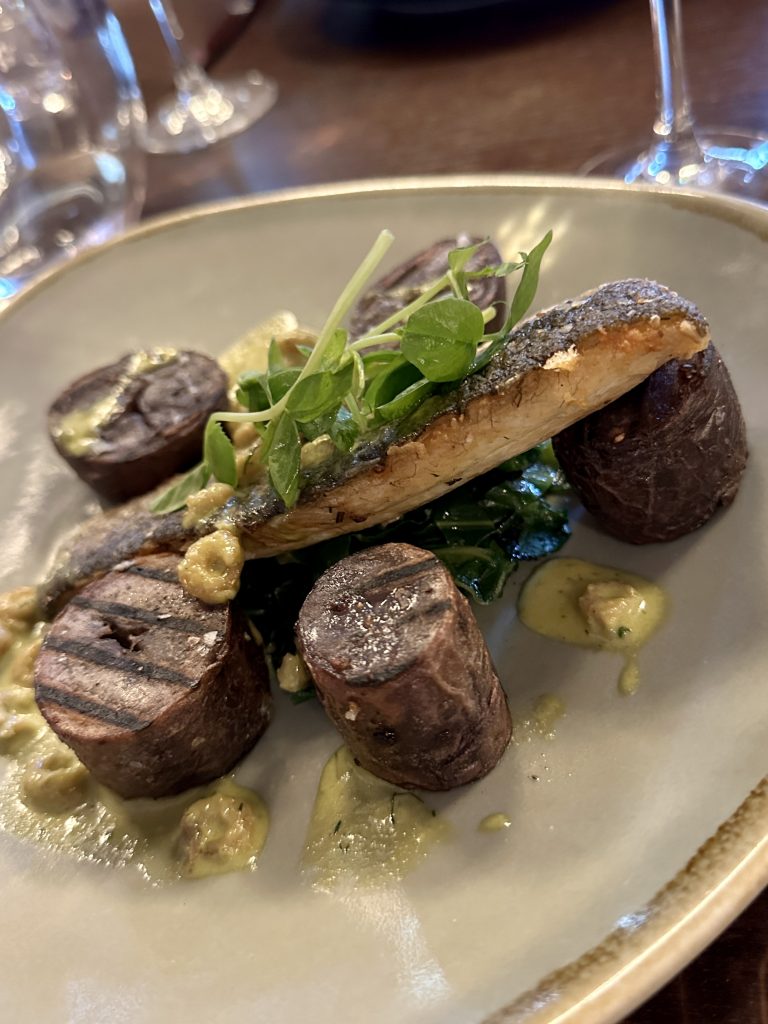 As with so many restaurants in hotels, Leetham's Brasserie at Elm Bank is subject to a minor stigma which makes it all too easily avoided by locals, for no good reason. The menu is well priced and executed, giving enough reason to call by in itself but the building really sells the deal. The opportunity to enjoy a meal in such grand surrounds is not one that should be easily passed up, and is one that should be taken up in particular by the large swathes of York within walking distance.