A couple of decades ago when I was familiarising myself with York in my early days here, I was taken by some friends to a "really cool bar" on Lendal that had been a hangout in their later youth. My memories of the visit are now at some distance but I was shocked that such an outwardly grand building could be the home to such a comprehensively dingy, dark and subterranean feeling bar. This did not feel like a fitting use for a building that clearly deserved a great deal more care and attention than it was receiving. I didn't bother making a return visit until it had received that overdue attention at the hands of Daniel Thwaites in 2014, with subsequent work completed in 2020 to bring The Judge's Lodgings York right up to date. I've stuck my head in a few times over the years for the occasional pint or snack but the recent opportunity to check out the accommodation and food was too good to pass up.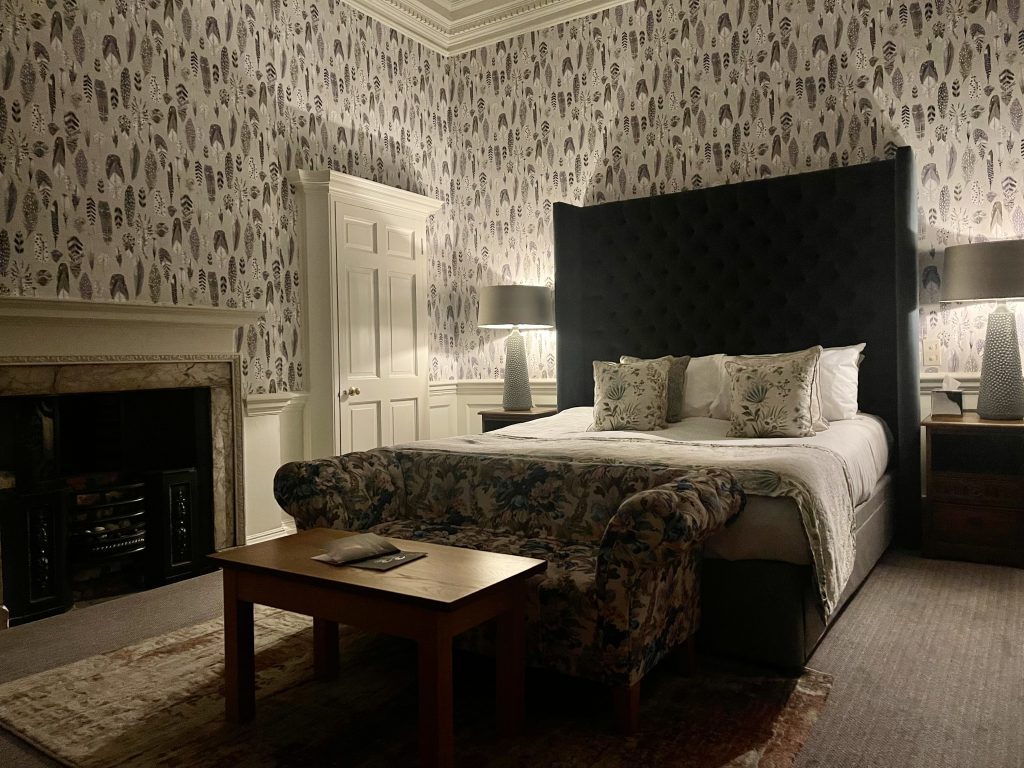 The frontage of The Judge's Lodgings York is generally a bustling and jolly place, even more so at this time of year as the crowded York Christmas Market fills many of the pubs and restaurants in the centre of the city. It's set back enough from the edge of Lendal to give good distinction from the thoroughfare but still with plenty of atmosphere. The hotel is accessed by ascending the feature staircase at the front, while the bar area is an inviting low-ceilinged area at the bottom of the building. Out back you can find more al-fresco tables, with a terrace now featuring individual booths in which to sit with a bit more shelter. Christmas was in full evidence when we arrived to check in with a tastefully decorated Christmas tree accenting the reception area and a series of mouldings of judges heads carrying the theme throughout parts of the building.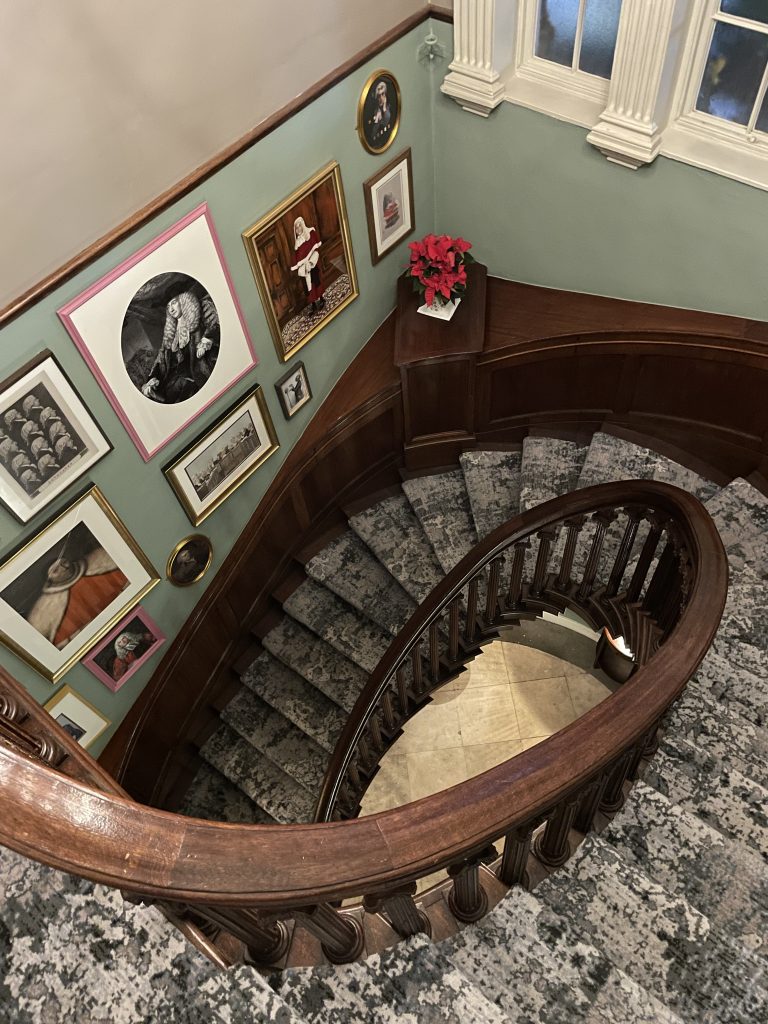 Our room overlooked the garden toward the back and gave us a view over the city centre to York Minster which looked as resplendent as ever. Real attention to detail had gone into the room design which left it feeling luxurious, relaxing and comfortable while still supplying plenty of utility. I particularly liked the descent of a couple of steps into the bathroom which was a generously sized and relaxing space well appointed with all the hygiene products you could want. The usual amenities to facilitate tea and coffee were present and correct while an iced bottle of Prosecco was a touch we appreciated and enjoyed in the comfortingly soft robes before moving on through to dinner.
The dining room continues the theme of grandeur tempered by usability, making it a comfortable room in which to relax into a meal. I'd had my eye on the more intriguing options on the specials menu from their website which sadly wasn't available on the Saturday on which we dined so we instead ate from the regular menu, from which we chose salmon and goats curd starters followed by a steak and a nut roast. Starters arrived quickly along with glasses of wine to accompany, the goats curd had a good dose of artichoke presented a couple of different ways while the salmon had a nice touch of heat from a chilled Bloody Mary dressing. Fillet steak had a decent char on the surface and hadn't been taken beyond rare as I'd requested, coming along with a side salad and fries while the nut roast from the Christmas menu came with a nice rich gravy, and we finished with a portion of cheesecake to share.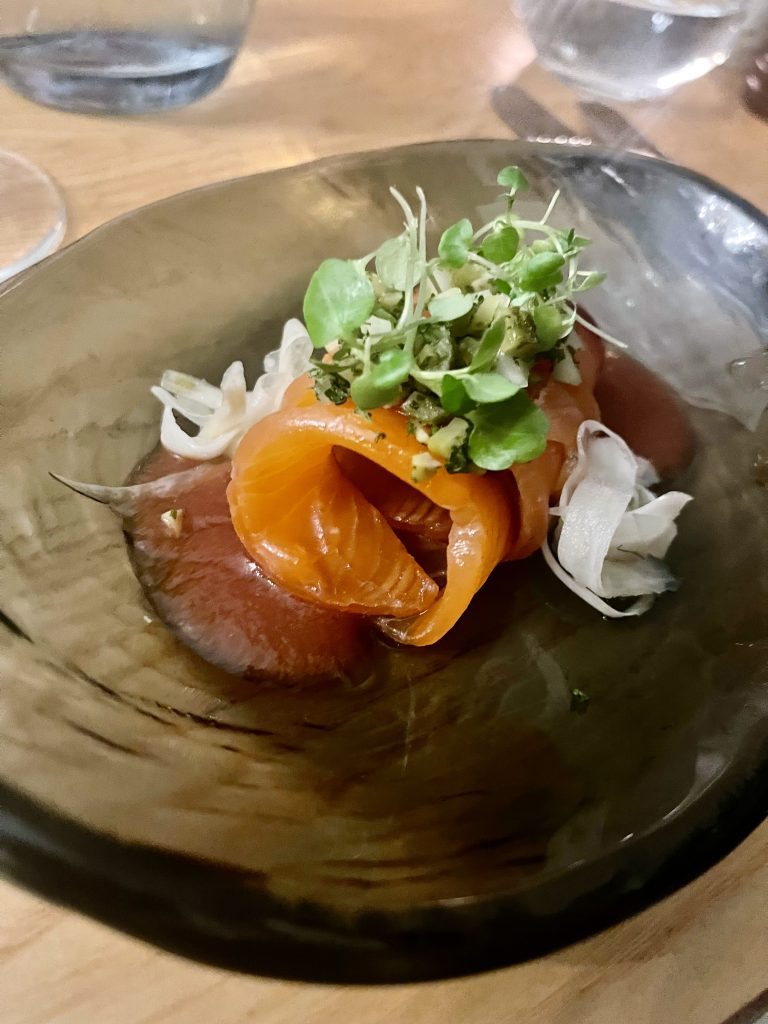 It's rather unusual to spend the night in a hotel in one's own city so we took the opportunity after dinner for a stroll around the Christmas lights before settling back into the comfortable room for a good nights rest before one of the key pillars of of a decent hotel stay, breakfast. The morning meal was served down in the cellar bar, which had been spotlessly cleaned and showed precious little trace of the preceding evening's revelries and was set more formally for a breakfast service. Eggs Benedict were well executed with a brace of well-judged poached eggs enrobed in a glossy, rich Hollandaise while a full breakfast was just the indulgence you would want, leaving you without further appetite for a good many hours.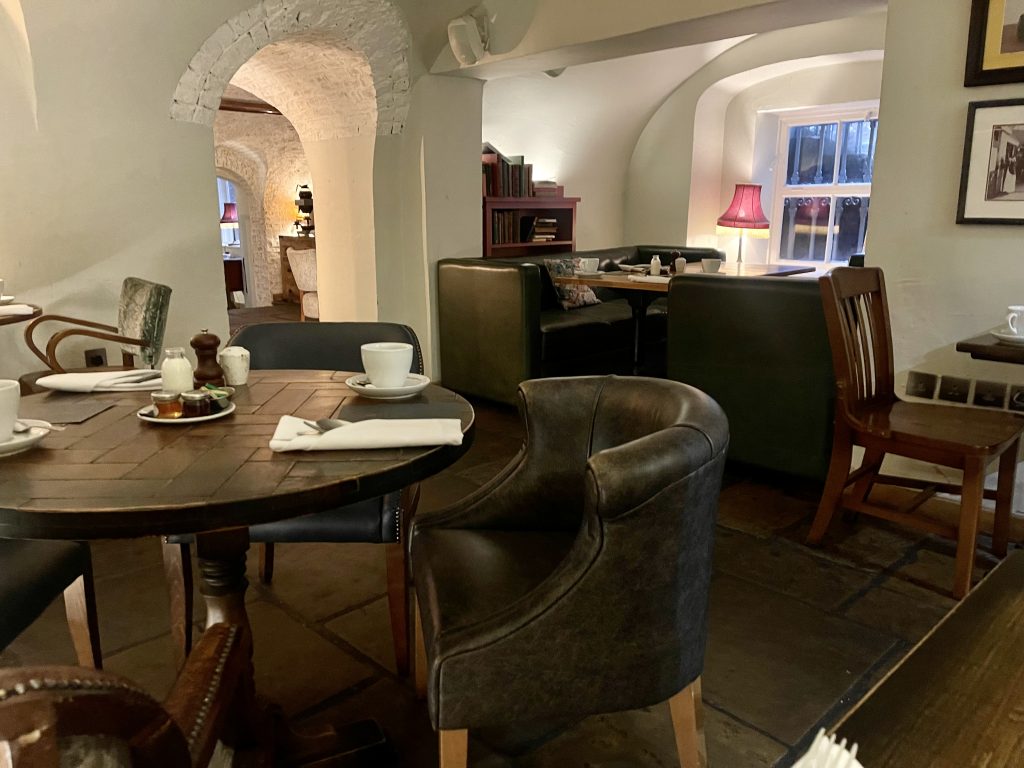 York has changed in many ways since I moved here more than two decades ago, for better and worse, and the changes made to The Judge's Lodgings York have restored it to the status that it both deserves and was conceived to enjoy. Staying in a hotel in your hometown is a novelty that gives a precious opportunity to see the city from a different perspective and the comforts the The Judge's Lodgings York provided were a great basis for that. This is a great base from which to explore our wonderful city!
(Disclaimer: Press Visit at no charge)